Teton County has enjoyed an incredible economic recovery following the Great Recession of 2008, a vibrancy accompanied by one particularly glaring and seldom-discussed environmental consequence: greenhouse gas emissions. Over the past decade the number of people flying into Jackson Hole Airport is up by a quarter, and commerce in the county and visitation to Grand Teton National Park both jumped 40%. The median list price of a Jackson Hole home has more than doubled. While valley residents can feel the effects of the boom as they creep along in Highway 22 traffic or wait in swollen lift lines at Jackson Hole Mountain Resort, they cannot see or smell the carbon dioxide, methane, nitrous oxide and ozone rising into the atmosphere and weaving into the blanket of gas warming the planet.
The warming is raising sea levels, eroding coastlines, creating human climate refugees and causing ecological consequences that humanity will have to grapple with for centuries, according the Intergovernmental Panel on Climate Change. Jackson Hole, a center for land conservation and ecological protection, has added to the problem — at an accelerated rate. In the 10 years since area residents first began to examine their greenhouse gas footprint, valleywide generation of carbon emissions jumped from 409,562 tons in 2008 to 478,868 tons last year, according to a 2018 report, Jackson Hole Inventory of Greenhouse Gas Emission. The nearly 17% surge in carbon emissions has outpaced Jackson Hole population growth, which swelled just less than 10% in the same period — meaning per-capita numbers are also up. Emissions stood at 19.8 tons of greenhouse gasses per Jackson Hole resident in 2008 but rose to 21.2 tons 10 years later, an increase of nearly 7%.
"I'm not surprised by the results," said Alicia Cox, executive director of Yellowstone-Teton Clean Cities, whose organization funded the emissions inventory along with the town of Jackson. "This report is coming out when climate change is front and center. I hope it will help the general public become more engaged."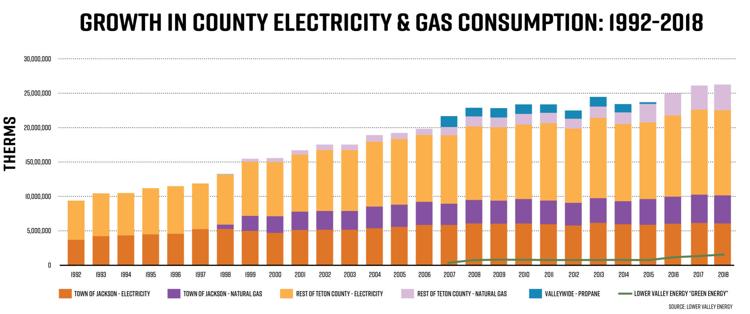 While Jackson Hole's greenhouse gas emissions have been increasing, the country as a whole has turned a corner on emissions, the result of climate policies, market forces that have made the electric grid less dependent on fossil fuels, and the relocation of some American manufacturing to other nations. The federal Energy Information Administration calculated national carbon emissions at 5,271 million metric tons in 2018, a 9% decrease from the 5,812 million metric tons emitted in 2008.
At least one other Rocky Mountain resort community has waged a somewhat successful battle to curb its carbon footprint in recent decades. Aspen, Colorado, has been able to check the growth of its greenhouse gas emissions, reducing them by 7.4% from 2004 to 2014 despite population and economic growth, according to an inventory prepared by the Aspen city government. In the 10 years examined, Aspen's taxable sales increased 22% and population increased 5.5%, according to the report. The Aspen community, report authors wrote, appeared to have "decoupled growth in emissions" from population growth and commerce — a testament to the success of greenhouse-gas reduction efforts such as public transportation and its municipal utility transitioning to renewable electric power. "Without these programs," the report states, "community-wide emissions would have likely followed the upward trend of these other community indicators."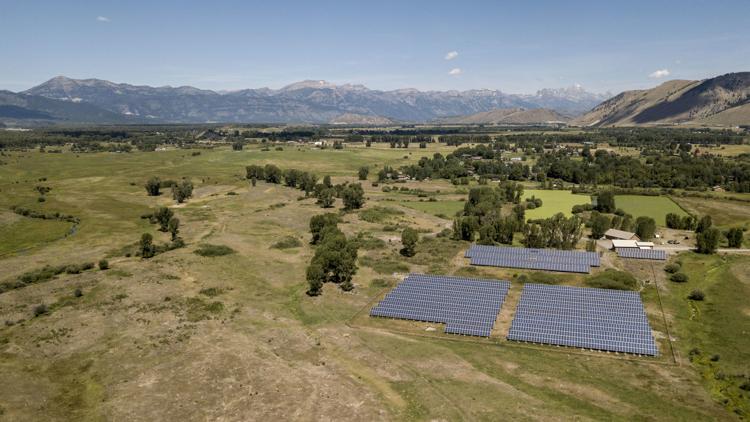 While Jackson Hole's carbon discharge has charted contrary to Aspen's and the United States' emissions, valley residents and officials actually have been working cooperatively and across government jurisdictions to decrease greenhouse gas generation. The town of Jackson, Teton County and Lower Valley Energy by themselves and through the joint powers board they created — Energy Conservation Works — have erected several photovoltaic solar arrays. They've also helped pay for projects such as solar collectors at the valley's newest elementary school. Advocacy efforts and government initiatives have funded more efficient public transportation options and provided no- and low-interest loans to Lower Valley ratepayers to pay for energy-efficiency retrofits of homes and businesses. Groups like Cox's Yellowstone-Teton Clean Cities have found funds to install electric vehicle charging stations around the valley. Even voters have helped, approving a $3.8 million ballot measure in 2010 to help pay for energy initiatives.
Without these measures, Teton County's impact on the planet's warming atmosphere would be even worse. The valley's public solar arrays together generate roughly 1.6 million kilowatt-hours of electricity annually, enough energy to power roughly 80 Jackson Hole homes, according to Energy Conservation Works Director Phil Cameron. Lower Valley Energy has worked with ratepayers to complete 1,676 energy conservation projects since 2012, as far back as records go for such efforts, noted Amy Walton, conservation specialist at the utility. Altogether, those utility projects save another 30.2 million kilowatt-hours annually. Many of these savings come from users taking simple steps such as using LED bulbs, a change that reduced electric consumption by nearly 16.6 million kilowatt-hours.
Lower Valley's Green Power program is another success story. Wyoming, which stuffs its coffers with royalties from extractive industries, is at the back of the pack in requiring electric utilities to mix in renewable sources of power, according to the Database of State Incentives for Renewables and Efficiency. But northwest Wyoming's cooperative utility has taken it upon itself to offer its customers the opportunity to pay a premium, with the extra 1.2 cents per kilowatt-hour going toward new infrastructure, like commercial wind turbines near Idaho Falls or hydro-electrical generators on existing dams. In 2018 the utility sold nearly 51 million kilowatt-hours of green power, Walton reported. Improving the efficiency of the vehicles used by local government with efforts such as replacing START buses with more efficient vehicles and getting more riders on buses has kept 3,231 tons of greenhouse gases out of the atmosphere, Cox said.

Yet on some fronts there is a clear disconnect between the aspirational community and local government goals of reducing emissions and the way many people want to live in the valley. Fines levied through Teton County's Energy Mitigation Program, which applies to new construction, are one example. Through the program, the county charges $10 per square foot of heated sidewalks and driveways. In 2018 property owners built 24,030 square feet of these heated surfaces, yielding $240,305 for the program, according to records from the building department. One project alone featured 6,532 square feet of "heated hardscape," which is more than double the floor area of a typical single-family home. Funds from the program are then directed to paying for energy conservation projects, such as new solar arrays on schools.
Another disconnect between Jackson Hole aspirations and the actual workings of the economy arises from the fact that valley tourism is founded on the attraction of protected wildlands but the actual means of getting people here relies on petroleum-powered cars, trucks, RVs and jets. Former Jackson Mayor Mark Barron, now a county commissioner, said he admires Aspen's successful effort to decrease carbon emissions, but he pointed out that Aspen doesn't have Jackson Hole's automobile-based summer economy. Ground transportation accounts for almost 65% of Jackson Hole's carbon emissions, according to the 2018 energy and emissions inventory prepared by Richard Heede of Climate Mitigation Services. In Aspen ground transportation accounts for just 19% of emissions, according to that community's report.
Unfortunately, there's probably little town and county officials can do to alter the habits of people powering their trips to Yellowstone and Grand Teton national parks with internal combustion engines. "We're not going to change that," Barron said. Policymakers likely will have to look instead to areas such as the valley's workforce if they want to lower carbon emissions from transportation. Increasingly, the people who make the valley work have to drive here for their shifts, commuting from places such as Teton Valley, Idaho, and Star Valley. In 2006 the county had 1.28 jobs per resident, but that number increased to 1.41 jobs per resident by 2017, said Jackson Town Councilor and economist Jonathan Schechter. Those numbers put Teton County on par with New York City, which had 1.87 jobs per capita in 2017. The great metropolis of the East Coast has the population density and geographic boundaries necessary to make public transit cost effective, whereas it will be much more of a challenge in Jackson Hole. Teton County has a relatively small, albeit growing, workforce distributed over a large area. "There's no way we can make public transportation work on a cost-effective basis," Schechter said.
That means valley officials may have to look at housing more workers in Jackson Hole if they want to decrease commuter traffic. More worker housing means more development and more investment of public money in affordable and attainable homes. For Barron, housing has to be a part of any solution to the valley's emission problem. "If you don't build it, you'll just have more and more people driving the canyon and the pass," he said. "It's all connected."
Big picture: If Jackson Hole wants to reverse its greenhouse gas emissions, officials will have to employ a multipronged approach that includes public transportation, renewable power, energy efficiency, and even changing residents' day-to-day habits. Barron sees a challenge ahead, and with the inventory of Jackson Hole's carbon emissions just released, he has a renewed sense of just how much work will need to go into making progress. "Boy," he said, "do we have a long way to go."