Wolves' return to the Greater Yellowstone Ecosystem a quarter century ago has been the primary force suppressing local mountain lion populations, a new study has concluded.
That hypothesis was tested and confirmed using data amassed over the 16 years that the Teton Cougar Project tracked 147 cats on the east side of Jackson Hole. It was already known that lion numbers in this area fell by half during the study period, which coincided with wolves reoccupying the landscape. While the new canine competition was suggested as an explanation for the puma decline, until now the connection had never been confirmed with a vigorous analysis.
"Our question was really clean," former Jackson Hole resident and lion biologist Mark Elbroch told the News&Guide. "We know the cats declined — that's not up for debate — but what caused it? Is it human hunting? Is it declining elk numbers? Or is it increasing wolves?
"The answer we have the most support for," he said, "is it was increasing wolves."
Elbroch used an "integrated population model" that simulated lion populations under different ecological conditions to back that statement. Disparate data fed into the analysis, like kitten counts, lion hunter harvest and estimated cougar, wolf and elk populations.
"We were able to use all of our data," he said, "rather than just subsets of it."
Wolves put a hurt on lion populations in two ways that the researchers deciphered. For one, they directly kill them, especially kittens. In 2014, for example, Wyoming's largest wolf pack dwelled in the Gros Ventre River area — and they weren't welcoming of the Cougar Project's research cats.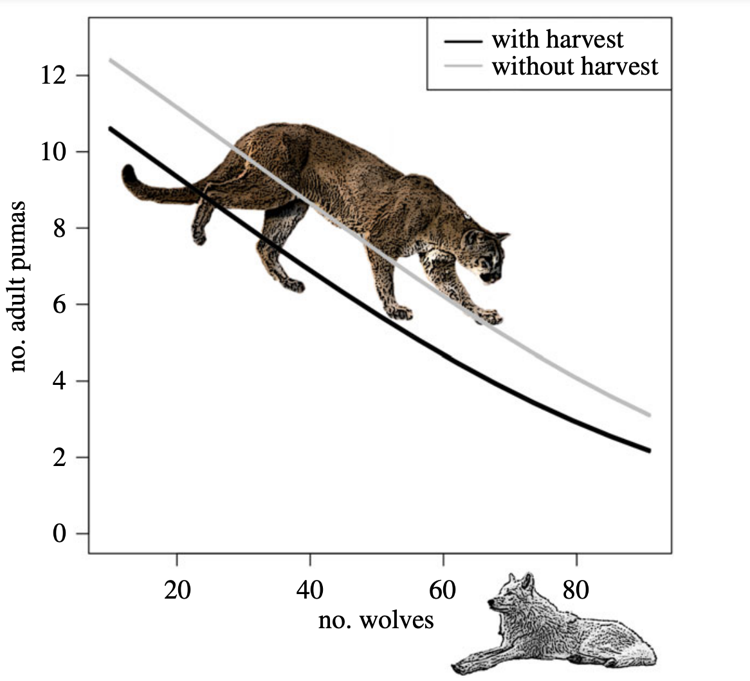 "Every kitten we followed that year was killed by wolves," Elbroch said.
The other way wolves affected cougars was by making their primary prey less accessible. When wolf populations in the study area were high, elk were more bunched up on places like the National Elk Refuge and less likely to be dispersed across the landscape.
Since the study wrapped up, wolf numbers fell off and elk seemed to respond by returning to their old winter haunts.
"This is good news for cats, without a doubt," Elbroch said. "One would expect that cats should be in greater numbers than they were."
Wolves had a much greater effect on lion counts than hunting, the study found. The average harvest of cats in the study area was the equivalent of having about 20 wolves on the landscape. At the peak, there were nearer to 80 wolves.
Elbroch, formerly the Teton Cougar Project lead scientist, now directs the Puma Program at Panthera, a global wild cat conservation group. He published his findings in a recent edition of the Proceedings of the Royal Society — Biological Sciences journal. Co-authors included Howard Quigley of Panthera, Derek Craighead of Kelly's Craighead Beringia South, the Wyoming Game and Fish Department's Dan Thompson and researchers from the University of Hawaii and Victoria University at Wellington.
Before Europeans settled and homesteaded North America, wolves and mountain lions were sympatric throughout the continent. For Elbroch, an exciting extension of the research is that it offers some insight into how a dominant pack animal like wolves would have influenced a solitary subordinate predator like mountain lions historically.
"Think about North America 300 years ago," Elbroch said, "and you can understand why mountain lions were never populous in places like the Great Plains — where there was nowhere to hide. Wolves were everywhere. They probably limited mountain lion numbers throughout most of our country."
Running off this assumption, there could be more mountain lions on the landscape today than there would have been under more natural conditions — because wolves were wiped out from much of their range.
"You hear people say, 'Gosh, there are tons of lions,' " Elbroch said. "Well, we have no idea how many were here 300 years ago — anywhere. But in some places I bet you there are more, because there are no wolves."