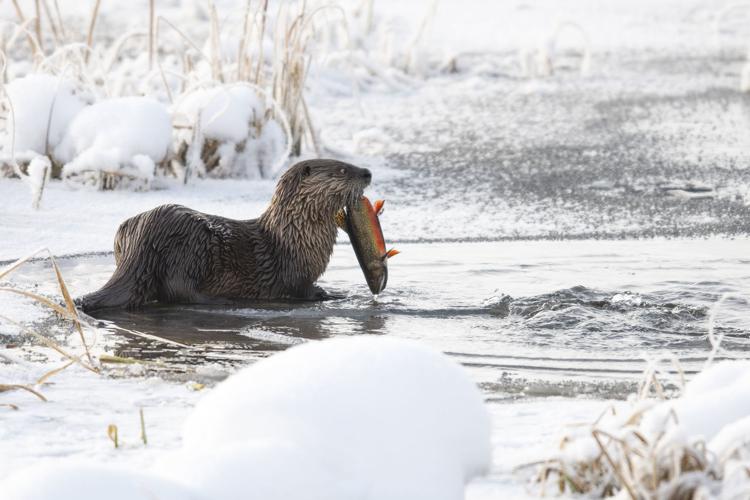 Irene Greenberg had been roving around looking for something to photograph the Sunday before last when she came upon a brook trout bloodbath that's the subject of Jackson Hole wildlife-watching legend.
It was a romp of otters that were responsible for the killing, which netted the mustelid family full guts of spawning fish. Greenberg, a semiprofessional wildlife photographer who's got a soft spot for otters, was entranced and, for a while, watched on her own at a location she prefers not to reveal.
"The only reason I stopped photographing is it was a cold morning," Greenberg said, "and my fingers after about two hours went numb, and I couldn't work my camera."
But until then she got hundreds of images of the semiaquatic carnivores catching, killing and consuming one plump exotic trout after the next. Based on the group's behavior, her hunch was that she was observing an adult female otter and her four kits. They jumped around, swam, played and inched within 20 feet or so of a gathering of onlookers that eventually assembled.
Mostly they dove to go hunting — and ate.
"More or less every time they go under, they come up with a fish," Greenberg said. "Sometimes they'll come up and just eat them in the water, and sometimes they'll come up on land and eat."
"They are voracious," she said. "And they eat a lot."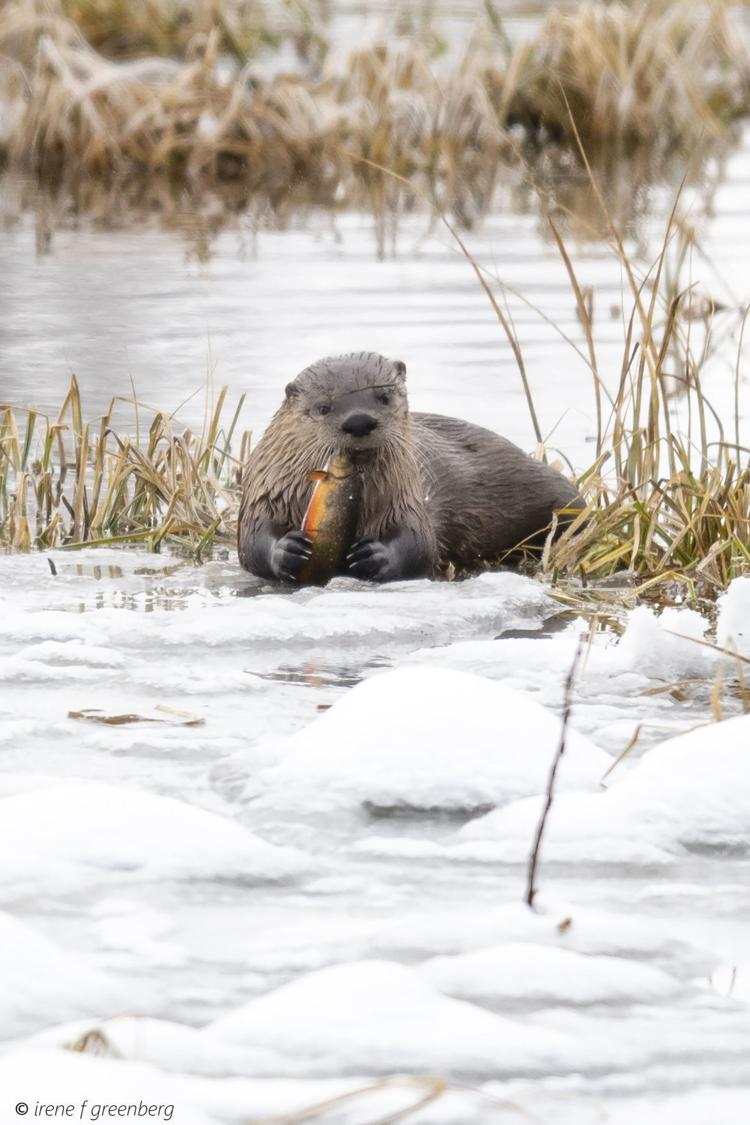 Grand Teton National Park is a prime place to glimpse North American river otters in the wild. Their visibility and distribution has even been the subject of study, and in 2015 University of Maryland doctoral student Kelly Pearce wrote about a summer's worth of surveys looking for the house cat-size piscivores along two stretches of the Snake River: between Flagg Ranch and Jackson Lake and Jackson Lake Dam and Pacific Creek. With remote cameras and scat analysis she detected 26 river otter "latrines," which are social sites and communal bathrooms.
"Based on our preliminary results, river otters in Grand Teton National Park appear to exhibit unique behaviors unlike river otters in other riverine systems," Pearce wrote in a report for the University of Wyoming/National Park Service Research Center at AMK Ranch. "Specifically, the river otters we detected formed large groups, and were active during daylight hours. … These results indicate that river otters may be viewable to visitors of Grand Teton National Park, an essential characteristic of a successful flagship species."
Tim Mayo, another semiprofessional Jackson Hole photographer, has also delighted in the late-fall brook trout feast, having lucked into the otters three of the past five years. Within hours of Greenberg's find he was on scene and grateful to be there, knowing it wouldn't last long.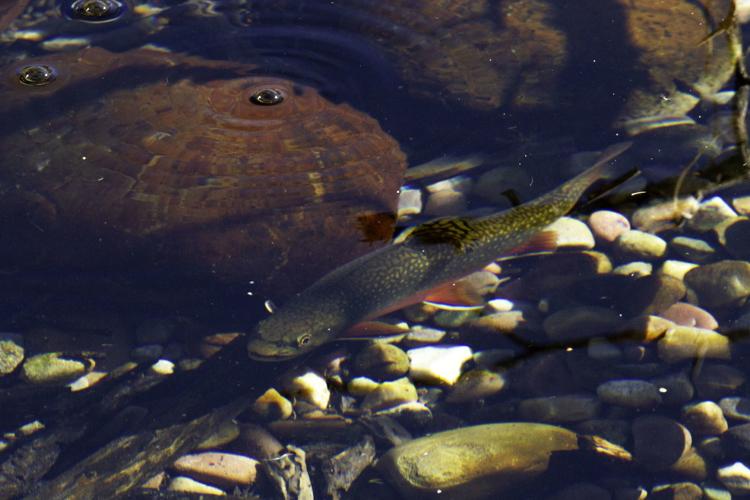 "It's usually about a 48-hour event," Mayo said. "They go in there and they whack the s--- out of those brook trout."
The brook trout are clearly spawning, with their ruddy undersides and yellow and red spotting easily visible in the shallow beaver-engineered ponds where they're congregated.
The otters are "damn smart," Mayo said. They faithfully show up to take advantage of the usually wary fish, which become easy pickings come the spawn.
"I'm not sure where they're coming from — though it's not that long of a trek from the Snake River — but they certainly know to come," Mayo said.
"They get in there," he said, "and get business done."