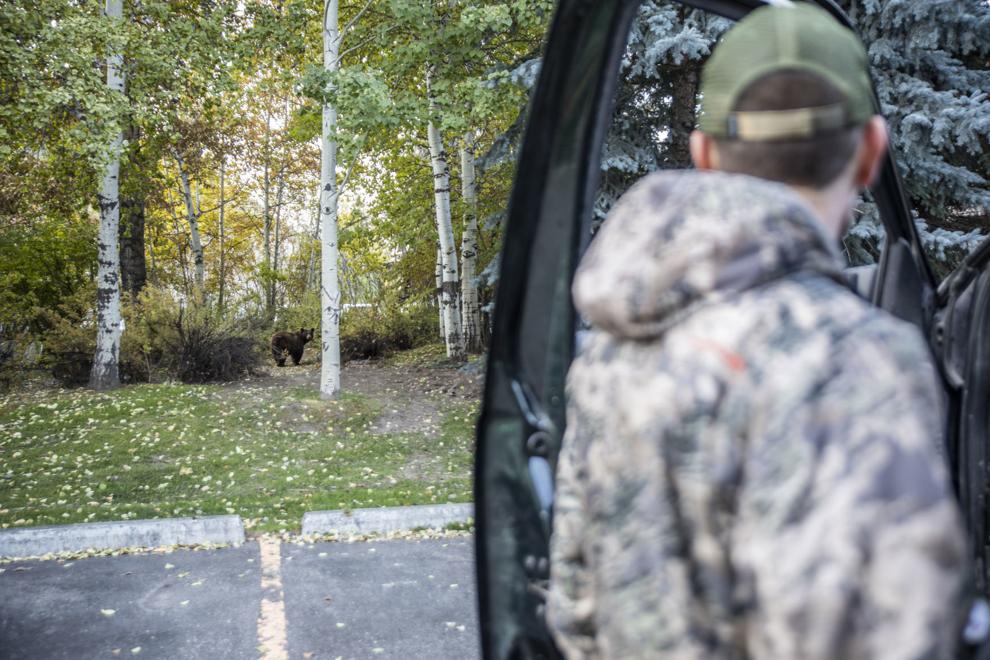 The "rock" started moving in Billy Arnold's peripheral vision Monday morning while his head was down as he scrolled on his phone on the way to get some breakfast cereal.
Arnold, the News&Guide's Scene editor, was cutting through a quarter-acre of green space hugged between the Hampton Inn and a Buffalo Way office building. He was on a straight-shot, path-of-least resistance route often used by Teton Media Works employees needing a bite. This was a routine Monday morning jaunt for the ponytailed scribe to fetch his Raisin Bran.
The moving rock, though, was out of the ordinary. A bit dazed from his sunrise ski fitness class, Arnold found himself face to face with a mature black bear, perhaps twice his size, that lumbered to its feet 10 to 15 feet away.
"All of a sudden one of the rocks stood up and moved," Arnold said. "I was like, 'Holy sh-t, what the hell is that?'"
He froze. Bears of both the black and grizzly variety are commonplace in Jackson Hole, but it's unlikely to see one within mere yards of where dozens of workers punch a clock, scores of tourists lay their heads and hungry shoppers gather their groceries.
And there it was, a bear, staring intently at Arnold at 8 a.m. between two parking lots. He had the sense that he had roused the big bruin from a slumber, or, at the least, some relaxation.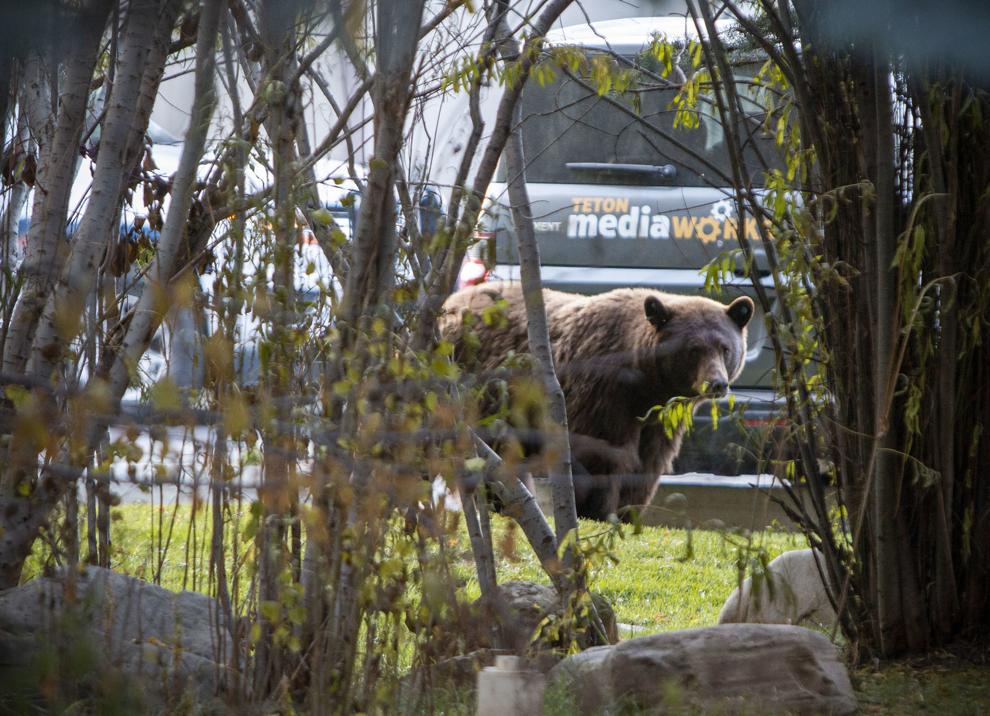 "It was definitely hanging out unbothered," he said, "until I came through."
Based on the bear's hulking shoulders and a glimmer of brown in its coat, he worried he was toe to claw with a grizzly. Still, his nerves were mostly calm as he started to backpedal toward the News&Guide office.
"It followed me," he said, "and took a few steps toward me."
At 8:03 a.m., with a full-sized pickup truck providing a buffer between him and the bruin, he sent word to colleagues.
"I don't know if this is breaking news, but there is a big bear in the courtyard between us and Albertsons," Arnold wrote on the newsroom's Slack channel. "Like a big bear."
Within 15 minutes, editors, reporters and photographers massed at the scene, rubbernecking from the safety of their vehicles. There was unanimous agreement that this wasn't a great situation, and promptly Wyoming Game and Fish Department Large Carnivore Biologist Mike Boyce was made aware of the situation.
VIDEO: A black bear was spotted Monday morning outside the Teton Media Works offices on Maple Way. The mature bear, which Wyoming Game and Fish officials estimated to be about 300 pounds, was lounging in a courtyard between Albertson's and Teton Media Works before it moved west, crossed Broadway Avenue and ascended High School Butte. 
Hazing or immobilizing and relocating a bear out of a developed area, especially in the fall, is routine business for Boyce and his colleagues. The circumstances here departed from the norm. This wasn't a neighborhood, but instead a bustling, commercial part of Jackson. The whir of cars headed down West Broadway in morning rush-hour traffic was plainly audible from the courtyard.
"Hang tight," Boyce said. "I'm going to get some more help here, so we can create a gap for him. It's ultimately up to him which way he will go."
The bear, likely a boar, had dual ear tags from being captured and relocated before. Boyce suspected the animal, which he put at just shy of 300 pounds, was the same bear reported raiding crab apple trees opposite of High School Butte last week. His hunch was that the bruin was making the rounds through West Jackson during the nighttime hours, and when the sun started to poke up that morning it sought out and bedded down in the only natural cover it could find.
"This obviously isn't a conflict," Boyce said, "it's just a bear in a bad spot."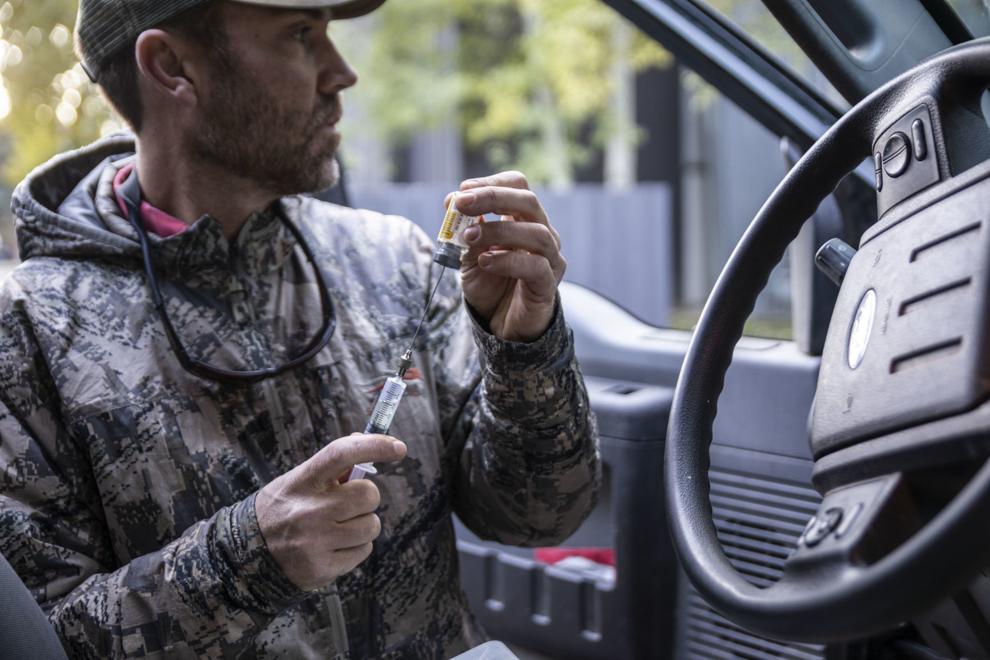 The plan, initially, was to steer the bear toward Snow King and Josie's Ridge, a vaster wild environment than High School Butte that wouldn't require crossing traffic-packed Broadway. Within a few minutes, Boyce thought better of chauffeuring the animal through several city blocks, and he began preparing 150 milligrams of telazol tranquilizer that could put the bruin to sleep so he could drive it away.
Nerves were on edge because the prick of the dart can cause erratic behavior.
"They might try to run," Game and Fish's Becca Lyon said. "The drugs obviously won't take effect immediately, and they try to find a safe place. Sometimes that's a tree, which isn't ideal."
But the bear was suddenly antsy, pacing and panting.
"He wants to leave," Boyce said, "but people are blocking him on the other side."
Boyce didn't get the chance to send a dart flying. This also wasn't the time or place for "aversive conditioning," like shooting it with bean bags, because such a tactic could cause the bear to panic while surrounded by people and traffic.
The bear would do what it pleased. And, at a slow trot, the animal headed toward Buffalo Way. It stopped on the lawn to defecate a pie-size pile a few feet from newspaper delivery vehicles. Then, within moments, it headed around the Hampton, aiming for the butte opposite Broadway. Boyce and Lyon by this time were assisted by warden Kyle Lash and several police officers. The convoy, in several vehicles, beelined it for the busy street to stop traffic while Lyon followed on foot.
It worked. Smiles cracked and there was rejoicing as the bear safely galloped across the street through a traffic-free gap and began lumbering its way up High School Butte.
"There he goes," Lash said.
Boyce offered a thank you: "Yeah!" he said. "Nice, guys."