So much for the extraordinarily dire water year in Jackson Hole.
During early summer a slim snowpack that melted off weeks early combined with unseasonably warm temperatures to crater the base flows of tributaries while simultaneously causing record hot water temperatures. Demand for water stored in dammed Jackson Lake was also off the charts, and projections were that 97% of the water from its augmented 39 feet was going to be sent downstream to irrigate cropland in Idaho's Magic Valley.
But then August happened, tempering all those trends.
"Precipitation this August is currently at 3.49 inches, as of Tuesday morning, Aug. 24," MountainWeather.com meteorologist Jim Woodmencey wrote in an email. "That's getting close to the record wettest August ever, which was in 1945 with 3.80 inches."
While those readings are from in town at the National Weather Service's Jackson Climate Station, the much-needed precipitation has changed hydrological equations and projections throughout the Snake River watershed.
"Instead of 3% full at Jackson Lake, the projections for the end of year we're seeing are about 19% full," Bureau of Land Management water operations manager Brian Stevens said.
Water will stay in the Snake River for longer too, he said.
Releases out of Jackson Lake Dam had been scheduled to transition to the winter rate of flow, of just 280 cubic feet per second, in the middle of September. Now there will be a few more weeks of easily floatable water.
"We're seeing at least 1,000 cfs as a minimum flow through the end of September, so I think that'll create some rafting opportunities that wouldn't have been there otherwise," Stevens said.
Interestingly, it wasn't so much the rain that bolstered projected levels at Jackson Lake. Stevens' guesstimate is that only about 10% of the improvement is due to the recent precipitation.
"We've seen stark decreases in diversions in Idaho," he said.
Across the Upper Snake River system, agricultural diversions topped out at about 27,000 cfs in mid-June, volumes that brushed up against record highs. But by mid-August those flows headed to grow grains, grass and potatoes had been slashed to nearer 16,000 cfs — much nearer to the all-time lows for the time of year.
The unexpected addition of some 125,000 acre-feet of water that will be left in Jackson Lake over the winter doesn't make a world of a difference, Stevens said. If drought persists and next year's water year is dismal, he said, water managers will still be in a tough spot to satisfy demands come summer 2022.
"Jackson Lake and Palisades Reservoir work in tandem together for deliveries downstream," Stevens said. "So when you look at how empty Palisades is, 19% doesn't mean a whole lot."
Palisades Reservoir, currently 25% full, is still projecting to drop toward its minimum pool, even with the recent rains, which isn't ideal.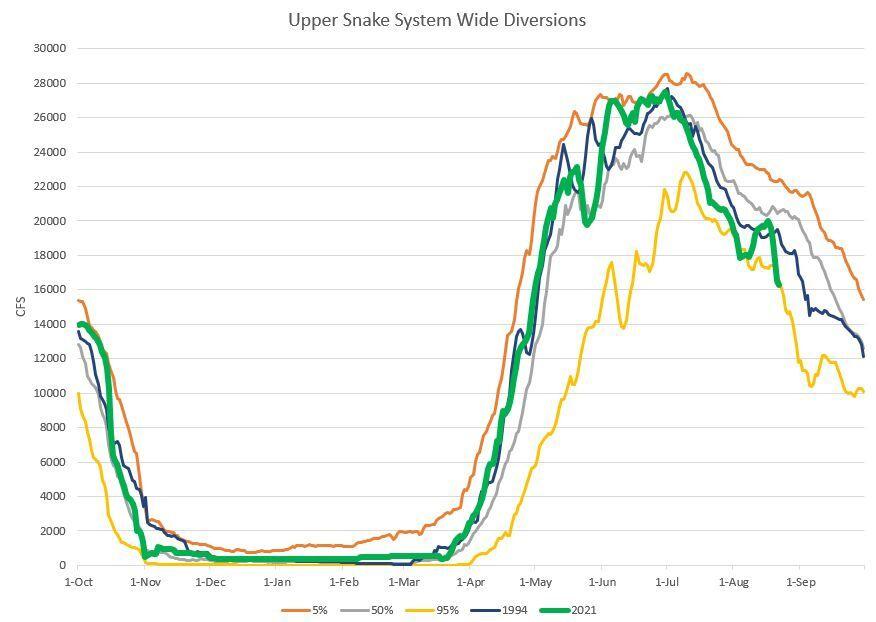 "We don't want Palisades to go empty," Stevens said. "We'd like to not get to 0%."
One pursuit that stands to benefit from the bump in Jackson Lake's level is recreational boating.
When the lake was expected to nearly empty, projections were that all three major boat ramps would be inoperable for the season by the middle of September. Colter Bay Marina has been too dry to use for a while, but there are prospects for late-fall motorboating elsewhere.
"We'll probably have a good 3 feet, 3.5 feet on top of the end of the boat ramp at Leeks Marina," Stevens said. "Maybe 1 foot, 1.5 feet on the Signal ramp in October."
Given historically dry soils going into the summer and a dry June and July, the amount of water flowing through Jackson Hole's streams and rivers isn't as sparse as water managers such as Stevens feared.
"I'm surprised that base flows haven't crashed yet," he said.
Still, there's not exactly an abundance of water.
Flows in the Snake River above Jackson Lake are only about 30 cfs above the historical minimums. Those types of readings have avid anglers like Carlin Girard worried.
"One of my strongest concerns with low base-flow conditions are overwintering trout," said Girard, the water resource specialist for the Teton Conservation District. "Low base flows through the winter I think are a controlling factor on the fisheries here, and I'm talking about populations."