After a shift at the Blackrock Ranger Station in fall 1996, Steve Deutsch was driving his Ford Ranger on Highway 26/89/191 near Moran when he swerved to avoid a moose on the road.
The next thing he knew, he was in a hospital in Miami, having woken from a 10-day coma, paralyzed on his left side with extensive brain damage. Lurching the truck to avoid the quarter-ton ungulate rolled the vehicle over, changing the course of his life. "From my personal experience, I realize that the cost of one accident to our society as a whole is monumental," Deutsch said.
He's been receiving Social Security in the 23 years since and has had an array of related health challenges that Medicare and the taxpayer have been paying for. It's why Deutsch likes to say that wildlife-crossings pay for themselves, despite some initial sticker shock. "Wildlife crossings protect people," he said, "as much as the wildlife."
After the accident, Deutsch went on to become one of dozens in the Jackson Hole community who have advocated for structures to allow animals to cross over and under the area's highways. A movement that began as banter on a West Gros Ventre Butte couch has united conservation nonprofits, galvanized popular support and landed a $10 million tax measure for crossings on the November ballot.
"It felt like a smaller number of people turned into a mass public movement for structures," said Jon Mobeck, executive director of the Jackson Hole Wildlife Foundation. The new and longtime Jackson Hole residents pushing for more wildlife-friendly roads still have work to do. They must convince the community that crossings really work, keep building the momentum and secure funds to actually get some crossings in the ground.
Anyone commuting in the summer to Wilson or over Teton Pass to Teton Valley, Idaho, can tell you: Jackson Hole traffic is increasing. It's not just anecdotal. According to a town and county report, in 2017 motor vehicles traveled more than 592 million miles within the county, surpassing the community's 2035 goal of 560 million miles. Our roads are busy and growing busier 20 years ahead of the projections.
Herds of the valley's megafauna — specifically elk, deer and moose — have shifted where they call home on the landscape, concentrating on developed and semideveloped habitats. Simultaneously, those lands are being ever more chopped up and populated by people, roads and cars.
The "wall of cars" from growing volumes of traffic on Teton County highways bisects important wildlife habitat, Wyoming Game and Fish biologist Aly Courtemanch said. That "wall" functionally severs migration routes to seasonal ranges and creates perilous passages for animals that need to cross roads in their daily lives. Every added barrier like fences, homes and roads is a new obstacle to wildlife's ability to travel in their search for something to eat, Mobeck said. "They can't survive without moving from one food source to another," he said. "Therefore, in the long term, if we don't maintain these corridors then we don't maintain these wildlife populations."
More vehicles on the road means animals are being hit, too. The roadkill metrics are increasing, according to data from the Jackson Hole Wildlife Foundation. That nonprofit has tallied 5,064 collisions in the county since 1990 — and that number doesn't include Grand Teton National Park. The highest year yet was 2016-17, when a historic winter pushed ungulates downhill toward highways.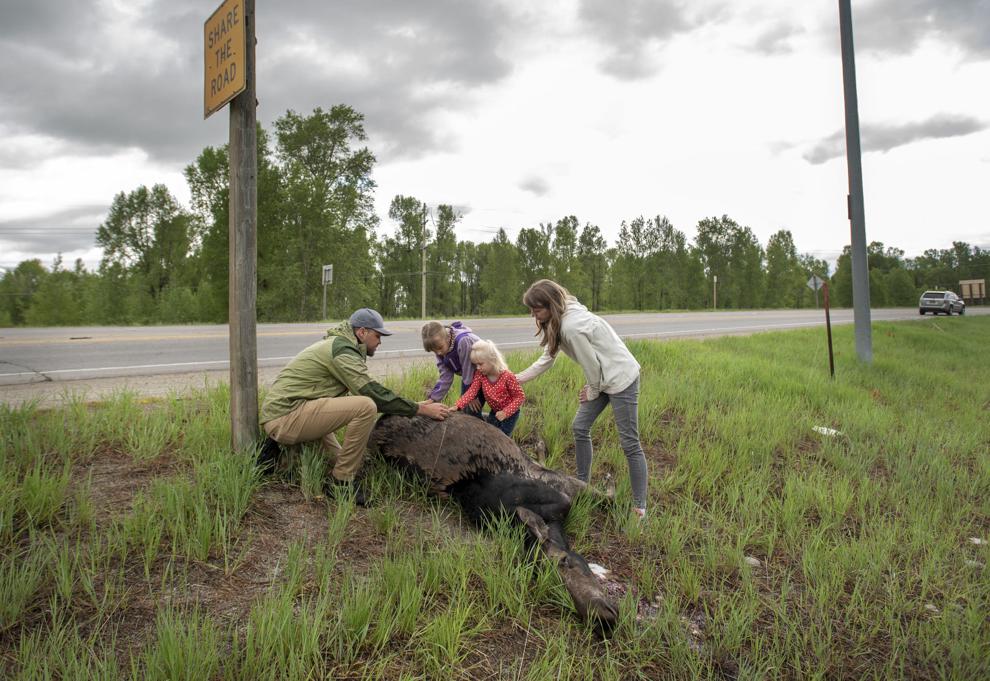 Courtemanch, her colleagues and police officers see it firsthand: When a large ungulate like a moose or elk is struck by a vehicle and doesn't die immediately, they receive the call in the middle of the night to run out and end its misery. "Every animal that gets hit," Courtemanch said, "obviously that's sad, and we don't want that to happen." But vehicle strikes are also reaching a point, she said, where they could be having a population-level effect on some species. The Jackson Moose Herd population is estimated to number 450, and around 20 of those animals are hit and killed annually.
National parks in the Canadian Rockies have decades of history building wildlife crossing structures and have carefully researched their effectiveness. One study that monitored 44 of those crossings found that wildlife strikes were slashed by an average of 80% despite increasing traffic volumes. There was a corresponding increase in ungulate survival. "They work remarkably well when they're well-planned and well-placed," Parks Canada road ecologist Trevor Kinley said. "You can expect significant reductions in wildlife-vehicle collisions and improvements in wildlife connectivity."
The success stories also exist closer to home, said Wyoming Department of Transportation District Engineer Keith Compton. Seven underpasses added to Nugget Canyon between Kemmerer and Cokeville were 81% effective at reducing mule deer strikes on Highway 30 by the structures' third year. At the Trapper's Point overpass and underpass network near Pinedale, collisions with pronghorn were essentially eliminated and mule deer collisions reduced 79%. "They are 80% to 90% effective in reducing wildlife-vehicle collisions," Compton said. "That is an incredible statistic in my mind. In places where they're warranted and really needed, they are definitely effective. They're expensive but effective."
Those are about the results that Western Transportation Institute employee Rob Ament would expect. Ament helped author the Teton County Wildlife Crossings Master Plan, adopted in June 2018. That plan found that other less costly additions to roads, like warning signs, can reduce collisions by 9% to 50%. In order to work effectively, crossings must be carefully sited, Ament said. GPS location information from tracked animals, roadkill data and other field observations are all used to fine-tune the location. The type and size of a crossing must fit the target species, and some animals are fussier than others: Elk and moose prefer overpasses, while a bobcat or a coyote will cross just about anything. Strategic fencing is another ingredient. For a crossing to work, high fences must (ideally) extend a few miles on either side of a crossing to funnel animals to the safe juncture.
Even in the ideal location, actually getting a crossing in the ground can be challenging. The land on either side has to suit an under- or overpass, for example. Ownership and the need for easements is another potential barrier, Compton said.
Some locations are far from perfect. The Highway 22/390 intersection is the No. 1 priority hot spot in the county's wildlife crossings master plan. While Banff and WYDOT's Trapper's Point crossings are built on long stretches of rural highway, this busy intersection is more complex, with a major river, driveways, parking lots, a stoplight, and other obstacles. Fencing, cattle guards and potentially tools like electrified mats will be needed to supplement the actual structures. It's such a busy, complex area, Mobeck said, that building a wildlife crossing there will be "almost experimental." Wildlife will need time to learn to use the crossings, and success won't come instantaneously.
As WYDOT plans to replace the intersection in 2023, the state has included $2.5 million in the budget to cover two crossings. If voters approve the specific purpose excise tax in November, Teton County may fund an additional two at the site. Hefty price tags are another obstacle to building the crossings. The Trapper's Point network of overpasses and underpasses cost $9.7 million.
But experts say it's worth it. The Western Transportation Institute has estimated the average cost of a deer-vehicle collision at $8,190, factoring in human injury, insurance claims, the value of the animal, etc. A moose-vehicle collision costs $44,546. When those factors are multiplied by tens and then hundreds, the cost to society adds up quickly.
Some of the first murmurs about Jackson Hole wildlife crossings were made on Vance Carruth's living room couch about a decade ago. Carruth, a retired photographer, had been a tour director in the Canadian Rockies and knew the success of the extensive network of crossings there. He sensed that worsening traffic posed a threat to Tetons wildlife — and perceived an opportunity. "I thought at the time," Carruth said, "that's what we need here in Jackson Hole."
Seeking to unite conservationists around crossings, Carruth convened the gathering at his West Gros Ventre Butte home for a discussion, and Safe Wildlife Crossings for Jackson Hole was born.
Progress has come slowly. When the highway over Togwotee Pass was rebuilt, a few crossings were added, though fencing is lacking. WYDOT is in the process of building and retrofitting six underpasses on South Highway 89 as well, investing more than $8 million in the structures, simultaneous with the project to widen that road.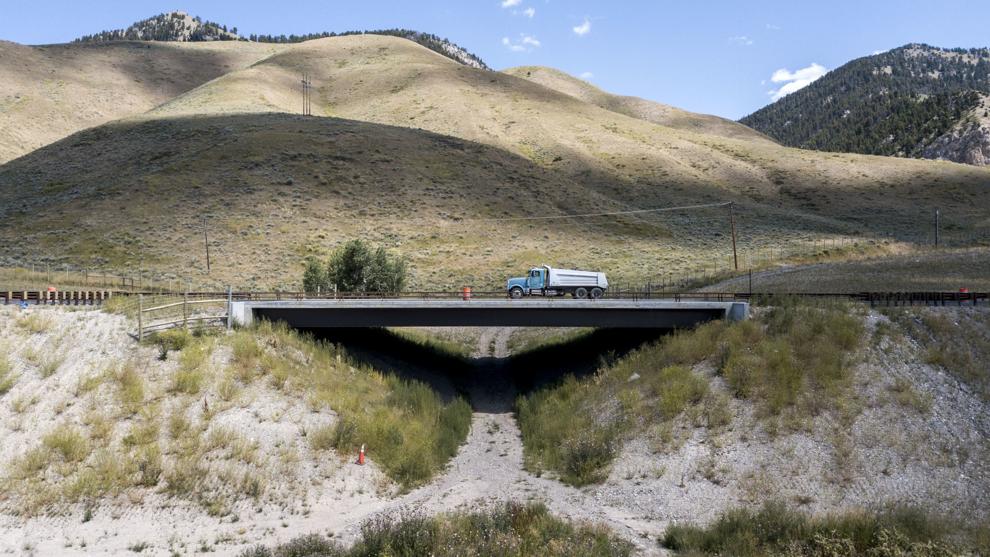 Now, voters have a chance to approve $10 million for crossings in November through a SPET ballot measure. The Jackson Hole Conservation Alliance rallied crossings advocates to send hundreds of postcards to elected officials asking for support. The 40-year-old advocacy group has mobilized Jackson Hole's transient, younger generation to show up to public meetings wearing antlers and make impassioned please for wildlife. They've phone-banked, canvassed and held art exhibitions. They've already dispatched canvassers to rally support for the SPET ballot measure.
"This is a very large investment," Conservation Alliance organizer Ryan Nourai said, "but in the long run … there is a return to the individual for millions of dollars."
Wildlife crossings largely have the public's support, which is perhaps why they've become such a focal point for the local conservation community: It's a bipartisan issue that appeals to all age groups. In a valley where so much of planning for growth is divisive — zoning, widening roads, redevelopment, housing projects — it's something people can unite around.
Partly, it's because it's familiar. A 2013 Conservation Alliance poll found that 96% of Teton County residents have seen roadkill on our roads, and 84% had collided with a critter or knew someone who had. Overall, 82% of people polled supported wildlife crossings. "It's like mom and apple pie," former Conservation Alliance Director Craig Benjamin said. "It's incredibly well supported." Hitting and killing or crippling an animal is intensely personal, and visceral. Social media has amplified the reach of animals being hit, Mobeck said, exposing more people to photos of accidents and stirring more support for a solution. "Every moose that gets hit is a story," he said, "[and] every moose goes viral."
Those emblems of the wild and the vast array of large ungulates that still thrive in the Greater Yellowstone Ecosystem are partly why people live and work here. In the years until more Jackson Hole crossings are built, there are short-term solutions available to safeguard the moose, elk, deer, pronghorn and other species that call this place home, Teton County engineer Amy Ramage said. Among the options are strategic lighting, electrified mats that steer animals away from the roads, and animal detection systems that warn drivers of animals on or near highways. "The traffic — it's not going to go away," Ramage said. "I think people are starting to realize we have to do something rather than just let it keep happening unchecked."