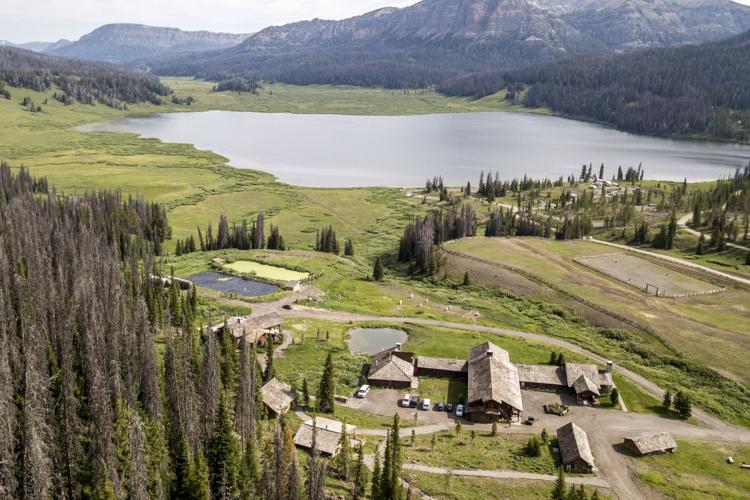 People and their pets have been advised to steer clear of Brooks Lake's waters because of a potentially harmful cyanobacterial bloom that environmental regulators confirmed last week.
An angler reported the suspected blue-green algae bloom at the 9,200-foot-high subalpine lake in early August, when he described seeing "light colored pea green soup" flowing out of the lake's outlet into Brooks Lake Creek. Days later, the Wyoming Department of Environmental Quality sent some staff to sample the water near the boat ramp, where the public is most likely to be recreating. Results from the Togwotee Pass-area lake came in last week, and show that the density of cyanobacteria just slightly surpassed the Wyoming Department of Environmental Quality's threshold for safety of 20,000 cells of cyanobacteria per milliliter.
The results — there were 20,516 cells sampled — are a reminder that even high-elevation lakes aren't necessarily clear of dangerous blue green algae, a problem the public more often associates with warmer, lower waters.
"We don't have elevation with all of the lakes," DEQ surface water quality standards coordinator Lindsay Patterson told the News&Guide, "but I would caution to say yes it is [the highest lake with an algae issue] without double-checking all the elevations."
Other high-elevation lakes, such as in the Wind River Range, she said, likely also harbor dangerous densities of cyanobacteria, but have not been tested like Brooks Lake has.
As of Tuesday, 14 lakes in the Equality state had active advisories for blue-green algae. Half of those were located in western Wyoming, and popular recreational waters like Ocean Lake, Boysen Reservoir, Big Sandy Reservoir and Flaming Gorge Reservoir were among waters that DEQ has active blue-green algae advisories in place for.
The Wyoming Department of Health issued a recreational health advisory for Brooks Lake on Tuesday, which was broadcast by the national forest.
"Harmful cyanobacteria blooms are dense concentrations of cyanobacteria or blue-green algae that pose a health risk to humans, pets, livestock, wildlife and aquatic life," Shoshone officials said in a press release about Brooks Lake.
The Wyoming Department of Health has the authority to prohibit swimming in lakes with documented blue-green algae blooms, but the state agency has not taken that step to date. In bordering Colorado, at least four lakes have closed this summer after hazardous blooms were confirmed, according to a recent report in the Colorado Sun.
Cyanobacteria are natural, and when present at low levels are harmless and play an important role in aquatic ecosystems. When blooms occur, cyanobacteria become visibly abundant and can look like grass clippings, blue-green scum, or spilled paint on the water surface.
Brooks Lake is listed as an "impaired" water because it's inadequately supporting its coldwater fishery, and the 209-acre lake has a history of algal blooms. One bloom, in 2008, caused what was then the largest fish kill in Wyoming history, when pea green water lacking oxygen washed out of the lake, killing trout and other species throughout Brooks Lake Creek and even into the Wind River.
Brooks Lake Lodge, owned by Jackson businessman Max Chapman, has been linked to the water quality impairments. The lodge's sewage lagoons discharge into Brooks Lake, and for years the system and the water it released struggled to comply with its DEQ permit and were subject to numerous violations. In 2018, the lodge invested nearly $500,000 to modernize and upgrade the treatment system.
Brooks Lake Lodge opened amid the pandemic, albeit with a reduced number of guests. Although they're allowed by law to enter the water, those guests have been told to stay out of the lake and also keep their pets out, said Jeff Golightly, an advisor to lodge owner Chapman who called the harmful cyanobacteria bloom "unfortunate."
Golightly was hopeful that an ongoing DEQ investigation into Brooks Lake's problems with nutrients would clear the lodge of responsibility from the new blue-green algae problem that's emerged.
"I hope four or five months from now some testing is done," he said, "and they can go back and say, 'Hey, it's not these guys.' "
But an environmental attorney who has watchdogged the Brooks Lake saga described the blue-green algae advisory as "problematic," and he suspected a connection to the lodge operations.
"Brooks Lake is surrounded by national forest," Wyoming Outdoor Council Senior Conservation Advocate Dan Heilig said. "There aren't any obvious sources of nutrients other than the lodge. There no industrial or agricultural activities taking place in the watershed, so you have to look at the obvious sources."
The DEQ keeps updated information about known harmful blue-green algae blooms online at wyoHCBs.org. Lab results for types of toxins found in Brooks Lake's water are still pending.
A recent citizen complaint of a dog that got sick after swimming in Jackson Lake also led to a DEQ site visit to sample for blue-green algae.
"They did not observe any blooms and the sample came back that there was no cyanobacteria in the cells," DEQ Natural Resource Analyst Michael Thomas said. "It sounds like that may be related to another lake the dog had visited before Jackson Lake."
The other lake was Fremont Lake.