TOGWOTEE PASS — Grizzly bears, humans and the complicated relationship between the two species kept Steve Stoinski busy in his first few days out of retirement.
The U.S. Fish and Wildlife Service special agent, brought back on a two-week contract, has been a central figure in an intensive effort to haze Grizzly 863, known as Felicia, anytime she settled in to graze off the shoulder of U.S. Highway 26/287 over Togwotee Pass. His 6 a.m.-until-sundown duties also cover dealing with the people whose fascination with celebrity sow and cub grizzlies living in eyeshot created a problematic situation that government officials say was dangerous and untenable.
Stoinski got an earful those first few days after hazing began on June 10. Photographers, including some famous ones, yelled him down.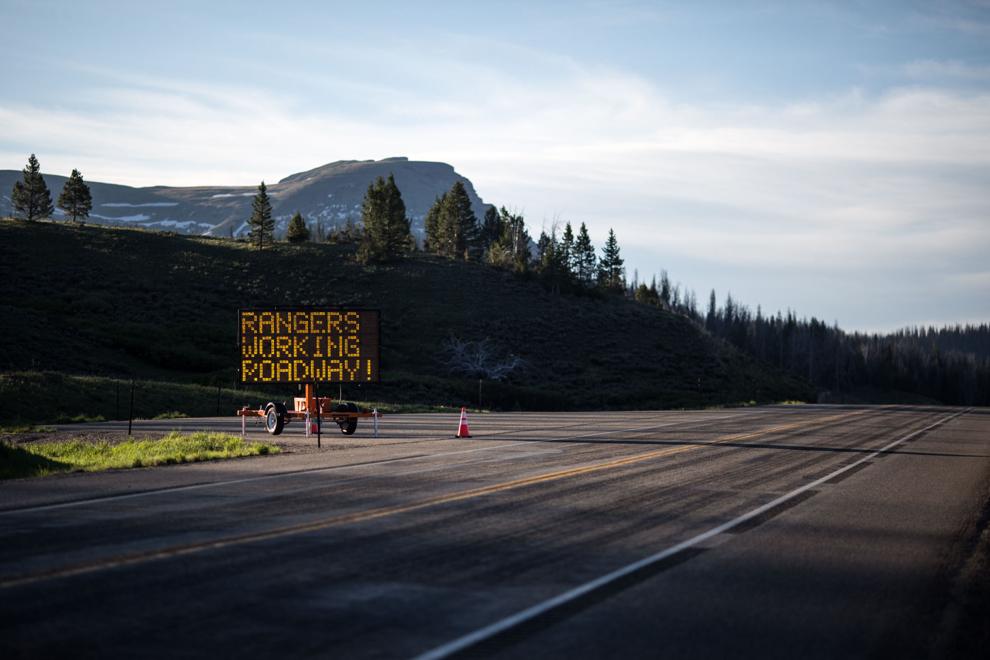 "They were pretty belligerent," Stoinski said. "They got in our faces, were poking me in the chest.
"But when we explained what's going on and what we're doing it, they realized they were part of the problem," he said. "And they even told me, 'We're going to stay out of the area.'"
Felicia, meanwhile, also kept the multi-agency response team on its feet. They hazed the grown sow every day aggressively, primarily using shotgun-propelled rubber bullets to belt her in the rump. She came back again and again, then seemed to get it.
"We went from eight hazings in one day to one hazing in four days now," Stoinski said Friday, a week into the operation. "It's changed a lot."
The sudden dearth of grizzlies and people around to goggle them has made for more idle time.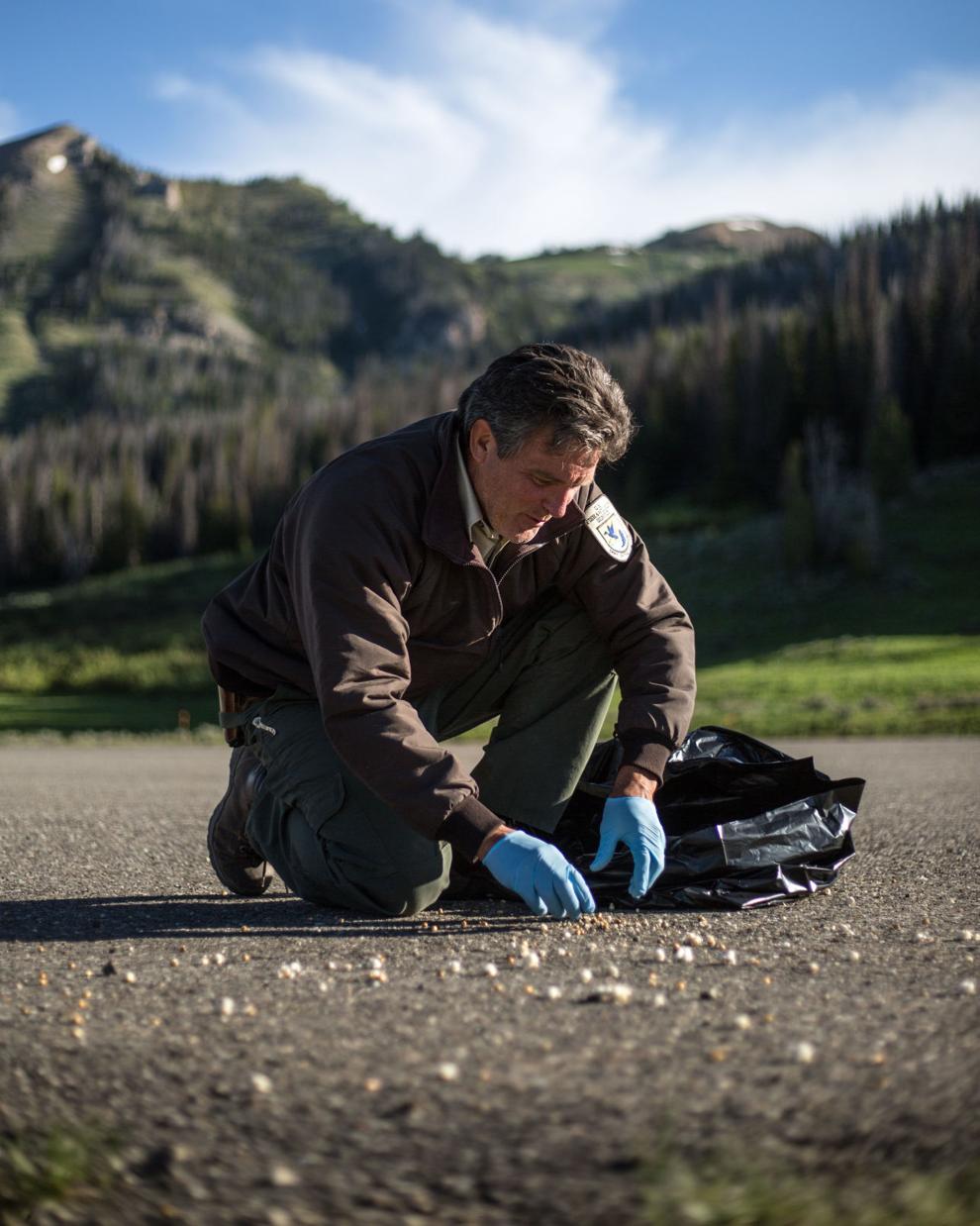 Heading west during an early morning patrol, Stoinski pulled a quick U-turn and stopped at one of Highway 26/287's many turnouts. He pulled on a pair of latex gloves, grabbed a garbage bag and began scooping up a pile of popcorn that had been dumped on the pavement along the roadside. The retired special agent wasn't sure if the buttery snack had been left intentionally or not, but a tip from a bear hunter during his years of trapping bears for the Fish and Wildlife Service taught him that the animals will almost always go for popcorn or dog food.
The idea to intensively haze Felicia around the clock for two straight weeks was years in the making. The 8-year-old sow, now raising her second litter, was relocated to Togwotee Pass in 2015 as a result of the same habituated, roadside behavior where she lived previously across the ecosystem on Beartooth Pass. Then in the summer of 2020, Felicia unexpectedly emerged from her den solo. The hazing was planned but wasn't necessary that year, Stoinski said, because the grizzly sow tended to keep more distance from the highway when she was without cubs.
A likely cause of the 2019 litter's demise was a male bear killed them. That's also the leading theory explaining why Felicia has tended to cluster so closely to the pavement when she's got youngsters in tow. Last week Stoinski saw this response firsthand. A boar chased her from half a mile away, and she beelined it for the highway.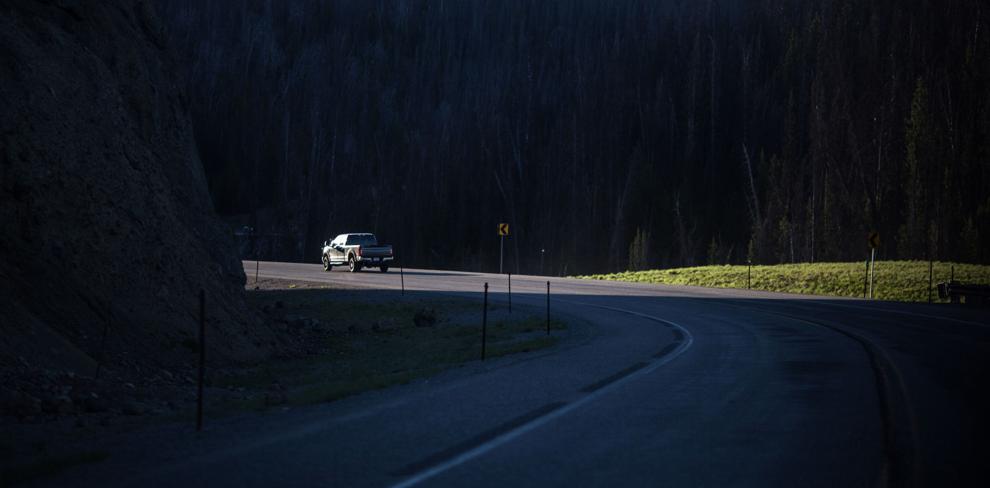 Felicia's response to that male also highlighted the potential danger when scores of people are watching grizzly bears along a highway unattended, Stoinski said. In all the commotion a cub became separated from mom, who had crossed a retaining wall and the highway.
"He came over the top and started bawling," Stoinski recalled. "And when I looked back over my shoulder she had come back from the woods towards the road, and she looked right at me with her ears flattened back. I knew I made a mistake being near her crying cub."
The plan to aversively condition Felicia with projectiles that hurt and make loud noises drew immediate outrage when it was publicized on June 11. Alongside the announcement about hazing, the Fish and Wildlife Service explained that relocating or even killing the grizzly was a possible next step.
That weekend, Felicia advocates mobilized online. Word of the plan for Grizzly 863 sparked a newly formed Facebook group, Instagram page, Change.org petition and even a "For Felicia Pledge" page. Some of the messaging suggested that a preordained death sentence awaited the famous female grizzly following the two-week effort to imbue her with a sense of unease around people.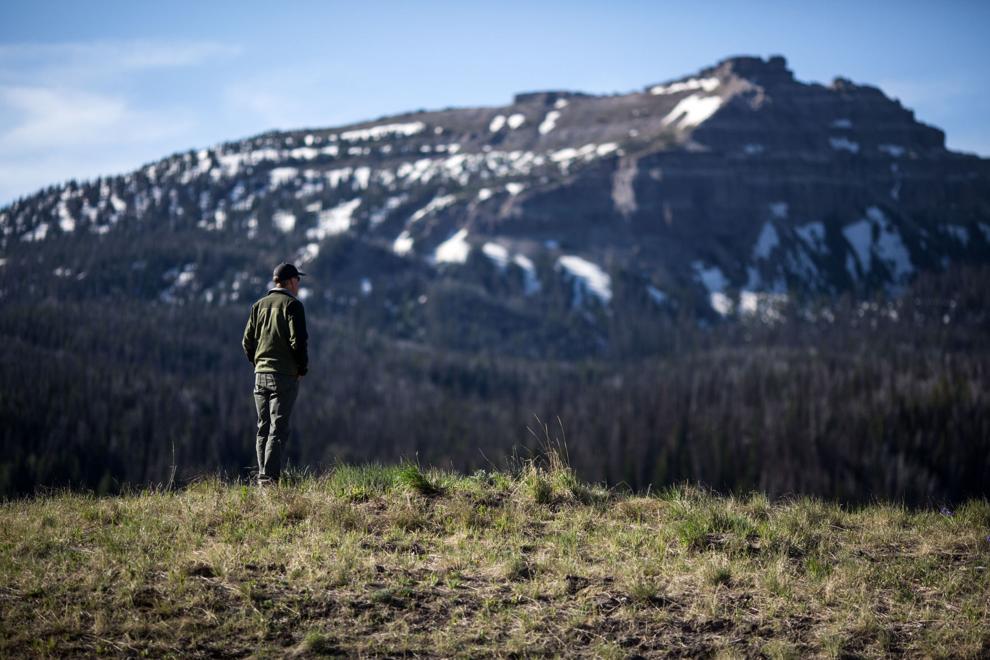 "There's no justification for doing that," he said. "She's a good bear.
"In most of my career, every grizzly I ever saw was dead," Stoinski said. "I knew this issue because I opened an investigation on it. And this gives me an opportunity to come back to help keep this bear alive. It's worth a try."
Relocating Felicia and her cubs is a more likely next step, though wildlife officials are holding out hope that's not necessary.
But at least one grizzly enthusiast thinks that extracting Felicia would be the best outcome. So suggested Gardiner, Montana, photographer Deby Dixon, who started a competing Change.org petition calling for federal wildlife officials to move Grizzly 863 to a safer haven.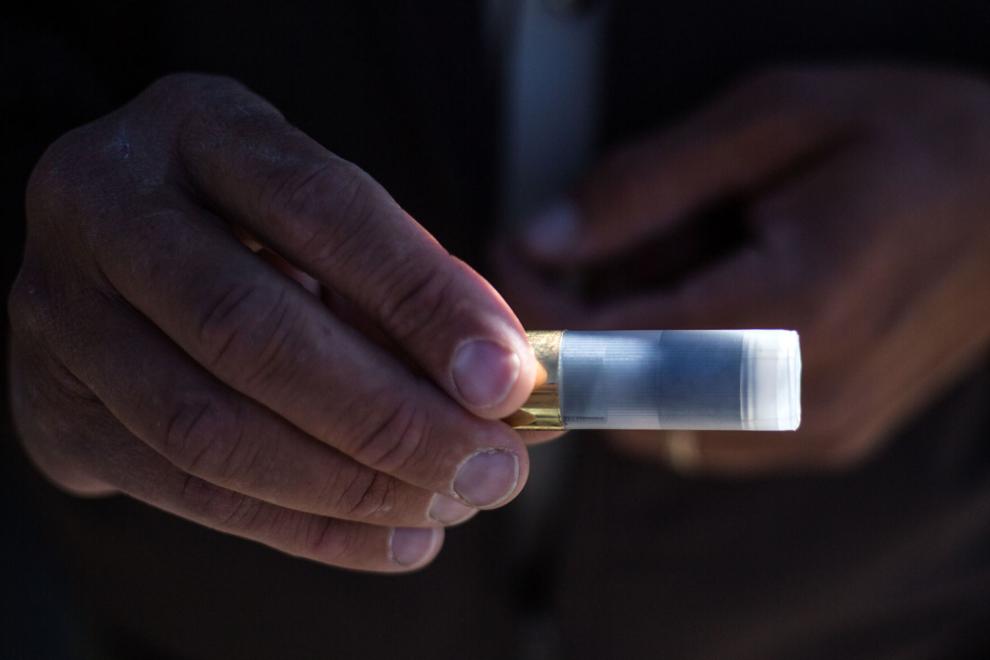 "It is only a matter of time before the bears are killed in traffic, or a visitor angers mama bear and she attacks them," Dixon wrote. "Moving this family to a remote location, where food and land are plentiful, will give them a chance at life without human interference."
But that's perhaps a minority viewpoint. Red Top Meadows resident and grizzly admirer Cindy Campbell is among those who have pushed for people to "Quit Togwoteeing." That was the banner of a Facebook post that called on fellow bear viewers to "take responsibility" and "let officials do their job."
Yet others remain skeptical that day-after-day hazing is the right approach. That strategy might trigger a short-term behavioral shift, but longtime Northern Rockies grizzly bear activist Louisa Willcox is skeptical that it's a long-term fix.
"What Fish and Wildlife Service has embarked on with Felicia, it just isn't going to work," Willcox said. "You're not trying to keep a bear out of a campground, you're trying to keep a bear out of a huge stretch of highway that she's made her habitat. Furthermore, she's made a calculated decision in her bear brain that there is good food by the road, and there are not males."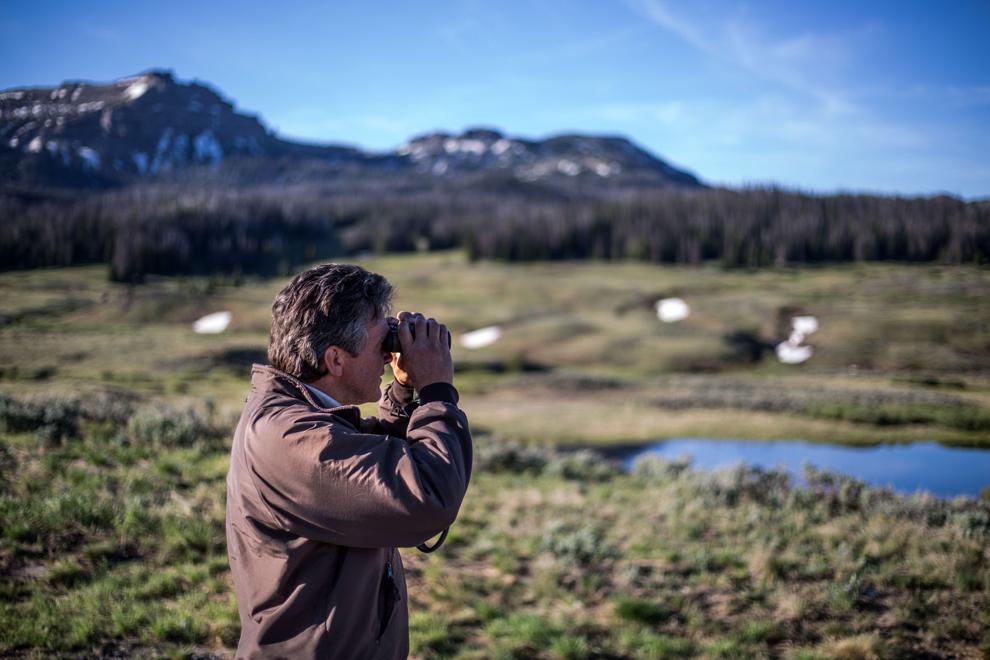 Instead, Willcox would like to see the federal and state agencies and the public come together to conceive some sort of partnership that educates passersby about the grizzlies, while also teaching people how to behave safely around them.
That idea has traction with folks like Images of Nature Gallery photographer Tom Mangelsen. He'd like to see more presence from authorities on Togwotee Pass apart from the present two weeks.
"I want the agencies to come together to have a plan," Mangelsen said. "We as a community can raise all the money they need for staffing and resources."
The clock on the two-week hazing period runs out at sundown today.
Afterward the Fish and Wildlife Service, Wyoming Game and Fish Department and Bridger-Teton National Forest will start another two-week "assessment period" where they'll see if Felicia falls back into her old habits. After that, since the current hazing seems to be having so much effect, they're looking into doing as-needed "maintenance hazing," Stoinski said.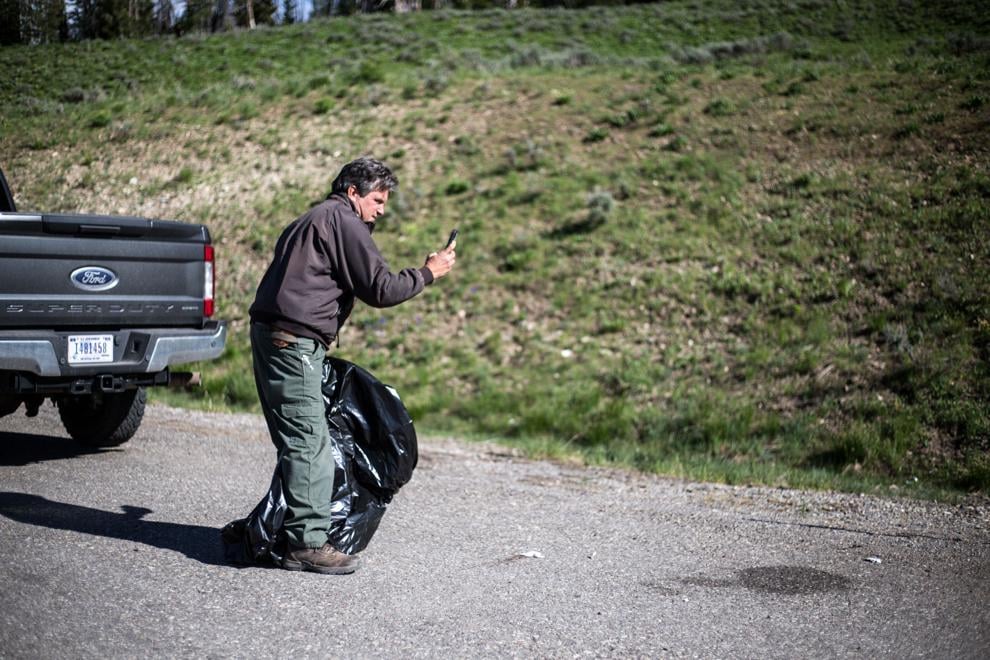 "That might be the solution," he said. "We're considering it."
Longer term, Stoinski agreed that having more presence on Togwotee Pass is the way to go, such as Grand Teton National Park's Wildlife Brigade just a handful of miles to the west.
"I've encouraged it," he said. "For this to continue to succeed if this bear stays here, it'd be nice to have people trained up here."