A Florida hunter who fled from a grizzly bear that was trying to appropriate an elk carcass thought his Jackson Hole guide was already dead when he first rang 911 from a high slope in the Teton Wilderness.
Wyoming Game and Fish Department investigators later found evidence that supported his suspicion: that outfitter Mark Uptain was fatally wounded during an initial attack and likely died within minutes, even though he managed to halt the brutal mauling with a blast of bear spray and stagger 50 yards before succumbing to massive trauma and blood loss.
"Evidence suggests that when Uptain deployed the bear spray, it stopped the aggression, giving him time to escape," Game and Fish investigators detailed in a just-released report. "However, this appears to be after the fatal injuries were inflicted."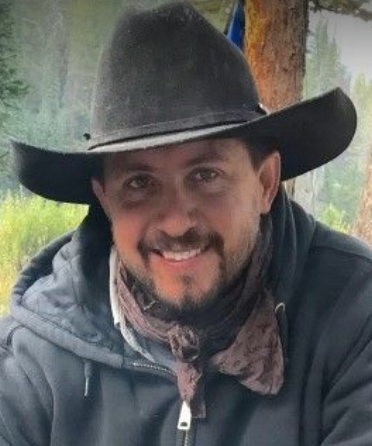 Those conclusions, and descriptions of events that played out, come from a 34-page investigation report Game and Fish provided to the News&Guide following a public records request. The document doesn't settle all debates, but it clarifies a previously murky series of events, doing so with an analysis, photos, schematics, and statements and eyewitness reports from first responders, a coroner and hunting client Corey Chubon.
Some of the details that follow in this story are gory and graphic but are being included to give readers a sense of the true hazard that's an inherent part of recreating and hunting in grizzly bear habitat.
The sudden Sept. 14 attack that killed 37-year-old Uptain and left five Jackson Hole children without a father is an outlier in several ways.
Hunter conflicts with grizzly bears in the Greater Yellowstone Ecosystem, and the Teton Wilderness specifically, are routine — there are dozens of encounters annually, including many caused by carcasses. But according to bear conflict expert Steve Primm, the Uptain fatality marks the first time an attacking grizzly in North America has been doused with bear spray but killed a person anyway. Scouring the records, he said, it's also only the third occasion of a grizzly having aggressively appropriated a carcass from a hunter and killed the person or people present in the process.
The tragedy that pulled heartstrings and stoked emotions in Jackson Hole and well beyond stemmed from a raghorn bull elk that Chubon's crossbow hit with a "poor shot" on a Thursday afternoon in mid-September. Uptain, an experienced guide for Martin Outfitters, was with his hunter on Terrace Mountain, a broad peak that's 6 air miles from the Turpin Meadow trailhead. Uptain and Chubon couldn't find the elk, but they returned the next afternoon to where it was hit and then found a large blood trail. They followed it into a patch of timber and around 1 p.m. discovered the undisturbed carcass.
It was a warm day — peaking at 73 degrees in nearby Moran — and while field dressing the elk Uptain removed his shirt and left it and his black nylon shoulder strap holding a Glock 10-millimeter handgun 5 or 10 yards uphill of the carcass. A canister of bear spray was slung from a hip holster on Uptain's left side, but Chubon's bear spray was left in his pack because it had "become cumbersome carrying it on the horse," he told investigators.
Uptain was removing the bull's head, with Chubon nearby, when they heard a sound of rocks tumbling, presaging the attack.
"Mr. Chubon stated he looked up and saw two grizzly bears running full speed directly toward them," Game Warden Jon Stephens wrote after interviewing the surviving client.
Uptain's first reaction, Chubon recalled, was "waving his arms and yelling" in the fleeting moment before he was struck and repeatedly bitten. The larger of the two bruins, an adult sow, was the aggressor, while its grown cub was initially "just moving around in the background."
Chubon's first reaction was to retrieve Uptain's Glock from the nearby gear pile, but he didn't know how to function the slide on the top of the firearm that chambers a bullet.
"Chubon stated that he could not fire the handgun initially because of the bears' close proximity to Uptain," the report analysis says, "fearing he would unintentionally shoot Uptain."
The Floridian client also told investigators he could "not remember if he attempted to pull the trigger."
When the sow diverted its attack to Chubon he tried to throw the gun to the man who knew how to use it. But the firearm fell short of Uptain and no longer contained the 15-round magazine of 10-millimeter full-metal-jacketed bullets that Chubon "inadvertently ejected" while trying to disengage the safety. The handgun was otherwise functional, Teton County Sheriff's Office determined after an analysis.
Chubon reported that he was able to sidestep the grizzly, but that it grabbed his right boot with its mouth.
In a brief tussle Chubon suffered abrasions to his right arm, fingers and left knee and a puncture wound on his ankle. Later he refused medical treatment and quickly flew out of Jackson Hole Airport, hours before his guide's body was discovered. Although the outfitted crossbow hunter has been unresponsive to the News&Guide's requests for an interview, he told Orlando, Florida, television station WESH he thought he was about to die.
"Somehow, the grizzly let me go and charged Mark again, and that's when I made the decision just to run for my life," Chubon told the TV news station.
Chubon told Game and Fish his last view of Uptain was "on his feet, fighting with the bear." A Teton County Sheriff's Office report appended to the investigation, however, contradicts that, stating that Chubon's last view was of Uptain "bleeding severely and being dragged" and "screaming as the grizzly tore into him."
It was windy, Chubon reported, and after leaving the attack sight and running to two horses 300 or 400 yards uphill, he never heard more yells or gunshots.
Reaching Terrace Mountain's crest on horse around 4:30 p.m., Chubon found a cell signal, alerted authorities and waited two hours to be flown out of the wilderness. He told dispatch during his first 911 call that he thought the "guide is dead."
Daylight soon ran out after a brief aerial sweep looking for Uptain.
After Chubon fled, precisely what happened is guesswork, and Game and Fish investigation states its reconstitution of the events "does not include speculation about details not supported by evidence."
The healthy 250-pound sow grizzly Game and Fish employees later shot and killed inflicted substantial, traumatic damage on Uptain. Based on the spacing of bite marks, investigators determined that the yearling male bear was also involved in the attack, a factor in the decision to euthanize the young grizzly.
All told, Uptain suffered 38 puncture wounds and 14 ripping or tearing wounds, but the "chief injuries" incurred in the fight for his life were to upper thighs on both legs, which had been deeply torn and ripped and endured "massive blood loss." A "crushing wound" impacted the hunting guide's forehead, exposing bone and cartilage, and his scalp had been peeled off from his forehead to his neck, though his skull in the exposed area was intact.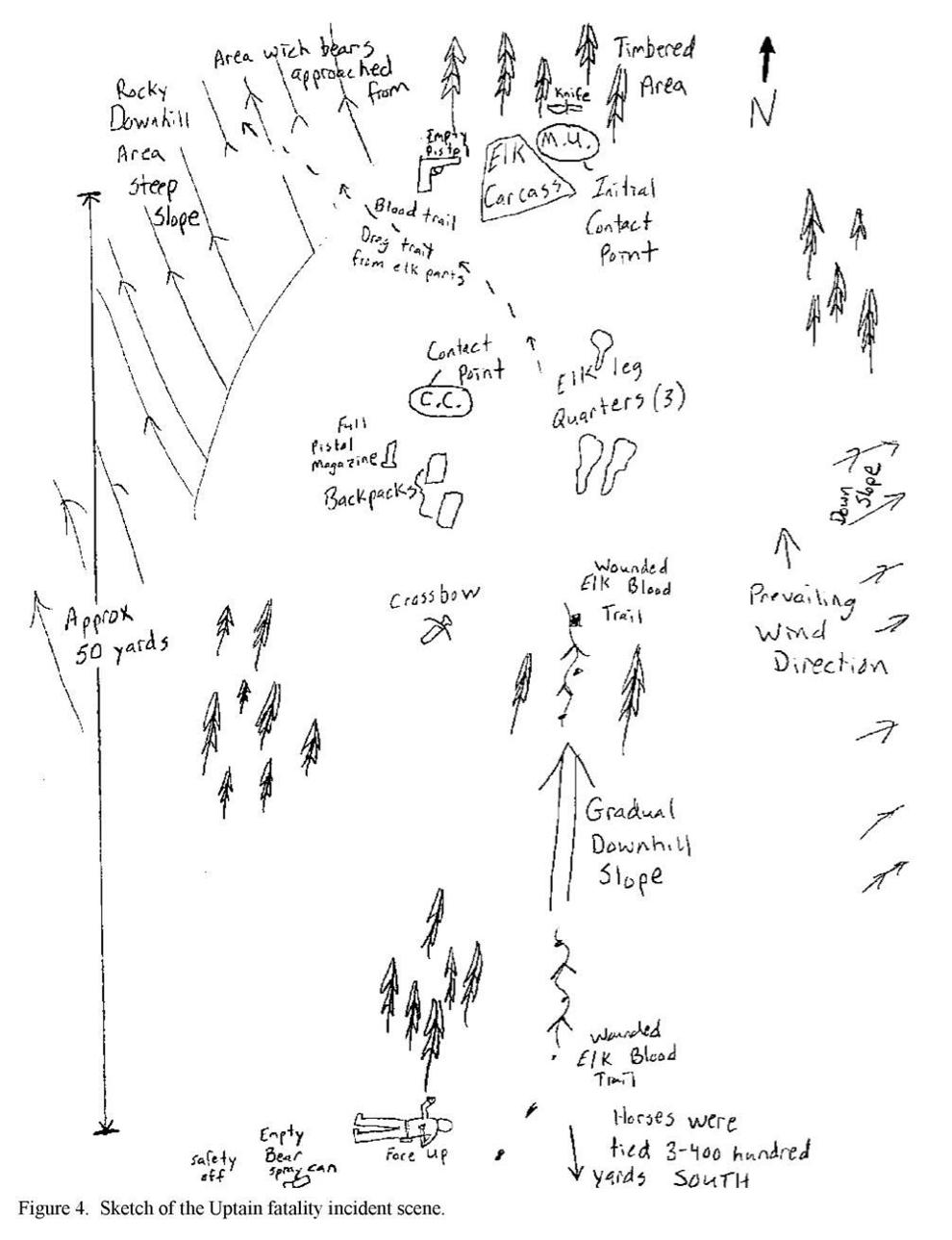 There is a lasting division between Game and Fish investigators and Teton County Coroner Brent Blue over what specific wound killed Uptain, and whether he could have moved at all after he suffered it.
Blue, who did not visit the scene, said a bite that penetrated Uptain's skull would have instantaneously caused death.
"I don't believe that he would have moved afterwards," Blue said Tuesday in an interview. "That's my opinion, but my opinion, of course, can be argued."
The fatal cranial injury Blue alludes to is not included in a post-mortem examination report that Teton County Deputy Coroner Dave Hodges authored. Because of state statute the actual autopsy is also not included in the investigation report.
In talking to Hodges, Game and Fish officials were told Uptain's death was "rapid but not instant," according to the investigation report. That point was emphasized in the investigation's analysis of the attack, which concludes that Uptain stopped the mauling with bear spray at the initial attack site and then left under his power before collapsing.
Several pieces of evidence found at the scene back that theory. There was dried blood found on the bear spray canister, and also blood dripping down Uptain's neck, shoulders and boots, which suggests he was upright after the bites to his head and thighs. When Teton County Sheriff's Sgt. Chett Hooper found Uptain's body at approximately 1:30 p.m. Saturday afternoon, there was no evidence of a struggle or bear tracks near where he lay.
Three leg-hold traps baited with elk meat from the scene were left out in the overnight hours after Uptain's death was confirmed.
Aboard a helicopter that overflew Terrace Mountain on Sunday morning, five biologists and wardens could not see if it worked. But once on the ground Game and Fish's Dan Thompson, Kyle Lash, Jon Stephens, Brian Baker and Mike Boyce heard bawls that indicated the cub had been captured.
The sow, however, was running free, and initially charged the men as they approached before pausing. A split-second call was made to take the grizzly's life, and Lash and Baker did so with gunfire.
The cub was tranquilized, examined and then killed. The adult bruin's head had a "noticeable odor of bear spray," and forensic and DNA analysis later confirmed that the two bears that had fatally mauled Mark Uptain were dead.
Both the grizzly sow and cub were determined to be healthy, with ample fat and no obvious injuries.
While aggression toward humans in close quarters is in the nature of grizzlies, Game and Fish officials say this zero-hesitation attack does not fall neatly into typical predatory or defensive-aggressive behavior. Grizzlies on rare occasion attack people with the intent of eating them, but usually it's in defense of food, cubs, personal space or a combination of all three, according to the investigation report's analysis.
The Terrace Mountain attack was not food-guarding, state officials' reasoning goes, because Uptain and Chubon were there first. Secondly, the bears approached the men and not vice versa, which suggests the typical defense of offspring or space "does not apply," says the report.
"The evidence suggests that the desire of the bears to feed on the elk carcass was the motivating factor in the incident," the report's analysis says.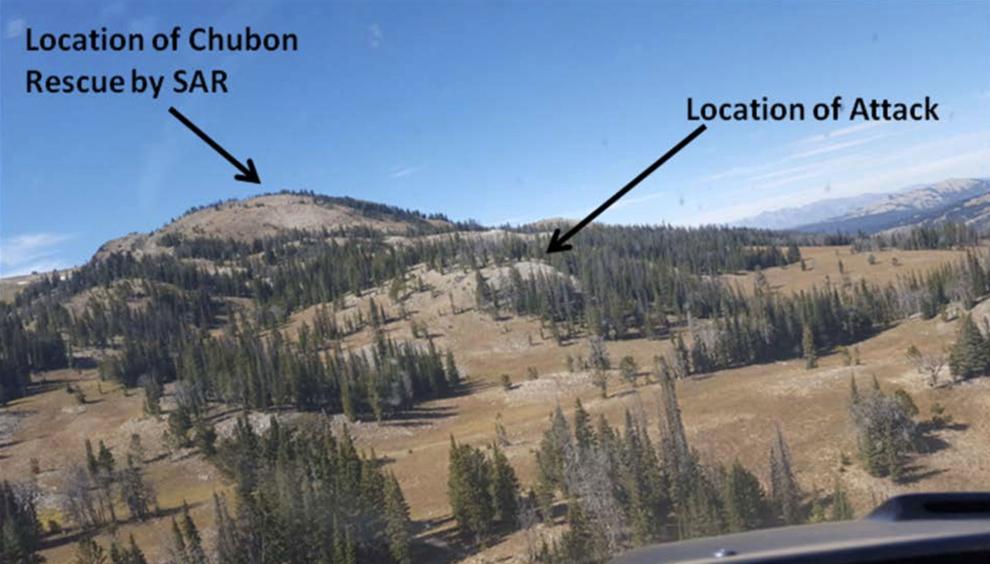 Wyoming Game and Fish Jackson Regional Supervisor Brad Hovinga told the News&Guide this is aberrant behavior.
"Every bear encounter I can think of that our department has dealt with can typically be classified into either predatory behavior or defensive-aggressive behavior," Hovinga said. "This fits the bill on none of them. That's what makes it so abnormal. It's not a behavior that we see from grizzly bears."
But on a broader geographic scale looking back decades, there have been similar fatal attacks before, said Primm, a recently departed employee of People and Carnivores who's now doing wildlife conflict consulting work.
"In both the other instances I know of there were hunters processing elk," Primm said.
Both other fatal attacks in which grizzlies have approached hunters on carcasses, he said, also involved females with cubs, although based on the small sample size that may be pure coincidence.
The first fatality he pointed to dated to 1995 and involved two hunters who were killed while packing out a bull elk near Radium Hot Springs, British Columbia. In fall 2001 it happened again, when Timothy Hilston, of Great Falls, Montana, was killed while field dressing his elk on state land east of Missoula. Writing for the online news site Mountain Journal, Primm recited a statement that former U.S. Fish and Wildlife Service grizzly bear recovery coordinator Chris Servheen told the Missoulian at the time of the Montana attack.
"This type of aggression by a bear is very uncommon," Servheen told the Montana newspaper at the time. "Knowledgeable people will put this event into context. ... It is most unfortunate that this happened, but also very unlikely that it will happen again anytime soon."
The next occasion, evidently, came 18 years later.
Primm's take is that there are not always neat behavioral boxes explaining grizzly bear attacks. The attack could have been deliberate tactic that the sow grizzly learned could displace other bears or humans from a meal, but it also could have been less intentional.
"She may have been smelling the elk, got into close range and realized that there's two people and felt that it's too late to back out," Primm said. "Even though she's the one that put herself into that close proximity we could describe it as a close-range encounter, where she felt the need to protect herself aggressively.
"We'll never know that," he said. "We'll never know her motivation."
Wyoming Occupational Safety and Health Administration regulators whose job is to enforce workplace safety in the Equality State have not reached any conclusions about whether Martin Outfitters will be faulted or fined. An investigation is ongoing, spokesman Ty Stockton said. State statute requires the investigation to be completed within 180 days — so by mid-March.
The state agency in November released "recommendations" that Martin Outfitters "evaluate its operating procedures for bear country" and "evaluate its training policy on bear spray use," but that guidance is now moot, Stockton said.
"The recommendations have changed," Stockton said. "I don't know if they've changed because the recommendations are more severe or less severe."
Martin Outfitters' owner, Dan Martin, has not responded to the News&Guide's interview requests.
Game and Fish's Hovinga says he sees no obvious, reckless decisions that led to the death of Mark Uptain. The agency's guidance about using bear spray has not changed in the wake of the tragedy. The nonlethal deterrent might have worked "perfectly," he said, but just wasn't deployed in time to save Uptain's life.
"If you have a really strong crosswind, bear spray may not be the best tool you've got at preventing an attack," Hovinga said, "but it's certainly a very important tool, and we highly recommend for folks to keep it readily accessible and available at all times."
Primm did not fault Uptain for taking only a single inexperienced client into the backcountry to search for an elk in an area where grizzlies are easy to come by. While going to retrieve that elk was an inherently risky activity, the duo might not have found the elk at all, or they could have discovered that the elk was already claimed by grizzlies and had to retreat. But once Uptain and Chubon eyed the animal and were field dressing, more manpower or vigilance could have made a major difference, he said.
"Having another person there who was more experienced and at the ready to help them get that elk out of there would have changed the outcome dramatically," Primm said.
Failing that, he said, if Chubon had been prepared and in possession of a defense mechanism, the story would have probably turned out much differently.