The first cause for mileage anxiety came as we crested the hill at the Jackson National Fish Hatchery, before we even hit the Grand Teton National Park entrance sign.
Departing home in East Jackson, the green bar estimating the range of the loaner all-electric Chevy Bolt I piloted blinked an estimate of 258 miles until its juice was fully zapped. And there wasn't much room for error, because the lower loop of Yellowstone National Park we set out on mapped out at an estimated 256 miles. So it was a grim sign to see that our range had sunk 8 miles when we'd barely driven 5.
"We're already down to 250 miles?" Julia McDonald, my girlfriend and passenger, said as we climbed into view of the Tetons. "We're going down pretty quick!"
Happily, the little rig that Lower Valley Energy CEO Jim Webb has nicknamed "Zippy" was just finding its stride. The relatively low-speed roads that carve through Grand Teton and Yellowstone parks lend themselves well to efficient driving, and mileage turned out to be no concern at all.
I sat behind the wheel of an electric car for the first time in my life and drove into Yellowstone courtesy of Lower Valley's new "electric-vehicle experience" program. The joint venture, supported by Yellowstone-Teton Clean Cities and Energy Conservation Works, is intended to give the electric utility's members a taste of what it's like to commute and recreate with an up-and-coming technology. EVs have less of a climactic impact than conventional gasoline-powered vehicles, they are cheaper to operate and they are poised to take over the automobile industry. But they're also not yet as easy to depend on in northwest Wyoming, where charging infrastructure is still somewhat lacking.
Picking up Zippy from Lower Valley staffers Brian Tanabe and Amy Walton on Friday, I mentioned the idea of going for a Yellowstone cruise.
"Do it," Tanabe told me. "A large part of this program is we want people to learn about electric vehicles, and we want them to test out the range and range-anxiety issues. Give it a shot. Push it."
So I did just that, ditching my normal Honda Ridgeline pickup for the weekend and relying solely on the Bolt. To be blunt, I loved it.
Admittedly, I was biased in favor of electric vehicles going into the experience and find them personally alluring because swapping my gas truck for an EV would probably be the most effective way for me to reduce my personal carbon footprint. Jackson Hole residents do a poor job of contributing to the global effort to reduce greenhouse gas emissions. A 2019 inventory found that there had been a 17% surge in carbon emissions over the past decade, outpacing population growth and penciling out so that each Teton County resident contributed 21.2 tons of emissions annually — more than a third higher than the national average. And I'm a part of that problem, driving some 18,000 miles a year and burning up 700-plus gallons of gas that contribute 7 tons of carbon dioxide to the atmosphere. And that's just my personal impact from ground transportation.
So it was really heartening to see just how much more efficient the Bolt was than a gas-powered vehicle, both from a climate and pocketbook standpoint.
Julia and I abandoned the Lower Loop route through Yellowstone, opting for an Old Faithful out-and-back instead. But the reason was time-related, not because of range limitations. There's not yet any high-speed EV charging station to speak of inside Yellowstone itself, though we could have gotten ourselves out of a bind with low-speed charges at Old Faithful, Lake or Canyon. But it turned out that the Bolt would have easily propelled us 300 miles anyway. By driving gently and on roads governed by a 45 mph speed limit, the computer told me that I'd gained over 65 miles of range due to "technique" by the time we got back to Jackson.
In all the 203-mile journey up to Yellowstone consumed about 36 kilowatt-hours of electricity, according to the Bolt's computer. Based on my last Lower Valley electric service statement, that's roughly 2.5 times the amount of juice our apartment uses in a day.
While that might sound like a lot, financially it's pennies on the dollar compared with driving my truck. That distance in my Ridgeline would have cost nearly $30 in gas alone. But based on Lower Valley's most recent residential rate of 5.6 cents per kilowatt-hour, it would have used a whopping $2 in electricity had I charged the Bolt up at home (which I didn't, because I charged it for free at the town of Jackson's parking garage).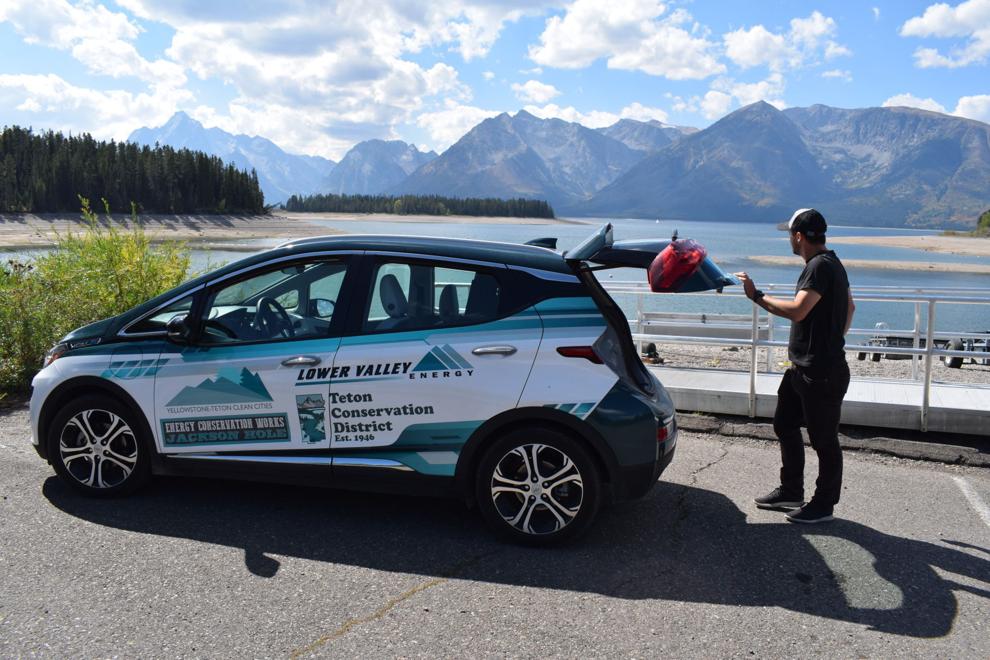 From a carbon emissions standpoint, the Bolt wins by a much wider margin. The drive in my relatively fuel-efficient truck would have used 7 or so gallons of gasoline, which would have spewed about 142 pounds of CO2 into the atmosphere, according to the U.S. Energy Information Administration. The carbon intensity of Bonneville Power Administration's electric-generating infrastructure — which supplies Lower Valley — was just 0.028 pounds of CO2 per kilowatt-hour using the most recent numbers I could find online from 2017. It's super low because the vast majority of electricity generation on Bonneville's grid comes from hydropower. We used 36 kilowatt-hours to propel 3,563 pounds of steel, 350 pounds of human and 60 pounds of dog all the way to Old Faithful and back. That computes out to just a single pound of CO2 emissions from the Bolt's trek north. Hot damn, that's a 99.3% improvement.
Yellowstone, by the way, was packed. There were many hundreds of people, most with cellphones at the ready, waiting in anticipation to watch Old Faithful blow, which it did just 2 minutes past its 4:35 p.m. eruption projection on Saturday.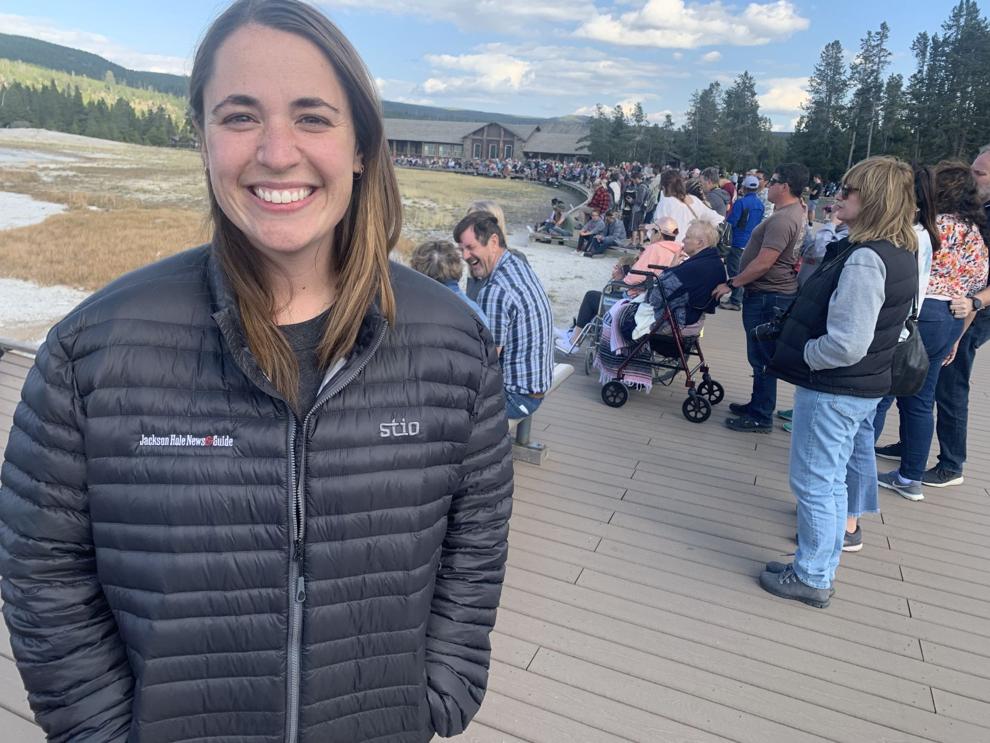 Surely the novelty would wear off, but the driving tour through the bustling national park seemed more enjoyable in the quiet, zippy ride of the EV. As we descended from the Yellowstone Plateau past Lewis Lake, I watched with pleasure as the driving range of the Bolt kept growing — a result of the car's regenerative braking system, which captures energy that's wasted in a conventional gas-powered vehicle. I thought to myself, "I've got to get me one of these."
Evidently, I'm not alone. There's been a lot of interest in Lower Valley's "electric-vehicle experience" since it was first pushed out to public last week. When I scooped up Zippy for the weekend, 120 or so people had already signed up. There might be a few months wait to get behind the wheel. Still, I'd definitely recommend signing up and giving it a try.
"It's a good problem to have," Tanabe told me. "We really need more of these cars."
Note: This story has been updated to specify that there are low-speed electric vehicles chargers in Yellowstone.