A deadly and degenerative neurological disease that's slowly spreading through elk and deer herds across the country has officially made new inroads into two prized western Wyoming hunting areas: the Teton Wilderness and Greys River watershed.
Chronic wasting disease's detection in a hunter-killed mule deer buck in an area that surrounds the Greys River and climbs up onto the Salt and Wyoming mountain ranges is a particular blow to hunters who flock to the national forest in search of its trophy-class mule deer. SNS Outfitter and Guides has two hunting camps in the region, which it dubs "Wyoming's mule deer hunting capitol." Sy Gilliland, who owns that outfit, sees CWD's arrival as expected and, based on his experience, predicts the malady will eventually drive down the Greys River deer populations.
"It's just part of the landscape now," Gilliland told the News&Guide. "I also outfit over in eastern Wyoming where it all began. Obviously, I've dealt with it for a long, long time.
"We've had sick deer, and I've watched the decline in deer populations," he added. "We'll see a decline in the deer in the Greys, too. It's just a matter of time. Mule deer are so susceptible to it."
The buck that tested positive for CWD was killed within the Wyoming Game and Fish Department's deer hunt unit 144. Specifically, it was found in the Deadman Creek area, a drainage that starts about 25 miles up Greys River Road from Alpine.
It was also a hunter-killed mule deer buck that tested positive for the always-fatal disease in the Teton Wilderness. That animal was killed in the Soda Fork Meadows area, which is most easily accessed from Buffalo Valley and the Turpin Meadows trailhead.
It's far from the first time CWD has been found in far western Wyoming, though the data suggests the incurable prion disease still exists in trace levels. In 2019 the disease was confirmed in the Willow Creek watershed, which comes out of the Wyoming Range and connects with the Hoback River. The year before that, CWD turned up in a road-killed mule deer buck found within Grand Teton National Park near Kelly. There have also been detections in Star Valley, three deer hunt areas in the Green River basin and also in the headwaters of the Wind River.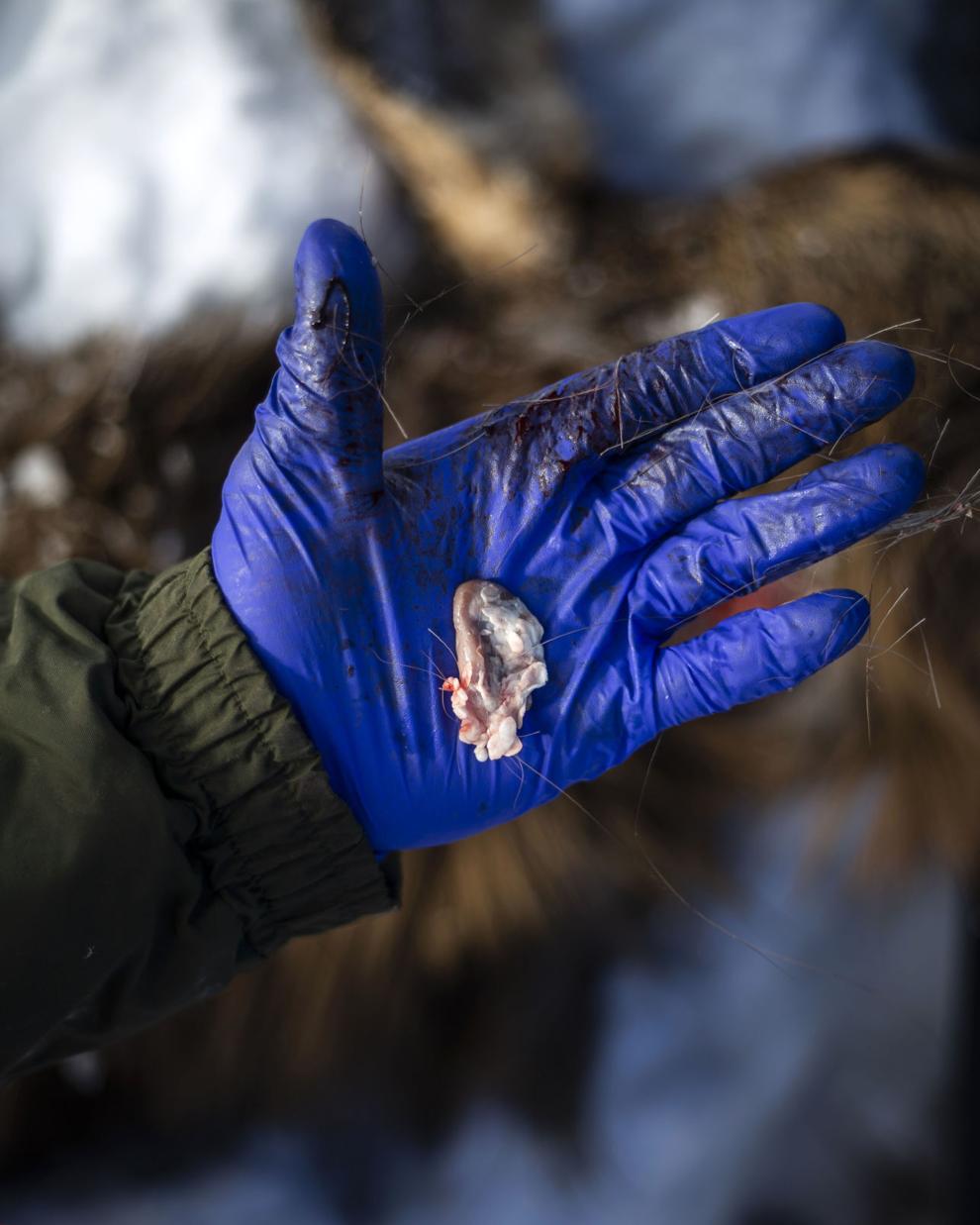 "There are not many areas left [without CWD]," Game and Fish Wildlife Health Laboratory supervisor Hank Edwards said. "I believe that CWD has been found in 34 of 37 [mule deer] herd units."
Chronic wasting disease's westward spread across Wyoming has been slower in elk. Last year it showed up for the first time on the west side of the Continental Divide in the region where 20,000-plus elk gather in the winter at feedgrounds, likely exacerbating the disease's spread. A hunter killed the cow elk in Teton Park, and a tissue sample taken as part of the park's mandatory testing program came back positive for CWD.
Also last year, an elk tested positive near Dubois. So far in 2021 there haven't been any western Wyoming elk tested that have had hits for CWD, Edwards said.
So far, CWD is just registering in trace levels in local big game herds.
Some 75 deer were tested in the Greys River hunting area where the positive buck was killed, which computes out to a 1.3% prevalence rate. In the Teton Wilderness, samples have been submitted from only five deer, too small of a number to deduce prevalence, Edwards said.
Fortunately, new cases aren't yet turning up in other areas where CWD was recently found for the first time, like Willow Creek on the eastern slope of the Wyoming Range or the hunt unit surrounding Star Valley.
"One of the things we're learning is that CWD behaves a little differently in each herd unit," Edwards said. "Some herd units, we're seeing prevalence actually starting to come down, whereas other units we're seeing prevalence continue to increase."
In the Bighorn Basin, for example, infection rates are much higher. The Greybull River Mule Deer Herd, which roams the east side of the Greater Yellowstone Ecosystem, is now up to a 37% prevalence rate, Edwards said.
Some herds harbor even more pervasive reservoirs of CWD. The Project Mule Deer Herd, which roams near Riverton, was first confirmed to carry the cervid sickness just nine years ago. But now those deer carry the highest CWD rates in the state.
"We don't have a great sample size there," Edwards said. "But I'd say that prevalence is getting close to 60% in that herd."
Gilliland, whose SNS Outfitter and Guides is the largest commercial hunting outfit in Wyoming, said he's not seeing higher rates of CWD dissuade big game hunters.
"We only send in samples if the hunters request it, and honestly very, very few of them do," Gilliland said.
During the 2020 hunting season, about 400 of SNS Outfitter's clients successfully notched their big game tags.
"Last year, of all the animals we killed we only had one hunter ask to have his animal tested," Gilliland said. "It was an elk and it tested negative — and that was at the request of his wife."
Game and Fish is making a push for hunters to get into the habit of submitting tissue samples that can be tested for CWD. Every fall the state agency identifies "focal areas" targeting specific herds. Locally, deer hunt units 146 and 150-156 have all been designated as focal areas. In elk, units 70, 71, 75, 77-85 and 88-91 are special CWD surveillance areas. The state agency also debuted mandatory CWD testing in two areas in 2021. Those zones, deer hunt areas 96 and 97, are home to the Sweetwater Herd in central Wyoming.
Some avid Jackson Hole hunters take it upon themselves to always submit a CWD sample, whether their animal came from a focal area or not. Chris Colligan, a longtime Greater Yellowstone Coalition staffer, said he would not be comfortable consuming meat from an infected animal. Chronic wasting disease has never been documented in humans, but a similar prion disease, Creutzfeldt-Jakob disease, can affect people, and public health officials advise against eating game meat from infected animals.
"I would not feed my family, or consume myself, a known CWD-positive animal because of the unknown," Colligan said. "COVID has taught us how these zoonotic diseases can be a threat as they jump species barriers. It hasn't happened with CWD, but that doesn't mean it can't."