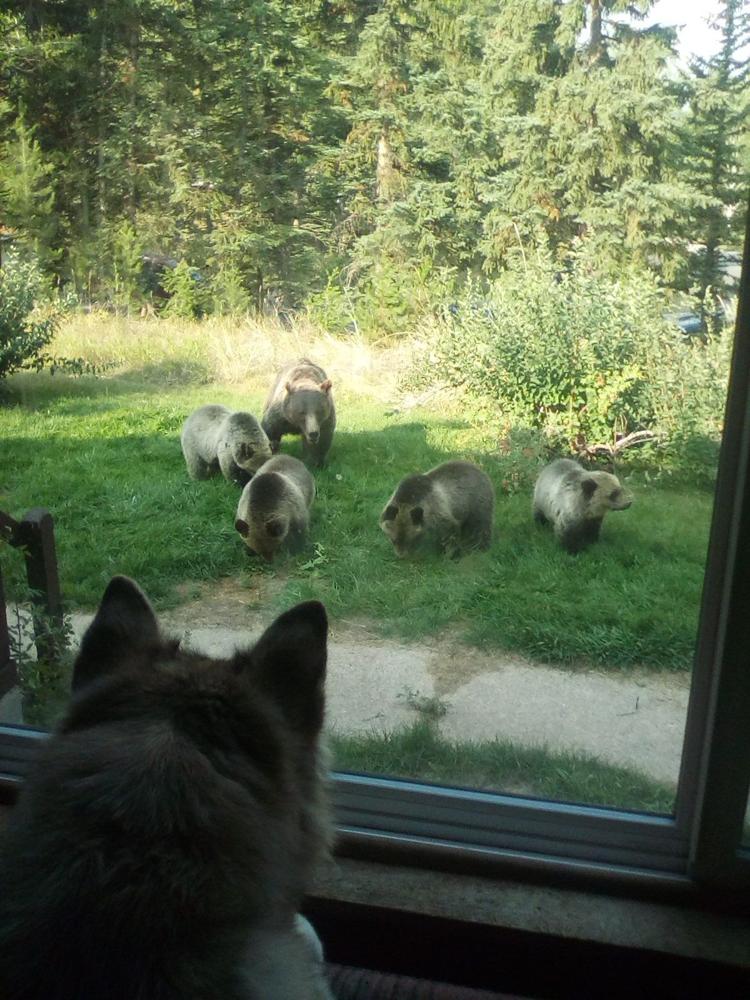 Beth Bennett was just awakening to the morning twilight on Tuesday when she heard her husky mix, Nordic, start barking.
This wasn't just any bark. Just by listening, Bennett knew that this was her pup's bear bark.
"I came down to see what was going on," Bennett recalled, "and the bears were in my front yard just being peaceful."
The bears were grizzlies and there were five of them. That makeup — one adult sow and four chunky cubs — told Bennett that the famous grizzly known as bear 399 was paying her yard a visit. The 24-year-old female commands a crowd, and for a time Bennett had an exclusive viewing from her living room window.
"It was just a really cool, special moment," Bennett said. "I am so grateful, and I understand how blessed we are."
For nearly eight years, Bennett has lived in the one place on Earth where seeing a world-famous animal like grizzly 399 is basically expected. Because her husband, John, is a Bureau of Reclamation employee who operates the Jackson Lake Dam, the Bennetts call the dam site home.
The Bennetts' nearest human neighbors are off at Moran, Signal Mountain and Jackson Lake Lodge. But the wildlife of Grand Teton National Park are always there in their own home. Bears, in particular, mosey through the area, including the Bennetts' yard, "all the time," Beth Bennett said.
"This is their main track, from the willows up to Signal Mountain," Bennett said. "This is used by all the bears. We're on their trail."
Upon seeing the grizzly family, Bennett called up park dispatch to inform them of her ursine visitors. Then she grabbed her Kindle and started snapping photos of the grazing grizzlies, which for a while went undetected by the morning stream of traffic.
For the most part, Nordic stayed on high alert, staring and barking through the closed window of the stand-alone home perched above the Snake River. His edge, however, eased when one of the grizzly cubs approached a stuffed bear dog toy that had been left out in the yard.
"When the smallest cub got near his stuffed bear and was sniffing it, he started wagging his tail and acting all excited like he wanted to play," Bennett said. "That's a super odd response, but it was hilarious."
In their half-hour stay, the grizzlies mostly grazed on grass. The cubs frequently played with each other. A contractor burying fiber-optic cable through the area saw it wasn't the best time to go to work, and used his vehicle to blockade Bennett's driveway. That proved a wise move, because once people noticed the sow and her extraordinary four-cub litter the crowd started amassing.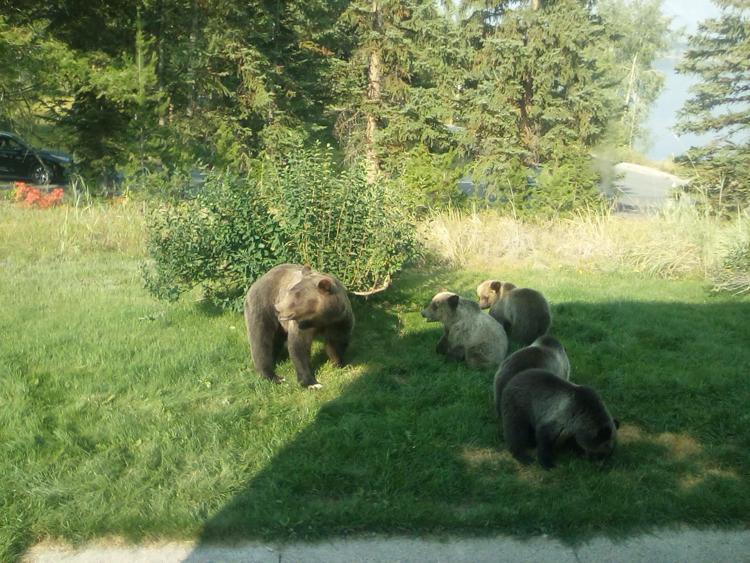 "They started getting out of their cars, and then the chase was on," Bennett said. "She left, took her usual route down to the river and went over to Willow Flats."
Bennett was glad her yard offered a place of early morning respite for the grizzly family, which she believes suffers from its fame and is chased and crowded too often. When she later posted photos of the grizzlies on social media, some people knocked her in the comments, under the assumption that she was feeding the bears. But Bennett said that's the last thing she'd ever do.
"We are so careful," Bennett said. "We don't leave anything in our garbage, and nothing outside. Not even pop cans in our cars.
"We just want them to be safe, and we do everything in our power to keep them safe," she said. "But we also know that we need to keep ourselves safe from them. We're not crazy. We're just doing our best."