TOGWOTEE PASS — Moran resident Marc Kleinman spent his Tuesday morning partaking in one of his favorite hobbies: photographing grizzly bears.
It was productive, and by 9 a.m. he had spent more than an hour snapping pictures of grizzly 863, aka "Felicia," an adult sow who has been a mainstay all summer along Togwotee Pass just up Highway 26 from Kleinman's home. The day unexpectedly turned from good to great when the adult bear descended from a hillside at the base of Angle Mountain, crossed the highway and disappeared into some willows along Blackrock Creek.
"Not five minutes later, the cub came sauntering out of the willows right next to her," Kleinman said from a Togwotee Pass roadside pullout. "She didn't react an awful lot."
While the ursine greeting may have been nonchalant, there was plenty of human fanfare.
The sow and her months-old cub, known as Pepper, had apparently spent an entire month apart, and the orphaned animal pulled heartstrings in Jackson Hole and well beyond.
Almost immediately — within minutes — the young white-chested grizzly began to nurse, Kleinman said.
During their month apart, a faithful bunch of Jackson Hole photographers and animal lovers held out hope for a reunion, regularly checking in on the cub and its mother, which was often just down the road. They even slowed traffic to aid the young bruin in crossing over the paved thoroughfare that connects Jackson to Dubois.
Nevertheless, the prevailing view was that there were dim odds of a happy ending to the story.
When longtime Jackson wildlife photographer Tom Mangelsen caught wind of the grand grizzly reunion at 9:45 a.m. Tuesday, he immediately hopped in his SUV and headed north.
"It's incredible," Mangelsen said. "They've just been in that same area, and it finally worked out.
"It's not coincidental that they've been in the same 3-mile stretch for 10 days," he said. "I'm sure it's because they were picking up each other's scent somewhere, and trying to get together."
Experts like Wyoming Game and Fish Department large carnivore chief Dan Thompson agreed that the reunion of Felicia and Pepper was unlikely. Two weeks after the grizzlies parted ways, his prediction was that the young cub was likely going to eventually be a goner, which is usually the fate of bears that become permanently separated from their mothers ahead of time. Still, the bear manager desired the same ending as almost everyone else.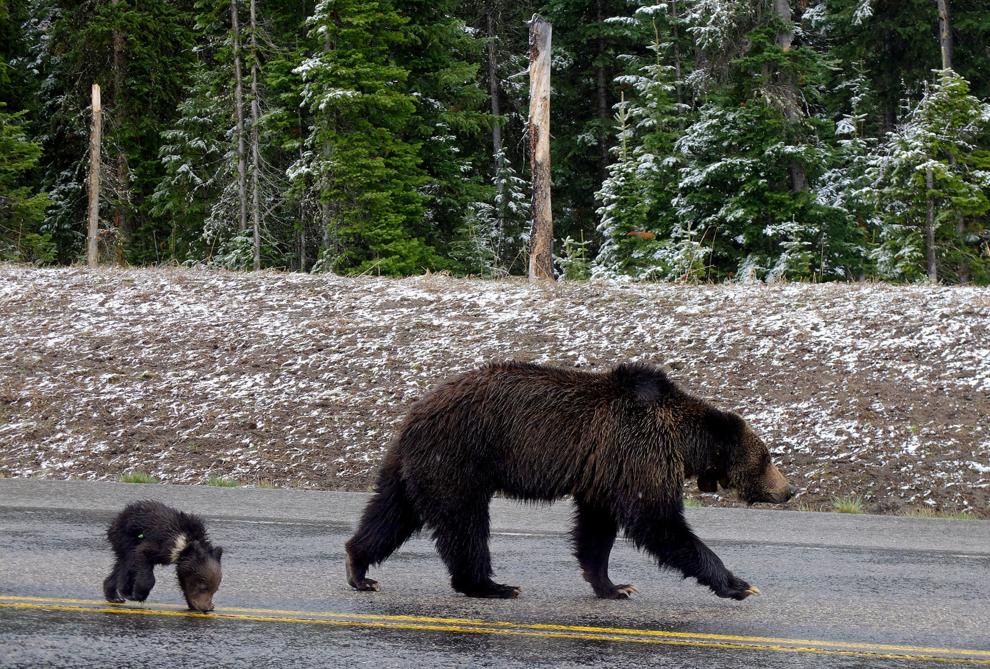 "What I want to see is a reunion, and those bears walk into the woods and live their lives happily ever after," Thompson said at the time. "Maybe they'll stick their heads out so that people can see them every once in a while."
Typically, grizzly sows cast away their offspring at 2 1/2 years old, after they've learned the many foods the landscape offers the omnivorous animals during the changing seasons, and after cubs have grown large enough to fend for and protect themselves.
Little Pepper, by contrast, appears to be about the size of a cocker spaniel. While out on its own, the cub survived on a relatively narrow diet of emerging grasses and the occasional rodent, bear watchers say.
During the month the bears were separated, rumors ran rampant as people tried to explain why Felicia couldn't find her offspring. At times they were witnessed moseying within a few hundred yards of each other. One theory was that the bears had given up on trying to find each other. Another hypothesis was that the continued separation was due to 6-year-old grizzly 863 being a lousy first-time mother, a sentiment fueled by grizzly watching regulars who've grown accustomed to the behaviors of other famous grizzly sows.
Kleinman dubbed Felicia a "good bear doing her thing," but he agreed that her mothering habits are different from other sows people regularly watch in the valley.
"People are used to [grizzly] 399," he said, "and she's like the ultimate mother."
Although many Togwotee passersby stopped to gawk at the roadside grizzly sow and cub, Kleinman was the only regular bear watcher who took in the midmorning reunion firsthand, he said. The rest of the bunch are left to relive it through photos, and there are plenty. Kleinman guessed he took 3,000 photos before the two wild grizzlies headed into the timber north of the highway and padded together out of sight.
Mangelsen and other avid grizzly fans drove north as quickly as possible, but narrowly missed the fleeting natural spectacle. By midafternoon a handful of folks still lingered off the shoulder of the highway, hankering for a view of their own.
"I've been here since noon," Jackson resident Ann Smith said. "I missed them by 20 minutes."
Smith, resigned to having missed out, descended Togwotee Pass and was headed to town, but something came over her and she reversed course.
"I thought, 'As soon as I go home, they're going to come out,'" she said. "I just know it."