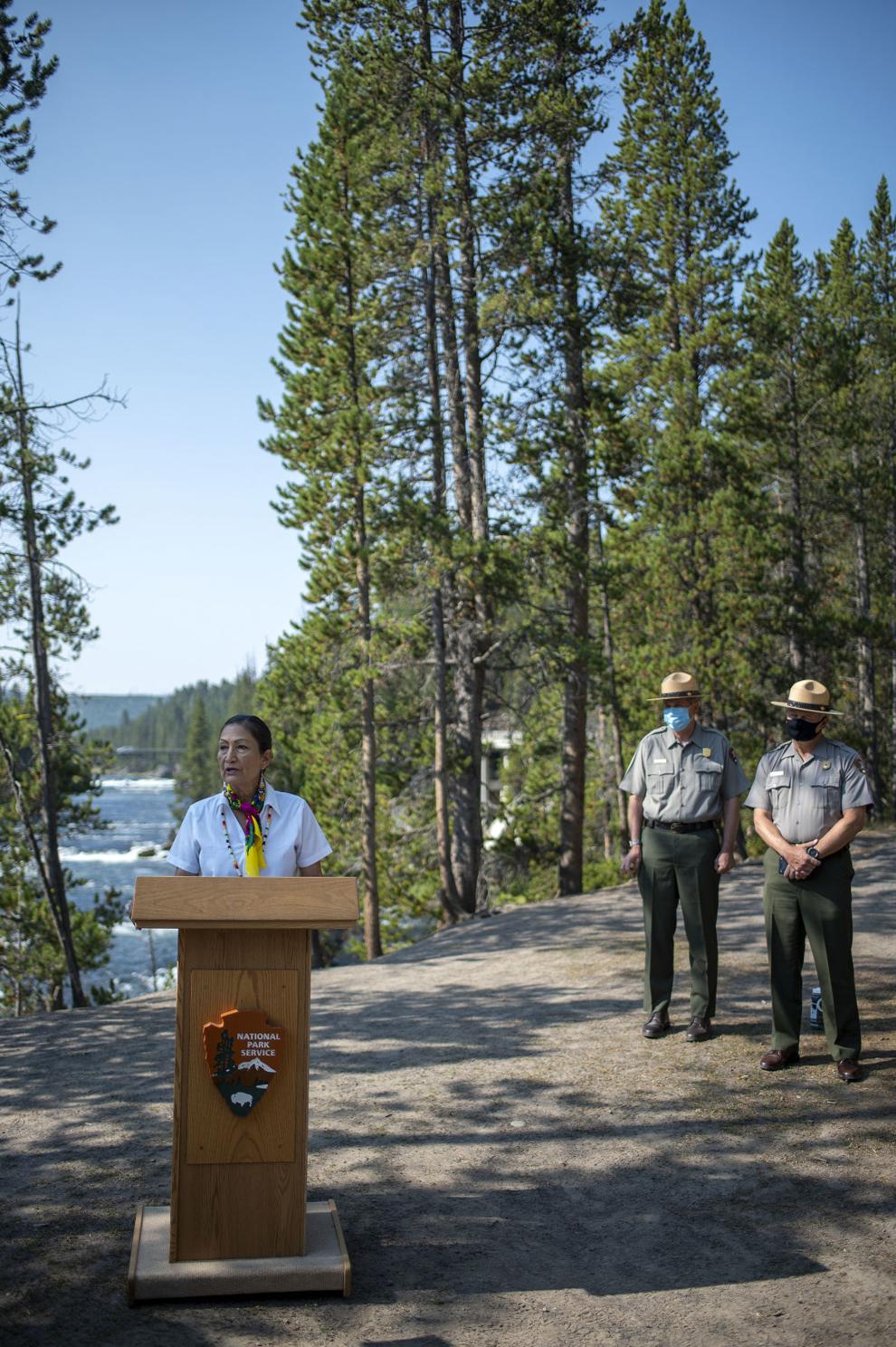 UPPER FALLS of the YELLOWSTONE — An early-morning canoe paddle on Yellowstone Lake and customary roadside brush with traffic-clogging bison flavored Deb Haaland's first visit to Yellowstone National Park since joining the Biden-Harris administration.
Haaland, the U.S. Secretary of the Interior, spoke Friday morning as the Upper Falls of the Yellowstone roared. Unknowing visitors ambled by along a footpath in the park's Grand Canyon. Exactly 150 years prior, Ferdinand Hayden and his fellow scientists and artists would have been documenting Yellowstone with precision, but the United States' first Native American Interior Secretary gave a nod to an even earlier era of the Yellowstone Plateau's human history.
"It's an honor to be here on the shared ancestral homelands of the Northwest and Great Plains Nations, who were the first stewards of this special place," Haaland told a crowd of National Park Service and Interior personnel, passersby and journalists.
While there was no big announcement that prompted the secretary's remarks, she touted recent federal infrastructure investments and the Trump Administration's bipartisan Great American Outdoors Act, which both stand to benefit Yellowstone and the other 422 National Park Service units she oversees.
"The park is investing $121.5 million from the act's Legacy Restoration Fund to rehabilitate 22 miles of the Grand Loop Road between Old Faithful and West Thumb, replace the Lewis River Bridge, rehabilitate the historic dormitory at Old Faithful and complete historic building restoration at Fort Yellowstone," Haaland said, reading from prepared remarks.
Great American Outdoors Act-funded projects across the National Park Service, she said, are expected to support nearly 1,600 jobs and contribute $334 million to the economy in 2021 alone.
Haaland visited the Wind River Indian Reservation and Lander the day before her drive up from Yellowstone's South Gate, around Yellowstone Lake, down Hayden Valley and into the Grand Canyon of the Yellowstone. In the days prior she traveled to Taholah, Washington and Eureka, California to announce funding for climate resilience projects and her administration's investments in tribal communities.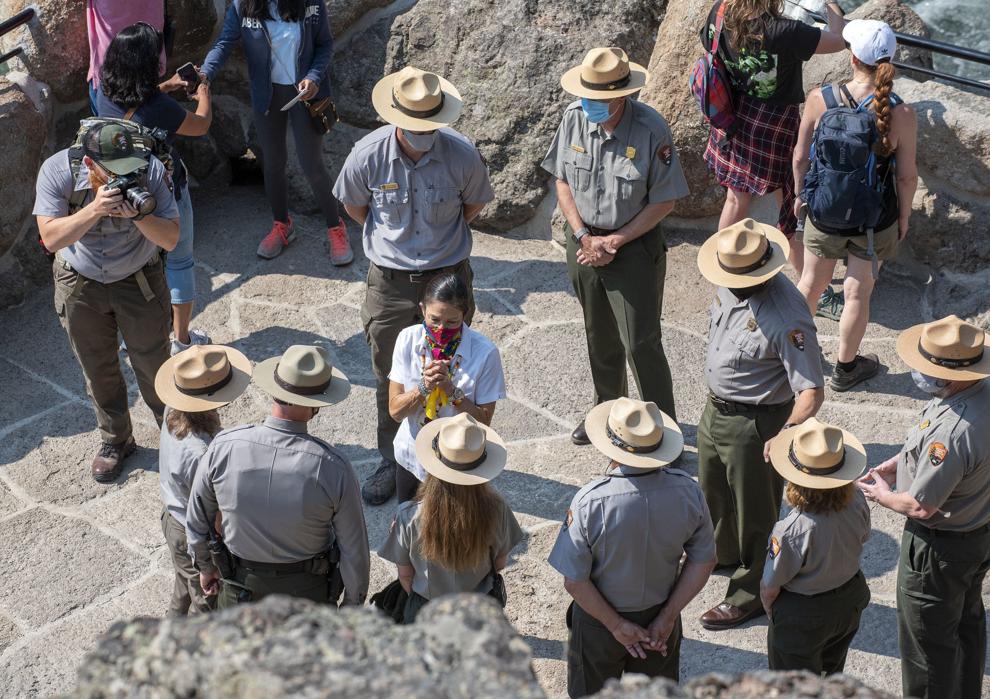 The United States' 54th Interior Secretary was scheduled to be joined by U.S. Secretary of Transportation Pete Buttigieg in Yellowstone, but the former South Bend, Indiana, mayor turned presidential candidate was a no-show for reasons that federal officials didn't explain.
While in the Equality State, Haaland signed a secretarial order pledging support for Wyoming's migration strategy, which is designed to protect the seasonal movements of the state's ungulates, and she announced $2 million in related grants.
Haaland's Wyoming stop wasn't confined to lauding agreements and legislation. Gov. Mark Gordon's media team pushed out a press release that said the governor lobbied the secretary on issues he deemed in Wyoming's best interest. He reportedly urged her to hold the Bureau of Land Management's March and June 2021 oil and gas lease sales, which were postponed.
"One key topic for me was our energy and mining industries," Gordon said in a statement. "I continue to stress how much the mineral industry has done for our state, its importance to our economy, and the impacts and issues created by the Biden Administration's actions."
On the rim of the Grand Canyon of the Yellowstone, journalists only had a few minutes to pose questions after the Interior Secretary wrapped up her remarks.
Haaland said that it's important to her that Interior works beyond borders and with local communities on complex issues that transcend jurisdictions in places like the Greater Yellowstone Ecosystem.
"States, cities, towns, counties — whoever our national parks and public lands interact or intersect with, we have the obligation to make sure we're engaging stakeholders every step of the way," Haaland said.
Haaland also told reporters she hoped to keep the national parks affordable and accessible, a challenge in an era where gateway communities like Jackson Hole and Bozeman, Montana, are fast transitioning into a playground for the wealthiest Americans.
"I really, truly know how it is," Haaland said. "I'm a single mom. Certainly, we want to make sure we can address those issues and make it so that every family does have an opportunity."