Two bold bruins, one a black bear and the other a grizzly, have been killed by wildlife managers after wandering into subdivisions south of Grand Teton National Park and exhibiting concerning behavior around people.
The black bear, which had a blond-colored coat, was well known to Wyoming Game and Fish Department bear biologist Mike Boyce, who had documented the animal repeatedly visiting a Solitude Subdivision backyard that was the center of a U.S. Fish and Wildlife Service investigation of grizzly bear feeding last year.
"It started to follow and approach people, and then it started to get into garbage and bird feeders," Boyce said. "It was really displaying concerning behavior and was a legitimate human-safety threat."
Many News&Guide readers have unknowingly laid eyes on the bear, which was captured and killed in mid-April. It's likely the same animal, Boyce said, that was caught on video curiously following a Moose-Wilson Road runner for several minutes — footage that was widely shared online.
Word of the grizzly's demise this week stirred discontent in Jackson Hole's bear-watching and wildlife photography communities. The 2 1/2-year-old male bruin got off to a rocky start in the days after it was separated from its mother, who is "highly likely" to be Grizzly 610, according to Game and Fish large carnivore supervisor Dan Thompson. That would make the animal a grandchild, to use human terms, of well-known Grizzly 399, who has gained a global following as a result of her travels in view of roads in Teton Park. Forthcoming genetic testing will confirm or debunk the bruin's suspected connection to Grizzly 399 and 610.
In early May the young male grizzly was hazed repeatedly by Teton Park staffers for habituated behavior along roads. The grizzly's troubles compounded when he headed south of the park: He entered an open garage, approached occupied buildings and on at least three occasions fed on birdseed.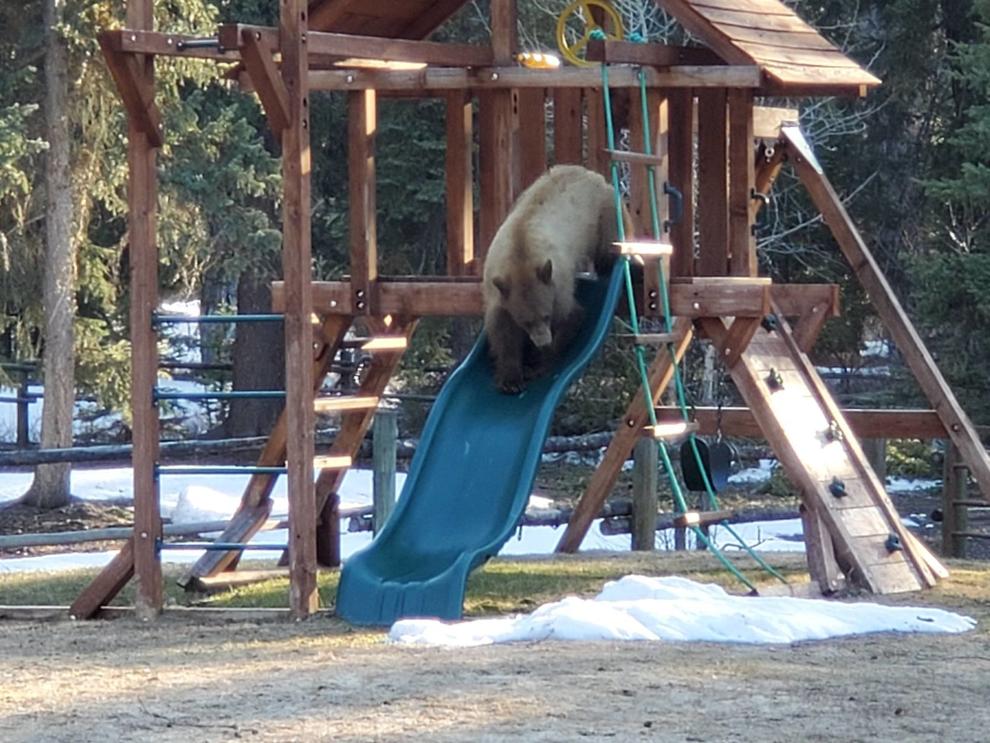 When Boyce responded to those conflicts weeks ago he was able to locate the bear, which was unwary enough that the biologist was able to walk right up to it and hit it with a tranquilizer dart. Once sedated, the bruin was given a tracking collar, assigned the research number 1022 and trailered to the Sheffield Creek drainage near Yellowstone National Park's South Gate.
"It meandered through the park for a while but within two weeks was back in the same spot, trying to gain access to residential areas," Thompson said.
Game and Fish recommended that Grizzly 1022 be killed, an assessment that the U.S. Fish and Wildlife Service agreed with. That was based on the number of food rewards the animal had received and his propensity to not care at all about people, Thompson said. The subadult grizzly did not necessarily obtain human food during his second stint south of the park, but his concerning behavior around people persisted.
"Literally, that bear circled the trap while they were setting it with three people there," Thompson said.
Longtime Jackson resident and animal lover Ann Smith was among those upset by the grizzly's demise and second-guessing the agencies' decision-making.
"I think they should have given him another chance by taking him far away," Smith said.
"It's heartbreaking, because I have known him since he was a cub," she said. "The fact that he's 399's grandchild shouldn't make any difference, but in a way it does because they become almost like a member of your family. You spend time with them and get to know them, and I know that people will think we're crazy for feeling that way."
Thompson said that he did take the grizzly's likely lineage into account, and that he knew that he'd get beat up for the decision.
"We still have to do what we feel is right from a professional standpoint," he said.
Smith said she appreciates that wildlife managers have to make tough choices.
"Game and Fish ends up being the bad guys," she said. "I've certainly been critical of them over the years, but I think they are in a difficult position."