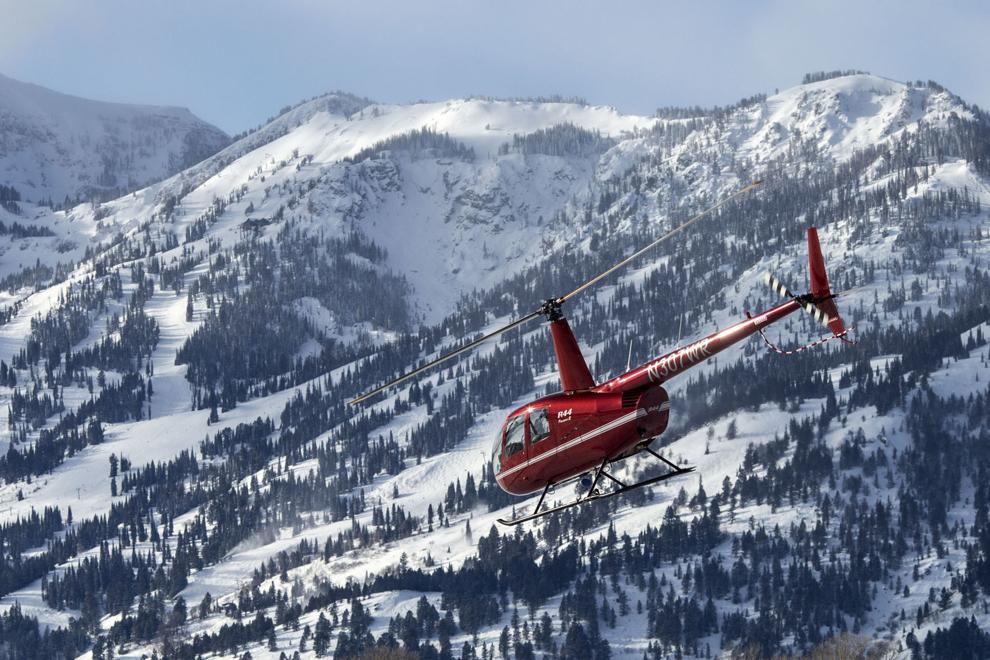 Grand Teton National Park officials recently tried and failed to get federal aviation officials to crack down on a scenic helicopter tour pilot who promised last year to not overfly the park, but has made a habit of flying low over the federal property's southeastern reaches.
The operator in question, Wind River Air owner Tony Chambers, maintains he's only flying over the national park when he's coming into or leaving Jackson Hole Airport — and especially beelining it out when he has sightseeing clients aboard. But Teton Park and the airport have been receiving an earful from community members displeased to be seeing and hearing helicopters over portions of Jackson Hole and the national park that have lacked commercial chopper clatter until now.
"We have unfortunately received numerous complaints from the public and other stakeholders regarding apparent scenic helicopter tours over the park in violation of the National Parks Air Tour Management Act," Grand Teton Superintendent Chip Jenkins wrote to Federal Aviation Administration Regional Administrator David Suomi in a March email. "Our team has worked with Jackson Hole Airport leadership, staff and consultants to verify those complaints and have confirmed through flight tracking data that those violations have occurred."
The correspondence was obtained through a Jackson Hole Airport public records request. Jenkins attached maps with flight paths that showed a dozen or so confirmed tracks treading over the eastern Grand Teton Park skies, plus another 30 or so flight tracks that were unconfirmed — but judged to be likely Wind River Air based on date, time, flight path, speed and altitude. The park's superintendent also attached a voluntary agreement that Chambers signed onto last spring in which he pledged to not overfly the park or within a half mile of the boundary, and to use the "most direct route possible to exit and enter the park when taking off and landing."
Jenkins also included flight tracks from allegedly illegal overflights from a Bozeman-based business, Rocky Mountain Rotors, that has flown directly over the Tetons and designated "noise sensitive" areas of the park on several occasions over the winter. Because it doesn't have a Jackson Hole Airport operating agreement, that company is not subject to restrictions prohibiting overflights in those areas.
After investigating, FAA Aviation Safety Inspector Vaughn Hanson sent the park a pithy letter last week saying he found no wrongdoing.
"We have found insufficient evidence to proceed with additional action, and we consider this matter closed," Hanson wrote to Grand Teton Chief of Staff Jeremy Barnum.
Chambers told the News&Guide he feels vindicated by the federal agency's conclusions. When flying sightseers, he contended that he always takes the most direct routes into and out of the park. The more-squirrelly routes — which cut over places like the National Elk Refuge foothills and Shadow Mountain — are when he's ferrying his helicopter into or out of Jackson Hole from where it's based in Pinedale.
"I think there's a lack of understanding which flights are which on the airport's end and on the park's end," Chambers said. "Honestly, I just wish they'd communicate a little better with me."
But regardless of the types of flights, some residents who noticed the new noise over the winter aren't happy about it and they worry the newfound clatter could turn into a cacophony if the commercial air tour industry were to take off.
Teton County commissioner Mark Newcomb said that this winter there's been a "ton more" clatter audible from the hamlet of Kelly, where he resides. And judging by the helicopter, a red Robinson R-44, he knows it's Wind River Air flying along the Kelly Road or across the northern portion of the Elk Refuge right over the Highlands subdivision.
"And he's always flying as low as he can fly," Newcomb said. "It's low enough to certainly be a presence, and it's often when I'm out walking the dog. It's just there — the slow helicopter flying by with helicopter noise — but it never used to be there."
A former heli-skiing guide, Newcomb knows from experience that flying in a helicopter is "just plain fun."
"I think the demand for that type of activity would grow as people discovered it," he said. "The potential for a number of scenic-heli flight companies to essentially set up shop at Jackson Hole Airport is quite good."
Jackson Hole Airport Director Jim Elwood said he hasn't been approached by any other prospective scenic flight companies, nor has he noticed an uptick in private helicopter traffic over the last year.
Still, Newcomb intends to introduce a resolution at the county commission's upcoming Tuesday meeting that would encourage Wyoming's congressional delegation to legislate the issue, explicitly banning scenic helicopter tours from Grand Teton National Park — the only national park that houses a commercial airport.
Environmental advocacy groups including the Jackson Hole Conservation Alliance and others are also encouraging the county to pass the resolution.
"This is really about putting the flag in the sand," said Sharon Mader, a longtime National Parks Conservation Association staffer. "We are very, very dependent on tourism in our park and gateway communities, and this one particular commercial use has the ability to really negatively affect everyone else's experience in the national park. Should one commercial activity prevail over the experiences of thousands of other people?"
Elwood, the airport director, pointed out that it's the Federal Aviation Administration that has authority over the air space and interprets the law. Last spring, after considerable community debate, the airport's board of directors agreed to give Wind River Air a one-year operating agreement, reasoning that tens of millions in federal grant money would be jeopardized if they defied and discriminated against a legal aeronautical use.
At the time, Chambers voluntarily agreed to equip his helicopter with an ADS-B transponder so the air control tower can track his movements around the valley via GPS. He also entered into the voluntary agreement with Teton Park, the Elk Refuge and the Bridger-Teton National Forest.
"Do you really think I would put that technology on my aircraft and then intentionally do something that would incriminate myself?" Chambers said. "That wouldn't make a lot of sense."
But in Elwood's view, Chambers has broken promises. During a public meeting last year, airport board member Jerry Blann asked the Hoback businessman if he would voluntarily withdraw his permit application as a nod to overwhelming community opposition. Chambers retorted that he would not, explaining that he wanted a chance to prove he could create a helicopter tour business that works for Jackson Hole.
"Those flight tracks do not have the appearance of being what he said he was going to do," Elwood said. "But is there enough there for the airport to withdraw the permit or not approve a permit again? The only thing the airport can do is go off of what the FAA judges to be a violation, or not."
Jackson Hole Airport and Teton Park are working together to assemble more evidence of FAA violations, and they're considering resubmitting a complaint. Grand Teton Spokeswoman Denise Germann asked anyone with information about suspected scenic air tour activity over Grand Teton National Park to contact the FAA hotline at 1-800-255-1111 or at Hotline.faa.gov.
In the meantime, Chambers has asked the airport to renew his operating agreement. Wind River Air's permit will be an agenda item at the airport board's 9 a.m. April 21 meeting. At least one person who keeps an eye on airport affairs is hopeful that its board of directors comes to different conclusion than they did a year ago.
"He agreed to certain routes, and now he's deviated from them," Snake River boatman and former town councilor Jim Stanford said. "So the board should revoke the operating agreement immediately, at a minimum."
Note — The last two paragraphs of this story were accidentally removed during the production process. They've been restored in this version online.