When Dena Baker and her artist husband, Andy Taylor, prepared to evacuate their Hoback Ranches log home last fall as the Roosevelt Fire inched closer, Taylor told his wife to pick one painting of his to save.
"'Really? Just one?'" Baker remembered saying. "We didn't know we would be displaced for so long. But we are really lucky because we still have a house."
She picked her favorite — a mountain lion in front of the Tetons.
The couple's house didn't burn to the ground, but flames roared up the backside and onto their front porch. Telltale scorch marks can still be seen.
"They said we were seconds from the whole thing going," Baker said.
The fire caused extensive damage to their house, their primary residence since 2017.
"The logs twisted and pulled apart," Taylor said. "It was wild."
They stayed in an apartment in Bondurant for a while and then moved back to their property after a neighbor loaned them an RV.
It was comfortable until the water pump broke and they transitioned to hauling buckets back and forth to the camper from a spigot on the back of their house. They took showers at their neighbors' homes.
Though their house is still being fixed, the couple just moved into their basement for the winter. With a mattress on the floor and an indoor toilet, it feels a step closer to normal life. It will still be months before they can move back into their permanent living space and hang up the saved painting, which has become a representation of their hardship and resilience.
"We still feel so lucky," Baker said.
Some of their neighbors' homes were reduced to ash.
"Some people just left," Taylor said. "We've lost some really good neighbors."
Over a year after the Roosevelt Fire tore through the Hoback Ranches subdivision, the sprawling rural neighborhood is littered with for sale signs. Temporary tiny homes and campers sit in the ashes where people's homes once stood.
Others have been busy rebuilding, but only about 20 of the 55 structures lost have been partially resurrected in 14 months.
The 2018 fire that struck the remote neighborhood devoured roughly 61,000 acres and pushed dozens of families from their homes. It required a Type I response team, the largest and most complex the federal government provides, and was the most destructive wildfire in Wyoming history.
Because it happened just before winter, it left many families living in temporary housing for months.
Ernie Albitre, 78, lost everything. The retired hotshot firefighter stayed in his house after mandatory evacuations were underway. Once he decided to leave, his house was immersed in flames within 15 minutes.
"I came around the trees and took a picture of my house burning," he said. "The whole house and all the outbuildings were entirely engulfed in flames. If I had tried to stay and use a garden hose or whatever, my lungs would have cooked."
He grabbed a few hunting rifles in his hasty evacuation but lost everything else, including an estimated 17 animal mounts, at least 45 skulls and countless photographs.
"As good as a hunter as I was, I can't even prove it," he said. "I was cute at one time, too, and I can't prove that."
Hoback Ranches is full of individual stories of rebuilding, with crews utilizing the extended fall to rebuild on the site of one of the first homes built in the subdivision and a pastor quickly erecting a home on his forested plot overlooked by a statue of the Virgin Mary.
But personal instances of grit and recovery could have been moot without a concentrated effort to save Hoback Ranches' infrastructure. At 6,000 acres the subdivision is sprawling, connected by criss-crossing dirt roads and underground power lines.
After a fire, erosion from scorched soil that no longer has roots to hold it in place can wash out roads and fill culverts with silt. In a place like Hoback Ranches that can render travel impossible. None of the roads in the private subdivision are owned by the state, meaning all rebuilding and fortifying of roads was done on the residents' dime.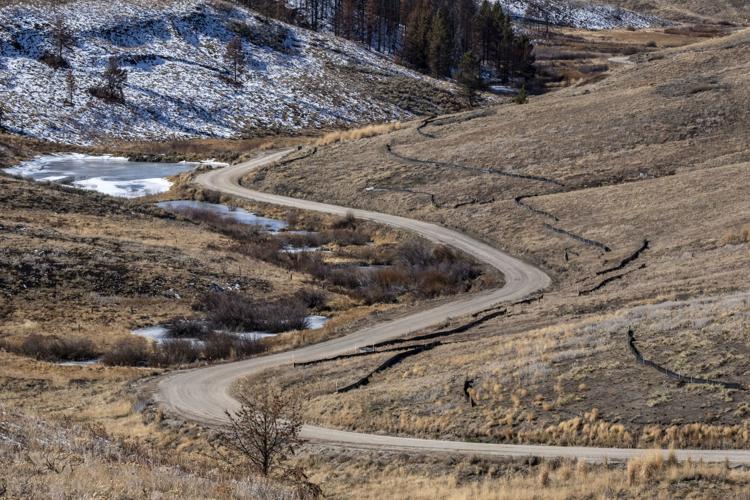 Dave Nemetz, a retired doctor and member of the Hoback Ranches board, fared better than some of his neighbors.
"My home survived," he said. "But it burned an arm's length away."
As chairman of the board he spent the last year applying for grants and attending conferences to learn how to keep what's left of the area's infrastructure from failing.
"Upon retirement, I said, 'It's time for me to give something back.' And I ran for the board and then the fire happened."
Sleepless nights have plagued Nemetz since the fire, and he has started taking blood pressure medicine. He said his volunteer board position has been more like a full-time job — in a field he isn't professionally trained in.
"The Hoback Ranches community was overwhelmed to learn that we didn't qualify for most federal disaster relief but would be forced to seek it ourselves through an array of grants," Nemetz said. "Fortunately, many stepped up to assist us."
Nemetz said former Gov. Matt Mead made two trips to Hoback Ranches, once while the fire was still burning.
"The second time he arrived with multiple engineers and heads of various state offices. He directed his chief of staff to participate in the weekly phone conference calls orchestrated by the state director of Homeland Security so that his office could continue to help manage the rehabilitation efforts."
Now-Gov. Mark Gordon also visited while he was a gubernatorial candidate to evaluate infrastructure damage and individual loss.
"The joint efforts of the outgoing and incoming governors reached a very positive conclusion by allowing me to present our situation to the State Land and Investment Board to seek emergency funding for infrastructure preservation."
Their $288,000 grant paid for a pricey wood straw application to preserve Rim Road from spring runoff. The hay-like wood straw blankets were placed to keep soil steady to give grasses and other groundcover a chance to reestablish. Nemetz said the subdivision saw lots of summer moisture that helped stimulate the regrowth.
"With a little luck on the weather next year," he said, "we should be able to mitigate most of the damage caused to infrastructure in the Hoback Ranches."
Nemetz said residents have secured $1.5 million so far for various post-fire projects. The first grant came from close to home: The Pinedale Lions Club, with the help of the Bondurant Community Club, donated $100,000 to the Hoback Ranches board for emergency road repair. The Lions Club operated a fund that raised well over $450,000 to distribute to families hurt by the fire.
The subdivision also secured $500,000 from the Department of Agriculture's Emergency Watershed Protection Program, and $425,000 from the Federal Emergency Management Agency.
Nemetz said the original influx of cash from the Lions Club helped them get a jumpstart on spreading the wood straw last fall. The biggest concern was Rim Road, the artery that bisects the subdivision from one entrance to the other.
Near its eastern terminus, Rim Road cuts across a steep, long hillside that was once some of the thickest forest in Hoback Ranches. Culverts and a pair of abutments kept the road from filling with water and washing away before the fire, but that area saw some of the heaviest destruction of vegetation, and erosion has been a major worry since the fire was extinguished.
Each abutment cost about $500,000 to build, and with the limited funds available the subdivision's board realized that if the road washed away, they would not be able to rebuild it.
"That would basically cut off Rim Road," Nemetz said.
Armed with wood straw and chainsaws, Nemetz and crew hastily fortified either side of the road, felling dead trees parallel to the road in hopes they would catch cascading silt after rainstorms.
Nemetz worked with landowners to extend the easement the subdivision has on either side of the road. The easement is 33 feet from the centerline of the road, meaning any tree within that span is fair game. But with 100-foot trees standing dead in loose soil next to Rim Road, Nemetz wanted to clear as far from it as he could.
Many landowners allowed him the 100 feet on either side of the road, creating a passage that is a bit unsightly but much safer. However not everyone played ball. Some kept all their trees standing, while others cleared entire swaths of trees and hauled the logs away, which creates its own erosion problems.
"It's worse than logging," Nemetz said, pointing at one Rim Road property. "You can see what they've done is they've gone through with a trackhoe and just knocked over all the trees and disrupted the soil. There's nothing holding everything together."
Despite struggles with landowners and the immense amount of ground to fortify, Nemetz's efforts, along with donated rocks, time and labor, held Rim Road in place. With grant money still available for next summer, Nemetz hopes to do final work, and begin the long process of reseeding the area.
Nemetz knows the work he has done to keep Rim Road open — as well as to keep low-lying thoroughfares like Fisherman Creek Road from flooding — is crucial, but he also knows some of the rebuilding and replanting is ultimately to help future Hoback Ranches residents.
"I won't get to look at another conifer forest in my lifetime," he said. "That's the sad part."
'It's going to rejuvenate'
From his vantage at the top of Fisherman Creek Road, Albitre doesn't have to worry much about the flooding. But his neighbors down the street, including Nemetz, repeatedly dealt with spring runoff that flooded several parts of the road, creating waterlogged, impassable areas.
They used some of their grant money to buy silt fences, mesh that sits perpendicular to the slope and allows water through but catches particulates. In early November the silt fences were bowed under the weight of the soil they had caught.
Albitre's new deck juts out from the side of the house, with a view of beaver ponds on the creek. He's finding the silver lining in having to rebuild, like being able to have a covered deck.
"Every time it snowed an inch, I had three foot of snow to get off the deck," he said, leaning against the wall of his under-construction house. "So this is going to be a lot easier."
He even added some decor to his deck, plywood cutouts of owls and cats affixed to the rafters that he hopes will confuse the birds that used to sully his house.
"The crows would come and just splatter my deck," he said. "This ought to scare them."
Albitre isn't dwelling on the past year. Self-pity and regret don't seem to be in his nature, nor in the rest of the Hoback Ranches residents who stuck it out to raise a community from the ashes.
The Roosevelt Fire was horrifying for the residents of Hoback Ranches, but those who have stayed exude a fierce pride in maintaining the life they had. And many, including Nemetz and Albitre, speak fondly of the green grass already racing to replace the charred sagebrush.
"A lot of people say, 'Oh, look at all the black and everything.' I told them, 'It's going to rejuvenate,'" Albitre said. "I tell people to double clutch, shift gears. Just do what you have to do."