Sitting on a blanket on the floor of her trailer Sunday evening Mary Talisman is in better spirits than she was two days ago.
"I cried a lot. A lot," Talisman said. "It devastated me. Devastation is the only word I can think of. I was totally and completely devastated."
Talisman and her neighbors at the Hoback RV Park are scrambling to figure out what's next after receiving notice Thursday evening that they need to leave the property before New Year's Day.
Property owners say the land must be cleared to make way for a new septic system that will replace a failing septic system that violates several state and county regulations.
On Monday residents started a petition, which has 500 signatures and counting, pleading with the property owners to give them until the end of May to move out.
On Tuesday property owners responded to the outcry by sending a press release stating they have secured another location in Teton County where tenants can move their RVs from December through April.
Many were still digesting the proposed solution on Tuesday. Though some, including Talisman, said it won't be worth uprooting, moving to a temporary space and moving again in April if they can find a permanent home elsewhere. Because two moves in the next five months would be costly.
"It's because we are banding together that I have room to breathe," Talisman said.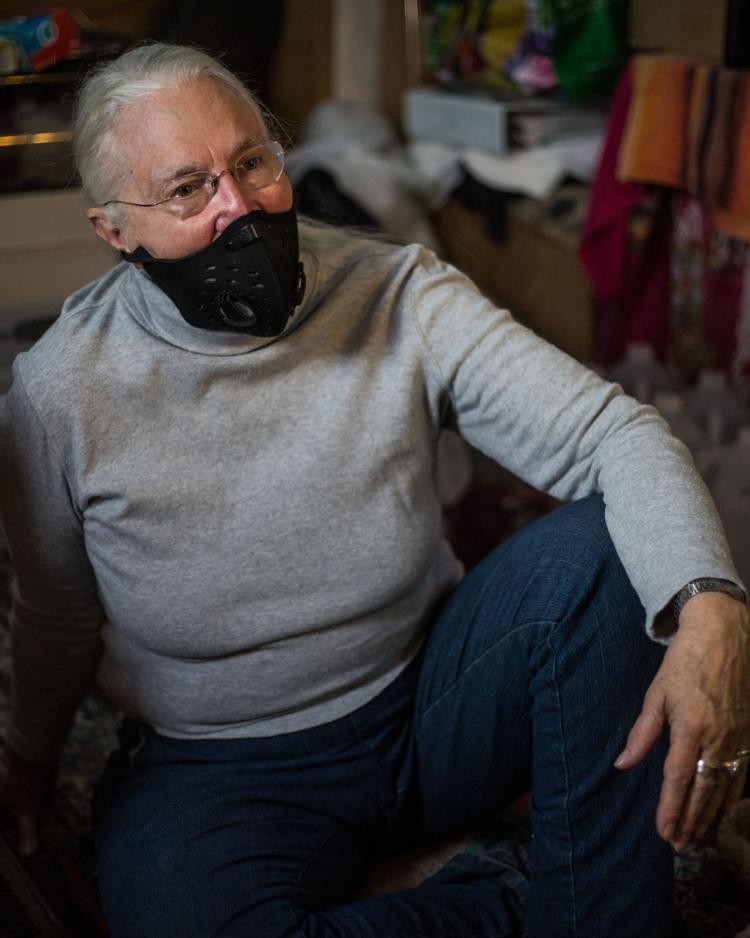 Talisman lives alone, save for her 19-year-old cat, Ellie, in a trailer at the park.
It's not an easy lifestyle for a 76-year-old with multiple sclerosis. Talisman recently got stuck in her trailer for four days when she couldn't clear snow.
And she's been washing her clothes in the sink since March, when property managers closed the on-site laundry facility. She keeps 15 jugs of water in her RV at all times because the water on-site, she said, hasn't been drinkable for nearly a year.
Because of her age and her MS, Talisman is at a higher risk of dying should she contract COVID-19. She doesn't want to tempt fate by going to a public laundromat.
But her little RV in Hoback provides warmth in the winter, and the price is right: $650 a month.
"I'm living on Social Security, so I don't have a lot of money," she said. "It's why I chose this option."
In her 25 years in Jackson Hole, Talisman has moved seven times. Each move was due to rent hikes or to make room for condominiums.
But it's this notice — in the middle of the winter, a pandemic and the holidays — that will force Talisman to permanently leave the valley she's called home for decades.
"I feel as though I've slipped through the cracks," Talisman said.
Most of the other regional RV parks are full or closed for the winter, forcing her to move to Idaho Falls — if she can find a space for her RV there.
"Part of the depth of my sadness is … I thought I was done with all this," she said.
Talisman will have to hire someone to haul her 28-foot trailer to Idaho.
"God knows what this trailer will do on the highway," she said.
Many residents elderly and high risk
Walk down the line of RVs at the park and you'll hear similar stories.
Talisman's neighbor Milton Powell has lived there 22 years. He's discouraged at how impossible it's become for the working class to live in Jackson Hole.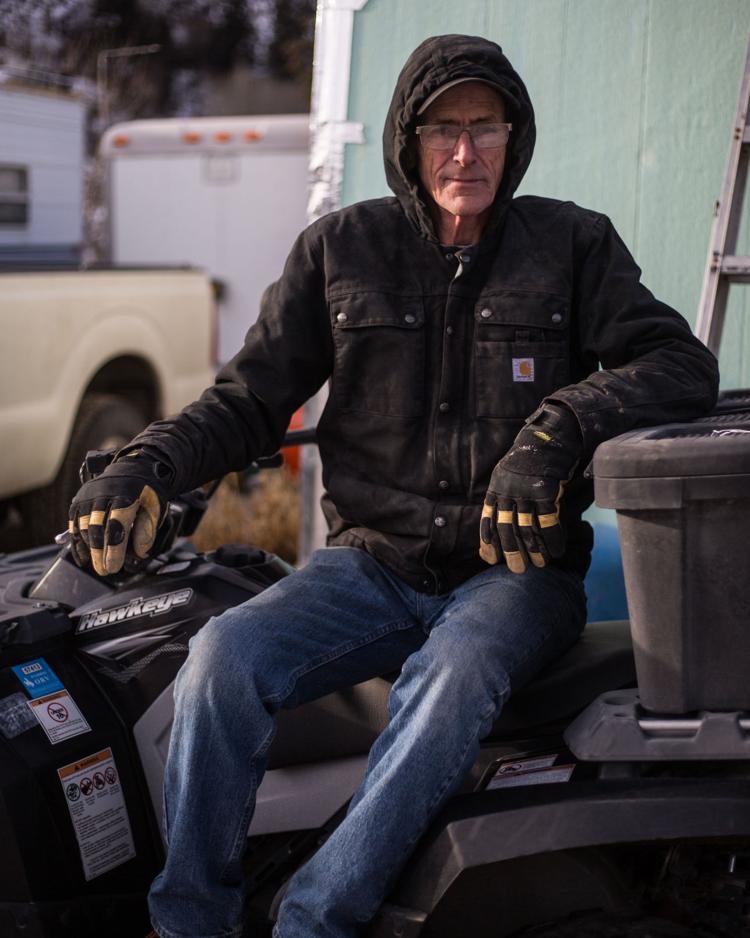 "It's time to leave this f---ing valley, as far as I'm concerned," he said.
Powell works in construction, and his wife works at Jackson Hole Airport. The longtime resident, who turns 64 this weekend, relies on his wife's health insurance. But having to move with little notice might mean quitting their jobs and moving out of state.
"I have a few health issues going on, and I can't lose my insurance," he said. "But she'll have to quit her job. And we'll have to move. Everything about this, the timing of all of this in my life, is just terrible."
Aside from having to uproot mid-pandemic without health insurance, Powell has lived the RV lifestyle long enough to know you don't try to move in winter.
"It can be done, but you leave a mess," he said. "They expect the sites to be clean when we leave, but there's no way. That stuff is going to be frozen to the ground."
A few doors down Jeffrey Meehan, who's lived at the RV park for 12 years, is livid.
"There is no place to go, especially with my dog," he said Sunday. "Every place is full in town. I cannot find a place."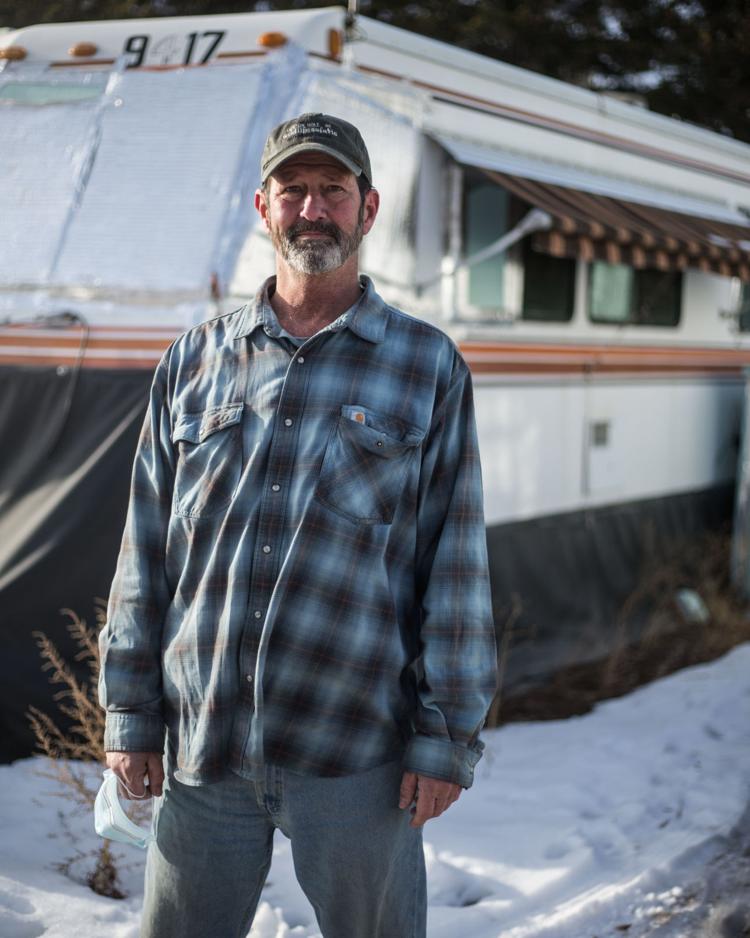 Meehan feels slighted, saying the new property owners said last year that tenants would be able to renew leases at the end of the year through May 2021.
"There was a verbal statement that we would have the option to stay until May no matter what," he said.
Reached by phone on Tuesday, Meehan said the temporary spaces the property owner is offering through April might work for him. But he would like more information than what's being provided.
"I would literally have to have a trailer come down and haul my vehicle," Meehan said. "But I need more specifics. Will it be pet-friendly? Because I would leave Jackson before I'd leave my dog."
Having survived lung cancer last year, Meehan is also considered high risk for COVID-19.
He can't understand why they're being asked to vacate when health experts and government officials are urging people to stay home.
"The governor, the federal government, the local governments: 'Stay at home,'" he said. "Our landlord?: 'Get the f--- out.'"
Septic violations, new ownership
The Hoback RV Park, which sits on a 2.1-acre lot, changed hands in 2019, when Norris and Layne Brown deeded to Crowley Capital the property that has been used as a campground and RV park dating to the 1950s. According to property records, on Oct. 8 of this year MV Farms I LLC assumed 81.5% interest in the property. Crowley Capital still owns a smaller percentage of the property, records indicate.
On the same day in October, MV Farms I was also deeded majority interest in two commercial properties on Berger Lane in Jackson — the former home of JB Appliance and JB Mechanical — by Crowley Capital manager Lane LaMure. LaMure was acting as authorized signatory for 1545 — 1565 Berger Lane LLC, which documents show is managed by Robert Huggins. The properties were purchased last year, and the businesses that once operated there are now a subsidiary of Orion Companies, for which LaMure serves as chief investment officer and Huggins as president and CEO.
Orion is the umbrella company of Huggins' New West Building Company and has greatly expanded its residential and commercial development footprint in Teton County over the past few years, purchasing property and subcontractors including Delcon, JB Appliance and JB Plumbing, Lawngevity, South Park Metal Works, Patagonia Painting and several other businesses.
The signatures of either Huggins or LaMure — who is also a partner and former chief investment officer at former major league baseball player Alex Rodriguez's real estate investment firm A-Rod Corp — can be found on documents related to several recent high-profile property transfers including Hoback RV Park, The Virginian Lodge, Basecamp and Rations in Wilson and The Mangy Moose Restaurant and Saloon in Teton Village.
Calls, texts and emails to employees at Orion, New West and Crowley were met with two press releases sent an hour apart Tuesday afternoon, one from Crowley Capital and one from Orion Companies. Orion's press release stated that "while certain employees of Orion are invested in the Hoback RV Park, Orion is not an investor and is not affiliated with Crowley Capital." Property records show addresses for Crowley Capital and MV Farms I match physical and mailing addresses listed for Orion Companies.
In a separate press release Crowley Capital described itself as minority owners of the Hoback RV Park and said it had secured a temporary housing solution, with the option for tenants to move to the RV park across from Teton County Library. In addition, Crowley Capital said it is making tenants aware of potentially longer-term alternatives in Victor and Driggs, Idaho.
Martin offered an apology in his Tuesday press release for lack of coordination with residents.
"Providing safe and affordable housing to our community is something we take very seriously. We apologize that we did not coordinate better with our tenants beforehand, but our own information and options were quite limited," Crowley Capital Manager Justin Martin said in the news release.
An unsigned email sent to tenants from hobackrvpark@gmail.com at 5:12 p.m. Nov. 19, said that owners plan to install a new septic system in early December and that its capacity will be "well below that of the old one."
Permits submitted to Teton County in October by Martin show the RV park owners were approved for two new separate septic systems. Teton County Engineer Ted Van Holland said it appears as if the owners are moving forward with only one smaller system and will likely withdraw their permit for a second, larger system that would accommodate all the current tenants.
"This notice indicates that they aren't going to install the central facilities and wastewater handling facilities," Van Holland said Monday.
Crowley Capital was put on notice by Teton County in the spring for a noncompliant septic system. After a March 10 inspection, the county said Crowley Capital was in violation of several environmental and water quality standards.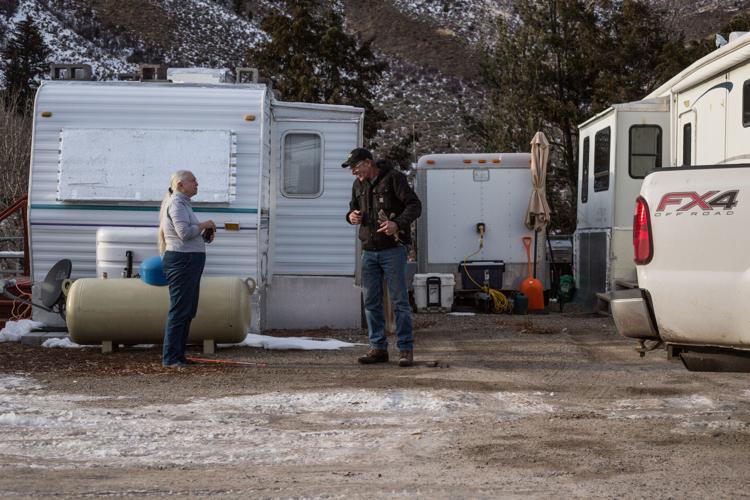 A separate notice by the Wyoming Department of Environmental Quality, dated July 1, faults Crowley Capital for violations of the Wyoming Environmental Quality Act: for discharging more sewage than is permitted (1,950 gallons per day), for operating the septic system with liquid waste on the ground surface, for adding wastewater treatment equipment without permits and for discharging "water treatment brine" without a permit.
On Monday the Wyoming Outdoor Council, which has advocated for water quality improvements in the Hoback area, emailed Van Holland and the DEQ.
"The [Jackson Hole Daily] article reports that a number of residents are being told to vacate the property by the [end] of the year," Dan Heilig wrote. "As part of the pending settlement, I would like to request that you consider a provision requiring the owners of this property to mitigate the impacts to these soon-to-be displaced residents, for example, by helping them find — and defray costs of — alternative housing."
Heilig said in the emails that the residents should be given a six-month extension to stay, due to single-digit temperatures and harsh winter conditions.
"This business benefited financially by avoiding environmental compliance costs for years," he said. "Helping these residents with alternative housing is the least they can do."
Portions of Hoback Junction have long suffered from poor drinking water quality, and the area is experiencing a long-term rise in nitrates in groundwater, which poses a health hazard to residents who depend on well water. Teton County orchestrated a stakeholder process that culminated in a recommendation that Hoback residents form some type of water district, which could lead to funding and a long-term safe drinking water source.
"It is unfortunate we haven't seen that effort moving forward better," Van Holland said Monday. "A public water system in this area would relieve the problems with the wastewater disposal."
The suspected cause of Hoback's degraded drinking water is a high density of septic systems overlying an aquifer that doesn't recharge quickly enough, though state environmental regulators have launched an investigation to pinpoint the cause.
"I understand the residents in the Hoback RV Park are rightly upset, and I sympathize with that," Van Holland said. "But they have to recognize it's being done in terms of the protection of the public ultimately."
Residents at the RV Park are well aware of the septic drama and wonder why "mass evictions" are the only option, since the septic and water issues have been at play for years.
"I understand the septic system if it's under capacity like that," Inanna Reistad said. "I don't understand why they aren't coming up with some creative solutions just to extend us another four months. ... They're like, 'Merry Christmas, a--holes.'"
Proposed solutions aren't viable
Cindy Zamora, 60, has lived in her trailer for 17 years, right next door to Jeffrey Meehan.
She's on the waiting list at Wapiti RV Park in Alpine in case a spot opens up there. But if it doesn't?
"I have no options whatsoever," she said on Sunday. "I had a heart attack last year. And they expect me to un-skirt my trailer, buy new tires and find someone to move it."
Zamora has lived in Teton County for 31 years. The thought of leaving her job, her daughter and her grandchildren because she's faced with homelessness brought her to tears on Sunday.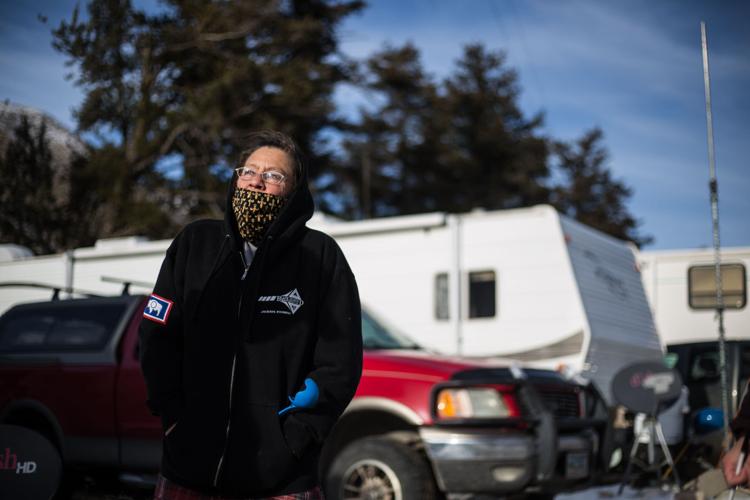 Thursday's email suggests residents contact area RV parks, saying there are sites available nearby.
The News&Guide called Wapiti RV Park, Greys River Cove RV Park, Wolf Den Log Cabin Motel and RV Park and Aspen Grove RV Park on Monday and confirmed those parks are either full or closed for the winter.
Fireside Resort Buffalo Valley in Moran has sites available for a nightly rate that would more than triple what residents were paying in Hoback. Teton Valley Resort in Victor, Idaho, has available sites for $800 a month plus electric until the start of its summer season on May 1. But starting then it is completely booked with short-term summer stays. Daniel Junction RV Park, nearly an hour's drive south from Hoback, has monthly sites available for $500.
"We recognize that this is an unfortunate and unexpected outcome," the original, unsigned email to tenants stated. "We strived to provide affordable housing in the area. On that front, we kept our average monthly rates below those charged by other RV properties in Jackson, Victor/Driggs and Alpine. We are disheartened that we are unable to continue providing as much affordable housing as we have in the past, but we also recognize the realities of the situation, which are beyond our control. We are making these changes in the interest of being good stewards to our tenants, neighbors and the broader community."
That was all residents had heard from Crowley Capital's Justin Martin until he sent another email to tenants and a press release to the News&Guide on Tuesday saying they've secured "a temporary housing solution" for tenants. Orion's news release said the Virginian ownership group would open its RV park, normally closed in winter, as a temporary solution for displaced tenants.
Martin also said in his news release: "As part of its ongoing commitment to helping tenants, Crowley has also offered to pay for tenants' December rents at the Hoback RV Park or in the other identified Teton County location."
Reistad, the Hoback RV Park resident who launched the Change.org petition, said the owners should at least be offering realistic solutions. She said a move in December to a temporary park could complicate things for many of the residents.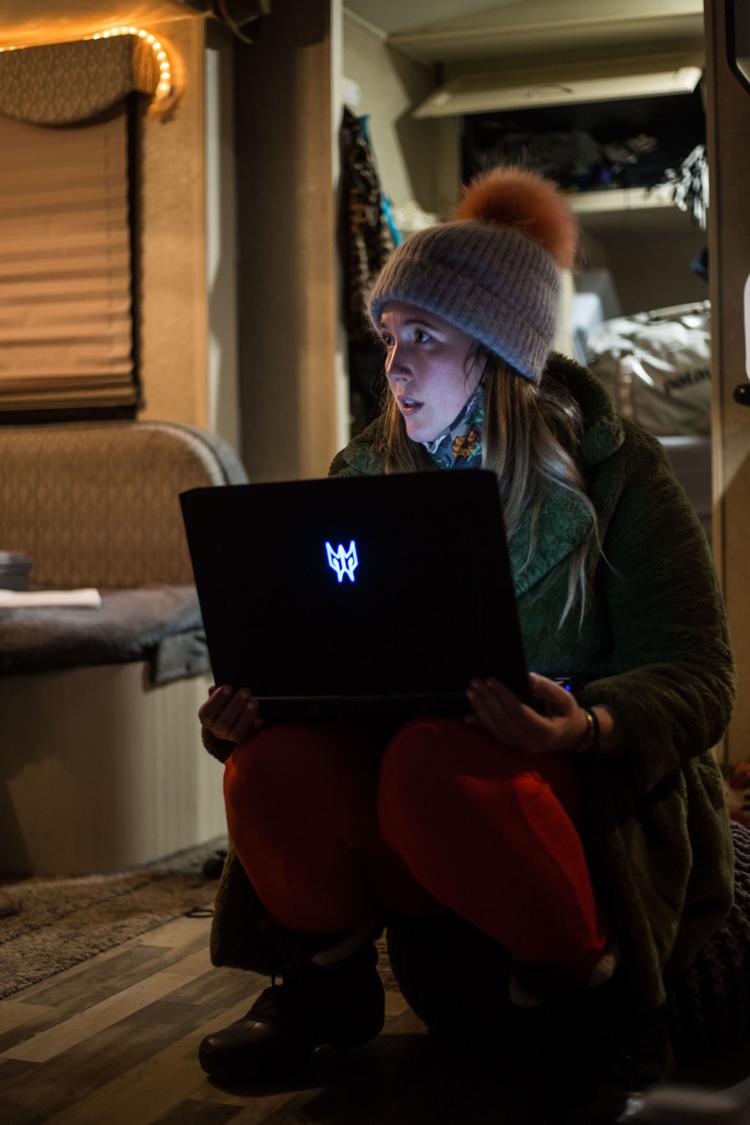 "Instead of notifying tenants during the summer of 2020, the owners chose to continue to lease the property with the intent of evicting elderly, disabled, and lower income families in the middle of winter," she said on the petition.
Martin said in his release: "Nonetheless, we remain committed to working with our tenants, the community and related stakeholders to assist in this transition."
The press release from Orion said: "Robert Huggins, President of Orion, a local developer and investor in the Virginan, became aware of the situation on Monday and sought ways to help."
The Orion release said that with the town of Jackson's approval they'll allow tenants to move to the Virginian RV Park starting Dec. 8 with onetime leases that will run through April 30, with no option of renewal.
"We are glad to be able to work with Hoback RV Park, tenants and the Town of Jackson to provide short-term housing on our site while they look for a long-term arrangement," Huggins stated in the release. "With the holiday season, winter and COVID, finding secure housing is essential, and we are fortunate to be in a position to help."
The release said that leases will "reflect the current affordable rate that tenants pay" in Hoback and that the Virginian RV Park will not be open to other tenants or visitors this winter.
Before Tuesday's temporary solution was announced, community members expressed outrage, with hundreds signing Reistad's petition within hours of her posting it on Monday.
Reistad penned the petition to Mayor Pete Muldoon, the Jackson Town Council, Chair of the Board of County Commissioners Natalia Macker, Teton County Affordable Housing Director April Norton, County Attorney Erin Weisman, Orion Companies Chief Investment Officer Lane LaMure, Crowley Capital and MV Farms I LLC.
A GoFundMe page also went live Tuesday, to help support residents with the infrastructure needed to make a winter move possible, like new tires for RVs that have been sitting there for decades and are no longer mobile and trash bins and heavy equipment.
"This eviction could lead to more than a loss of affordable housing," Reistad warned. "It could mean a loss of life."
—Mike Koshmrl and Ryan Dorgan contributed research and reporting.