It may seem like the endless summer, which is great for those who like endless hiking and biking, but for skiers and snowboarders the warmest November in Jackson Hole since the 1930s may be causing some severe angst.
Total snowfall in Jackson in November was less than an inch. The normal average snowfall in town during this time is 9 inches. But don't get your ski bibs in a bunch yet; Mountain Weather meteorologist Jim Woodmencey says it's still too early to panic.
"In November we did see a high pressure pattern stuck over the western United States, but ironically we ended actually wetter than normal by just a little bit," he said. "We did break the warm temperature record for Sunday and Monday in this area. The Jackson Climate Station recorded 53 degrees on Nov. 29th. It broke the old record for that date, by 1 degree, back in 1932."
According to Woodmencey, to see afternoon high temperatures in the 40s in Jackson at the end of November or in early December is not uncommon. However, temperatures of 50-plus degrees this time of year is unusual.
Consider that high temperatures this time of year are normally in the low to mid 30s.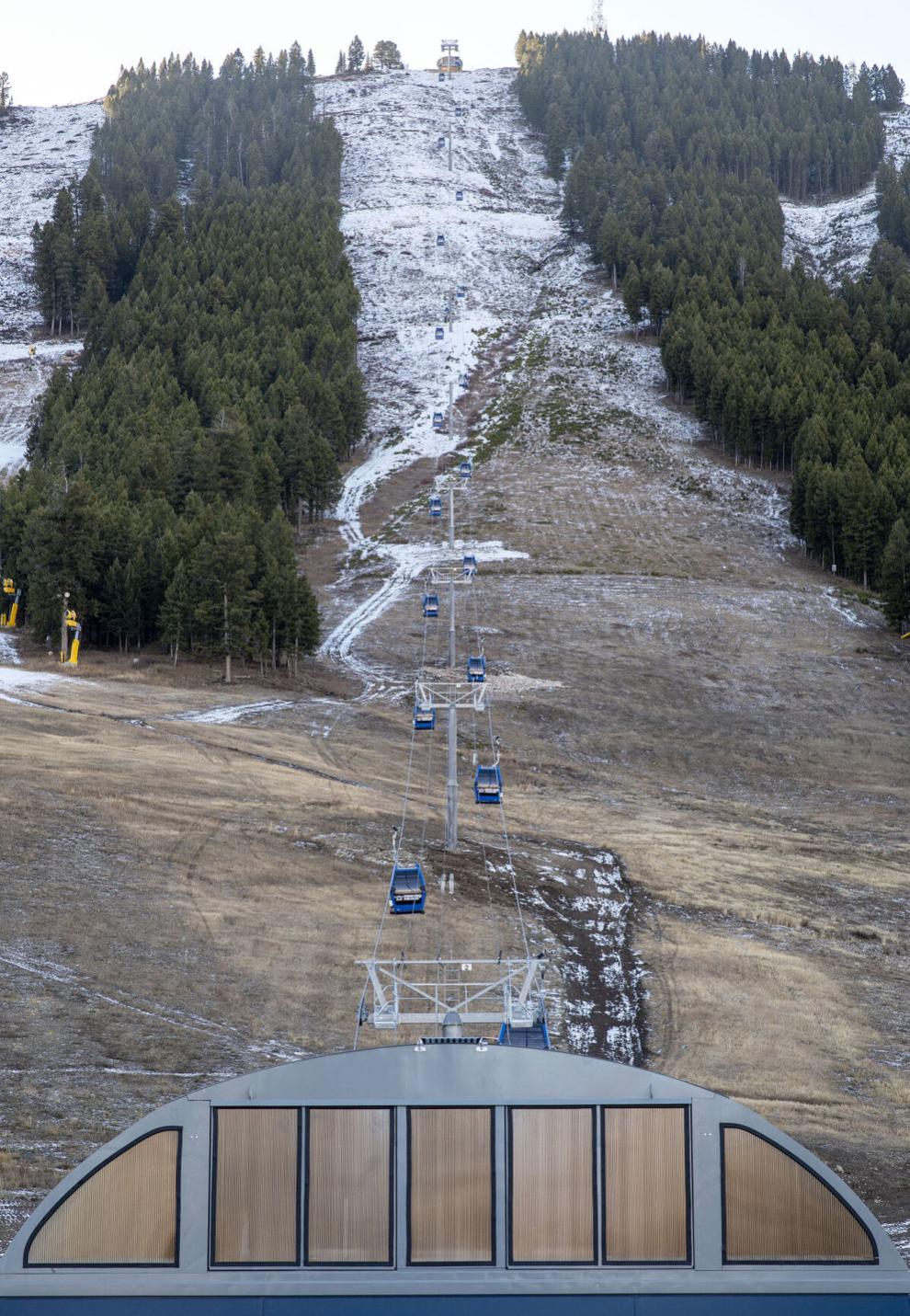 This is a La Nina year, which usually portends many storms and a healthy winter snowpack. La Nina weather pattern is defined as cooler-than-normal sea surface temperatures in the central and eastern Pacific Ocean that impact global weather patterns, and for Western ski resorts it usually means a lot of snow.
Peering up at the mountain from the deck of his office Tuesday, Jackson Hole Mountain Resort Marketing Director Eric Seymour looked wistfully at some of the dirt-brown slopes in view. He's praying for snow and an assist from Mother Nature, he said, but isn't worried just yet.
"It is a La Nina year, so I'm really hopeful," Seymour said. "But because last November we pretty much had the entire mountain open at this time we got really spoiled. But remember, we've had five years in a row with over 500 inches of snow. I remember one year we actually had to delay opening because of the lack of snow, and that season we ended up with more than 600 inches."
Jackson Hole Mountain Resort opened on time Thanksgiving Day, and while it's limited, Seymour said most other western ski resorts had to delay their openings. Currently, Jackson Hole has two lifts running, Teewinot and Apres Vous, as well as the Sweetwater Gondola up to midway Solitude Station, where the magic carpet is running.
Seymour credits the snowmaking team for making it possible to even be operating during these higher-than-normal temperatures. But to make snow Seymour acknowledges it has to be below freezing.
"Whenever the temperature goes below freezing we are blowing snow on the slopes, and they're in good shape, skiers and boarders aren't hitting rocks, we've got good coverage," he said. "We invested heavily in our snowmaking equipment."
While forecasting has come a long way in 20 years, Woodmencey said it isn't always fully accurate, though it is much more detailed than ever before, which helps forecasters see what's coming.
"I wish I could switch a flip to turn on the snow, but every winter is different; people need to calm down," Woodmencey cautioned. "I remember in early 2000s riding my mountain bike to the top of Snow King on Dec. 5th, and the weather was in the 50s, and the next week the snow came in and I put my bike away for four months. So it will come, but patience is a virtue."
As for hockey players who want to skate outdoors, or for ice fishing fans, Woodmencey said they'll need to be even more patient. Overnight low temperatures will need to get down in the teens, and daytime temperatures must stay at or below freezing for several days in a row to make good ice.
Jackson Hole, meanwhile, will be making snow whenever the temperatures allow, and Seymour said he feels confident that with the new investment in snowmaking equipment the resort can ensure at least two runs off of Apres Vous lift and two runs off of the Casper lift when they eventually get it going.
With the higher-than-usual temperatures, the Town Hill posted on its website that Snow King Mountain Resort will postpone opening day to when conditions allow. Snow King hopes to open the magic carpet and Cougar lift by Dec. 11.
"Blame the lack of snow on the supply chain issues," Woodmencey quipped. "The snow is stacked up in the Pacific in a high-pressure container ship in the Pacific, and the delivery is delayed. But snow will be shipping inland soon."