Aly Courtemanch slowly rolled along lower Gros Ventre Road where the sagebrush-steppe basin opens up near the confluence of Slate and Crystal creeks when distant white speckling caused her to pump the brakes.
It was 7:15 a.m. on a mid-August weekday, and the specks, which she judged at 300 yards away, were pronghorn. Courtemanch, a wildlife biologist for the Wyoming Game and Fish Department, had found her target. She eased nearer for a closer look at the group of Anticlocapra americana, which were already attuned to her presence.
"I've got 12," said Courtemanch, binoculars fixed to her face.
A spotting scope that could zoom in much farther helped her describe the pronghorn harem in more depth. Escorted by a lone adult buck, there were eight adult does, two fawns and a yearling doe, and they were feeling uneasy and on the go, headed toward the hay meadow irrigated by a pivot on the Red Rock Ranch.
Courtemanch was surprised there weren't more. Ever fewer pronghorn — a lone bedded buck — was visible the next spot she checked up the rutted road toward Crystal Creek.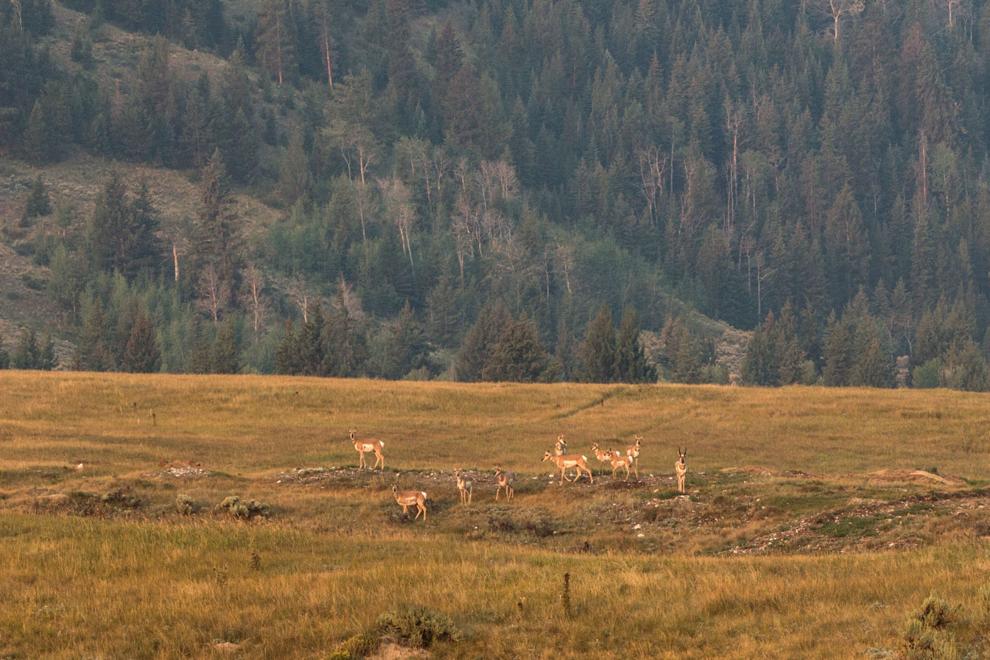 "Usually, we'll see 20 to 30 at the first two spots," she said. "I don't know where they went. All right, c'mon pronghorn."
The dearth of pronghorn was somewhat of a surprise, although Courtemanch wasn't concerned. Of course, it was just one spot on one morning. But the state biologist, partaking in a multi-agency annual summertime survey of Jackson Hole's pronghorn, has become accustomed to seeing record-breaking numbers of the reddish-brown and white goat-like animals.
"Last year's count was the highest it's ever been: a total of 564," Courtemanch said a couple weeks later. "This year we came in a little bit lower but not much. The total was 524. Still pretty high. It looks like this is the second highest count we've ever had."
Over the last decade Jackson Hole's pronghorn population has consistently trended up. Nearly a decade ago a front-page story in the News&Guide proclaimed, "Valley pronghorn population approaches record level," and at that time Courtemanch's predecessor, Doug Brimeyer, was counting about 400 animals. Now there's up to 40% more.
That's notable partly because migratory ungulates in the Rocky Mountains have oftentimes fared poorer than their counterparts that have learned to live year-round in the same general area by relying on agricultural lands.
But with Jackson Hole's pronghorn the opposite dynamic is unfolding. Hundreds of animals that trek all the way from the Green River valley to spend June through October browsing flowers and foliage in the 6,000-plus-foot-high Jackson Hole are thriving, while the larger herd they're apart of — the Sublette Herd — has generally struggled.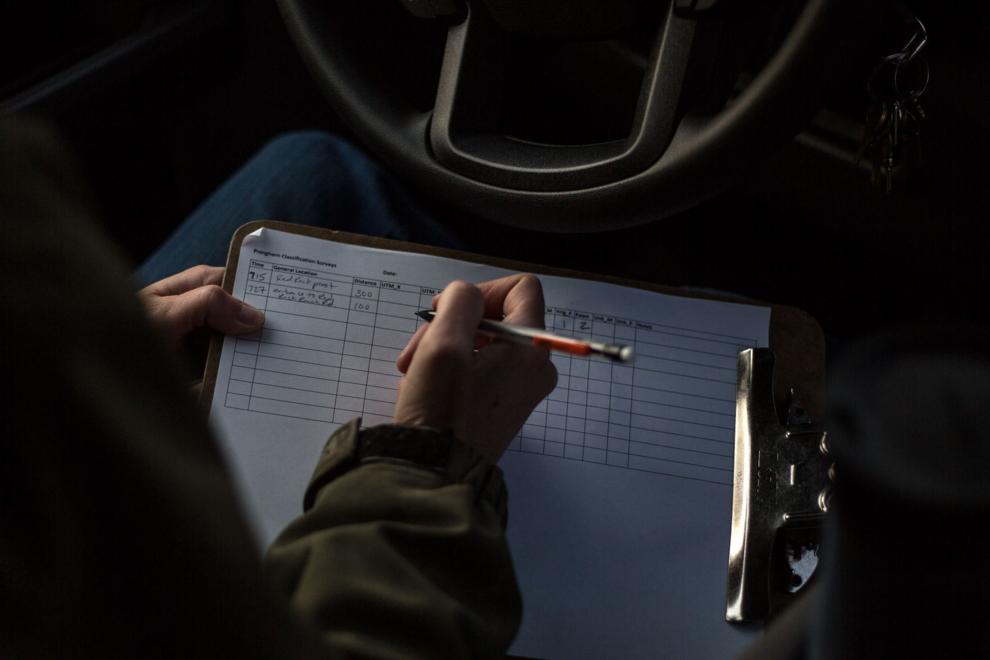 Game and Fish's latest "job completion report" summarizing the status of the Sublette Herd shows that the population, last estimated at 35,300 animals, has been more or less stagnant, and at a population that's more than a quarter below the herd's population objective of 48,000.
"Lower levels of female harvest along with favorable weather conditions for improved fawn recruitment," the report predicts, "will be needed to help this population grow back to its post-season population objective."
Courtemanch said there is no obvious, straightforward answer for why Jackson's pronghorn have fared better than their counterparts that live throughout the year in the Green River watershed. Habitat could partly explain it, she theorized.
"Perhaps where these pronghorn are wintering, they've had milder, more average winters," Courtemanch said.
On the flip side of their migrations, segments of the Sublette Pronghorn Herd that summer at lower elevations have likely been more affected by drought, which takes a toll on plants the animals depend on for food.
"Pronghorn that migrate further into the mountains and to higher elevations seem to be doing better," Courtemanch said, "probably due to comparatively better summer forage quantity and quality."
There are also notable differences in hunting pressure between the migratory Jackson Hole subpopulation and larger Sublette Herd. Across the whole herd, hunters kill an average of about 3,000 pronghorn a year — nearly 9% of the total population. About a third of those are does, which tend to be targeted in places where pronghorn are living off hayfields and cropland, like within the Farson-Eden Irrigation Project area.
But in Jackson Hole and the Gros Ventre River drainage the state agency caps the harvest at just 20 pronghorn — less than 4% of those that migrate here. Hunters have their choice of sex, and almost all animals killed are bucks.
In Jackson Hole there are also irrigated lands where pronghorn have learned to make their living. But here the grass is being grown on the National Elk Refuge and is exclusively intended for wildlife.
"Large numbers of pronghorn summering on the refuge is a relatively recent phenomenon," refuge biologist Eric Cole said. "In the summertime they're cueing in on forbs, and the irrigation program does an excellent job in keeping those forbs green."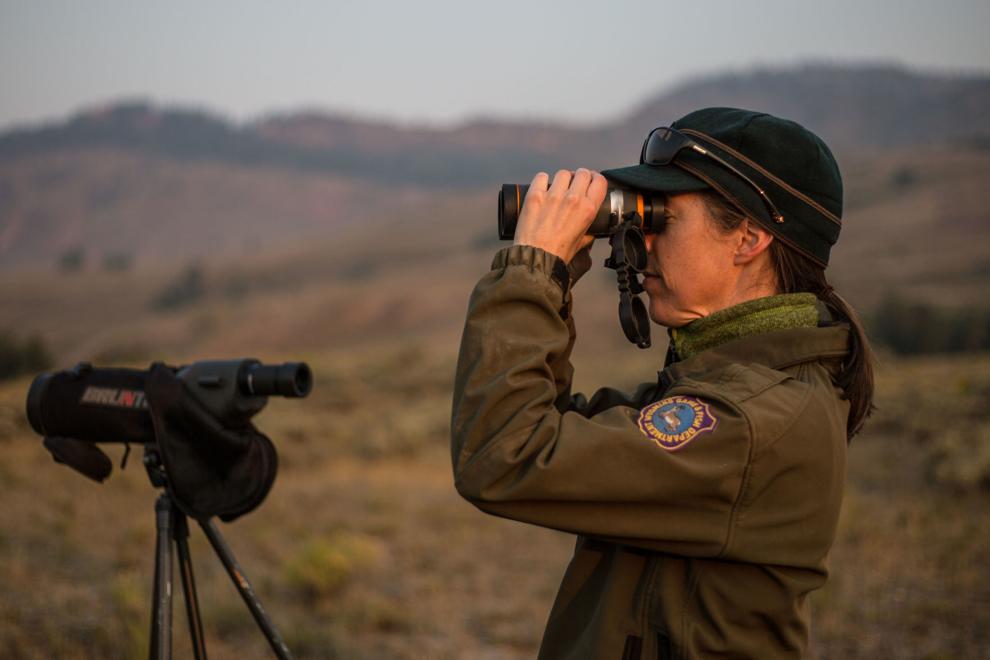 The refuge's $5-million-plus irrigation system adds about 1,500 extra tons of grasses and forbs to the flat, southernmost 11,400-acre portion of the refuge. That added forage is intended primarily for elk and bison, species that are purposely pushed off the refuge in the spring to give the prairie a chance to recover. But the dozens of pronghorn that typically are living on the refuge in the summer aren't as much of a worry.
"Generally," Cole said, "they're not a concern because they're not eating grass, they're eating forbs."
Cole noted that the record numbers of pronghorn being tallied across Jackson Hole should be interpreted with caution. The refuge wasn't a part of the area where the herd was surveyed annually until somewhat recently, he said, which muddies the data a bit.
This year the multi-agency squad of biologists who spread out to count pronghorn in mid-August found 289 in Grand Teton National Park, 177 up the Gros Ventre and 77 on the National Elk Refuge. That's roughly double the 40 pronghorn that Brimeyer found on the refuge a decade ago, when the migratory herd was setting records with just 400 animals in its ranks.
Jackson Hole's pronghorn are not only thriving but they also pioneered some new habitat in the valley this summer.
That was the observation of Wyoming Balloon Company owner Andrew Breffeilh, who gets an aerial view of wildlife south of Teton Village on ranchland along the West Bank of the Snake River every morning. There's usually plenty of elk in the area, but this year, for only the third time in 25 years, Breffeilh saw pronghorn, too.