Tanner Redick was taking a breather.
It was around 8:30 a.m. Sunday, and he'd already traveled about six miles: Roughly three out into the Bridger-Teton National Forest from a Curtis Canyon trailhead, and three back. But he wasn't as light on the way back as he was on the way out. Altogether, he and the other seven men in his group, a collection of Idahoans who met on a Challis cross-country team, had collected 96 antlers in two and half hours. That's 12 antlers for each person, 10.6 if you include the contributions of their antler-hunting pooch, Bella.
Their strategy was simple.
And it worked. Another shed hunter with a significantly lighter pack than any of those the boys had carried back from the field was in awe.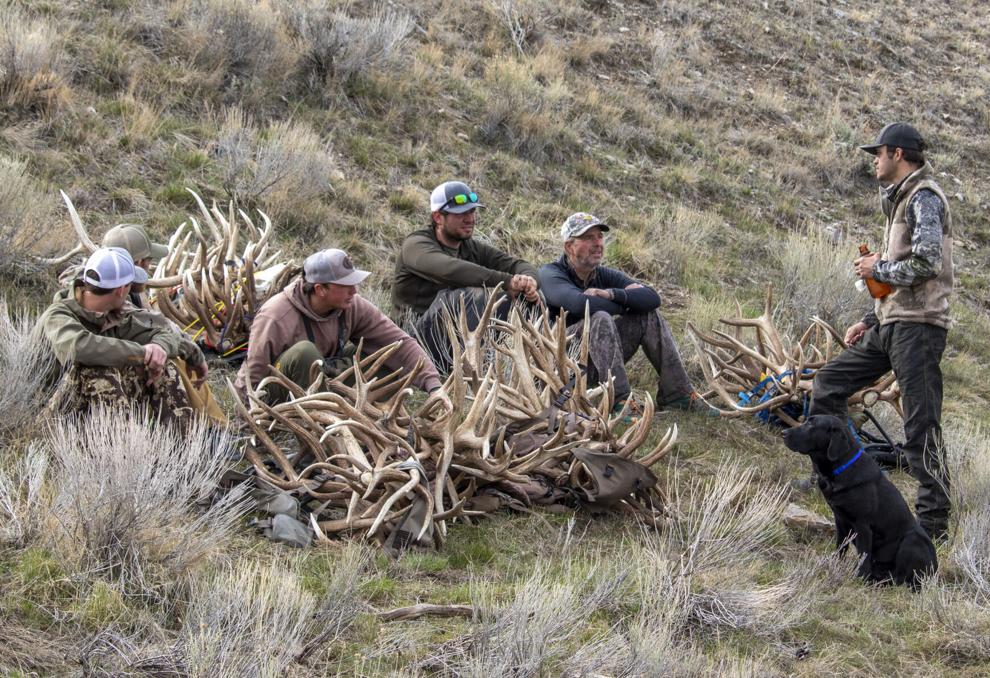 "Ooooh, you guys are the runners," he said as he walked by. "That makes sense."
Indeed, the boys from Challis made a bit of a name for themselves Sunday morning, the first day of the shed hunt in Wyoming and Jackson, in particular, which is notorious for huge crowds and dedicated hunters.
The general public isn't allowed to hunt on the National Elk Refuge — that's a privilege reserved for the Boy Scouts, who got their turn on the turf two weeks before. But shortly after the clock struck 6 the Jackson Police Department led a line of cars queued at the Teton County Fairgrounds out to the road through the refuge, which hunters used as a staging ground. People took off on foot and horseback into the Bridger-Teton, searching for the cherished biological detritus that elk leave behind as they migrate off the refuge.
Jeromie Traphagan, a sergeant with the Jackson Police Department who organized the police-led parade onto the refuge this year but was off-duty Sunday to hunt himself, was one of the people who'd heard about the Challis boys. A friend of a friend, who spoke with the News&Guide but declined to be named, had picked up a massive deadhead — an elk skull with antlers still attached — and was showing it off from the back of his truck near Curtis Canyon.
The deadhead was a quality play. But, at least near Curtis, the Challis boys had made a play for quantity.
Traphagan learned a thing or two from that.
"Things to improve in the future," he said. "Be faster."
But not everybody out on the refuge was all that fast — or all that successful.
A few miles away, and about 45 minutes later, a crew of Jacksonites was hanging out at a pullout along Flat Creek Road. Circled around a fire, they were drinking bloody marys, toasting some wieners and reveling in the morning glory. But not in their haul.
"The high of the day was watching Zoey crossing the river, crawling across a tree trunk," Abby Schwamm said of her friend, who laughed along.
Another high: Getting in 6,000 steps before 9 a.m. But the low was, well, a bit low.
"The low of the day was when someone went by us and said 'Wow, there are antlers just everywhere," Schwamm said. "Between 10 of us, we found not a single one."
You could blame it on the technique. Schwamm and her crew said they went straight up vertical faces, only to watch other hunters sprint up lower angle hills just to their flank. But you could also blame it on their hiking style.
"We saw one guy who had a huge head with the antlers still on it. He was on a horse and his friend was just running behind the horse at the same pace as the horse," Schwamm said. "We were like, 'This is why we have none. And you have giant skulls.'"
Back at the Curtis Canyon trailhead, Jase Romrell of Star Valley was someone who did well.
"They were all over this year," he said.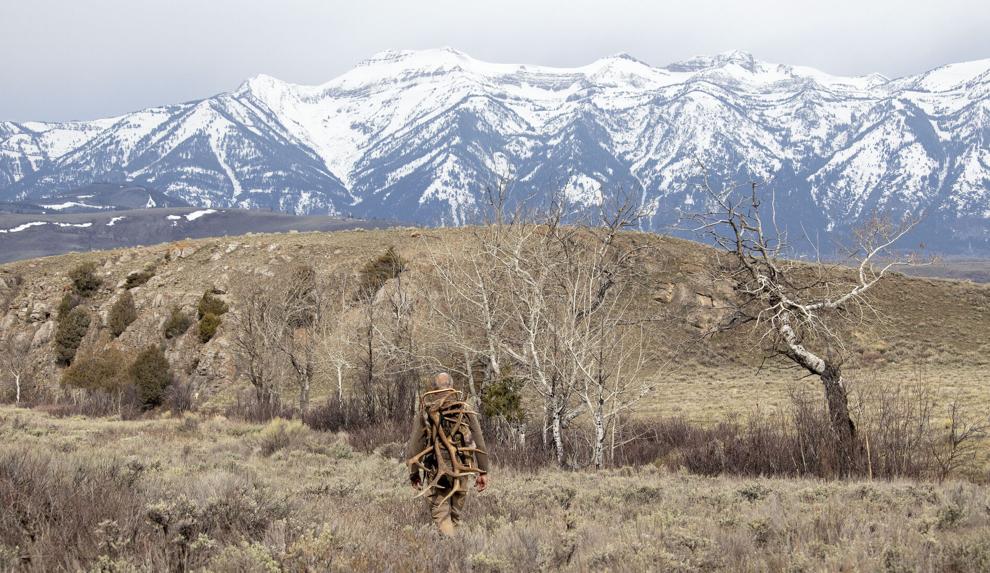 But Romrell knew what to look for. He found a bunch of antlers in pine trees, following rubs and scat. But he also did well on an open hill face, where he suspected bull elk had been out sunbathing after feeding on the National Elk Refuge.
"Heaviest yet. By far," Romrell said of his load as he packed up his trailer.
He'd been at it for seven years. His plans for the sheds were pretty simple.
"I have kids that just absolutely love them," Romrell said. "So we're just gonna keep them. Maybe when they get up to $20 a pound, I'll sell them. But for now we just love to look at them."
Romrell said he has a semi trailer with the front loaded up with the antlers. Not a ton, he said, "but quite a bit."
"Winter's tough around here. You want to get out and hike and see some sunshine and what better time than May 1?" Romrell said. "You can't miss this opportunity to get out and get a horse up there and oversee the Tetons."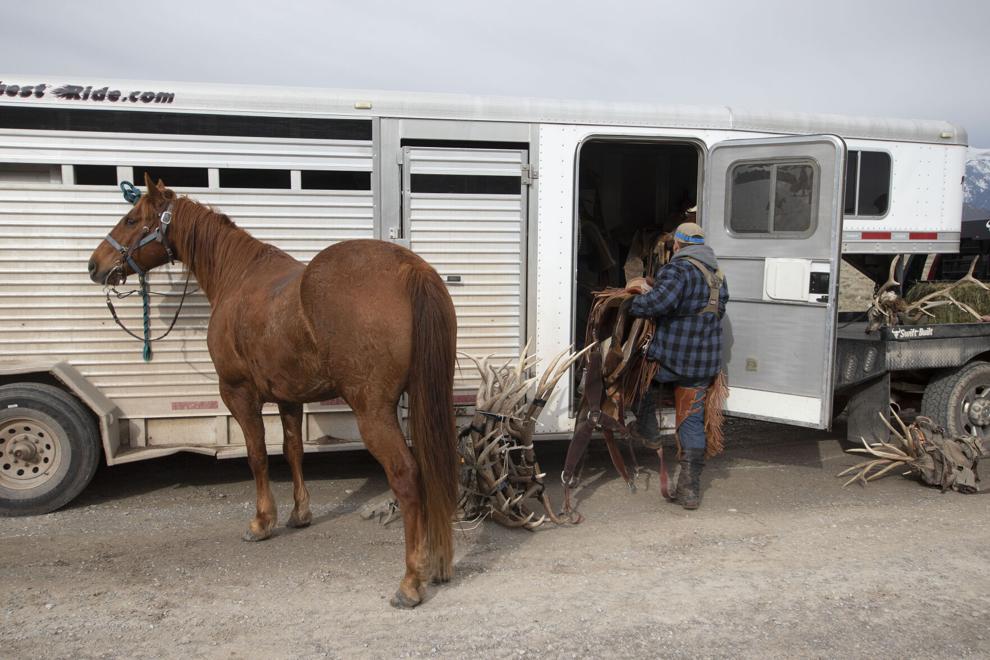 Mel Konsmo, trotting out of the Bridger-Teton on vacation from Camano Island, Washington, had a good day. Not the best. But not the worst: three antlers to his son's four.
"We've done better," he said, "we've come back with a couple of deadheads."
But he wasn't particularly perturbed.
"It's just the fun of it," he said, walking out of the forest beneath a graying sky.
He, like Romrell, didn't have big plans for the sheds. He just puts them in the barn. But after 20 years of visiting for the shed hunt he had a strategy down pat.
"Just going as far as we can," Konsmo said. "And watch and make sure you're no more than about four hours out so you can come back."
The Challis boys, who were gearing up to sell their antlers right down the road, also had other help.
Jayce Giampedraglia credited his dog, Bella, with part of his crew's success. She found seven antlers this year, and seven the year before.
"Her only toy's a horn," he said, adding that he trained her by playing fetch, which turned shed hunting into a game.
"Pretty soon she knows what they smell like," he said. "I say, 'Get a bone,' and she knows what she wants."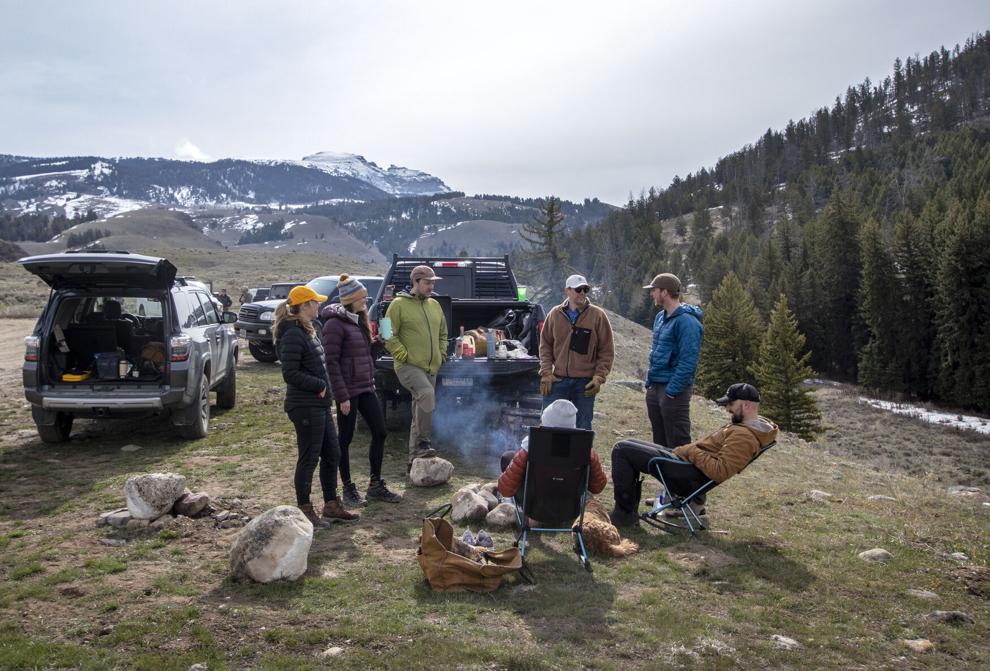 Back on Flat Creek Road the Jackson crew's only canine assistance was a fluffy dog named Chief who didn't seem to know how to hunt for antlers.
But Schwamm wasn't dissuaded.
"We saw this as a scouting mission, so we're much more prepared now," she said. "We'll be back next year."
And they were thinking of tools to help them out: either horses, or e-bikes to get up the dirt road past where they'd park. Schwamm said that her fiance, Scott, would bring his one-wheel.
"That's the only way we could get more embarrassing," she said.
But it wasn't so bad after all. Shortly before the News&Guide packed up and left, the last member of the Jackson crew emerged from the woods with a single antler. Her comrades cheered as she entered the circle.