Snow King might as well be "Trump Mountain," Shane Rothman opined from the peak's summit last week.
As the Bridger-Teton National Forest vetted its plans for Snow King's future, he contended, the concerns of experts like Forest Service retiree Susan Marsh and longtime ski patroller Rod Newcomb were brushed aside while a private company's desires were essentially rubber stamped instead.
"So many knowledgeable people in their fields … have basically been ignored," Rothman told a team of Forest Service staffers over a livestream last week. "I'm not sure if any of you are Donald Trump fans, but this whole process kind of reminds you of what happens when people just pledge unconditional support for anything, and don't listen to the experts."
Rothman, who's a next-door neighbor to Snow King, former employee and its loudest critic, was alone in making the Trump analogy. But he had good company in the essence of his request: For the Forest Service to reconsider a draft decision that gives Snow King Mountain Resort almost everything it wants, reanalyzing the plans instead.
That grievance and suggested remedy was widespread among the nearly five dozen objecting residents and organizations that have kept up an administrative fight. Those objectors spent up to six hours in late-January and early-February meetings, which are designed to give the public a chance to voice their opinion before the Forest Service finalizes its decision.
In this case the decision, which is still a draft, is to allow Snow King to grow its permitted area to the west and east, while building out its already permitted backside acreage and developing the summit area. Altogether the expansions and renovations that have been tentatively approved constitute the largest changes since the ski area along on the south border of Jackson was conceived 83 years ago.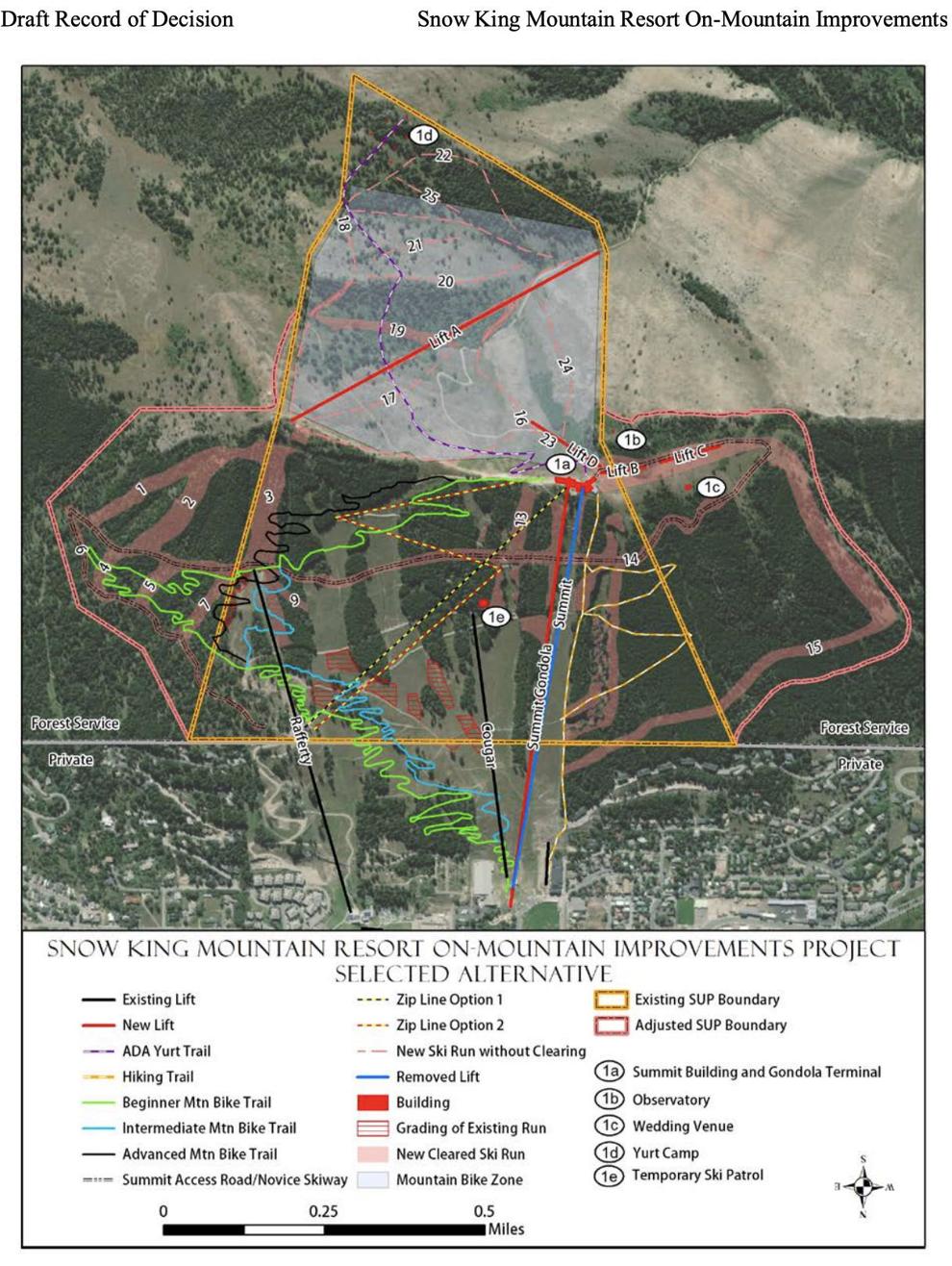 The pre-decisional objection process for Snow King has not looked like most.
For one, because of COVID-19 the gatherings of the objectors were virtual, aired over Microsoft Teams. There were also a lot of participants — 56 of them — trying to sort out a lot of unresolved concerns: 114 specific objections. That's not a record for objection participation within the U.S. Forest Service system as a whole, but it is one of the highest numbers of objections the agency's Intermountain Region has ever dealt with, said Chris Moyer, the regional director of planning, appeals and litigation.
"There was a large volume of issues to address," Moyer told the News&Guide. "In a 'normal' objection process, we have more of an opportunity to have a dialog … We just didn't have that space in this particular objection because of the volume."
Instead, objectors were given the floor for three minutes to air their concerns as issues were tackled one at a time. They ranged from the Bridger-Teton's consideration of allowing electric bikes on Snow King's trails to proposed infrastructure like a 20,000-square-foot-plus restaurant and guest facilities building tentatively authorized at the Snow King summit.
That's not to say there was no room for discourse between the Forest Service and objectors.
Jackson Hole Conservation Alliance Executive Director Skye Schell brought up evidence he'd found via the Freedom of Information Act that showed the Bridger-Teton's Jackson District ranger, Mary Moore, worked with Snow King to bias the process by ginning up public comments that were favorable to the ski area's plans.
"I feel like we really need some oversight from the region, because this is a grave process failure," Schell said. "You see how this plays into only looking at what the developers are asking for, not listening to the public at any step of the way. You look at the 'purpose and need.' These aren't needs for the [Bridger-Teton], they're wants for a particular investment group with a particular investment strategy."
Acting Deputy Regional Forester Jim DeMaagd — who has the final say on the Forest Service's objection response — told Schell that he heard the complaint.
"My role is to ensure that the process was objective," DeMaagd said, "so that's something that I'm going to be digging into."
The first day of discussions, on Jan. 29, covered objections that related to Snow King's planned gondola, zip lines, community character and values, and preservation of a landscape that's eligible as a protected district under the National Historic Preservation Act.
Marsh, the Bridger-Teton retiree, questioned the Forest Service's authorization of ziplines.
"It would be nice to know where the ziplines are actually going to be," Marsh said, "before we analyze the effects."
A big point of contention between the objectors and Forest Service was whether the four alternative plans weighed in the Bridger-Teton's environmental impact statement were varied enough to meet the standards of the National Environmental Policy Act. The topic came up repeatedly.
The Snow King project is proponent driven, Bridger-Teton Supervisor Tricia O'Connor pointed out, which explains why none of the alternatives departed too far from the initial proposal.
"This is just how the Forest Service looks at these issues," she said, "and I know we can disagree on it."
Objectors convened virtually again on Feb. 2, when e-bikes, a longer and wider summit road and the two expansion areas were all discussed. Of e-bikes, objectors criticized how the idea of allowing electric bicycles was not mentioned in the draft EIS, but then made an appearance in the final document.
"I would certainly hope that the e-bikes would be taken completely out of the proposal," Patty Ewing told the Forest Service.
Jackson Hole resident and objector Brigid Mander questioned the need to expand.
"The ski hill, as it is, is underutilized," Mander said. "It is rarely busy."
One at a time the objectors continued making their arguments for why changes weren't necessary or ought to be scaled back. During the third meeting, on Feb. 3, they discussed potential harm to elk and deer winter range on Snow King's backside in Leeks Canyon, and how allowing lift-accessed mountain biking could affect the experience in Cache Creek's network of trails.
Mike May told the federal land managers how he believes Snow King's plans fail Jackson Hole's wildlife overall and that the summit and backside development is no exception to that.
"The solution to that is to honor their critical range," May said. "Please honor that by shrinking the footprint up there as much as possible."
As objectors were given the opportunity to share their closing thoughts during the final meeting, many fell back on how their comments seemed to have been ignored and the public was offered four plans that were basically the same. They echoed each other's requests for a reset or, alternatively, requested a supplement to the EIS authorizing Snow King's development plans.
"This is a generational and a seismic change to this area and the community," May said. "To Tricia [O'Connor]'s point, I get that we're not always going to agree. But this has been too driven by the proponent all along, and the community's sort of been shirked."
Hilary Eisen, of the Winter Wildlands Alliance, told the Forest Service team that the Snow King planning documents and decision were the worst she's ever seen.
"To see an EIS that is really so lacking in alternatives and so unresponsive to the public and community's concerns is really quite shocking," Eisen said. "The only way to remedy this is a supplemental EIS."
DeMaagd, who's overseeing the objection response, has already signaled that a fresh start is not in the cards.
"We are not going to be rescinding or redoing the current EIS," DeMaagd told the objectors on day two. "Some may have thought that this was an option, starting over. And we're not. What we're doing is we're using this process to refine that final decision that the forest supervisor will be signing."
A supplement to the existing EIS is necessary for the Forest Service to introduce substantive changes to its decision, like, say, a scaled-back expansion. As it stands, it'll be all or nothing on the different elements of the plan, since the Bridger-Teton can currently only harvest pieces of its status-quo "no action" alternative. The decision whether to supplement the plans with more analysis falls on Bridger-Teton Supervisor Tricia O'Connor.
An independent 11-person team of Forest Service employees is in the process of reviewing the 114 objections and writing up required and recommended remedies. Their response, a written document, is on pace to be completed next week, Moyer said.