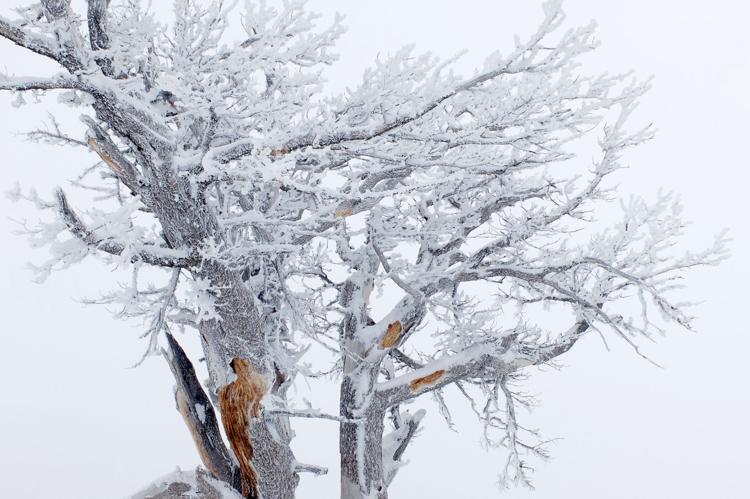 Foresters fighting to save the Greater Yellowstone Ecosystem's whitebark pine are on the front end of a gargantuan restoration effort for a species recently singled out for protection by the federal government.
For nearly a decade technicians and tree planters have been out in the ecosystem's high reaches locating mature whitebark pine in places like Grand Targhee Resort that have an apparent resistance to nonnative fungus called white pine blister rust. When they happen upon a resistant tree, cones are collected and branches are cut off, bound for nurseries and seed orchards where they'll produce rust-resistant cones and seeds of their own. These progeny are then gathered and grown into seedlings that get planted throughout the Yellowstone region, in places like a Moccasin Basin wildfire scar atop Togwotee Pass and the Green Knoll Fire scar southwest of Wilson.
That's the nuts and bolts of an evolving effort that's intended to help whitebark pine stage a comeback in the face of three primary pressures: blister rust, mountain pine beetle and a warming planet. The beneficiary of all that work is a species that foresters like the Caribou-Targhee National Forest's Avery Beyer don't want to see fade from the landscape on their watch.
"It's a keystone species," Beyer told the News&Guide. "On ridgetops and mountain tops, they change how the wind flows. Any backcountry skier has taken shelter behind a whitebark pine."
Those are often the trees on Teton Pass where people duck out of the wind.
The ecological trickle-down effects, of course, do far more than benefit skiers, he said. The windbreaks and shade from the whitebark pine's fading high-elevation canopies affect the snowpack, keeping frozen water at elevation longer into the spring.
"That helps with how our water comes down to our valleys for irrigation," Beyer said. "If whitebark pine go away, it will change the hydrograph in ways that we don't fully understand until we'll see it happening."
If whitebark wink out — a reality in places, like portions of Glacier National Park — there would be untold consequences for wildlife, like the Clark's nutcracker, the primary disperser of whitebark seeds. Many other species, like grizzly bears, benefit from the rich, nutritious seeds found in the baseball-sized cones that take two years to grow and can fall in abundance once trees reach about 60 years old.
As co-chair of the Whitebark Pine Subcommittee of the Greater Yellowstone Coordinating Committee, Beyer is in the thick of efforts to help Pinus albicaulis come back along its southeasternmost range. Here and just about everywhere they're found the conifer that carved out a niche along the crowns of western North America is struggling.
"There's a continued decline," U.S. Fish and Wildlife Service biologist Amy Nicholas said. "The mountain pine beetle epidemic has been waning, but the problem is largely blister rust."
In early December the U.S. Fish and Wildlife Service took action that was nearly three decades in the making, dating to a 1991 petition for protections filed by the Great Bear Foundation of Missoula, Montana. By 2011 the Fish and Wildlife Service agreed that the protections were warranted and the species was designated as an Endangered Species Act candidate, but it wasn't until early December that the government moved to list whitebark as "threatened," a designation that would create an extra layer of protection on the mostly federally managed lands where the pines grow.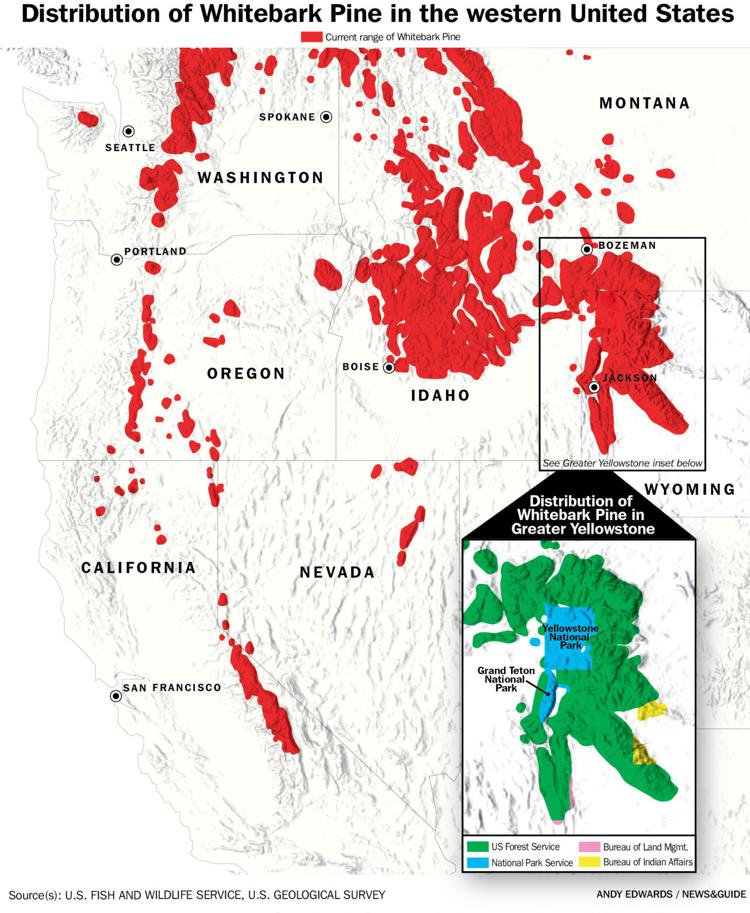 University of Colorado-Denver professor Diana Tomback, a former longtime director of the Whitebark Pine Ecosystem Foundation, has been engaged in creating a U.S. Forest Service-led national restoration plan that crosses jurisdictions and identifies strategies to help whitebark perpetuate within "core" habitat areas currently being mapped.
"It's probably the most ambitious restoration plan ever attempted for a forest species," Tomback said. "We're addressing 20 to 30% of its range."
Throughout its range, whitebark pine grow on an estimated 80 million acres of western North America, some 70% of which falls within the United States. That puts the targeted treatment acreage at somewhere between 11 million and 17 million acres — an area that's between five and eight times the size of Yellowstone National Park.
A listing would require federal agencies to take a hard look at projects that could affect long-lived and high-elevation whitebark pine, a tree that is deteriorating rapidly where it's found in the Rocky Mountains, Pacific Northwest and northern Sierra Nevada. If a designation advances, it would be the most widespread plant species ever afforded protections by the federal government.
"It prohibits the removing, the cutting, the digging up, the damaging or destroying of the whitebark pine on federal lands," Tyler Abbott, the U.S. Fish and Wildlife Service's Wyoming field supervisor, said of the proposed rule. "It also prohibits whitebark pine import and export and activities related to interstate commerce."
Exceptions are carved into the agency's proposed rule that allow whitebark to be disturbed for forest management, restoration or research-related purposes, he said. Off of federal lands there would be no prohibitions against killing whitebark pine due to the proposed listing as "threatened" rather than "endangered." The Fish and Wildlife Service is also not proposing to designate "critical habitat" for the species, an approach that will give land managers more flexibility.
"With the whitebark pine, the key threat is not about habitat, it's not about management, it's not about human-use factors," Abbott said. "It really boils down to the white pine blister rust, which is the driving threat and factor behind the decline. That's the very reason we did not designate critical habitat."
Even with the looser protections, the plans to protect whitebark pine did not find favor with Wyoming Gov. Mark Gordon, who said in a statement that "any listing under the Endangered Species Act is concerning."
"Wyoming always seeks to avoid the need for listing," Gordon said, "and will remain committed to working with our federal partners to approach species conservation in a pragmatic manner."
One perk of Endangered Species Act protections that whitebark proponents see is that a listing would raise the profile of the species, opening funding that will be needed to achieve the goals of the national restoration plan Tomback and others are in the process of compiling.
Projects like the planting at the Moccasin Basin fire scar sound ambitious: There were about 20,000 seedlings planted on 150 acres, according to the Caribou-Targhee's Beyer.
"But in relation to the whitebark pine's range, all these projects are a drop in the bucket," Tomback said.
Still, some promising results on blister-rust resistant plantings have her hopeful for the tree's future.
"There's a lot of people who are really interested in conserving the species, and not allowing it to go down," Tomback said. "If we can pull this off — and it will take a village, as they say — it will become a model for restoration."