Public comment closes today on Jackson Hole Mountain Resort's proposal to double its allotment of guided backcountry "user days" south of its boundaries, a push that has some people concerned about crowding and impacts on the Tetons' sensitive bighorn sheep herd.
If the Bridger-Teton National Forest approves the permit the resort is requesting, ski area officials acknowledged Thursday that it could lead to an "increase in use."
"It is going to make a bit of a change in terms of how many guides and how many guided experiences you're going to see out there," resort spokeswoman Anna Cole told the Jackson Hole Daily. However, she said she believes local skiers will still be able to enjoy the area, and that it shouldn't feel "dramatically busier."
Cole said the resort is seeking the change in part to ensure that backcountry users are safe and in part to satisfy increasing demand for guided backcountry recreation.
There are more people skiing now than ever before in North America, Cole said, and many of them have skied the backcountry successfully at other resorts. But she said the terrain outside Jackson Hole Mountain Resort's southern gates frequently gets people in trouble.
"If people can have access to a backcountry guide to take them and show them this terrain, everyone's going to be more successful and more safe," she told the Daily.
But at least one person who commented on the proposal so far made a counterpoint.
"For every guided trip, you must recognize that these clients will then return to these areas on their own, without the necessary knowledge of backcountry safety or critical animal habitat," Halsey Hewson wrote. "This will cause more conflicts and eventually the closure of these areas to human presence."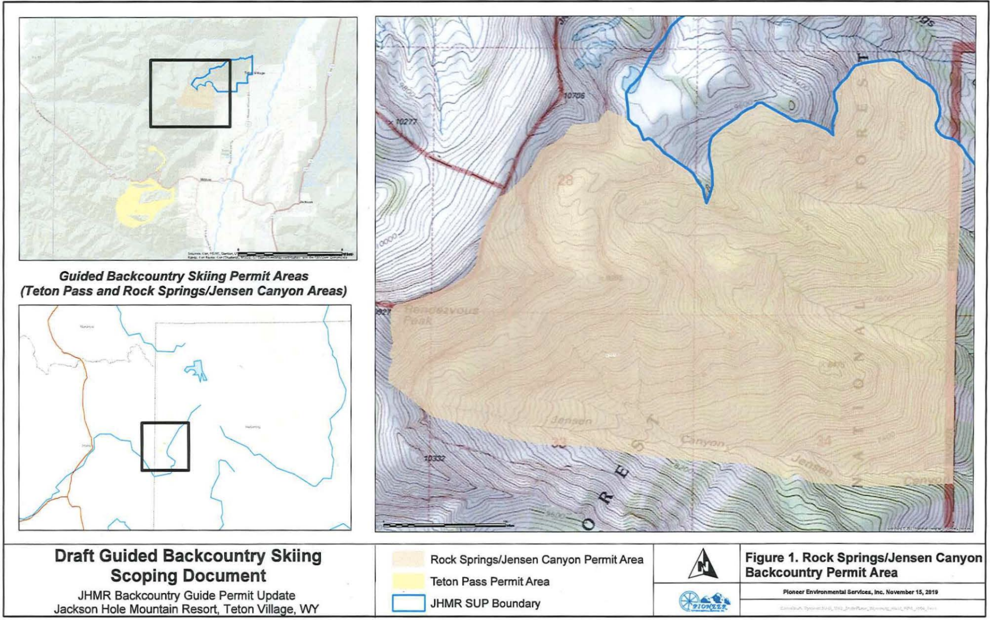 The permit expansion would allow the resort to double its allotted user days from 1,200 to 2,400, primarily in the southern Teton region that stretches from the resort's boundaries below Cody Bowl, already included in the ski area permit, to Jensen Canyon. Fifty of the 1,200 user days the resort now has in the Bridger-Teton are on Teton Pass. That number will not increase under the proposal.
Guided skiing generally accounts for roughly 7% to 10% of backcountry recreation in the permitted out-of-bounds area in question. The number of guided skiers out there might not actually double, according to Bill Schreiber, Jackson Hole Mountain Resort's director of engineering and planning, who estimated that the resort currently takes advantage of about 1,500 user days.
It's able to exceed the existing 1,200 user day cap by taking advantage of unused "pool" days left over from a sparsely used High Mountain Heli-Skiing permit.
If the new permit is approved, it will be effective for the upcoming 2021-22 ski season. But opinions are mixed as to whether the forest should allow the expansion.
In a previous scoping effort, the Bridger-Teton received about 120 comments on the proposal. Then, as now, concerns centered on conflicts over backcountry powder and additional threats to the already-imperiled Teton bighorn sheep herd, which is struggling in the southern portion of the range.
In the six recent comments, one person worried that the proposal's approval was a foregone conclusion.
"It seems clear that the Jackson Hole Mountain Resort will be granted their request," longtime resident and environmentalist Franz Camenzind wrote, concerned about language in the May scoping document that he felt implied the process was a "done deal" and "contrary public comments are futile at best."
That language said "specialists" had reviewed 120 comments previously submitted to see if anything rose to the level of an "extraordinary circumstance" that could disallow granting the permit through a categorical exclusion. That's the least intensive level of review under the National Environmental Policy Act. Design criteria that would be included in the amended permit, the document states, "would avoid the potential for any impacts to rise to the level of an extraordinary circumstance."
"What are these 'design criteria?'" Camenzind wrote. "How do they differ from the existing permit guidelines and how will they remedy public concerns?"
A Bridger-Teton spokeswoman told the Daily it's too early to say what, exactly, those will be: "Those haven't necessarily been settled on yet," she said.
Like Camenzind, other commenters worried about the proposed expansion's impact on sheep populations. Others fretted about more skiers fighting for the same amount of lift-accessed, backcountry powder.
At least two appeared to support the proposal. One of them, Giles LaJevic-Augustine, said "backcountry skiing is an important part of our local economy and it has a small impact on our environment, especially in areas that already see heavy use and have little impact on recreational users." He also thought the proposal would drive skiers away from more remote regions and heavily used areas like Teton Pass.
But Hewson said the area is already a haven for pass-weary skiers and riders, and they didn't want to see it get any more crowded.
"Myself and many other backcountry enthusiasts are already traveling to Jensen Canyon and beyond to access less popular areas to escape the crowds," he wrote. "How does increasing the guided trips improve the visitor experience?"
Comments can be submitted via mail to Mary Moore, Jackson District Ranger, P.O. Box 1689, Jackson, WY 83001 or electronically at TinyURL.com/jhmrbcexpansion.
Today is the day the Bridger-Teton names in the scoping document as the final day to submit comments and "be most useful."
It does, however, say "comments are welcomed at any time during the planning process."