In the wake of Grizzly 399 and her four cubs' October visits to southern populated stretches of Teton County — and the deaths of other bears that got into garbage — the town and county are both discussing ways to keep bears and people safe in the valley.
For weeks, there has been a growing push among the public to require bear-proof trash cans countywide. By Thursday morning, a Change.org petition encouraging elected officials to do so had gathered over 50,000 signatures. Just over 23,000 people live in Jackson Hole.
Town and county elected officials have been flooded with public comment about the issue. Teton County Board of County Commissioners Chairwoman Natalia D. Macker told the rest of the board Tuesday that the bulk of the 226 emails sent to the board over the past two weeks were "related to bear-proof canisters."
The town and county both discussed bear safety earlier this week. The Jackson Town Council voted to further consider the issue, and commissioners opted to defer to planners' ongoing work on bear-proofing.
"Grizzly 399 and her four cubs spent a happy day in my neighborhood a week ago Saturday," Town Councilor Jonathan Schechter said at Monday night's council meeting. "As a result I've had a lot of conversations with neighbors and other interested people about bear-proofing and trying to make the town more resilient and, in so doing, cut down on the possibility of bear-human encounters."
Schechter moved to direct town staff to "research options for adopting rules for the town — whether formal regulations, guidelines or otherwise — that will make the town more bear-safe, with an emphasis on making garbage and other bear attractants less accessible and less attractive to bears." And he asked staff to provide analysis of the resources needed to do so.
Schechter asked that the information be provided by February. He told the Jackson Hole Daily he set that date because there's not enough time to do anything effective before bears go into hibernation.
"But we can do something by the time they come out," he said.
The council voted 4-1 in favor of that motion, with Vice Mayor Arne Jorgensen opposed. He supported further bear-proofing Jackson Hole but felt the board's January priority-setting retreat was a better time to discuss it.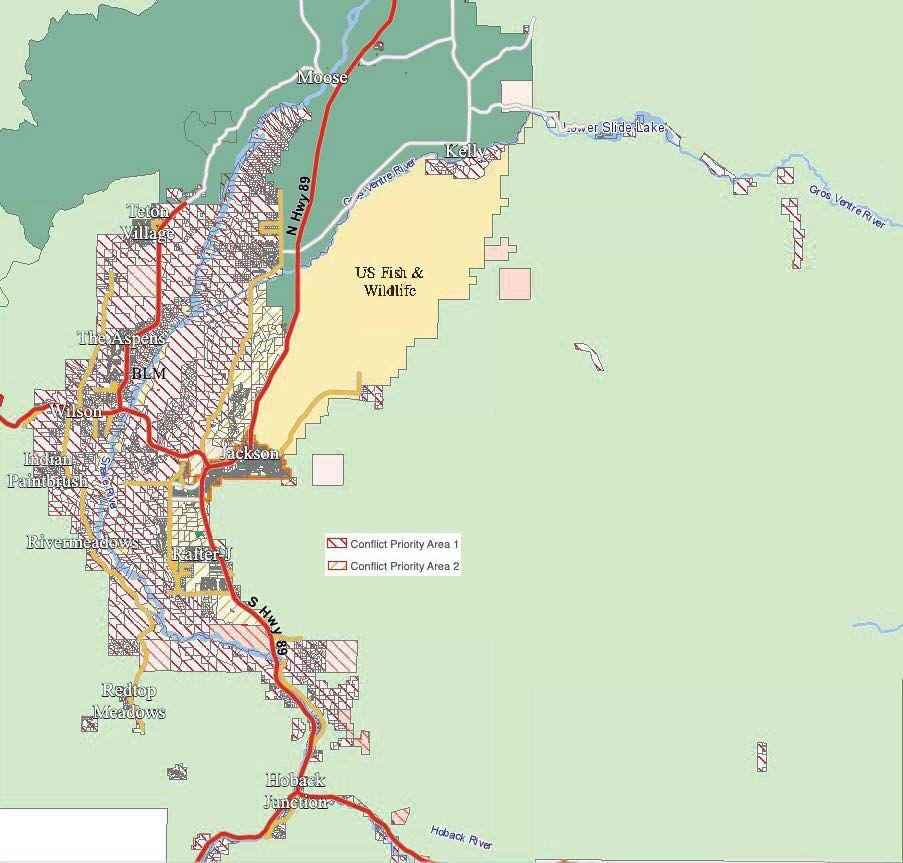 Bear-proof trash cans are required throughout a large swath of Jackson Hole. They are not mandatory in the town of Jackson, Melody Ranch and Rafter J subdivisions, but they are in what Teton County considers "Bear Conflict Priority Area One," areas "that overlap with, lay adjacent to, or are in close proximity to known bear-use areas, as documented by empirical research or wildlife management actions and observations."
Those area generally cover Kelly, Hoback, and land west of Spring Gulch Road and South Park Loop Road.
On the county side, Brenda Ashworth, superintendent of integrated solid waste and recycling, had previously told the Jackson Hole News&Guide that officials are trying to expand the bear-proof trash can requirement countywide.
Commissioners' conversations at their Tuesday meeting didn't center around that issue. Instead, Commissioner Mark Newcomb asked whether his fellow board members would like to discuss changing regulations at the Teton County Trash Transfer Station.
If trash haulers pick up trash from containers that aren't bear-proofed but should be because they're in a designated bear conflict area, Newcomb floated disallowing those haulers from dropping their refuse at the county station.
"I'm just asking if the board would be interested in having a discussion around this," Newcomb said.
Commissioner Mark Barron took a different tack, suggesting that people with the means to do so contact local haulers and order bear-proof trash cans.
"Invest in a bear-proof trash can today," he said. "Be part of the solution."
Newcomb said dumpsters are also a problem, but supply is tight.
"My understanding right now is that bear-proof dumpsters are hard to come by," Newcomb said. "They're costly. So there's a lot to this discussion."
Teton County Planning and Building Director Chris Neubecker told commissioners that Principal Long Range Planner Ryan Hostetter was working on the issue "actively" and talking with Teton County Integrated Solid Waste and Recycling about potential options.
Newcomb said he was content to have Hostetter continue her work. The rest of the commission agreed.