These were the sounds of Laurel Wicks' celebratory wails serenading high Pine Drive early Monday evening. After two days on the lam, her 30-year-running reptilian companion Artie had been found alive. Against the odds, the cold-blooded Eastern painted turtle survived two sub-zero nights and was back in the grasp of Wicks, who beamed.
"He was in the road," Wicks said, "and a car almost ran over him."
The rescue all went down in a flurry around 4:30 p.m., explained Wicks, better known to friends and News&Guide readers as Chef Notes columnist Bru.
A neighbor, Kelli Ward, was driving by and checking out the 5-inch-long turtle, which was in the street clinging to the heat that remained in the pavement. Another neighbor, Jen Bradof, came upon the scene and immediately knew why the turtle was out of place.
"Jen rushed out of her car, snatched him up, and without even closing her car door she ran up the hill with a turtle in her hand," Wicks said.
At the time, the 72-year-old food writer and animal lover was still poking around her yard, looking for Artie. Elation and celebration — and yelling into the streets — ensued.
For two days prior, Wicks had gone to great lengths to try to find her only surviving turtle, which once had four friends. She had been in touch with a specialist who prophesized over the phone from Colorado that Artie had leaped down the stone steps outside her ground-level apartment before disappearing into the thickets of grass and vegetation.
"I've been talking to animal whisperers," Wicks said. "You've got to talk to everyone that you can. He doesn't make any noise, and he's not very big."
Wicks also got in touch with the Animal Care Clinic, inquiring if trained search-and-rescue dogs were a realistic way to hunt for her beloved turtle. An employee at the vet's office ran on the idea and brought up her own dogs, but they didn't turn up any turtles.
An "army" of searchers also came out to help. Some 30 friends and neighbors, including some people Wicks didn't know, assisted in combing the vegetation Sunday and Monday around Mandie Bellorado's place, where Bru rents an apartment, and in the adjacent properties.
But even with all the effort, two days passed and there was no sign of Artie. It was looking grim.
"It may not have made it through last night," Pine Drive resident Jim Woodmencey said Monday, prior to learning Artie was alive. "It was 19 degrees in town. Hate to say it, but I'm afraid that's not turtle weather."
Woodmencey is a meteorologist. Fortunately, his herpetology instincts missed the mark.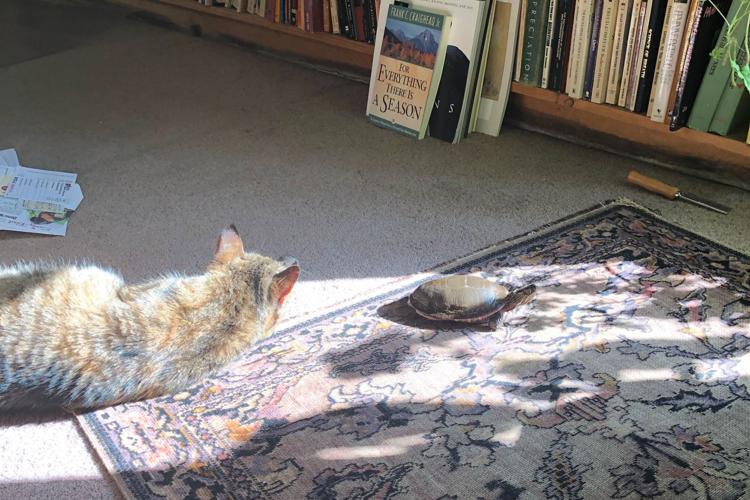 Although Artie's survival story will remain a mystery, Wicks' hunch is that her reptilian friend made it through the cold nights by entering a hibernation-like state of torpor, where his vital rates slowed to nearly nothing. This, she said, is how he would have survived the winters before being captured in 1990 at Keuka Lake in upstate New York.
Thirty years later, Artie the turtle's great escape into residential Jackson, Wyoming started with a meal. Because he dwells in an aquarium that's shared by four voracious giant goldfish, Bru gives him his pellet meals in the sink where he can eat without the competition.
After eating, Artie was making the rounds on the ground. He knows his way around, owing to a fondness for leaping and free-falling from the chest-high lip of his aquarium. Even with a millet seed-sized brain, cold-blooded Artie knows where all the hot spots are in the apartment, like the modem, his designated heat rock and where the sunbeams come through the windows.
Artie's two-day tromp in the wild was enabled by a not-quite-closed door that Wicks' cat, Purrrl, noses open to come and go, and escape bullying from larger neighborhood felines. At some point Saturday afternoon, Artie took advantage and crawled away.
For the two days following Wicks was a "wreck," though the lost-turtle blues came abruptly to an end once Bradof came sprinting up the street. Looking back, her good feelings weren't just the result of being reunited. Wicks was also heartened by the response of her community. Mid-interview Monday, she took a call from a man who she had never met before.
"I'm one of your neighbors and I heard you found Artie?" he asked.
Wicks confirmed: "We did!"
"[Expletive] yes!" the man responded. "Congratulations! Pet Artie on the shell for me."