This is part one in a series about Teton County water quality. Next up, part two will delve into how the town of Jackson treats wastewater. — Eds.
A Jackson Hole environmental attorney took a deep dive into examining the web of regulations protecting drinking water in Teton County. After probing databases and poring over spreadsheets and rule books, Dan Heilig reached some grim conclusions about how the valley's inhabitants are treating the Snake River aquifer — their sole source of drinking water.
"I don't want to sound crude, but we're pooping into our drinking water," said Heilig, a senior conservation advocate for the Wyoming Outdoor Council. "I think we're suffering death by a thousand cuts. No one system is the cause. It's a combinations of hundreds, or thousands, of systems."
The geology and soil in much of the valley, he found during last year's digging, are poorly suited to scrubbing clean human sewage discharged through septic systems that dispose of a fair amount of Jackson Hole wastewater.
Environmental Protection Agency data suggests nitrates are increasingly an issue, especially in the greater Hoback Junction area but also elsewhere in the valley. Thirty years of monitoring drinking water in Teton County have produced 57 nitrate samples in excess of 7 milligrams per liter. Forty-one of those readings — 72% — have come from water samples submitted in the past five years, according to Kyle St. Clair, the nitrates rule manager for the EPA's Region 8 water division.
Those concentrations aren't illegal, but they are many times the natural "background levels" expected in pristine environments, which suggests sewage or another source of the nutrient is increasingly percolating into the water table.
Nitrate is a nutrient pollutant that's often associated with agriculture, and when unnatural concentrations reach surface waters it can cause dangerous blue-green algae blooms and "dead zones" that lack oxygen and kill wildlife. In drinking water, there is worry about methemoblobinemia, or blue baby syndrome, a sometimes-lethal condition that inhibits oxygen's ability to travel through blood.
In Jackson Hole there have been some high-profile violations of the EPA's regulatory limit of 10 milligrams per liter, the threshold designed to protect developing fetuses and infant children. But water quality data coming from public water systems in the valley show that concentrations above 3 milligrams per liter, which "generally indicates contamination," according to the EPA, are much more common and widespread.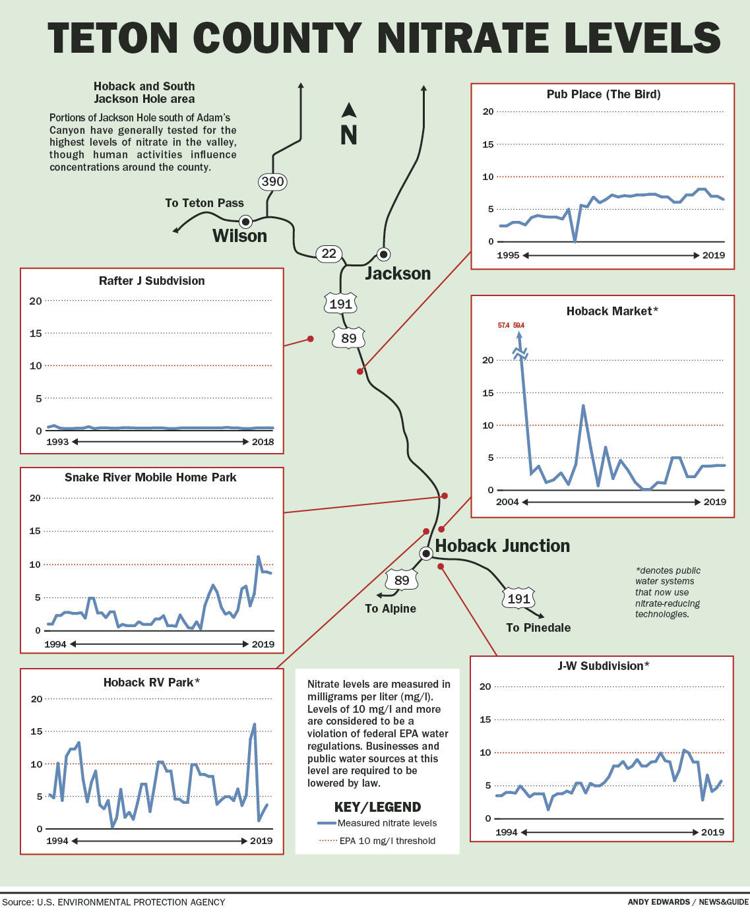 Small septic systems don't have to be monitored by anyone if approved by Teton County, though large ones are subject to Wyoming Department of Environmental Quality regulation and oversight. Approximately a third of the residences in Teton County — somewhere around 2,250 structures — depend on septic systems. Another 48 larger-capacity systems designed to handle more than 2,000 gallons of sewage a day are under the DEQ's jurisdiction. The residential facilities are sprawled throughout the county, handling sewage on lots large and small in places like South Park Loop Road and posh neighborhoods like John Dodge and those west of Jackson Hole Airport.
Historically, Jackson Hole's dearth of people may have kept the drinking water relatively pollutant free and safe.
"What's saved us in the past is our low population, but I think with growth we're starting to see the problems," said Protect Our Waters Jackson Hole Executive Director Dan Leemon. "It's well documented all over the Intermountain West. This is happening in a lot of communities. It's why other communities have decided to do wastewater master plans."
Heilig and Leemon have teamed up to push for an overhaul of wastewater regulations they see as outdated, lacking in effectiveness and playing a role in the degradation of the Snake River aquifer. Because there are no reasonable drinking water alternatives the Snake River aquifer is designated and protected as a "sole source" aquifer.
The issue with nitrate is most apparent from South Park down valley to Hoback Junction, though there are isolated areas of concern in Kelly and other pockets of the valley.
"What we're finding based on an analysis of the EPA data is that as you get into southern Teton County there appears to be a handful of public water suppliers that have increasing nitrate trends or have been required to do nitrate treatment," Teton Conservation District Associate Director Carlin Girard said. "I think that threshold of exceeding the drinking water standard and requiring nitrate treatment is a pretty clear indication of a problem."
Jackson Hole residents aren't alone in ingesting elevated levels of nitrate-laced water. It's a widespread, national issue.
In the seven-year span leading to 2017 some 81 million Americans served by community water systems relied on drinking water with nitrates in excess of 1 milligram per liter. Of those, 6 million depended on tap water with an average of 5 milligrams per liter or greater, according to September 2019 research published in the Journal of Environmental Research.
That same study, headed by the Environmental Working Group, attempted to estimate the health and economic impact of nitrates in drinking water. Ph.D. toxicologist Alexis Tempkin estimated that ingestion of nitrates is causing nearly 3,000 "very low birth weight" babies annually, 1,700-plus preterm births and 41 cases of infant brain or spinal defects. He estimated somewhere between 2,300 and 12,600 nitrate-attributable cancer cases annually, primarily colorectal cancer, that are costing the United States an estimated $250 million to $1.5 billion and even more in lost productivity.
But some environmental health professionals caution that more research is needed to fully understand the health implications of drinking water contaminated with nitrate and that the science so far doesn't confirm a carcinogenic hazard.
"There are some studies that have showed an association between nitrates and cancer and birth defects and nitrates, but other studies don't show that," Teton County environmental health specialist Shane Yu said.
Yu studied the scientific literature about the health effects of nitrate in drinking water for his master's thesis at the University of California-Irvine. The verdict: Taken together, the studies are inconclusive.
"It's really a mixed bag," Yu said. "It's an area that warrants more research."
Yu said that in his opinion the issue of nitrate pollution in Jackson Hole certainly is deserving of attention but shouldn't be a cause for panic.
In the central parts of the valley, where sewer lines run and human waste is piped away, drinking water is typically safe from potentially hazardous concentrations of pollutants like nitrates. In the town of Jackson, for example, nitrate concentrations are typically below 1 milligram per liter and never above 2 milligrams, EPA data shows.
Presently, areas dependent on septic systems are where issues have emerged.
It's a problem, in Heilig's and Leemon's view, that almost all of the valley is considered to have "very limited" soil rating for septic treatment by the U.S. Department of Agriculture's Natural Resources Conservation Service.
"That's one of the fundamental problems here," Heilig said. "Large areas of the valley are simply unsuited for conventional septic systems because of the geology and hydrology."
The Snake River aquifer's sandy, gravelly soils, he said, are "not capable" of breaking down nitrate.
Leach fields to be studied
To determine where and how suited Jackson Hole is for septic, the Teton Conservation District is heading a 2020 study that seeks to measure how efficiently residential leach fields are processing wastewater. Its results will help inform how they're managed in the future.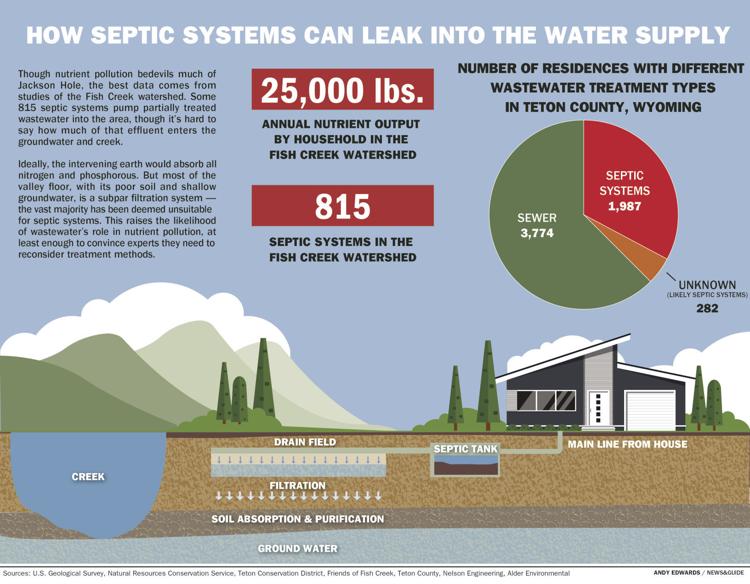 Environmental regulators say the soil suitability maps are just one piece of the puzzle when determining whether septic systems are appropriate. Mapping tools that generalize soil type are good "high level" tools but have limited use on a site-specific basis.
"Really, what it boils down to in our rules and regulations is if it's sized properly and meets the requirements of a percolation test," said Richard Cripe, the Wyoming DEQ's water and wastewater program manager.
A percolation test measures how fast water absorbs into the soil, and it's a mandatory step to determining how large a drain field needs to be to ensure sewage is properly absorbed.
Still, Heilig would like to see poor soil suitability recognized. Teton County is starting the process of updating its small wastewater facility regulations, which the DEQ signs off on, and the maps ought to be recognized in those rules, he said.
Heilig and Leemon are also seeking an array of other changes to the county septic system regulations, such as making maintenance and inspections mandatory rather than voluntary. Residential septic systems don't require much maintenance, but they are supposed to be pumped and inspected every so often. If that's neglected — and sometimes it's because homeowners don't even know it's required — septic systems can fall into disrepair and fail.
Another shortcoming of the current county septic regulations, Leemon and Heilig contend, is that they lack performance standards that could limit nitrate being discharged, which could in turn protect groundwater.
Where it leaves a septic tank, wastewater contains somewhere between 40 and 100 milligrams of nitrate per liter, Leemon said. Even a properly functioning system removes only about 10% to 20% of that, leaving the rest of the treatment to the sometimes equally ineffective soil, he said.
"That's general, scientific knowledge," Leemon said. "Septic systems are not good removers of nitrates."
Nitrate-reducing septic technology isn't cheap — it can add $10,000 or so to the cost of a system — but there are cases in which Jackson Hole homeowners have voluntarily ponied up.
"In the Crescent H area, there were several homesites where there were wetlands and potential for a lot of degradation of water quality," Leemon said, "and the homeowner basically said, 'I want the best system I can get.'"
Another gap Heilig and Leemon perceive in the county regulations is that density of existing septic systems and their cumulative effects on groundwater quality are not part of the permitting calculus.
Dense concentrations of septic have been implicated in one of the most clear-cut and acute nitrate pollution cases in Jackson Hole.
The J-W Subdivision, just southeast of the Hoback roundabout, invested more than $100,000 in a water treatment system in 2018 to scrub out nitrate that was near the 10-milligram-per–liter EPA threshold.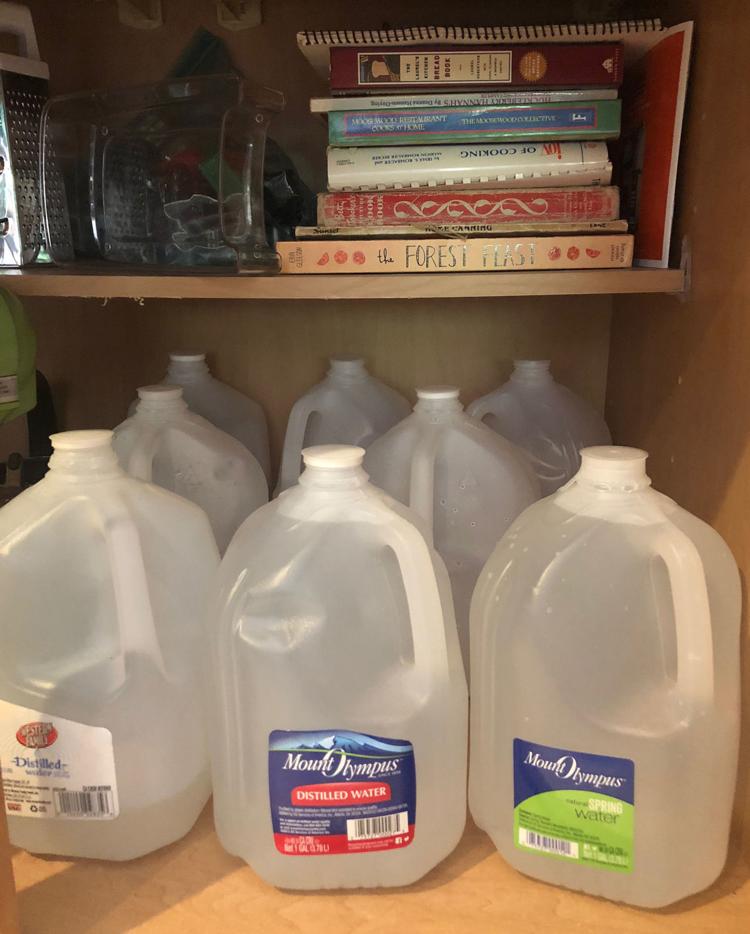 Adams Canyon and farther south is where Girard is most focused, but he's keeping an eye on places like Kelly. Alta is another area, according to EPA data, with nitrates that have exceeded 3 milligrams per liter. (A spreadsheet of 30 years of county data is attached to the online version of this story.)
Hundreds of Jackson Hole residents have private water wells that are not a part of public water systems that the EPA monitors. Girard stressed the importance of those individuals testing their water, and Public Health's Pond made the same point.
"What concerns me is how many private wells we have where there are no guidelines, no requirements, and people are not educated about what they should do as a private homeowner," Pond said.
"What they should do is test their drinking water," she said.
The science isn't concrete, and there is a debate over what levels of nitrate are safe to drink.
"Septic installers and well water installers," Leemon said, "I've seen them say outright that they wouldn't drink anything above 3 milligrams per liter."
Girard said he wouldn't encourage his young family and wife during pregnancies to drink water with nitrate concentrations above background levels.
"We would seek alternative water," he said.
Kara Nell is one academic who is keeping an eye on what the science says about the potential health effects of nitrate. A University of Minnesota-Morris environmental chemist, her research focuses on materials that can be used to remove nitrates from drinking water supplies.
"Below that 10 milligrams per liter mark there's more and more evidence that it can be hazardous to our health," Nell said. "The main argument for why they should lower that legal limit is it's a carcinogen."
Some 30 epidemiological studies have been completed, she said, linking nitrate and cancer.
The EPA last considered revisiting the nitrate standard in 2017, but determined it was "not appropriate" to revise the threshold at that time, St. Clair said.
Heilig and Leemon say they'll be engaging an expert to assist their efforts to improve local septic regulations. Urgent change is needed, they argue, to turn the corner on nitrates.
"The bottom line is, we have a nitrate problem here in Teton County," Heilig said, "and if we don't address it, it's just going to get worse."
Leemon says it's a matter of spending money now, or later.
"There are people in the county who think that we don't have a problem now," Leemon said.
"I'm sure in every other place that has had this issue there were people who said it's not a problem, until it was a problem."