When Brenden Cronin returned to his truck on Teton Pass on a recent morning, he was aghast at what he found.
The Wyoming Department of Transportation avalanche forecaster's truck in the auxiliary lot had been broken into and moved. One party had taken the keys from the toolbox and repositioned the vehicle, presumably to exit the parking lot.
A second party was in the act of moving it, having found the keys on the floorboards, when Cronin rolled up.
"I was so blown away it happened, and that I actually witnessed it," he said. "I used some pretty choice words."
In the heat of the moment, Cronin didn't take the scofflaw's information, so no tickets were issued, but the incident reveals a growing pressure on the pass' limited parking. Recreational use that has been growing in recent years is closer to critical mass, particularly on powder days, and no short-term solutions are on the horizon.
On mornings with snow, or most weekend days, it's not uncommon to see up to 10 cars idling and waiting for parties to return and vacate their spots.
"I've lived here 15 years," Cronin said. "It's the busiest I've ever seen it."
The explosion in recreation isn't limited to Teton Pass. The pandemic has pushed people away from ski resorts and gyms, so they're turning to human-powered and motorized sports to get out of the house.
"It's going to be a busy year for us all winter, regardless of the sport," Jackson District Ranger Mary Moore said of the Bridger-Teton National Forest.
Nowhere is that as apparent as Teton Pass, Moore admitted. If the auxiliary lot just east of the summit of the pass isn't plowed, even more people are vying for spots in the turnout skiers use as a parking lot.
In the lots at Coal Creek, the Idaho state line, Phillips Canyon and the weigh station on the west side of the pass, the story is the same. Some powder days, skiers have even parked in the turnouts near the westside weather station.
Teton Pass Ambassador Jay Pistono, a Bridger-Teton employee, patrols the summit turnout, educating skiers about WYDOT's plowing and avalanche mitigation and letting them know when they've violated pass etiquette. Sometimes he has to act as a parking marshal, though he said Tuesday that he's avoiding that role when possible, especially if people are confrontational, which he said anecdotally has happened more this winter.
Skier Myra Ramirez knows Pistono's chiding firsthand. Earlier this winter, she arrived at the pass and, unfamiliar with the surf-lineup-style rules, found herself next to an open spot. She took it.
Pistono "came over and told me 'All these people are ahead of you,'" she said Thursday evening as she put her boots on for what she called a "dinner lap."
Things are not always crazy, Pistono said, though any powder day can feel like a free-for-all. Some skiers say they've had pretty good luck finding parking spots even though usage has increased.

Molly Grove and Matt Hankes were parked side by side Thursday, and though they were strangers, they've had a similar experience. Hankes said he had 17 days under his belt, but had yet to wait more than 30 seconds for a spot.
Grove had him beat by one day (18), and Thursday was the first time she had to wait. Neither had an empirical reason for their success, though Hankes attributed it to his take-it-as-it-comes attitude.
"I just say thank you. I don't ask for anything," Hankes said "I say, Thank you, Padre Pio, for the perfect parking space."
Some skiers would probably like a more concrete solution than the help of the Italian mystic-turned-saint, but nothing appears likely to happen this season. WYDOT's budget was cut by roughly $300 million due to the pandemic, Cronin said, and word from his higher-ups is to keep roadways clear and worry about turnouts when possible.
So far, the turnout at the Teton Pass summit has been plowed following storms. If avalanche mitigation and plowing needs to increase, an open turnout on a powder day for skier parking wouldn't be guaranteed. Cronin anticipates skier backlash should plow drivers be needed for other jobs, but he said people have become "entitled" to what they think the pass should look like, and WYDOT's sole mandate is the safety of the traveling public.
That potentially puts the agency a bit at odds with recreationists, who have come to expect access on Teton Pass. However, WYDOT doesn't manage the lands people ski on, the Bridger-Teton does, and the federal forest agency doesn't particularly have any winter infrastructure on the pass.
In conjunction with Teton County, the Bridger-Teton applied for a grant from the Federal Highway Administration's Federal Lands Access Program that would, among other things, build a summit parking lot. Moore, the district ranger, said the summit lot would be part of a large corridor planning project that is just getting underway.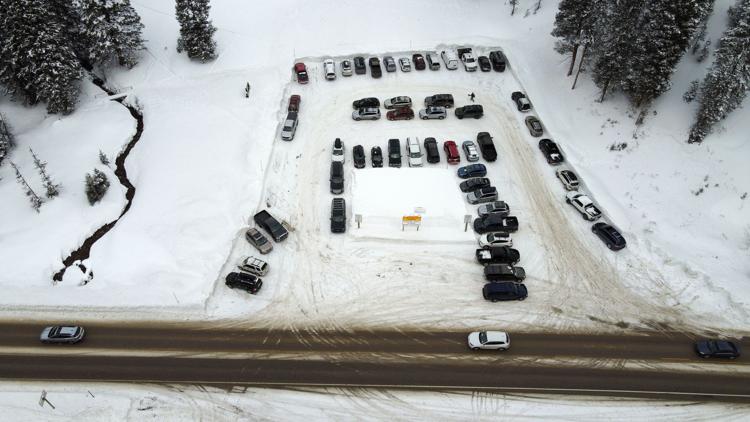 The gears of the federal government move slowly, so even the shortest-term solutions, the summit lot and a potential shuttle, aren't likely happening anytime soon. Cronin said he asked if there was a "six-month plan" to improve the situation on the pass but was told there wasn't one.
Even though ideas of a permit system or the FLAP grant projects have been floated for a long time, Pistono agreed that nothing is coming down the pike to save skiers from themselves. And even as more volunteer ambassadors get ready to start this week, they aren't the solution.
They aren't "parking attendants," Pistono said. "They are up there just to talk to people and give them information and to be helpful."
Instead, he urged skiers, as he does every year, to police themselves. Or they could try different areas and avoid the rigamarole at the summit of the pass.
But if you're hellbent on skiing Teton Pass, particularly if snow is in the forecast, you might want to consider waking up early.