Retired climbing ranger Jim Springer worries about impacts to native wildlife from golden eagles to bighorn sheep when he contemplates the prospects of daily scenic helicopter tours near the western boundary of Grand Teton National Park.
The veteran ranger, who spent three weeks patrolling the Teton Crest Trail annually for decades, recalled how private aircraft and commercial planes towing gilders are already altering the Teton backcountry's soundscape, causing a loss of tranquility for human visitors too.
"Helicopters make a lot of noise," Springer told an overflowing crowd Monday night at Teton County Library. "I've flown in them for hundreds of rescue missions, and they're disturbing.
"I would just say, I'd hate to see more," he said.
Jackson Hole Airport officials organized the meeting to allow Hoback resident Tony Chambers, who runs Wind River Air out of his Robinson R44, to present his business plan to the community. The Jackson Hole Airport Board also took questions and feedback from the community.
Chambers has pledged flexibility with his business plan and a commitment to configuring an operation that complements the Jackson Hole community, though many at the meeting perceived an inherent incongruence.
"The routes need to be developed," Chambers said at the meeting. "In my mind they need to be low enough to be an enjoyable flight but high enough to not disturb people and wildlife — and to keep safety paramount."
Many residents congregated in the library auditorium thanked Chambers for hearing them out, but the prevailing view was that of opposition.
"We're so fortunate in Jackson Hole to be surrounded by wild places and wildlife," Peggie dePasquale said at the meeting, "and you can't really kick a stone without hitting a place that's going to be impacted negatively by your proposal."
A Wyoming Wildlife Association staffer, dePasquale squared up to Chambers, who sat in a corner, and addressed him head-on.
"I'm here to ask you not to submit your proposal at all and to stand down from bringing this new business idea to Jackson Hole," dePasquale said. "You're really interested in what we all think, and I think that's awesome. ... but you can see what the community wants, and you have your answer."
Springer was joined by other former park employees who balked at Wind River Air's business plan.
Mary Gibson Scott, the park's former superintendent now serving on the airport board, addressed the crowd on her own behalf. Airport board members have said they cannot legally deny Chambers' business, because they can't defy Federal Aviation Administration regulations that prohibit discrimination against different types of aviation, like scenic flights.
"There's legal requirements, statutory requirements, but then you're confronted by your moral compass and what does your gut say," Gibson Scott told the room. "At least the sense that I have is that this is an incompatible and inappropriate use in any national park, adjacent to a national park, in the national forest, the refuge, in wilderness and over wilderness areas."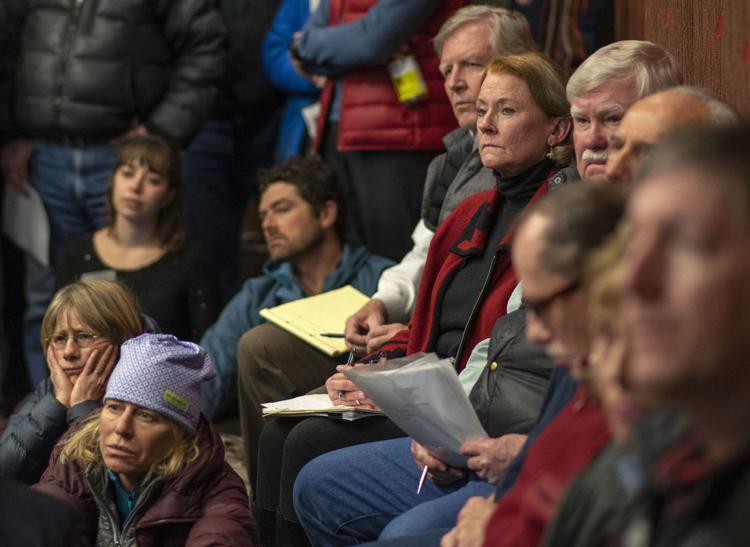 Likewise, longtime climbing ranger Chris Harder, another recent retiree, urged the crowd to keep up the fight: "A lot of people have had a lot of good impact tonight, but don't let this stop here. Write your congressman, or write the FAA. That's where it needs to go."
Yale University professor Susan Clark, of Jackson, made the point that the conversation was about more than FAA regulation.
"Is this in the common interest?" Clark said. "How will this proposal affect wildlife, how will it affect air quality, how will it affect noise? What's the justification in the common interest for doing this?
"I can't see any reason why we'd want to do this," she said.
There were several Wind River Air proponents who took the microphone Monday, including some with personal ties to Chambers. His girlfriend, Windy Kelley, and son, Oliver, both spoke in favor of the tours. Jackson attorney Stefan Fodor also offered support.
"The primary concern I've heard is noise," Fodor said. "I think it's also important to recognize that Teton County land development regulations allow 80 decibels at the property line. Let's keep that in perspective, because we're talking about 70 decibels 1,000 feet up in the air."
Chambers first approached Jackson Hole Airport with an application seeking to do business out of the leased Grand Teton National Park airstrip in the summer of 2018, although the conversations were kept behind closed doors until recently.
The controversy unfolding is a rerun of a similar saga that played out in the early 2000s, when Vortex Aviation Services owner Gary Kauffman proposed running helicopter sightseeing tours out of the airport. He faced stiff opposition, running into petitions and a "Heli No!" campaign from the Jackson Hole Conservation Alliance, but ultimately prevailed and won the right to operate the business, though it never got far off the ground.
This go-around, Teton park has stated its opposition and the airport has told Chambers it has no hangar space to accommodate a helicopter. Still, he was asked to vet the plans with the community and has spent months doing that. It's a voluntarily step, since he's already secured approval from the FAA.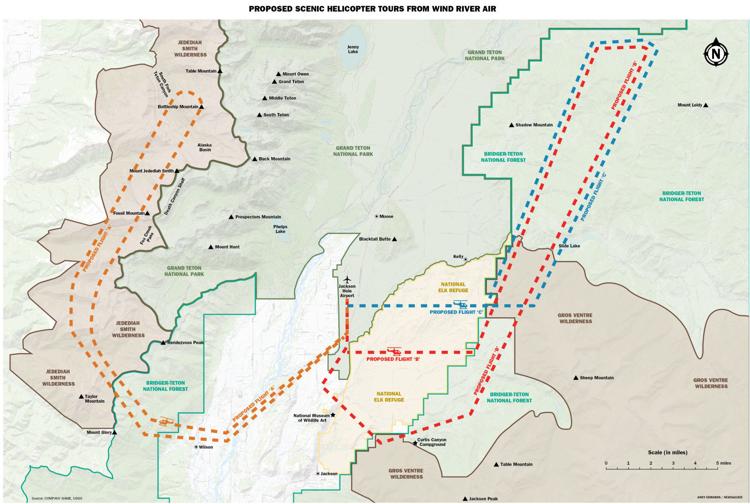 "I don't know that people really get it, but tomorrow I could take off from Alpine or Pinedale, come in to Jackson Hole Airport and be there all day," Chambers said in an interview. "I could do that tomorrow. Really, I'm trying to do the right thing here."
There are pitfalls to trying to appease the public, he said. The airport will siphon off a percentage of his gross income if he declares Jackson Hole Airport home base and goes the route of securing an operating agreement. Stipulations he agrees to on flight paths, or other issues, could be baked into that operating agreement, imposing restrictions. Airport Board Chairman Rick Braun affirmed that those voluntary restrictions could have the force of law.
"He could volunteer and say, 'I'm willing to abide by these conditions,'" Braun said. "We could memorialize that into the airport agreement. With that, he would be bound to stay within those conditions, but that's as far as we can go."
Chambers' initial plan, which is fluid, was to fly three routes: one along the west side of the Tetons over the Caribou-Targhee National Forest's Jedediah Smith Wilderness, and two routes on the east side of Jackson Hole that would skirt the Gros Ventre Wilderness and overfly the Leidy Highlands. (Overflights of Grand Teton Park are off-limits, other than for accessing and exiting Jackson Hole Airport.) After receiving feedback, he's considering scrubbing the westslope Teton route, where added noise was of particular concern to commenters.
"I'm not sure it's an appropriate route for my machine, anyway," Chambers said. "I'm willing to negotiate and give some concessions."
Chambers said he's keen on moving forward at this juncture, though he's also weighing whether it's all worth it.
"I am going to revaluate," Chambers said. "So I shouldn't say, 'for sure yes' or 'for sure no.'"