Diana Miller playfully blurted out a "yaayyyyy" as she grasped a mountain whitefish, dripping with the Hoback River's freestone waters.
The 10.8-inch fish, she noted, had been stunned and measured earlier in the week — a clipped adipose fin on its back evidence of its seizure by the same Wyoming Game and Fish Department fisheries crew.
"Recapture," Miller explained the morning of July 17. "It's a fish we got on the first day."
Miller, a fisheries biologist, was psyched because recaptured fish are good. The more of them she handles, the more confidence she has in the accuracy of the task at hand: coming up with a population estimate for the mountain whitefish that dwell in the Hoback River, upstream of Kozy Campground. Plenty of cutthroat trout swim in the same waters, but, at least this time, the revered native game species were left alone.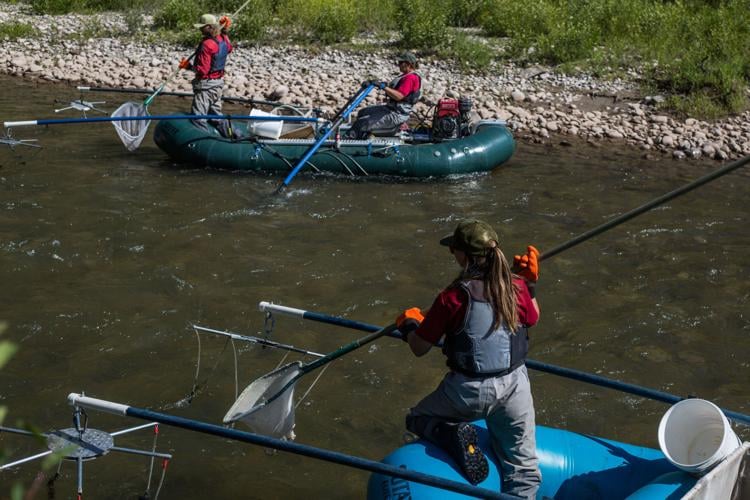 The entire effort, instead, focused on the other trout-like fish — whitefish — whose inclusion among the salmonids is poorly understood because of their physical appearance and name.
"They're a trout, and people don't know that," Miller said. "People think of them like suckers, but they're way more closely related to trout than they are to suckers or carp or chubs. You can't really lump them together with rough fish."
Misunderstanding about the whitefish is perhaps part of the reason why they've garnered mild interest from most anglers. Their appearance at the end of a fly line is often greeted with disappointment by anglers who thought they'd hooked a more sought-after cutthroat. Historically, that lack of angler interest has been a non-starter for fisheries managers, who paid relatively little attention to Prosopium williamsoni, even though it's the most well distributed native salmonid in the Rocky Mountains.
The Wyoming Game and Fish Department took note of that shortcoming, and in 2009 booted up a concerted effort to better understand the Equality State's whitefish, a species locally common in the Snake, Green, Bear, Madison, Yellowstone, Big Horn–Wind and Tongue river watersheds.
"The sport-fishing popularity of whitefish is eclipsed by trout, which has afforded whitefish little attention from fish managers until recently," Gordon Edwards, a fisheries biologist in Game and Fish's Sheridan Region, wrote in a 2014 species assessment. "Basic abundance data were not available for whitefish populations in Wyoming's rivers, and were generally lacking throughout North America. Although most populations of whitefish appeared robust in parts of the Rocky Mountain region, populations in Montana, Colorado, and Idaho declined recently for unknown reasons."
Gordon, Miller and dozens of other Game and Fish scientists are trying to determine if those declines held true in Wyoming waters. From 2009 to 2013 they incorporated dedicated whitefish surveys into their summertime workload, trying to establish baseline population data on a dozen streams and rivers, from the Salt to the Clarks Fork. The results were promising as populations appeared "robust and secure" within Wyoming's mainstem rivers, according to Edwards report.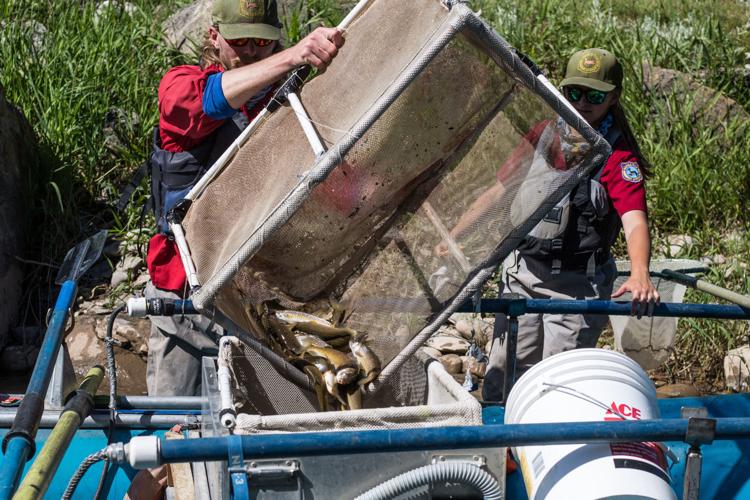 "However, population status will be truly evaluated over time as sites within major drainages are re-sampled, and additional research questions arose during this project," he wrote. "Climate changes are likely to affect migratory species that inhabit thermal transition zones, which includes the foothill and main stem habitats of whitefish."
Six years later, crews are redoing the sampling effort to see how whitefish have fared since. It's what brought Miller and fellow fisheries biologist Clark Johnson out to stun and survey the Hoback over four days in mid-July. Some of the early results from the next round of whitefish surveys are looking up. An August 2012 electrofishing float down the Greys River, for example, netted an estimate of 374 whitefish per stream mile. When they re-shocked the same stretch last year, numbers had popped.
"That population almost doubled," Miller said.
What caused them to thrive?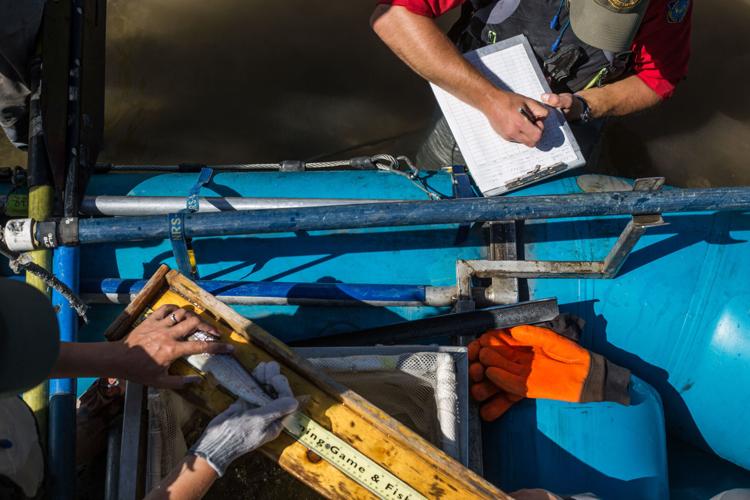 "Honesty, we don't know that much about whitefish," she said. "I couldn't tell you."
There's a notable difference in how a whitefish survey is conducted compared to when fisheries biologists are sweeping the same river in search of other salmonids. The amount of electricity used is significantly less, to avoid beating up or accidentally killing fish that are more sensitive to high voltage than their cutthroat cousins.
Whitefish also appear to have some environmental sensitivities, too. They've died in droves in the Snake River's South Fork and also in the Yellowstone River after coming up with Proliferative Kidney Disease, an infection that thrives in warm water.
"They're well known to be a little bit susceptible to things like warmer water temperatures and disease," Miller said. "Whitefish can be the first ones to die when things like that happen."
The Upper Snake system above Palisades Reservoir has so far been spared of similar whitefish die-offs, likely due to its location occupying the coldest, headwaters reaches of the watershed, she noted.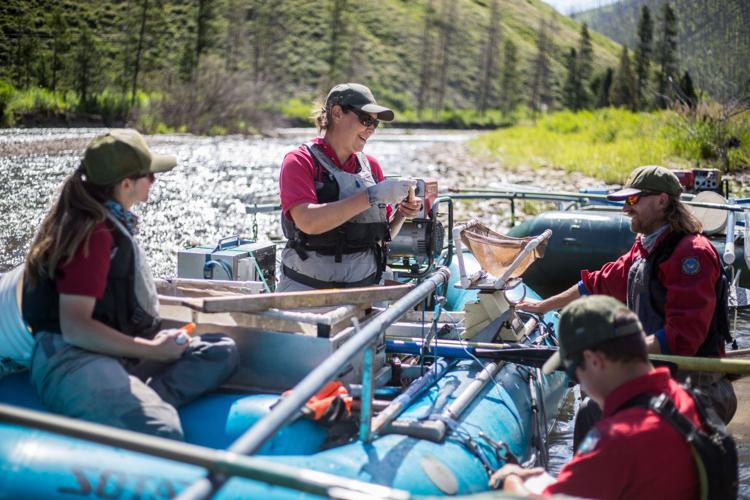 But Edwards, in his assessment, did detect some issues to keep an eye on at the statewide level. Climate change and warming waters, he wrote, might reduce the suitability of smaller, low-elevation "transitional streams," which could be the first places in Wyoming where whitefish abundances decline. Drought and water use for agriculture were other "moderate" habitat impacts listed.
In the meantime, Miller, Johnson and other fisheries biologists around the state will keep the dedicated mountain whitefish surveys a part of their sampling circuit, in hopes of getting a better grip on a species that Meriwether Lewis described as a "bottle-nosed fish" when his party encountered them during their early 19th century expedition.
High in the Hoback Canyon, Miller and her crew kept coming across recaptured fish at their first sampling pit stop, where each specimen was measured, weighed, and snipped of a portion of the small adipose fin atop its back — which grows back.
"Oh my gosh!" Miller said with a touch of jest. "Amazing, amazing day today."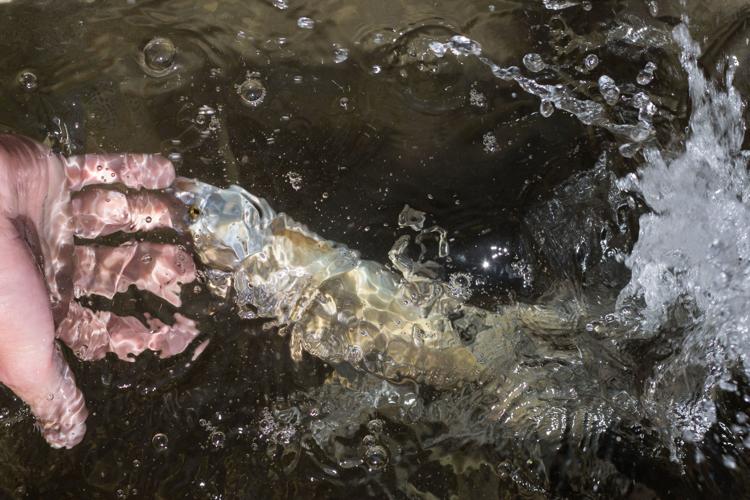 The silver and olive-tinted salmonid in her hands stretched to 12.7 inches and went into the log as "R4-2," which meant that it was recaptured on day four and was first caught on day two. The whitefish weighed in at just shy of three quarters of a pound.
As they went through the stunned whitefish one by one, the recaptures kept coming — and their recurrence solidified the soundness of the survey.
"It strengthens our confidence," Miller said. "It makes sense: if every fish is a recapture, you pretty much know you've got a census."