Sen. Sheldon Whitehouse isn't afraid to talk about one of the seemingly intractable issues of our time: climate change.
The junior senator from Rhode Island, a Democrat serving his third term in the upper chamber, has a habit of visiting places represented by Republican senators on so-called "climate trips." He meets with business leaders, activists and local politicians, giving them the chance to talk about how climate change will affect their locales.
"Wyoming is No. 16," Whitehouse said in an interview with the News&Guide.
He was in Jackson last week on one such trip. He rafted with politicians and business leaders, spoke with Central Wyoming College representatives and learned how Jackson's tourism economy will be affected should the global temperature continue to rise. He isn't under the delusion that simply visiting red states will convince senators on the other side of the aisle to devise climate legislation, but it doesn't hurt.
"Sometimes, twice, they've actually come to the Senate floor and said, 'Whitehouse came to my state, this was good, I take climate change seriously,'" he said. "Sometimes they just more quietly respect that I took the trouble to come to their state."
Amid platters of cheese, crackers and fruit at Teton Gravity Research's downtown location, Whitehouse met with TGR athletes and community members Aug. 12. Protect Our Winters, a nonprofit that advocates climate legislation at the state and national levels, hosted the event.
Attendees went around the room and shared their reasons for caring about climate change — maintaining good skiing and a viable economy chief among them — and asked Whitehouse about Congress' role in combating climate change. Though he was careful not to disparage his Republican colleagues too much, Whitehouse insisted that the pace of climate legislation they supported was too slow.
"Little steps are good, but ultimately the target is 1.5 degrees centigrade," he told the News&Guide. "And if we miss that, little steps are nice, but they're not it."
In both the interview and during his remarks to the attendees at TGR, Whitehouse spoke about his approach to climate change and his attempt to find ways to frame the debate in ways that connect for individual voters. Doom-and-gloom predictions about complex environmental problems that necessitate some level of technical expertise can give people issue fatigue, or "news fatigue," something the Pew Research Center has found correlates with decreased enthusiasm.
Whitehouse wants to make sure that people will still care about climate change even if they don't feel personally connected to issues like the first disappearing glacier in Iceland or drier conditions leading to increased wildfires in Alaska. To reach them, he said, he talks about it through an economic lens, because the changing climate has the potential to disrupt economic systems whether you live in a low-lying coastal city or a high-elevation ranching community.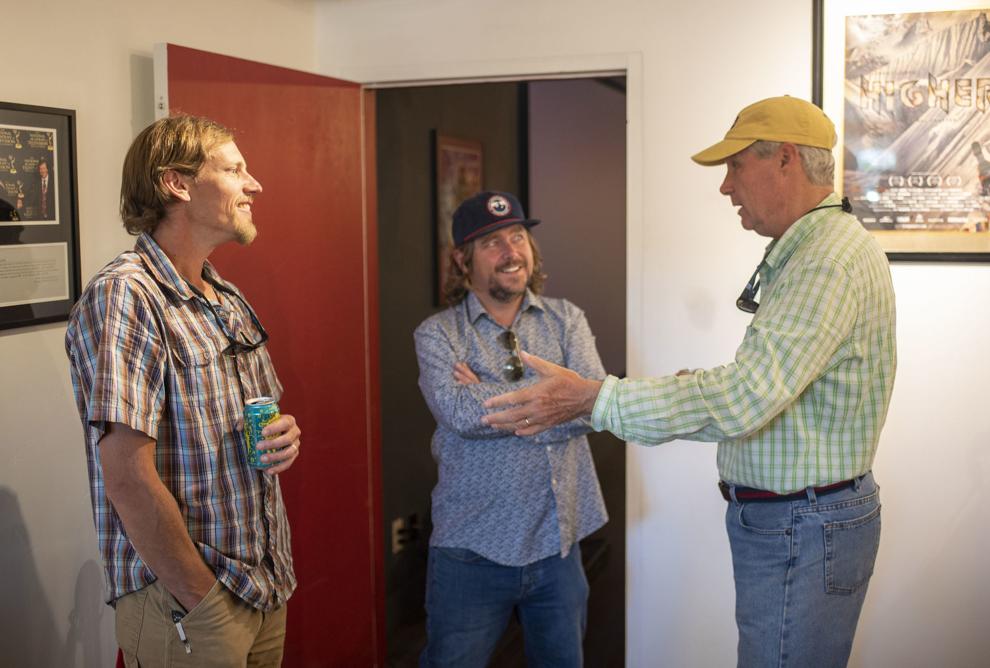 That approach, he told the crowd, has led to recent moments of bipartisanship on climate legislation, with Whitehouse working with Sen. John Barrasso, a Wyoming Republican, and others to develop several pieces of legislation that advance climate priorities.
"I have to commend John Barrasso for including climate change language in his latest transportation bill," he said.
That bill boosts spending on the nation's highway infrastructure and includes money to make it more resilient to the impacts of climate change. It is one of three bills Whitehouse referenced in pointing to the prospect of bipartisanship on climate change, the other two being the Future Act and the Use It Act, which increase incentives for developing carbon capture technology.
Barrasso, for his part, said climate change was ripe for bipartisanship, as long it was in the vein of the carbon-capture bills.
Whitehouse and he "both agree that climate change is real and man is contributing to it," he told the News&Guide. "We agree that we have a responsibility to do something about it. I've been working for 10 years trying to put money into research and give incentives for marketable uses for carbon."
Though the men agree on the necessity of a market for carbon, they diverge on the best mechanism to create it, Whitehouse said. He told the Jackson crowd that polluters, such as energy producers that use fossil fuels, should be required to pay a price for the carbon they emit. Emitted carbon dioxide is an externality, a consequence the companies don't currently pay for, and creating a burden for them would encourage them to invest in carbon capture and other methods to lower their emissions.
"Instead of dictating who should reduce emissions where and how, a carbon price gives an economic signal," according to the World Bank website on carbon pricing, "and polluters decide for themselves whether to discontinue their polluting activity, reduce emissions, or continue polluting and pay for it."
Whitehouse is on board with that idea and believes a price of $50 per emitted ton would incentivize companies to cut emissions or sell the rights to that emitted carbon to companies that could turn it into a marketable product. Barrasso disagreed, saying that regulation wasn't the answer and that innovation in carbon-capture technology would lead to enterprising companies willing to buy carbon without governmental intrusion.
Despite their disagreements, the men said enough harmony exists to find solutions like the highway and carbon-capture bills. Helping senators and their constituents understand how much common ground exists is part of hosting events like Whitehouse's visit to TGR, said Protect Our Winters Policy Director Lindsay Bourgoine.
"When we form these relationships, it's important to make sure our voice is being heard by those lawmakers," she said.
His quick trip to Jackson over, Whitehouse has moved on to resume his climate fact-gathering elsewhere. He said that as long as he continues meeting with constituents in red states across the country and information keeps pouring in about the potentially devastating effects of climate change his colleagues will have little choice but to come to the table and find bipartisan solutions like he and Barrasso have developed.
"For political leaders to be on notice of these warnings, should they come to pass," he said, "it could be a career ender that they were on notice and then the dreaded event came to pass, and in the interval they had done nothing.
"That's not a good look."