A headless baby doll, child's bike with training wheels and bell, electric heater, foam insulation, countless shoes and other trash were piled so deep Saturday that volunteers had to give up on sorting and classifying it all.
Not to mention the smell. A fishy, fermented tang hung over the objects, some tinged greenish brown and others tinseled with soggy grass and stringy plastic.
Among the more intriguing finds according to Jackson Hole High School Key Club volunteers Tashi Ferris and Avery Wauters were a cellphone, a jar of salsa and a container of frosting.
"The frosting was nasty because it was found at the bottom of the river," 16-year-old Wauters said.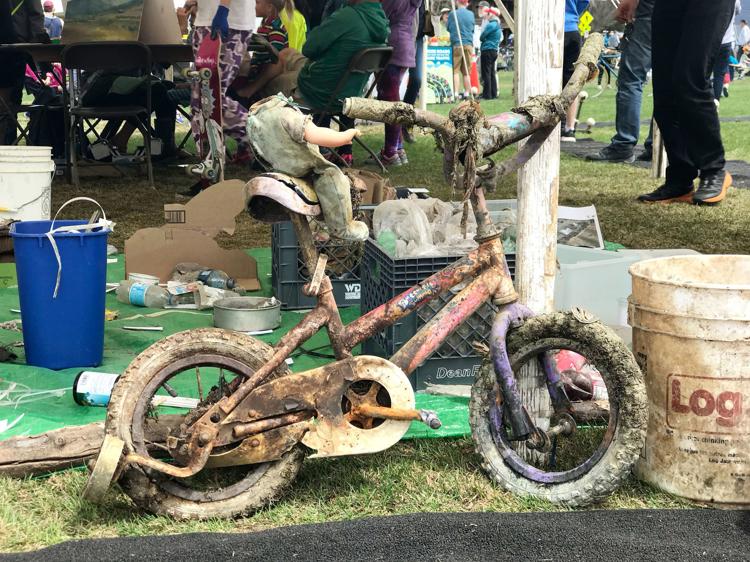 What precisely turned up in Flat Creek and along its banks provided a new focus for the town's 51st annual Spring Clean Up. Kirsten Kapp, a science professor at Central Wyoming College-Jackson, mapped out quadrants of Flat Creek for trash collection and then had volunteers bring what they found to EcoFair so the public could see the garbage sorted and classified.
Although Kapp doesn't typically study large plastics, litter is a source of microplastics that wind up in rivers, a problem Kapp's research is now documenting. Plus, collecting data can identify patterns that lead to solutions, she said. As of Tuesday, 67 volunteers had helped fill out 16 data sheets.
For sections of Flat Creek, Kapp turned the data collection into a public demonstration.
"Trash sorts can be a very valuable tool for raising awareness," Kapp said.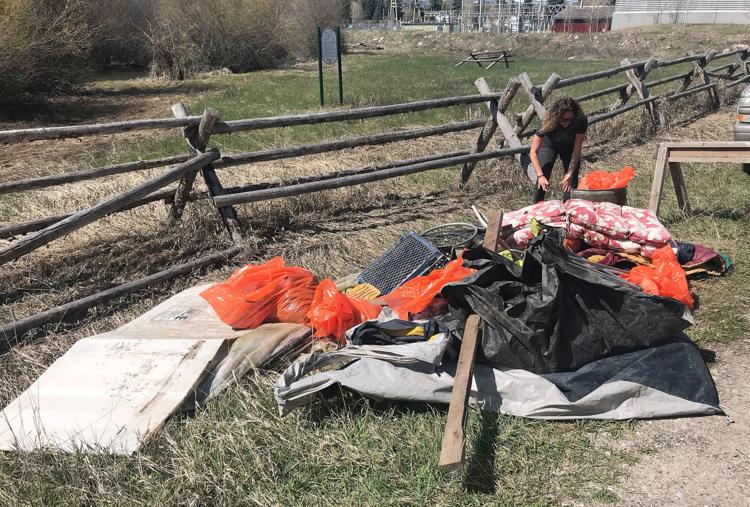 Lindsay Dreger, a biologist by training and volunteer with Straw Free Jackson Hole, had the task of schlepping soggy sacks and other junk smelling like a swamp monster from Flat Creek to EcoFair for sorting.
Ever optimistic, as Dreger lifted a soaking, rusted kids bike into the back of a truck, she suggested, "maybe we can clean it up and repurpose it."
But the volume and odor of garbage soon overwhelmed scientific intent.
High water had prevented volunteers from scouring the banks of Flat Creek where it flows through Karns Meadow for the past few annual spring clean ups. This year volunteers hauled out more than a truckload of trash.
Kapp asked Dreger to classify some of the biggest junk on-site rather than transporting it to the EcoFair tent.
"We couldn't even sort it all," Kapp said. "It was unbelievable."
As for the smell, Kapp said, "we finally realized that it was the packages of unopened hot dogs that were smelling the worst. Once we got rid of those it got a little better."
For the public sorting the trash that did arrive was placed according to sections so it flowed downstream, mimicking the pattern of the creek where it was collected.
As Journeys School students Chloe Wehner, 14, and Taylor Smith, 14, soldiered through the soggy bounty, they pulled out a plastic bottle.
"This is recyclable, too," Smith said, sighing.
Added Wehner: "That's sad."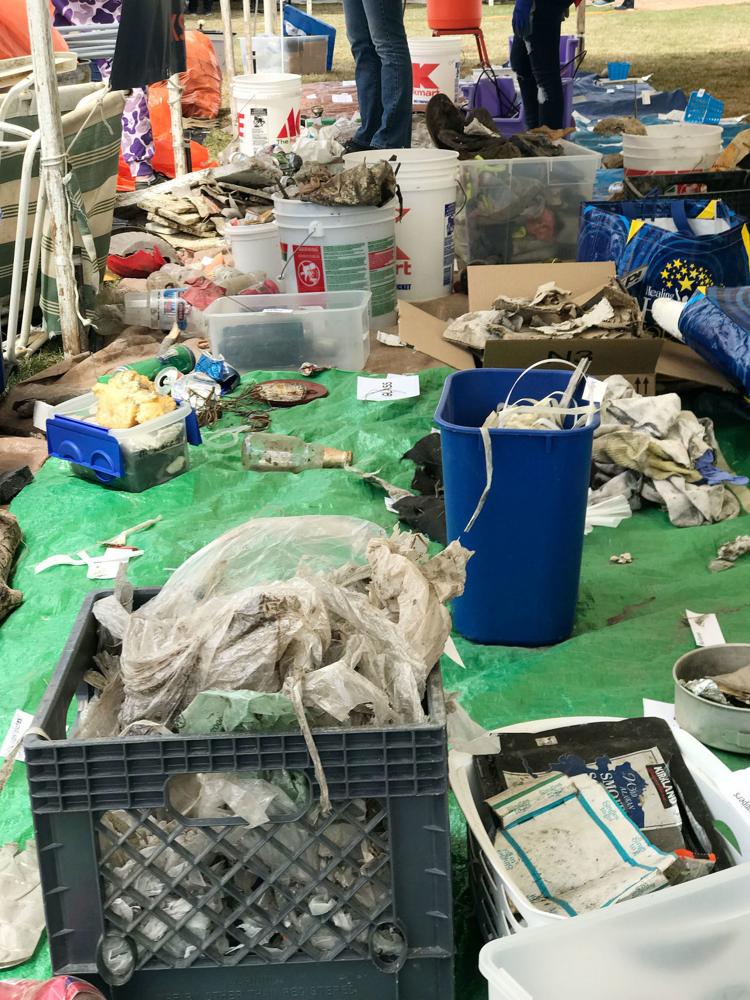 Thanks to the data sheets collected by Kapp, they'll be able to put that single bottle into perspective. It's a way for individual volunteers, and the public, to discover what's being amassed collectively.
"When you consolidate all this stuff together, it's not just one plastic water bottle you're picking up," Kapp said. "It could be hundreds."
This year's clean up attracted more than 250 volunteers who scoured the town, Wilson, Hoback Junction, Teton Village and the roads in between.
Organizer April Norton also sent a crew to the Aspen Hill Cemetery next to Snow King Mountain after getting a special request to spruce up the cemetery. A group from the Doug Coombs Foundation tackled the site, including Elena Nava and her daughter, Luz, 7. This was her first year joining in the clean up.
"I always have the intention, but I said, 'This time I have to,'" Nava said.