Resident trumpeter swans on the National Elk Refuge have had a rough go of it.
In recent history, several pairs of the native long-necked white waterfowl have managed to mate, nest and at least attempt to raise a brood of cygnets to adulthood. But a series of severe late winters that kept their habitat frozen, followed by high water brought on by a quick thaw, have stymied their success.
"Last year we had one nesting pair, and they failed," Elk Refuge staff biologist Eric Cole told the News&Guide. "That was the first year we'd had a complete failure."
The single pair that attempted to nest built their straw abode on the banks of the Flat Creek ponds less than a mile north of Jackson. The ponds swell significantly with snowmelt and added water from an agricultural diversion in the spring.
"There was good reason to give them whatever help we could," Cole said, "because this nest has been flooded out in the past, and I think they were the only pair that even attempted to nest this year."
The Wyoming Wetlands Society stepped in with a potential solution — and it seemed to work. In late spring the Jackson nonprofit, which specializes in trumpeter swan breeding, built a floating platform under the Flat Creek pond pair's nest, so that the clutch would rise and fall with the water level. Weeks later, in late June, five cygnets appeared beneath the female on the platform.
"For a wild bird that's a pretty good clutch," said Bill Long, a retired warden who founded the Wyoming Wetlands Society 34 years ago. "The maximum, for a typical wild bird, would be six."
Trumpeter swans as a species are on the upswing and have made an impressive comeback since the population bottlenecked at fewer than 70 birds — all found at what's now the Red Rock Lakes National Wildlife Refuge on the west side of Yellowstone National Park. Today there are nearer 50,000 in North America, and western Wyoming's population of 200-plus residents is generally growing, though Jackson Hole's stock of swans has stagnated.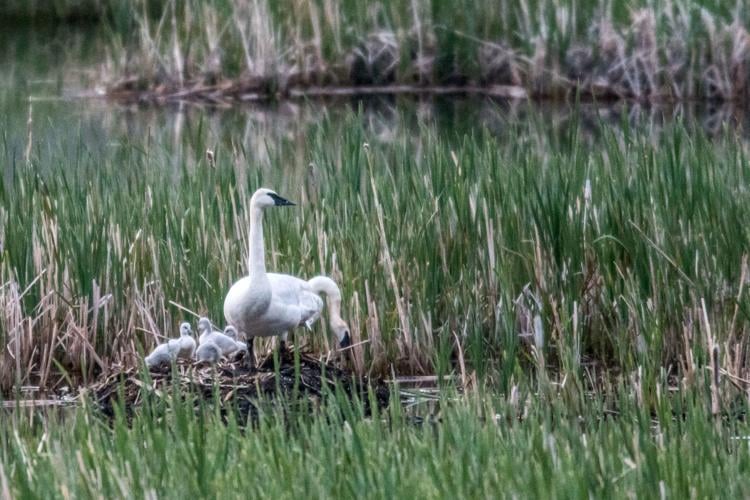 On the Elk Refuge the trumpeter swan family could be seen both snuggled up to each other at the nest site and roving Flat Creek's network of ponds and wetlands in the subsequent days and weeks after hatching. Their survival has spurred the idea of propagating the platforms to underlay other nest sites.
"There's a couple of other sites I'd like to try, now that this has worked," Cole said.
Helping the swans stay afloat on the Flat Creek ponds is a strategy that's contemplated in the refuge's comprehensive conservation plan. The intervention also isn't entirely unnatural, the biologist pointed out.
"It mitigates for the effects of the high water from the Gros Ventre irrigation diversion, which doesn't help.
"I hope they continue to pull it out," Cole said, "and I hope to keep seeing them."