Grizzly Bear 399 was captured eight times between 2001 and 2005, but thereafter she smartened up and became much better at avoiding traps that would end in a sedative-induced slumber and a snug new tracking collar.
In 2020 the sow and her four cubs faced considerable grizzly bear competition in her traditional home range. An unrelated adult female with a cub even established south of the valley matriarch, which is a first.
At least twice during Grizzly 399's fraught monthlong journey to southern Jackson Hole she passed across Highway 22 without being detected by the public.
Those are a few of the facts that National Park Service bear management specialist Kate Wilmot shared over Zoom with a couple of hundred Grand Teton National Park Foundation donors and others on Thursday afternoon. The presentation, titled "Grizzly 399," embraced an individual celebrity animal that Grand Teton National Park officials have refrained from recognizing in recent years.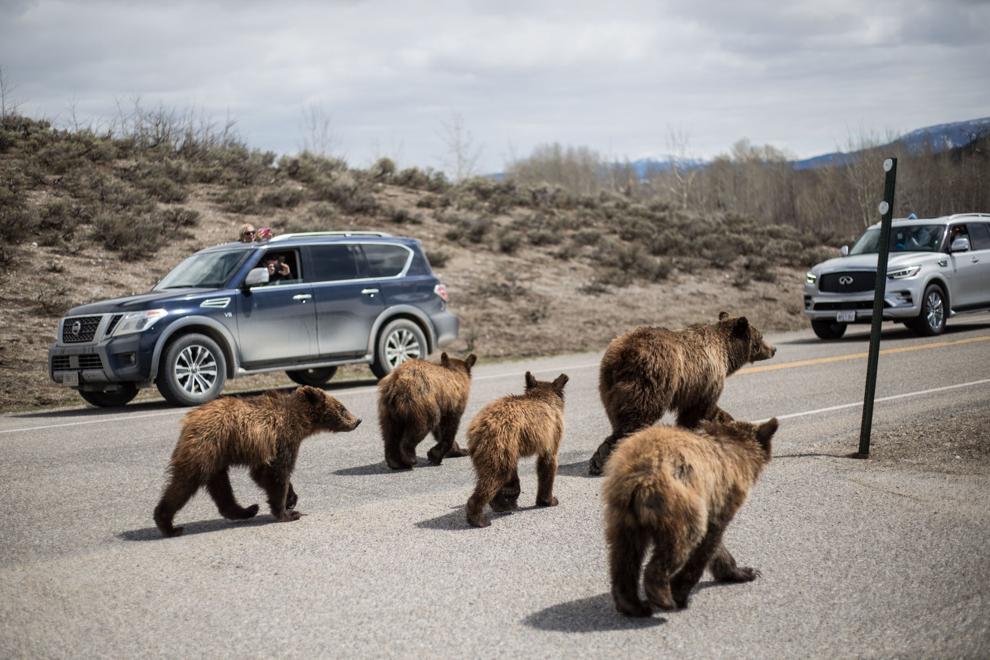 "I'm super excited to share some information with you all about our beloved Grizzly Bear 399," Wilmot said as she launched into the talk. 
Ordinarily the 25-year-old female grizzly that made a celebrity out of herself by her choice of roadside habitat does not get such treatment.
Unequivocally, the most popular articles at JHNewsAndGuide.com are on Grizzly 399. Yet information about her on the park's website is sparse. You'll have to dig back to an archived 2012 press release to see her name mentioned.
According to Grand Teton spokeswoman Denise Germann, the park isn't changing how it communicates about its grizzlies. The staff, she said, is still focused on grizzly bears as a population of wild animals and have made no plans for royal treatment.
"There's no departure from our management of bears," Germann said, "and how we talk about bears."
But some grizzly advocates who watched Wilmot's presentation to donors had a different perception.
"They've been preaching, 'We don't name our bears, we don't have individual bears, we don't have celebrity bears,' " Team 399 photo tour owner and guide Jack Bayles said. "And now these Park Service people are out here giving presentations on individual bears."
He'd welcome a change in philosophy, if it comes.
Grizzly bear 399 and her four yearling cubs were seen for the first time this year on April 15 in Grand Teton National Park. Under the watchfu…
"The celebrity bears are emblematic," Bayles said. "Anything you can do to get people to come here and like these parks and maybe raise more money for their upkeep is a good thing."
As luck would have it, Grizzly Bear 399 and four cubs — all apparently healthy — were spotted for the first time in 2021 just a few hours before Wilmot addressed the Zoom crowd. With her human fan club in tow, 399 led her cubs on a path similar to the one she took on her way to her den 15 weeks earlier, crossing the Snake River and then moving over frozen Jackson Lake on her way up into the trees on Signal Mountain. In the days since, sightings have been scarce.
Wildlife photographer Sue Cedarholm had access to Wilmot's talk not because she was a foundation donor, but because she'd heard about it, emailed and requested access — and was sent the link.
"I was going to watch that presentation, but 399 was out," Cedarholm said. "I was with the bears."
Cedarholm's take is that the Park Service's recognition of the individual grizzlies she's spent years tailing is long overdue.
"They need to recognize them, because everyone in the whole world, literally, knows about 399, they know about 610," Cedarholm said. "They might as well embrace it and say, 'Yes, we have this spectacular bear that's been such an iconic symbol of grizzlies.'"
Longtime grizzly bear photographer Tom Mangelsen said the park's historic reluctance to acknowledge Grizzly 399 and other well-known bears has been "frustrating."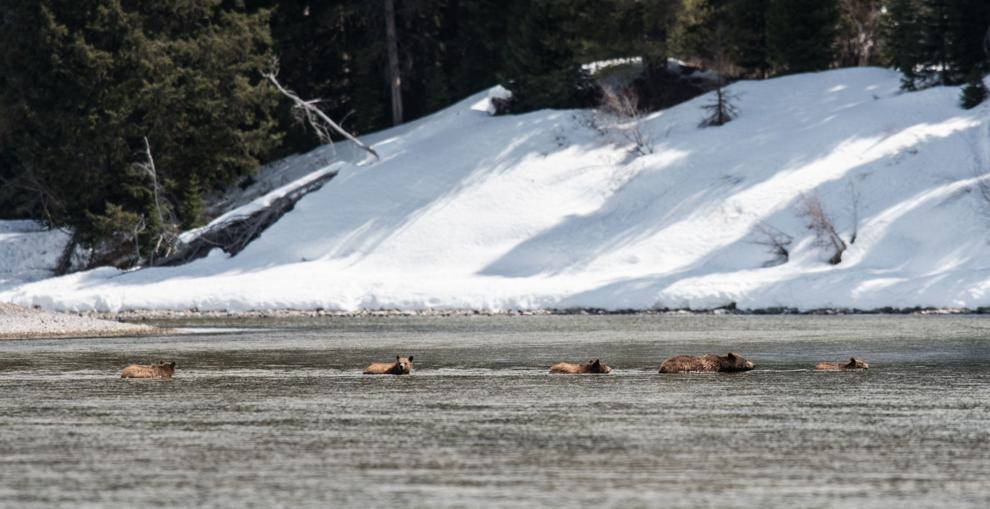 "But any movement toward recognizing 399 as a celebrity is important," Mangelsen said. "Just from an economic standpoint, everybody in this valley should celebrate her."
Mangelsen published a 240-page coffee table book on 399, "Grizzlies of Pilgrim Creek," back in 2015, with text by Todd Wilkinson.
In her talk Wilmot didn't focus solely on Grizzly 399 and 610, her equally prominent daughter.
She covered bear biology basics, the recovery of the species in the Greater Yellowstone Ecosystem and causes of grizzly mortality.
But Wilmot also walked the audience through much of what scientists know of the life history of Grizzly 399, an animal that was named for being the 399th bear captured by the Interagency Grizzly Bear Study Team. She impressed upon listeners that Grizzly 399's celebrity is a product of geography, rather than because she's especially unique biologically.
"I just want to make sure that everyone knows there are other bears out there in the woods doing exactly what she's doing: being a good mom, having babies, successfully kicking them out, not getting into trouble," Wilmot said.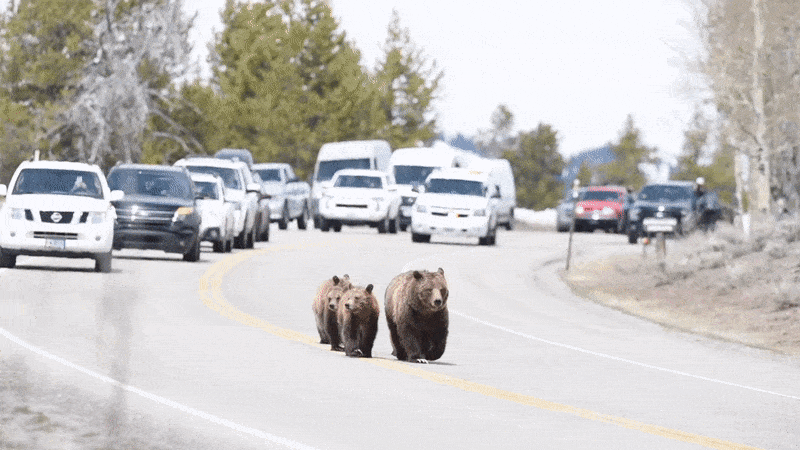 Over the last 40 years there have been at least seven known sows in the Yellowstone region that raised cubs into their mid-20s, which is near the upper end of a typical grizzly bear lifespan. Like 399, those older females — Grizzlies No. 12, 125, 179, 213, 365 and 541 — predictably turned into successful mothers of large litters because they smartened up and were good at finding food and protecting their cubs, Wilmot said.
While those other bears lived anonymous lives in the backcountry, Grizzly 399 is unique in that she is sharing with us her experience, Wilmot said. Teton park's celebrity sow has another distinctive quality, too.
"One thing that I think is unique about 399 is that she's learned to coexist in what I sometimes think is an absolutely crazy place," Wilmot said.
On the screen she displayed a photo of Grizzly 399 cutting across a road, four cubs in tow, with vehicles, photographers, park rangers and the Tetons in the background.