National Park Service investigators have not yet closed the loop on an illegal dirtbike track that a large party of motorists scoured into a historic Mormon Row hayfield in the process of being restored to a native plant community.
The July 18 incident drew the ire of locals and Grand Teton National Park fans from out of the area after law enforcement posted a video of the suspects on social media. Ten days later, there was no news to report about progress on prosecuting the incident, park spokeswoman Denise Germann told the News&Guide.
"It's still under investigation," she said. "We received numerous tips through the tipline — through calls, through emails, through texts."
Over 90 tips came in, Teton Park Chief of Staff Jeremy Barnum said. The National Park Service's Investigative Services Branch, which has an employee stationed in Jackson Hole, is taking the lead on the case and is working on identifying those involved and assessing damages to the rehabilitated, once-tilled field, which was recently seeded with sagebrush and more than two dozen other species of native grassland plants.
One nongovernmental organization that advocates on behalf of motorized and mechanized recreation activities like dirt and mountain biking has condemned the party's off-trail ride, which left a 2 to 10-foot-wide track stretching for nearly a quarter mile through the rangeland near the base of Blacktail Butte.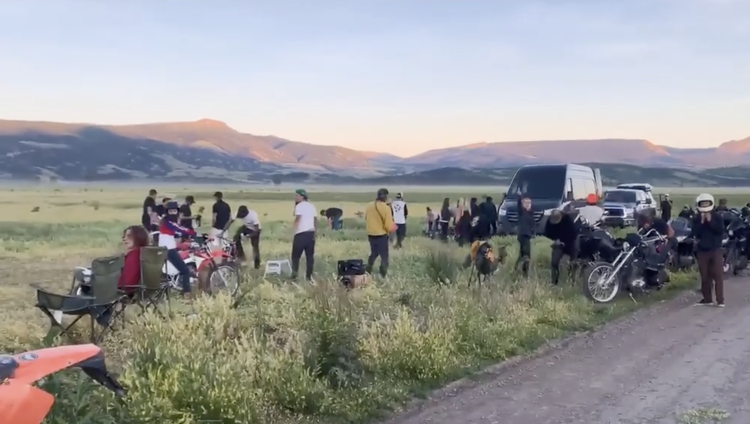 "We would very much like to catch these folks and make sure this kind of thing doesn't happen again," the Advocates for Multi-Use of Public Land said in a prepared statement. "We know our community of dirt bikers understand the need to be responsible stewards of our public lands."
The group offered a $500 reward for information leading to the arrest of those involved. The Park Service, which hasn't offered a reward, asked that tips be sent via phone or text to 888-653-0009 or by email to nps_isb@nps.gov. Tips can be anonymous.
Teton Interagency Dispatch took a call about the off-road escapades at 8:45 p.m. the night it happened. The reporting party took a cellphone video of the group, which began to pack up and slipped away prior to park rangers arriving. They were also illegally flying a drone, according to the reporting party.
The crew rode through a couple acres of a 168-acre plot that Grand Teton revegetated in 2019, one small part of the park's ambitious decade-running effort to rewild about 7 square miles of the Antelope Flats and Mormon Row areas converted to nonnative grass hayfields in the European settler era. Exotic plants in the field were treated with herbicides in 2003, 2012 and 2015, and the smooth brome grass that dominated was removed starting in 2017. Revegetation with native species started last summer.
"Oddly, we had just done a field trip out there in July to look at what 'year one' looks like," Teton Park science and resource chief Gus Smith said. "None of the longer perennial plants are in yet — the bitterbrush and sage — so it's all annuals, biannuals and the quicker-growing [plants]."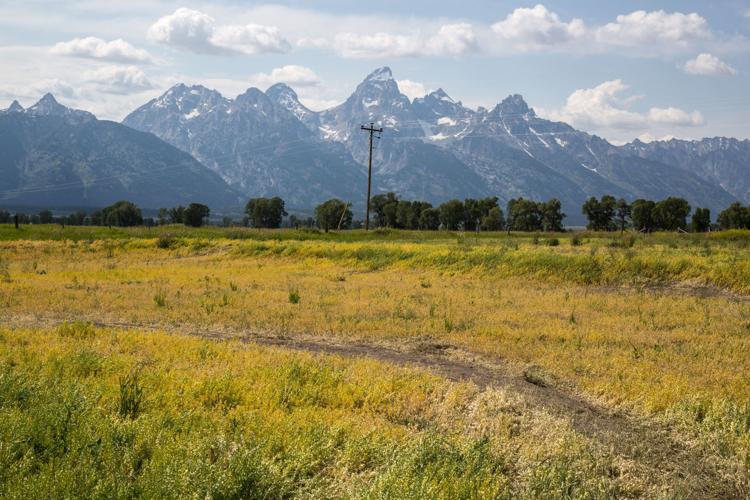 Nonnative mustard plants, Smith said, currently grow throughout the field, though based on the park's experience the native species will start to dominate the mustard without intervention over time. It's this first stage of regrowth when the land is most susceptible to invasion from other, more noxious nonnative plants. Park staff will be monitoring to see if anything unwanted comes in, having hitched a ride on tire treads or blown in via the wind.
"We'll just have to wait and see what the damage is," Smith said. "The damage isn't terrible. In the whole scheme of things, it's not that big of an area."