Troy Koser confirmed it: Yellow 72, the collared cow moose foraging in the willows about 50 yards away, was a notorious Teton Village denizen — and not necessarily for a good reason.
"She gets a lot of emails about her and a lot of people who are worried and want to make sure that she's doing well because she's got all this hair loss," he said.
The cow was, indeed, mangy. With only some of her guard hairs intact, the bulk of her body was grey, which Koser, a Montana State University Ph.D. ecology student studying the effect of winter ticks on moose in Jackson Hole, said was the "worst part."
"That's total hair loss," he said. "We're pretty certain this is tick/rubbing related."
Winter ticks are a major irritant for moose, and thousands can latch onto a single host over the winter. The resulting discomfort leads the gangly beasts, which are relatively bad at self grooming, to rub up against trees and other scratching posts to knock them off. That rubbing can lead to hair loss, and public outcry from people worried about so-called "ghost moose" — moose missing significant clumps of hair — wandering through Jackson.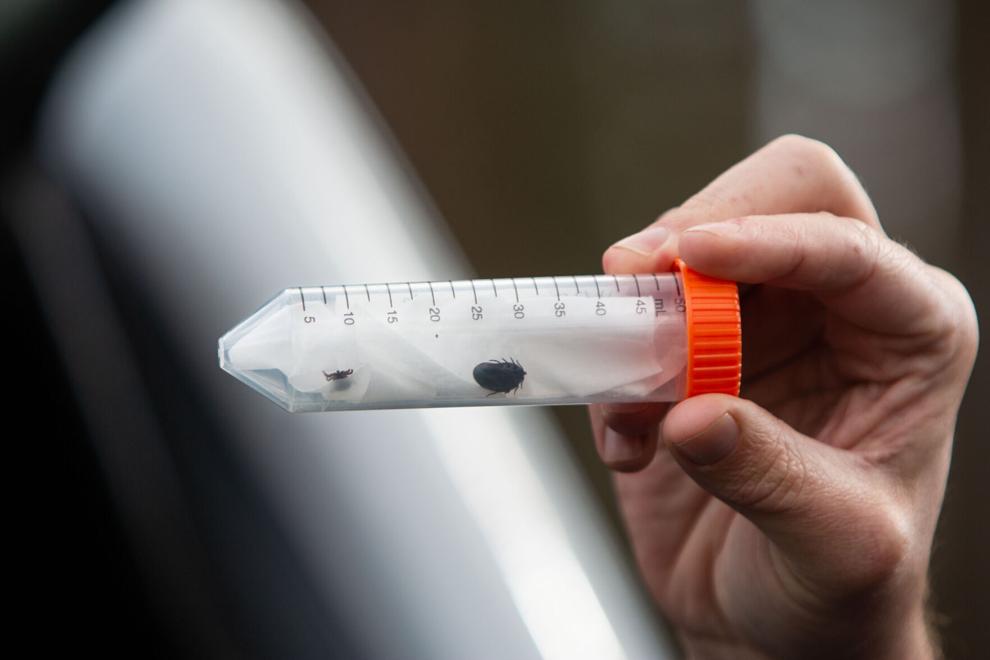 Scientists think warming temperatures in the spring and fall can make the problem worse, allowing ticks a better shot at reproducing and latching onto hosts. That assumption is largely based on research from the Midwest and Northeast, Koser said, which is why he's trying to confirm how climate affects moose-tick interactions in Jackson Hole. Preliminary data from his research shows that, this winter, tick numbers on collared moose more than doubled. That comes after two years of mild springs and falls.
While the Wyoming Game and Fish Department collared moose this winter, Koser counted ticks on 16 10-centimeter linear transects on the sedated ungulates, four on each shoulder and rump.
He found more than twice as many winter ticks, on average, on moose than he did a year before: 407 ticks compared to 160 in 2021.
In 2020 Koser counted even fewer: 71.
Those numbers reflect only the number of blood-sucking invertebrates in the areas he counted. The actual number of ticks on their hosts is likely higher. Anecdotally, the resulting hair loss has been acute.
Wyoming Game and Fish wildlife biologist Aly Courtemanch said moose typically look "kind of rough" when losing their winter coats.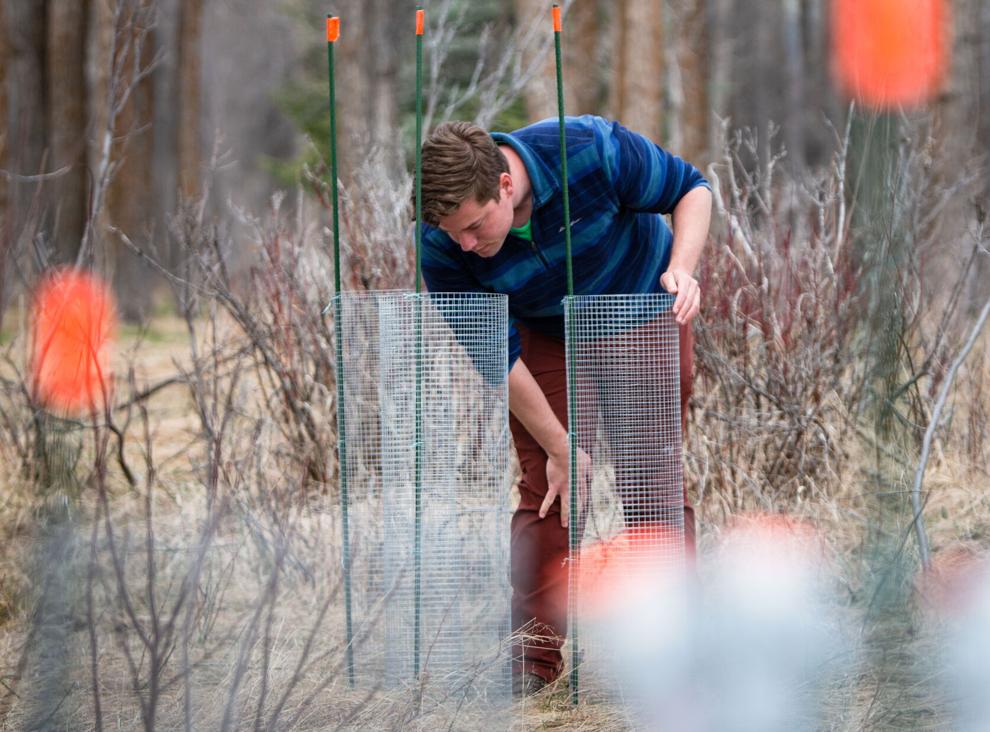 But biologists have been seeing hair loss in February and March.
"We even saw some in January this year, which was really early," Courtemanch said. "That's totally caused by the ticks. That's not a natural winter coat-summer coat transition."
Courtemanch and Koser, however, aren't quite sure how serious ticks and hair loss are for Jackson Hole's shiras moose herd, which already faces pressure from development, highway collisions, other diseases and a warming climate.
"Looking at mangy moose hanging out in town, everybody is like, 'This is the worst thing ever,'" Koser said.
But he cautioned that it's hard to say, exactly, how ticks and hair loss impact moose: "We just know it looks bad," he said.
That's part of why Koser is chasing collared moose around Teton County, picking up their feces, taking pictures of their coats and collecting engorged female winter ticks that fall off their bodies.
All of that is part of a two-pronged research effort to understand how winter ticks in Jackson Hole respond to climate conditions and how moose, in turn, respond to ticks.
There's been just four or five peer-reviewed papers on winter ticks in the Mountain West, Koser said. That's compared to a plethora of research on winter ticks in the Northeast, Midwest and parts of Canada. One study showed winter ticks were the "primary cause" of a 70% death rate in moose calves over three years in Maine and New Hampshire.
But those areas' subspecies of moose, environmental conditions and habitats are different than the Greater Yellowstone Ecosystem.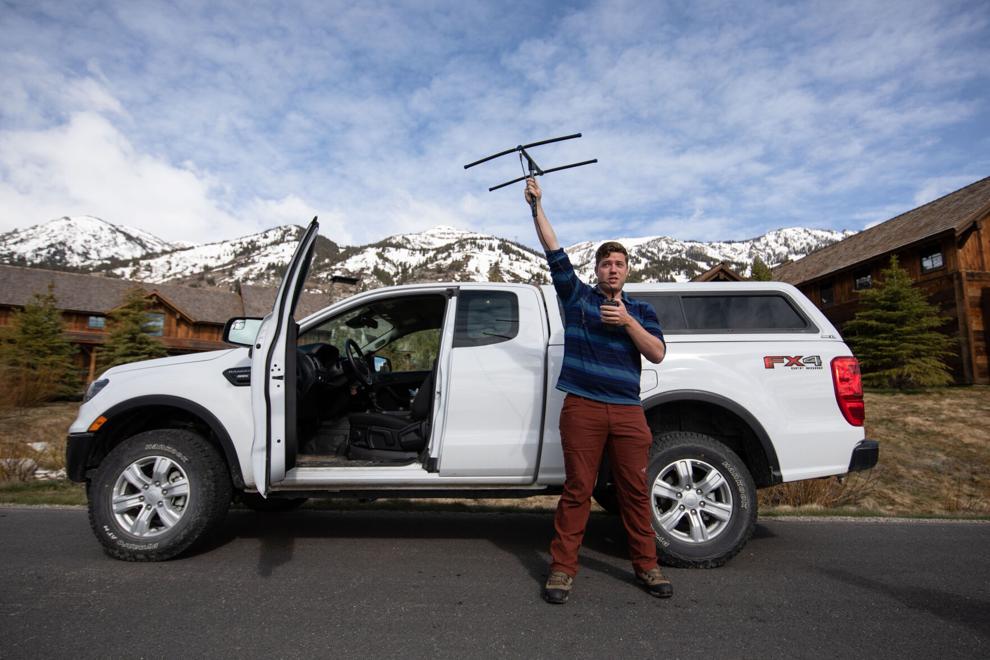 "We don't know what that means here," Koser said. "We have a smaller moose subspecies. We have different tick populations, all these different stressors."
When female ticks drop off their hosts in the spring, they burrow down into the soil and lay eggs. Those eggs hatch in the summer and, after emerging, the larvae remain dormant until the fall rut, when they climb onto vegetation to "quest" for roaming ungulates like moose and elk. When a host walks by, the larvae, which often gather in a fluid tick ball, jump off the plants and onto the host. They burrow into its fur, drink its blood, mate and, in the spring, drop off.
Then the cycle begins again.
Researchers believe that warm falls and springs are a boon for the blood sucking ticks, a theory Koser said is based on experiments in the Midwest and Northeast. Those studies have shown that, when there's little snow on the ground during the fall rut, ticks are better able to ascend vegetation sticking out of the snowpack and reach ungulate hosts. And if they fall off in the spring and land on snow-free ground the ticks have a better chance of survival.
If warm falls and springs persist for a few years the worry is that each successive season of relatively favorable conditions for ticks can cause their population to increase.
But Koser said the opposite might also be true: If there's a particularly snowy season when ticks are either questing as larvae or laying eggs, the number of ticks may decrease.
Either way the interplay between tick behavior and climate change has Game and Fish biologists concerned, particularly because moose are well adapted to cold winters. Warming temperatures place an additional stress on the animals, adding to the threat of ticks, wildlife-vehicle collisions, wildlife feeding and disease. Moose will, for example, bed down rather than forage on unusually warm winter days, which can decrease their body condition.
So if warming temperatures create favorable conditions for ticks, but unfavorable conditions for moose, Game and Fish's Jackson area wildlife disease specialist Ben Wise thinks that moose could lose out in the long run.
"Warmer temperatures, minimal snowpack, warmer springs are not good for moose in general," Wise said. "They're also really not good for that moose-tick interaction."
Koser's data is preliminary. Still, it shows that counts of ticks in the fall before they attach to hosts — counts he completes by dragging a fine synthetic cloth over 250-meter transects — increased between 2020 and 2021, climbing from 93 ticks per transect to 217. That came after a relatively mild fall and spring, but Koser was hesitant to draw conclusions about the relationship between the elevated count of ticks in the wild, the elevated count of ticks on moose, hair loss and climate.
He called his data an "indicator" but not definitive proof of an epizootic year, a year when winter ticks were particularly prevalent in the moose population.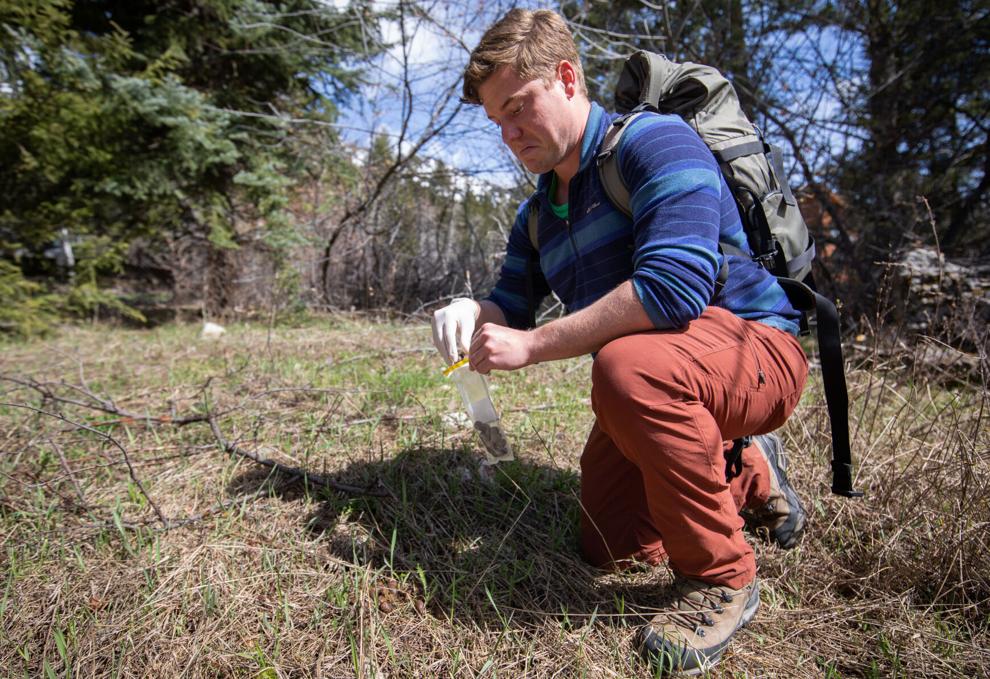 To zero in on how climatic conditions might affect ticks here, Koser set up enclosures in two areas: In Wilson, where snow already melted out, and near the Ski Lake trailhead on Teton Pass, where there's still snow cover. He's loaded enclosures in both areas with engorged female ticks he gathered from moose. The idea is to study conditions throughout the summer and see how many larvae emerge in the fall, hoping to confirm whether the conditions shown in the Midwestern and Northeastern studies apply here.
"Is it spring, is it summer, is it fall that is controlling tick survival conditions when they're off the host?" Koser said.
The idea is to be able to say when ticks are most sensitive to fluctuations in temperature and moisture, ideally so wildlife managers can predict how weather and climate will affect moose a season or two down the road.
While he's doing that, Game and Fish is simultaneously conducting necropsies on dead moose to try and figure out how they died and, in part, whether winter ticks played a role.
Koser also is trying to understand how moose react to ticks by studying stress levels (through analysis of feces samples), hair loss and reproduction. He acknowledged that the interplay between the four factors likely won't be easy to suss out.
Hair loss, for example, might not be as bad as it looks, especially for adult moose.
The problem, he said, could be with calving, a thought Game and Fish officials echoed. Courtemanch said studies from the Northeast have shown that an adult cow with ticks and hair loss will likely survive, even if she looks "really bad."
"It's more so the calves are the ones that could succumb to the winter ticks," Courtemanch said. "They have that smaller body size, [so] the loss of blood has a bigger effect on them."
But Koser said how ticks could affect reproduction itself is hard to say.
"Our moose with the most hair loss last year were the ones that had twins," he said of collared Teton County moose. "So most of the moose that reproduce were at the higher end of hair loss."
That, he acknowledged, is a "weird interaction." Koser said the same trend has borne out in Montana, where the "tickiest area" has the highest reproductive success.
But drawing any conclusions about the difference between ticks, moose reproduction and calf survival will take time. Ditto sorting out the interactions between ticks, climate, hair loss and death.
"We're just getting started," Koser said.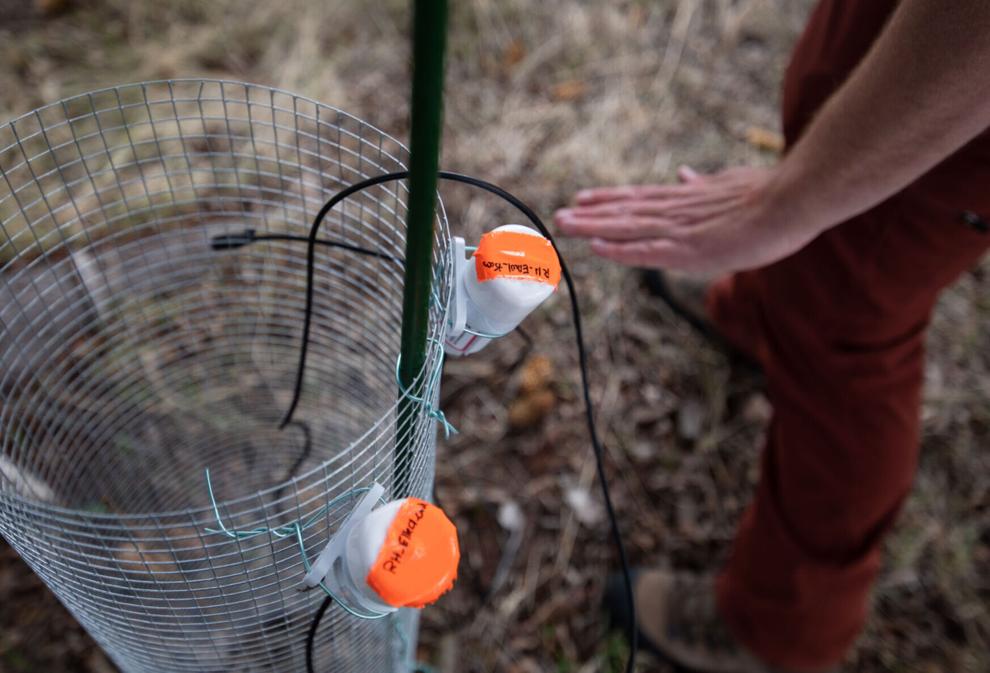 For now it's hard to say how the ticks stack up as threats to the valley's moose. Wildlife biologists counted 326 moose this year. That's 41% of the state's 800-animal objective for the herd.
"It's a huge concern," Wise said. "But, from the population standpoint, I truly think highway mortality is probably a bigger concern right now."
Courtemanch urged calm when people see "ghost moose" out and about.
"Usually an adult moose, even if they look pretty bad, nine times out of 10, they're going to make it through that and survive," she said.
She and Wise also said that the department receives a lot of calls about moose getting up and leaving bloody spots in the snow where they were lowering. That situation, she said, is normal.
Those red spots are usually smashed ticks.
And, for Koser, the beds are a great place to find plenty of arthropods for his studies.
"If you go look, you'll have little weird grapes sitting there," Koser said, "which are all ticks."