Two decades after a whirlwind of community debate, emergency petitions and a dance in the courts, scenic helicopter tours flying out of Grand Teton National Park are again being pitched and met with resistance.
Helicopter pilot and Wind River Air owner Tony Chambers first approached Jackson Hole Airport staff 15 months ago about an application to take tourists aloft from the airport, which sits in the national park. The Hoback Junction resident was rebuffed — the park has stated its opposition and the airport says it has no space — but he's still pursuing his business plan.
"I want to see if a scenic flight business out of Jackson Hole Airport works for me and works for the community," Chambers told the News&Guide. "I'm taking my time, trying to do this right. I'd like to figure out a way to make my company and this operation and permit somehow an asset for the community, and the community's agenda."
"Conservation" and the "environment," he said, don't have to clash with a scenic air tour business.
That's a premise not everyone agrees with.
Town Councilor Jim Stanford, who leads tourists on scenic Snake River floats in the summer, has been vehement about noise pollution from the airport for years. He recently met Chambers to discuss his plans.
"We had a totally polite and cordial conversation in which I expressed in no uncertain terms this was a terrible idea, it has not improved with age and that the community fought this bitterly 20 years ago, and I would do everything in my power to deny the proposal," Stanford said. "I told him this proposal goes against everything this community has professed in terms of wildlife and environmental values."
Looking back two decades, Stanford points to 2000, when Vortex Aviation owner Gary Kauffman, based in San Diego, wanted to offer helicopter sightseeing tours out of Jackson Hole Airport. Kauffman and Vortex faced stiff opposition, running into petitions and a "Heli No!" campaign from the Jackson Hole Conservation Alliance. Even U.S. Sen. Craig Thomas, a Wyoming Republican, entered the fray, joining conservation groups in asking the Federal Aviation Administration to study potential environmental and safety hazards associated with helicopter tours in Teton County.
Despite those headwinds, Kauffman had permits in hand and began his business in the summer of 2001 but was greeted by protesters for his first-ever commercial flights. Last-ditch lawsuits challenging whether the operation conflicted with the National Parks Air Tour Management Act failed, and the FAA and courts determined that the airport had no right to deny his operation as long as he avoided noise sensitive areas of Grand Teton National Park. Essentially the entirety of the park west of Highway 89 qualifies as noise sensitive, park maps show.
For some reason Vortex Aviation's Jackson Hole operation never got far off the ground. After dozens of stories over three years starting in 1999, his name and business fail to show up in the Jackson Hole News and Jackson Hole Guide archives after the summer of 2001, when he started flying sightseers commercially.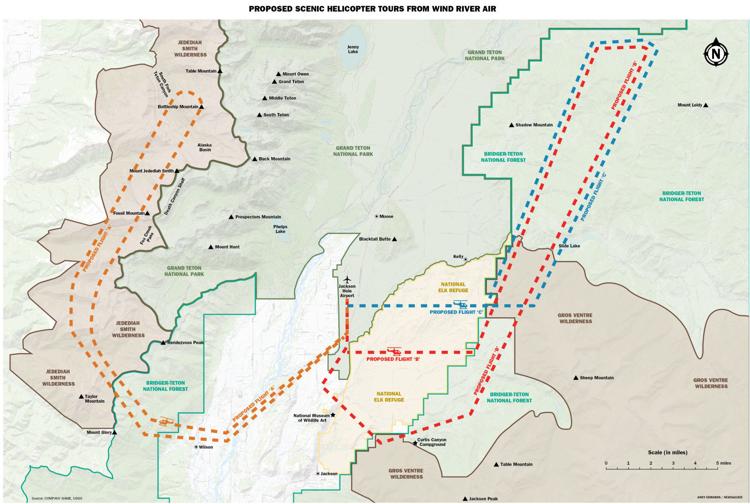 Jackson Hole Airport today is essentially in the same position as it was two decades ago, Director Jim Elwood said, and cannot discriminate by aircraft type or use.
"By federal law, we do not have the ability to say no to a specific type of aircraft operation," Elwood said.
When Chambers approached Elwood about an operating agreement in 2018, he was asked to vet his plans with the park and others in the community. Grand Teton's acting superintendent, Gopaul Noojibail, formally weighed in this summer, going on the record in opposition.
"Grand Teton National Park and our neighbors are already significantly impacted by the noise and visual intrusion of aircraft associated with takeoffs and landings at the Jackson Hole Airport," Noojibail wrote to Chambers. "… As we understand your proposal, you do not intend to operate air tours over or within one-half mile of Grand Teton National Park. Nonetheless, I encourage you to look beyond the park's concerns in moving forward, as your actions have the potential to impact the nearby National Elk Refuge, national forests, the Jackson Hole valley, and our neighbors."
The vetting stage is where the proposal sits today, and besides the park, Chambers has approached and met with a half-dozen interested parties, including from the National Elk Refuge and Bridger-Teton National Forest. He's also sat down with Stanford and Joe Albright, who protested Kauffman's operation two decades ago and still has a vested interest because of his ownership stake in Flat Creek Ranch, which sits several miles away from two of Chambers' proposed flight paths on the east side of the valley.
"Although Tony has assured me that his flights will not go on or near our dude ranch, I still have some concerns about scenic helicopter tours in our pristine environment," Albright said. "One of those concerns is that, whereas a helicopter flying is generally quite safe, scenic helicopter tours have been plagued over the decades by quite a number of fatal crashes."
Albright said he also worries about disturbing wildlife.
"As I told Tony," he said, "I wish him well, but I don't think this is the kind of growth that our community can afford."
Chambers' take is the opposite: That scenic flights could add to the Wyoming tourism industry, aiding the state's effort to achieve economic diversification.
"Everybody has got concerns, but I think some people in my circles are pretty excited," Chambers said.
Aviation is Chambers' second line of work, after construction, and he's not limiting his business to scenic air tours. His helicopter business, Wind River Air, relies on a Robinson R44 four-seater that is also being used to survey cheatgrass on a contract for the Sublette County Weed and Pest District. He also runs aerial photo tours elsewhere and recently was commissioned by the Renegade Subdivision to overfly the luxury neighborhood that's being constructed far up Greys River Road.
Chambers said he has a passion for mountaineering and doesn't have any interest in degrading the experience in the Tetons for those on foot.
"I don't want to be on the Exum Ridge and have a helicopter come buzz me," he said. "I get that."
In the cathedral peaks of the Tetons, he said, "you're not going to hear it, and you're not going to see it."
The same cannot be said for people recreating in the Caribou-Targhee National Forest's Jedediah Smith Wilderness, according to proposed flight paths Chambers submitted to the airport. Maps show the "A" route he's planning to fly would cut immediately northeast of Mount Glory and Taylor Mountain and proceed along the west slope of the Tetons until the helicopter U-turned just south of Table Mountain.
Both the "B" and "C" routes pitched would cut over the Bridger-Teton on the valley's east side, overflying a portion of the Gros Ventre Wilderness and Slide Lake on its way to a turnaround point in the Leidy Highlands just south of Spread Creek. The main divergence between the two flight paths is that the B route would cut over the southern end of the National Elk Refuge while the C route would be more of a straight-shot sticking to the north.
"The big thing about these routes," Chambers said, "is that they're open to input and change."
The pricing for the flights he proposed to the airport ranges from $180 for a half-hour tour, doubling to $360 for a one-hour flight. (In 2000, when Gary Kauffman proposed scenic overflights, he estimated a 20-minute flight would probably cost $85).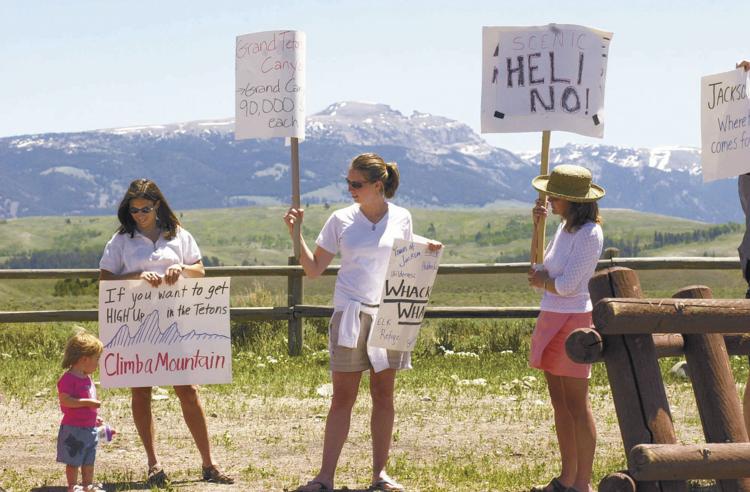 Chambers would like the airport's board of directors to consider his plans at a December board meeting, tentatively set for Dec. 18.
"I'd like to see it pushed through this fall," he said. "I think it's a good time of year."
Ahead of that posted meeting, the board will convene for a retreat Nov. 14 and 15 in Star Valley. Since a quorum of the airport board is present during the retreat, the gathering is open to the public.
There have been scenic air tours that have flown out of Grand Teton National Park's commercial airport since the Vortex Aviation imbroglio.
In 2014 Fly Jackson Hole owner Pete Lindell navigated the approval process with the airport board, receiving the OK to do business with his fixed-wing aircraft outside the park's noise-sensitive areas. He's still up and running, though he had to abbreviate his business to May through October after losing his space to store his aircraft a couple of years ago, when one of the general aviation hangars was torn down. Demand for seats on his plane, he said, has been strong.
"There's a lot of challenges in terms of weather, and flyable days is the biggest uncontrollable factor for us," Lindell said, "but when the weather's good, we're busy."
Chambers' Wind River Air is running into the same space constraints at Jackson Hole Airport. The airport is "unable to assign" him a 50-by-50-foot space he requested due to congestion and limitations imposed by the National Park Service, Elwood wrote him in a Dec. 2018 letter.
There are options for recourse, though.
"I can do scenic flights out of Jackson Hole Airport today if I base out of another airport — out of Driggs, Pinedale or Alpine," Chambers said. "If I just come in for the day and pick up customers and do scenic flights, I'm perfectly legal and allowed to do that right now."