Fire Marshal Kathy Clay never forgot a lesson she learned from the U.S. Forest Service about wooden roofs and fighting fire in the wildland-urban interface.
"One of the things they teach is that if you have a home that has a shake roof that's more than 25% on fire, you just drive by," Clay told the Teton County Board of County Commissioners on Nov. 15. "It's a triage effect, essentially. ... You'll save more by driving by."
That's why Clay, the Teton Area Wildland Protection Coalition and Jackson Hole Fire/EMS recommended the County Commission disallow "fire-retardant treated wood roof coverings" for buildings in Teton County's wildland-urban interface, areas where human-made structures and infrastructure like cell towers are in or close to places prone to wildfire. That includes much of Teton Village, East and West Gros Ventre buttes and swaths of land off Fall Creek Road, among other higher-end county locales.
The rule would not be retroactive, Clay told the News&Guide, meaning people with wooden roofs — most often cedar shake roofs because of a common material — wouldn't have to change them. Instead, Clay saw the regulation as forward-looking.
"It'll be a good educational tool for people that are looking at their roofs and saying, 'Gee, maybe it's time,'" she said.
The commission took Clay up on her suggestion, voting unanimously to begin a 45-day comment period. The board is now set to hear the issue for a final decision on Feb. 16.
Cedar shake roofs are popular because they carry snow loads well and are aesthetically pleasing.
"It just looks really nice," Jackson Hole Fire/EMS Chief Brady Hansen said.
But, when a wildfire starts raining sparks down on a home with a wooden roof, things can get nasty. Hansen reiterated Clay's point: If a house with a wooden shake roof catches fire, firefighters will often move on to save other less fire-prone structures.
"Those embers will fall on those wood shake roofs and ignite them super fast," he said. "When it's raining sparks and you're triaging, it's best to skip that house because your chance of saving it is pretty limited."
While there are treatments for shake roofs that are supposed to make them fire-retardant, Hansen said that in practice those treatments are good only for the first few years. Over time those treatments decay. And though people will promise to reapply the treatments over time, Hansen said that "happens rarely."
The problem is exacerbated, he said, because some homeowners associations in the valley require cedar shake roofs, largely for aesthetic purposes. Rob DesLauriers, a developer working on a suite of luxury condos in Teton Village, said that's the case in the area's commercial core, for which the master plan allows only cedar shake.
Hansen and Clay also said homeowners in fire-prone areas are facing an uphill battle with insurance. Faced with huge losses from wildfires like those seen this summer across the American West, insurance companies are dropping homes in the wildland-urban interface. Wooden roofs might exacerbate that problem. There's an insurance agent on the stakeholder committee for the Teton Area Wildfire Protection Coalition, Clay said.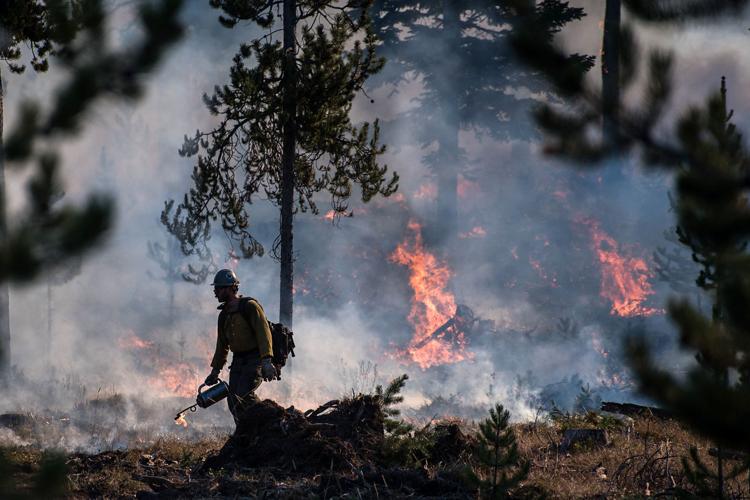 "He is very alarmed with how many insurance premiums he's having to turn down, especially in the Fish Creek, Fall Creek area, because people are not resilient to wildland fire, and insurance companies are getting more in tune with what a resilient house looks like," Clay said. "This is just a little bite out of the big elephant of wildland fire in our backyard, but it's a good step forward to help homeowners make good choices in the wildland-urban interface."
When Commissioner Greg Epstein asked Tuesday whether a local policy change could drive up insurance costs for people with shake roofs or get them dropped altogether, Clay responded, "That ball is already rolling, unfortunately."
Two people who provided public comment were initially supportive of the proposal.
Katherine Dowson, a resident of the Butler Creek neighborhood off Fall Creek Road, said the Butler Creek homeowners association was fairly restrictive, but she knew of others that weren't.
"It doesn't take but one home, really, to watch a whole subdivision go up," she told the commissioners. "I just can't say strongly enough how key it is to have the teeth of county regulations."
DesLauriers was also supportive. He lives in Teton Village and has worked other residential projects where he said people's hands are tied because HOA rules "are so clear about using shake roofs."
"It's basically very difficult to change covenants in an HOA," he told the News&Guide. "It takes a giant percentage of everybody who can vote to do it."
He thought the policy change, which would trump those rules, would push the needle on wildfire safety in Jackson Hole.
"The whole wildfire-urban-wildland interface reality is coming to Jackson," he said, "probably from the wildfires that of course happened in Colorado and California and other places that we've just been blessed not to be hit with."