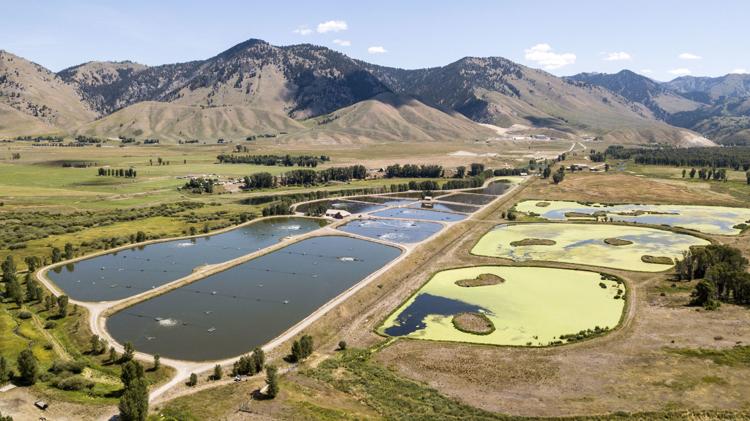 This is part two in an ongoing series about Teton County water quality issues. Next up: solutions. —Eds.
A couple of years into his job operating the Jackson Wastewater Treatment Plant, Chris Moran had become convinced the facility was running so poorly it was barely breaking down sewage.
Management, he perceived, had tunnel vision with a lone goal in mind for the plant: reducing electricity consumption, in pursuit of the town's goal to become 40% more energy efficient by 2020. Aerators in settling ponds were being turned off to keep energy use down, and in turn the lagoons lacked oxygen and the microorganisms necessary to digest feces and urine. As a result, millions of gallons of minimally treated — though totally legal — wastewater were discharging into South Park wetlands and from there into the Snake River.
"Over the years," Moran said, "this became the elephant in the room."
All of the wastewater plant's operators, he said, were on the same page: "We were just running a bunch of stinky anaerobic ponds, and the Grid-Bees really were a waste of money."
Moran points to the 2015 installation of new equipment, supplementary sewage lagoon mixers called Medora Grid-Bees, as the start of a troubling trend. Run alone or with little assistance from more traditional, powerful blowers that better aerated the water, the mixers weren't doing their job, and the largest of the lagoon-style ponds at the South Park facility contained next to no dissolved oxygen for weeks and then months at a time, he said.
"Your bugs are your bacteria that break down waste, and you want to keep bugs alive," Moran said. "They need oxygen, and you need well-mixed water with plenty of oxygen."
Publicly, the $561,000 infrastructure addition was roundly hailed as a success: Lower Valley Energy cut the town a six-figure energy efficiency rebate check and the project netted positive press. In its first year operating with the new mixers, the town's plant used 915,300 fewer kilowatt-hours of electricity — good for roughly $50,000 in utility bill savings for the taxpayer-funded facility.
"Lower Valley Energy tries to maintain the lowest energy costs in the valley," Jim Webb, the utility's CEO, told the Jackson Hole Daily in November 2016. "This project saves everyone money."
But in the background Moran, then the plant's senior operator, was trying to sway his boss, wastewater manager Johnny Ziem, to put more of an emphasis on aerating and treating the approximately 1.9 million gallons of sewage that flowed through their facility on average every day. Moreover, he worried that the reduced treatment was causing sewage sludge to build up at the bottom of the 15-foot-deep ponds, and the cost of dredging it out could wipe away any savings from deflected energy consumption.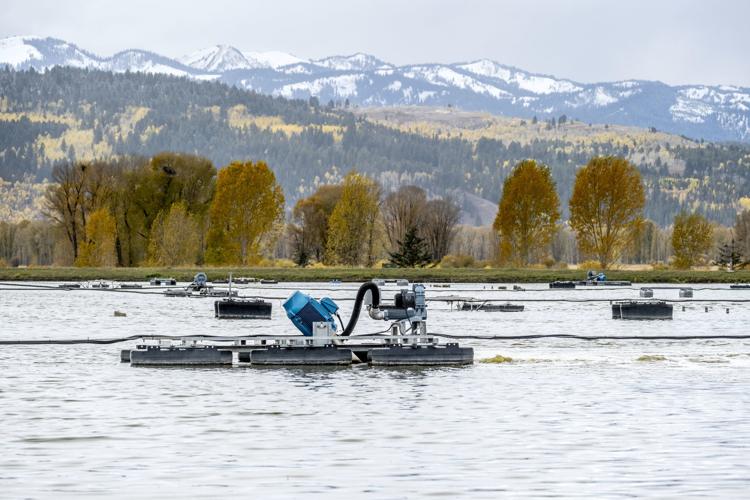 The disagreement over priorities and tension came to a head by 2018. That January, Moran was blunt with his boss while self-critiquing his performance in a written employment review.
"While we are still within our permit, I suspect the community at large may not see it that way," Moran wrote to Ziem. "If tourists considered not coming to Jackson when they believed the Budge landslide was engulfing the town, I can only imagine the potential economic downfall we may suffer if tourists just perceived we were discharging compromised wastewater to the Snake River."
Such admonitions from a subordinate didn't go over well, Moran said, and he was told that he did not share the same values as the town of Jackson. By December 2018 his professional relationship with his boss had deteriorated to the point where he was urged to resign.
Moran's contentions about compromised wastewater flowing into Wyoming's South Park Wildlife Habitat Management Area are at odds with some town officials, environmental regulators and the plant's top employee.
During an Oct. 9 tour of the plant with Ziem, the News&Guide asked if he believed there was a tradeoff being made between water quality and energy savings.
His answer: "Absolutely not."
"We've been knocking it out of the park," he said from the edge of his two primary lagoons.
Both ponds held the equivalent of 55 Olympic swimming pools of the valley's sewage that had been stewing for weeks, and each was dotted with six of the town's fractional horsepower Grid-Bee mixers as well as the older, less-used 50-horsepower blowers.
Ziem, who has been manager of the facility for seven years and doubles as the town's assistant public works director, cited some water quality successes. E. coli bacteria levels in the plant's effluent, for example, are "great," zapped clean by UV light treatment equipment and kept at just a fraction of the Wyoming Department of Environmental Quality's upper limit.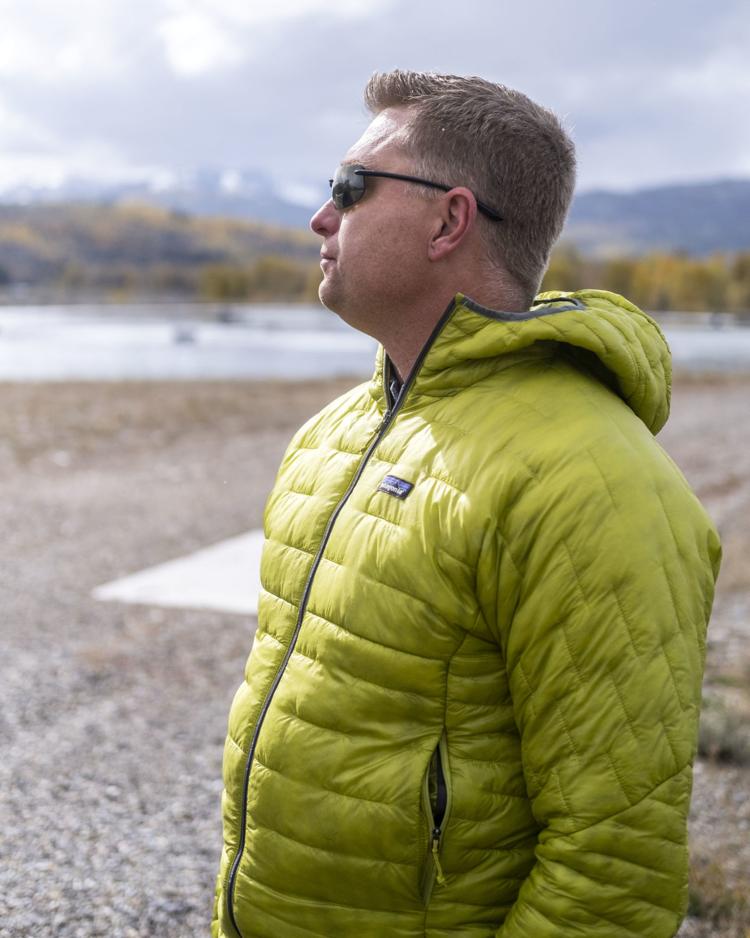 The same goes for "suspended solids" in the waste stream, Ziem said. Detritus such as silt, algae and decaying matter that accumulate in the facility are being effectively filtered and settled out, and concentrations are ending up well below the cap imposed by state regulators. Another water quality measure — pH — has also registered at stable levels, an improvement from levels before his tenure.
Environmental regulators with the state of Wyoming also say the town's plant is functioning fine and totally within its permit limits. Meeting the permit requirements is "the goal line," DEQ spokesman Keith Guille said, and discharge from Teton County's largest wastewater treatment facility has been healthily in that territory for years and remains so today.
Rich Cripe, the DEQ's wastewater manager, said he perused a couple of years of daily monitoring reports before taking a call from the News&Guide and was impressed with the results.
"It's performing really, really well," Cripe said. "The data that I looked at didn't show me anything of concern."
It was a similar story from Floren Poliseo, the town of Jackson's public works director, who was also convinced of the plant's adequacy.
"Even if there is a light uptick in pollutants, it's still being treated effectively," Poliseo said. "If there were stronger data ties to significant increases in pollutant levels immediately downstream of our plant — or if we were having a harder time complying with our discharge limits — I would definitely be more concerned."
But the DEQ's permit requirements are far from a be-all, end-all gold standard, and some monitoring data tells the tale of still-degraded water discharging from the town's 39-year-old plant.
Moreover, Moran's concerns check out with and are shared by some wastewater experts from outside the valley.
Ammonia, a byproduct of urine, is one contaminant not regulated at the town facility that has increased significantly since reducing energy consumption became a priority at Jackson's plant. Annual average concentrations have about tripled compared with levels from a decade ago, and where it leaves the plant the contaminant is now near what's expected in untreated sewage.
"Typical domestic wastewater, depending on the plant, you're looking at roughly 25, 30 milligrams per liter of ammonia," Colorado-based wastewater consultant Dave Lewis told the News&Guide. "If their effluent is 20 milligrams per liter, they're not reducing anything. It's basically like having straight [urine] run through the plant."
Every year since 2016, treated water coming out of the town's plant has exceeded 15 milligrams per liter, according to DEQ monitoring data. Twice, including from January through November of 2019 (December data was not yet available), the concentrations have topped 19 milligrams. Go back a decade and average annual readings were in the 5 to 7 range, which Lewis said was a "pretty good reduction" for a lagoon system like Jackson's, which processes wastewater from Jackson Hole Airport down valley to Hog Island.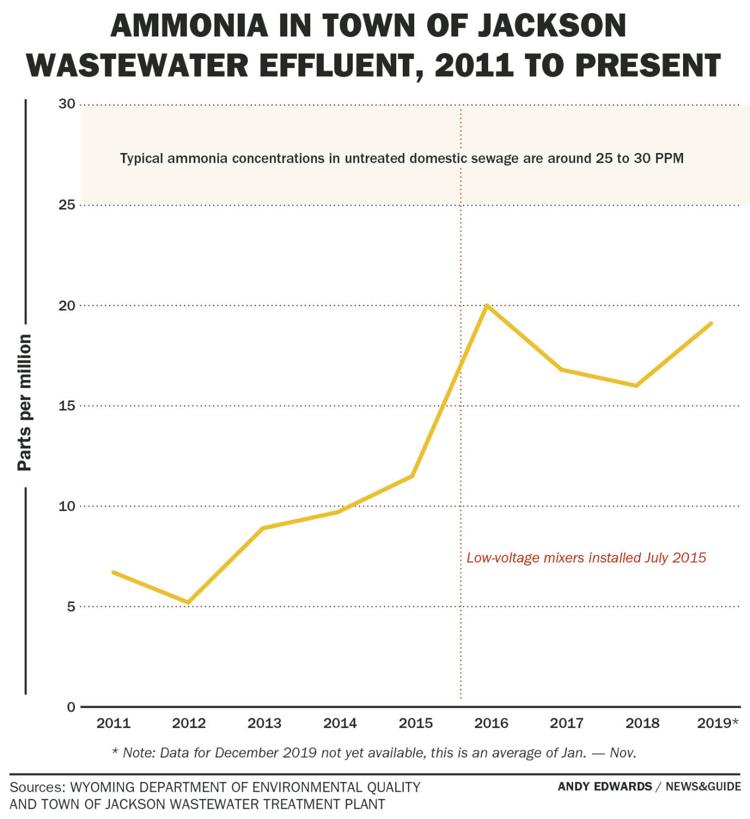 Not knowing the particulars of Jackson's plant and its effluent numbers intimately, Lewis was hesitant to fault how it's being operated. Another gauge of treatment is "biological oxygen demand," he said, a measure of oxygen used by organisms during decomposition, and recent numbers suggest "decent" performance on that front.
"But the ammonia is definitely a concern," Lewis said. "Because that's going to deplete your receiving stream of oxygen, which can cause fish kills."
The DEQ doesn't impose limits on ammonia because it's not regulated in the manmade ponds that receive the water. The wastewater then courses along toward the Snake River, where ammonia is regulated, but the powers of dilution negate the need for a limit, according to Jason Thomas, who manages DEQ's pollutant discharge elimination system program.
The town plant's ammonia numbers are "on the high side," Thomas said, but he also said they were acceptable.
"What they're probably doing is not focusing on treatment and oxidation," he said, "because they've got other things to worry about and their allowable ammonia is so high."
Ziem, who was employed as an operator before a 2013 promotion, theorized that more ammonia has flowed into the plant as Jackson Hole has grown. But testing of influent didn't occur until 2016, he said, so it's hard to say. The town's plant manager said the window to treat ammonia — which requires high temperatures to convert it to nitrate — began to shrink starting around 2016, as the plant was experimenting with new ways of mixing the lagoons.
"There were pros and cons," Ziem said. "Some things that worked really well and other things we needed to continue to work on."
Ziem said that he learned of the benefits of keeping his primary sewage lagoons oxygen-free from a wastewater microbiologist named Michael Richard, who conducted a training at the town plant a couple summers ago.
"That's kind of in line with what Dr. Richard was telling us," Ziem said. "There's less oxygen, but there's still a ton of biological activity — and we verified that through Dr. Richard's 2 1/2-day study."
Richard, who is now retired from his Fort Collins, Colorado-based consulting business, told the News&Guide he had the opposite advice for the Jackson plant, which declined his professional services at the time. The ponds at the time of his August visit contained no algae, which is odd for a lagoon system. There were also other issues he perceived.
"I think they violated some laws, the basic laws of life," Richard said.
Depleting ponds of oxygen, he said, means microorganisms whose purpose is to break down wastewater are going to die.
"They didn't put enough oxygen in the first cell, and I think that's a problem," Richard said. "They need to address that, and the manager Johnny doesn't think so. He's in charge, so unless they have a major violation, that's the way it goes."
Current Jackson wastewater plant operators reached by the News&Guide declined to be interviewed for this story.
Moran, writing in his 2018 employee self-review, which he provided to the News&Guide, worried that concerns from staff with technical expertise were not being conveyed to higher levels of town government.
"Perhaps I'm mistaken," he wrote to his then-boss Ziem, "but I question whether our voices and opinions are being heard beyond the plant."
Teton Conservation District water specialist Carlin Girard has spoken with Moran and learned of the energy and wastewater treatment tradeoff. He doesn't fault Ziem for prioritizing cutting the electricity bill at the Jackson facility and thinks that there's a broader issue: Wastewater and water quality barely register as a blip in local government discourse and guiding community documents.
"If the comp plan read, 'Contaminate loads in wastewater discharges won't increase beyond what they are today,' that gives staff a directive," Girard said. "We just haven't given them that task."
The town's plant, he said, isn't some state-of-the-art technology, but it could definitely improve.
"Can we do something better?" Girard said. "We all can. And if that's what they're asked to do, I firmly believe they could rise to the occasion."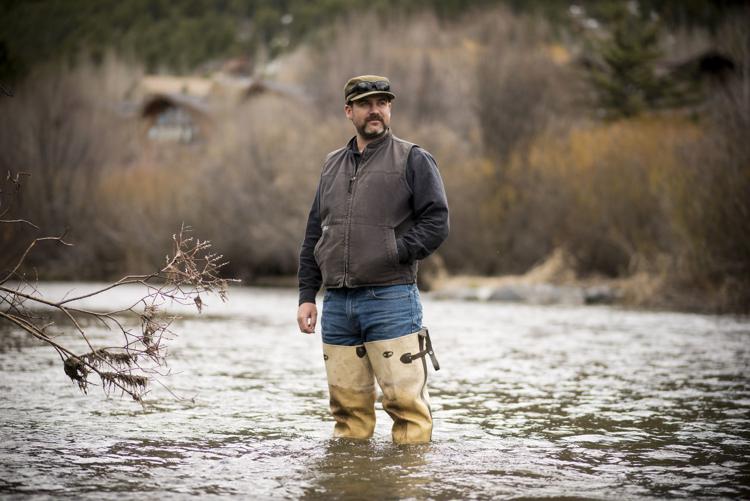 Long term, Girard worries for the consequences of unregulated nutrients like phosphorus and nitrogen flowing out of the town's sewage plant and from other Jackson Hole sources. In a warmer, more nutrient-loaded world down the road, where the Snake first pools downstream — Palisades Reservoir — could be the canary in the coal mine for algal blooms and related environmental problems for this region.
Wyoming regulators are in the process of developing numeric nitrogen and phosphorus standards for facilities like the Jackson plant, but it's slow going, the DEQ's Thomas said. Regulations might still be 10 years away.
"It's very controversial here, because of all the grazing," Thomas said. "Frankly, the public in general is really not in a rush to see standards, but we're still working on it."
Some environmental activists are eager for precautionary action. Dan Leemon, who directs Protect Our Water Jackson Hole, says the decisions the town makes today could play a role in nutrient issues well downstream into the Columbia River Basin, however incremental.
"As a headwaters community of the Snake River we not only have a responsibility to protect water quality at home but also a responsibility to downstream communities," Leemon said. "The harmful effects of too much nitrogen and phosphorus often occur hundreds or thousands of miles from the source."
In the months following the 2015 installation of the Grid-Bee mixers, Moran recalled, Ziem insisted on keeping the old blowers off and oxygen at near zero to maximize the rebate check from Lower Valley Energy, which was based on savings and eventually came in at $225,000, covering around 40% of the cost. Machines would turn off mysteriously at night, without input from operators, he said.
"All of the operators at the plant, excluding Johnny, began to question the validity of this project," Moran said. "I pointed out that we could have saved a half million dollars and just shut off aeration in these ponds and achieved the same outcome."
The treatment issues aside, the electricity savings at Jackson Hole's wastewater plant have been a resounding success. The facility earned ink in the "sustainable operations" pages of the trade journal Treatment Plant Operator in 2017, and the story ran down the list of Ziem's environment- and energy-friendly additions and tweaks, from a new 261-kilowatt solar array to efficient heating to blowing less oxygen into the lagoons. The goal of reducing electricity consumption 40% was met six years ago, and nowadays the savings are even more considerable.
"The last two years we were 70% more efficient," Ziem said, compared with 2006.
It's possible, however, that a fast-building mucky mass could wipe out the savings: $50,000 to $70,000 a year.
"I suspect those ponds are accumulating sludge," Moran said in October, "and instead of mixing sludge and treating it, it's just settling."
A month earlier the plant's latest sludge test was conducted. Its results would reveal some of the biggest jumps in sludge depth in the plant's history, though Ziem is hopeful they're not valid.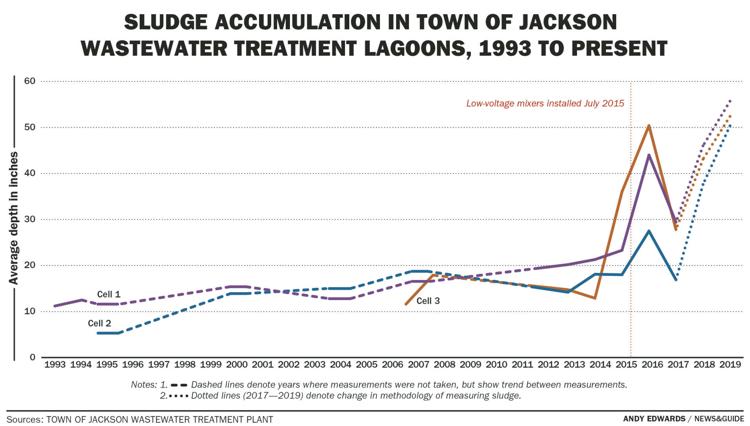 Between October 2017 and September 2019, sonar-based bathymetric surveys found that an average of 10 or so new inches of mucky, sludgy substance had piled onto the lagoon floor — a gain surpassed only by 2015, the year the Grid-Bee water mixers were installed. In the first 20 years of recordkeeping, from the mid-1990s to 2010s, only about 10 inches of sludge amassed.
Richard, the retired Colorado microbiologist, said there's likely a correlation between the way the plant is being operated and the fast-adding solids settling and forming into sludge.
"Oxygen helps burn up sludge," Richard said, "and having no oxygen in that cell will lead to buildup."
Jackson's wastewater plant ponds have never been dredged, and the costly task would be required at some point anyway. Based on recent rates of buildup (see graph), the job may need to be completed sooner than it would have at historic rates of accumulation.
Ziem isn't worried yet. Engineers have advised him that he could go on for years before dredging his ponds, he said. Plus, the most recent sludge test results used a sonar-based metholody that could also be capturing more-viscous slurry and therefore may be overestimating the mass. The town is going back to an old method, using manual "sludge judges" — a method that also detected big gains five years ago.
"Why would I hire someone to dredge when a professional wastewater [engineer] is telling me I don't have a problem?" Ziem said. "All these other professionals in the field are saying you don't have a problem."
Whenever the town of Jackson does decide it needs to dredge its sewage lagoons, it's poised to be a big job.
To Ziem's recollection, in 2013 or '14 the plant got a dredging quote from a Colorado contractor, a business that would have cleaned and disposed of the facility's sludge for about $1 million, at a rate of 15 cents a gallon.
Since then volumes have soared. According to the most recent sonar readings sludge has displaced about 32% of the space in the 35 million-gallon first lagoon. The similar-size second lagoon is 25% filled. In the third, a 12 million-gallon sewage pond, sludge occupies 31% of the space.
Running the numbers using the six- or seven-year-old quote, the expense of scrubbing out the three primary ponds, based on today's estimated sludge volume, could add up to $3.6 million. Banking on the sludge tests being faulty, Ziem's optimistic he can cut down on that pricetag.
"I would say between $1 [million] and $2 million would be a safe estimate," he said.
Editor's note: This story has been modified to correct the horsepower of the Grid-Bee mixers.