Laurie Brown spent most of her Tuesday ripping out willows and brush that impeded passage down the streambed of Game Creek, the small tributary flowing into Flat Creek a few miles south of Jackson.
It was a hard day's work that will make electroshocking and killing brook trout easier in a few weeks. For Brown, who owns a home on the residential bench above the small stream, this was a day worth recognizing.
"Today is the day that rotenone would have been put in the creek," Brown said. "For me, truly it's a bit of a celebration."
Brown and her partner, Keith Nelson, were the ringleaders of a small group of Game Creek neighbors who contested the Wyoming Game and Fish Department's plan to use rotenone, a poison, to kill off thousands of nonnative brook trout dwelling in the 5-mile-long stream. In their place, the state agency sought to replant a population of native cutthroat trout, which were outcompeted by their fellow salmonids in the small watershed that for decades was severed by an impassible culvert under South Highway 89.
The widening of the highway and installation of a fish-friendly culvert restored Game Creek as viable spawning and juvenile trout habitat for cutthroat. But a problem remains: Swarms of brook trout, which numbered an incredible 2,171 fish per mile when a survey was completed in 2016.
Fisheries biologists like Game and Fish's Diana Miller haven't abandoned the hope of eradicating Game Creek's brook trout. But after hearing out folks like Brown and Nelson she has embraced plan B, which was actually originally plan A.
"Before we wanted to use rotenone, we wanted to use YY fish," Miller said. "But because there wasn't a disease-free source, we walked away from that."
YY fish — the Y's stand for chromosomes — are "super male" brook trout that have been exposed to hormones and selectively bred so that they produce almost exclusively male fish when they mate with any other brook trout. The idea is that the YY trout will eventually eradicate themselves, at least when the normally reproducing trout are selectively removed over the course of years. Slowly over time the YY trout constitute more and more of the population and eventually lack the ability to reproduce without females.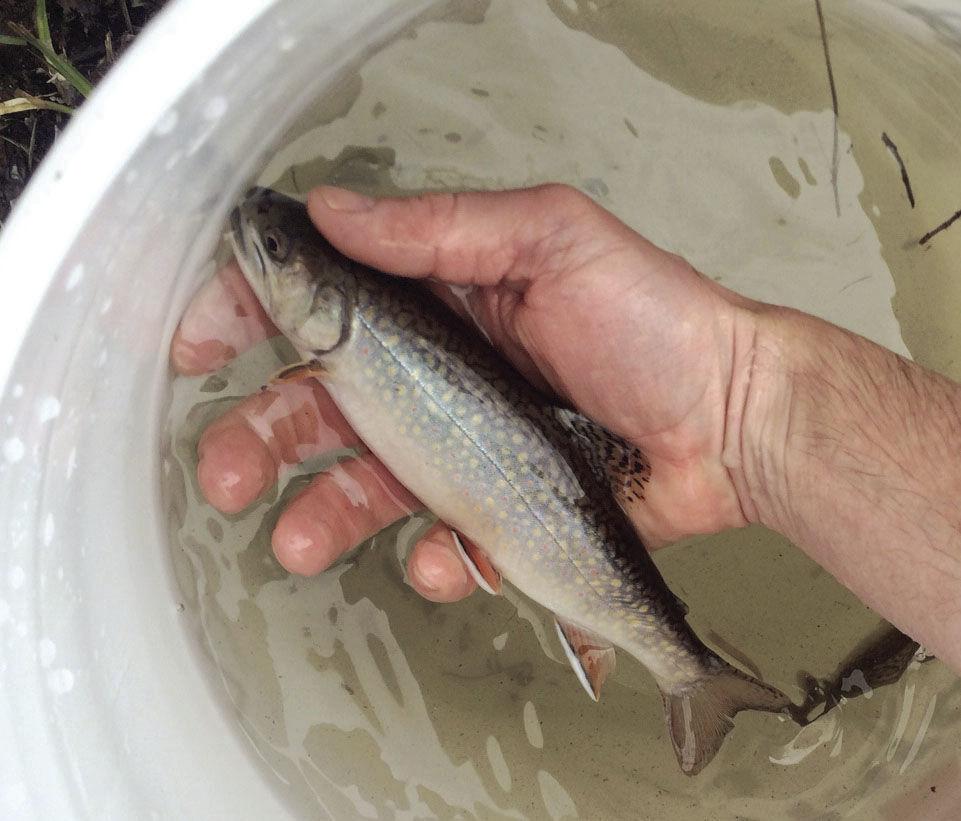 This whole approach is still somewhat experimental, Miller acknowledged, and going to take some time to execute.
"It's a long, long game," she said. "But it's my goal, by the time I retire, that cutthroat will be back in here and brook trout will be gone."
Fisheries managers in Idaho are pioneering the technique, and they're currently midstream along a years-long effort to use YY brook trout to curb undesired populations in six alpine lakes and seven small streams. Results, so far, are promising.
"It will work, over time," Miller said.
The Wyoming Game and Fish Department's fisheries chief, Alan Osterland, gave the forthcoming project the OK. It will be Wyoming's debut using YY trout.
Right now the primary stumbling block is to identify where the Equality State's fisheries managers are going to get their first-ever brood stock of YY brook trout. The state of Idaho is willing to share, but unfortunately its fish carry a type of bacterial kidney disease that's largely absent in Wyoming's portion of the Snake River watershed.
"We're still working out our source," Miller said, "and how we're going to get the fish exactly."
Still, she's pressing forward.
Over the past couple of weeks, Miller, her Game and Fish colleagues and volunteers have been running chainsaws to clear a path through the shrubby canopy choking Game Creek. Manipulating the vegetation is necessary so that come September fisheries crews can return, this time wielding electrofishing equipment. Any brook trout shocked and netted will be killed. The science suggests, according to Miller, that the population will have to be knocked back by 50% in order for the YY brook trout technique to be effective.
Brown, the Game Creek neighbor, is upbeat about the inventive method's prospects. She was equally grateful that the state fisheries managers were willing to heed her concerns, and adjust their approach.
"I think one of the beautiful things going on here is that we really are partnering, and the line of communication has stayed open," Brown said. "That is something that I wouldn't have dreamed would have been really possible."