As Thanksgiving approaches, many public health precautions will advise to celebrate only with household members or to mask up and social distance.
Others warn against cooking your turkey in hot springs.
"We don't know who needs to hear this, but it is illegal to cook a turkey in the hot springs at Yellowstone National Park," read a Saturday post on the National Park Service LEGO Vignettes Facebook page. "Boiled, baked, stewed, brined, spatchcocked, grilled, braised, smoked, and deep fried are all illegal. They will ban you from the park! Just don't do it."
"Lego Ranger" Gavin Gardner, an actual ranger at Salem Maritime Historic Site in Massachusetts, has been creating and posting daily Lego scenes on social media since the pandemic began, some offering comic relief, others providing safety warnings. This one, his most popular post so far, does both.
"I've never had that sort of reach," he told the News&Guide. "It's got like 700,000 reach, which is ridiculously weird. You never know what people are going to latch onto."
Commenters expressed concern that the image, depicting a Lego man hanging a Lego turkey over a rainbow-colored hot spring, was based on a true event.
"Sadly, I reckon people have tried such nonsense," one wrote.
They were right. The Lego depiction is reminiscent of an Aug. 7 bird incident in Yellowstone's Shoshone Geyser Basin, where a ranger found two chickens in a burlap sack in a hot spring with a pot nearby.
"They were banned from the park for two years," Gardner said. "I didn't know you could do that, especially from Yellowstone. How could you ban somebody from such a big space? But more power to 'em."
The trio claimed to be making dinner, according to a Jackson Hole Daily story. The men were subject to varying fines in addition to probation from the park.
Interfering with Yellowstone's hydrothermal features can hurt the fragile systems and cause bodily harm. Hot spring temperatures exceeding 400 degrees have led to many burn injuries and 21 recorded deaths.
Making light of the odd situation, however, wise Facebook commenters noted the cooking methods and meat types that Gardner failed to ban, including steamed, poached and sous vide birds.
"Ok, So no poultry ... Christmas ham is still on the menu!" one wrote.
"People just need a relief and people need something, you know, dumb to come across their newsfeed in all the doom and gloom," Gardner said.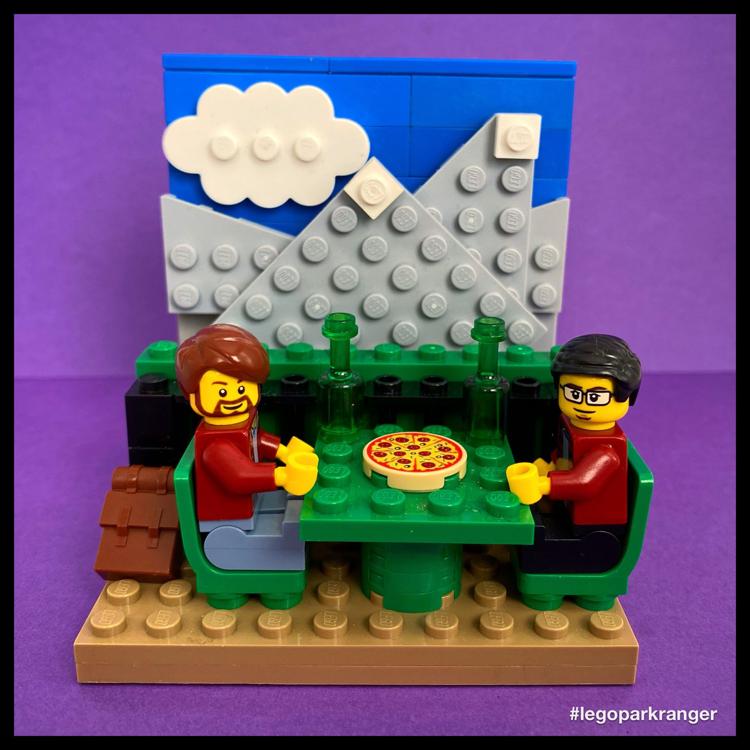 The LEGO Vignettes page, which is not affiliated with the parks or Lego toys, began in 2015 when Gardner was trying to garner support for some national park Lego sets he proposed. Though the company didn't pursue the ideas, he has continued sharing his "weird hobby" with over 30,000 followers.
Sometimes the vignettes tell histories of national sites. Others are virus or mask jokes. He recently did a stretch of park ghost stories. Fictional characters like Harry Potter and Marty McFly have also made appearances. And every once in a while, "something totally weird will come across" like the chicken caper.
Gardner himself has visited 320 of the 422 national park sites, including Grand Teton and Yellowstone, which have been the subjects of several vignettes. A recent scene showed two Lego figures enjoying a pizza at what Gardner confirmed was Dornan's with the Tetons in the background.
"The Tetons are hard because the lakes are so big and the barns are so dramatic," he said.
"And it's all so big that I can't really capture it at that small scale.
"And same with Yellowstone. I do Old Faithful every once in a while and I've done other geysery stuff in the past, and this one just seemed perfect."