Former Chamber of Commerce director doesn't know where she'll go
A four-decade resident is soon losing her quarters at Aspen Meadows.
Suzanne Young learned the bad news Monday afternoon: The Meadowlark Lane studio apartment she's rented from friends at a bargain price the past four years is being put on the market.
The 74-year-old retired tourism industry professional expects that whoever buys the place will likely rent it back out at a rate she could never afford. She'd been bracing for losing the place come December and planning next steps anyway. But now Young's reality is here. And that means leaving the mountain valley she's called home for 41 years.
"Lander and Marbleton are both possibilities," Young told the News&Guide hours before learning her apartment was being listed.
Both western Wyoming communities are intriguing to her because they potentially have openings at independent living facilities tailored to seniors. But that's the extent of the draw. She knows nobody in either place.
"The heartbreak is that all the experience of everything I've learned and known about Jackson Hole through the years, I'll take it with me," Young said. "It'll just be in a town where nobody will care about it."
"We're losing institutional memory," she said, "as well as people, because of the housing."
Young said she should have seen it coming. For a stretch of her career in the 1980s she was engaged in promoting a resort community that was, at the time, economically stagnant. And her perception was that Jackson Hole was invulnerable to becoming too popular and pricey for its own good.
"I thought that Jackson Hole would be protected by its location because it was so remote and so distanced from any metropolitan area," Young said.
But life here became more doable with the advent of the computer and internet, which made remote work easier. And the growth of Jackson Hole Airport's enterprise — which sprung from two direct destinations to nearly 20 in Young's time in the valley — made it easier yet, she said.
"I think a lot of it," Young said, "is because people can get here."
Young stopped in Jackson Hole in 1980 while mulling a job possibility that would have taken her from Michigan to California, and she fell for the small-town life.
"I just loved Jackson," she said.
After an initial stint waiting tables at the old Camp Creek Inn while living at the Broken Arrow Ranch, she found quick success in Jackson Hole professional circles. By 1984 she was directing the Travel and Tourism Bureau of the Jackson Hole Chamber of Commerce. Then she directed the whole organization. But her career was also diverse and ambitious, and her engagement in the community spanned well outside of where she earned her paycheck. Young was a very early board member of the Community Foundation of Jackson Hole, one of five boards she sat on over the years. She helped launch Old Bill's Fun Run, which set a national benchmark for charitable fundraising events.
With her history of directing large organizations, Young was named as the interim administrator of the town of Jackson in 1995.
Those successes enabled Young to afford Jackson Hole, and she owned and lived out of a three-bedroom townhouse in Rafter J Ranch. But in 2006 she sold the abode, anticipating departing the valley for a job that didn't materialize.
"It was just before the downturn, so I thought it was smart," Young said. "But as it's turned out, it's been a disaster."
For a time, renting was fine. She lived in a modest cabin on a longtime South Park family's land for nearly a decade but then found herself pushed out.
"They were very wonderful until they caught on that they could get a lot more for the place," Young said.
Some friends, Carol and Dean Lewis, got Young out of a bind, renting her the Aspen Meadows studio: "I would have left four years ago if they hadn't helped me."
Young's plan was to stay in the studio for a month, but she never found an alternative.
The former chamber director's prospects for staying in Jackson are bleak. She says she's buried on the list to get an affordable, independent living apartment at Pioneer Homestead, with 55 people ahead of her. Although she still has money in the bank, her proceeds from her townhome are depleted, and banks won't give her a mortgage because of a lack of income.
With a memory that comes and goes, Young says working is no longer practical, which eliminates the option of workforce housing.
"I can't hold a job anymore," she said. "My mind isn't there."
The listing agent on Young's rental studio is Steve Duerr, who coincidentally succeeded her in leading the Jackson Hole Chamber of Commerce.
With Monday's news that she may be out of her apartment well before winter, she's coming to terms with the reality that she might not land an independent living apartment in her ideal alternative to Jackson, like Marbleton or Lander.
"I guess I better step up and find anything I can find that has a vacancy, instead of worrying about finding something at high altitude that I would like," Young said. "I just need to get going  while I still have half a mind."
St. John's X-ray tech begrudgingly calls his Tacoma home
A former U.S. Marine left town and came back but is not so hot on the vagabond life.
Jason Fabian's affinity for working at a small, mountain town hospital compelled him to take his old job back, even though he didn't have a place to live.
An X-ray technician at St. John's Health, the 45-year-old outdoorsman departed Jackson Hole in May.
"I couldn't find any housing at all," he told the News&Guide, "and I thought that I'm not going to be a bum living out of my truck."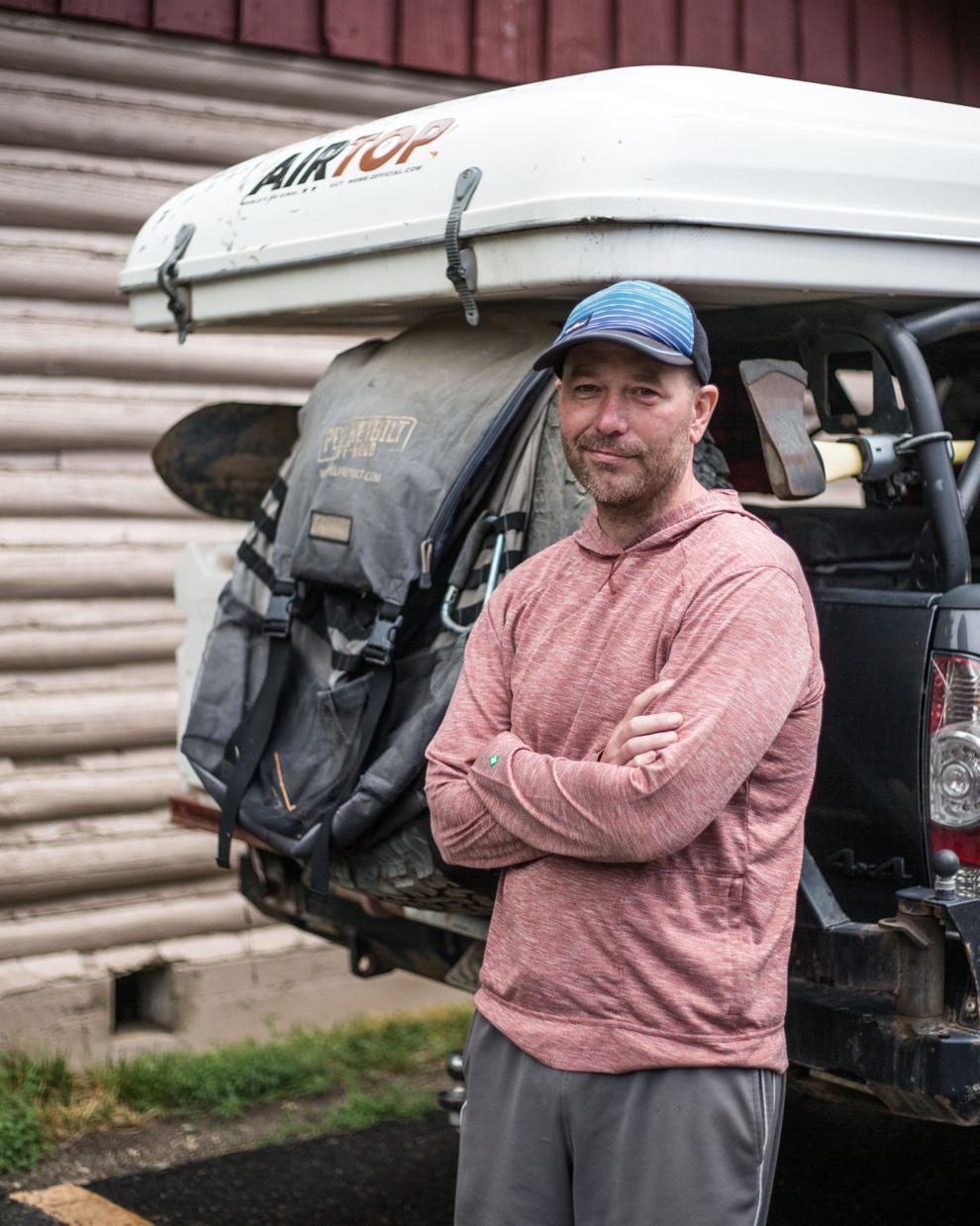 In a worker-starved health care industry, Fabian got five or six job offers in attractive places to live like Denver and Durango, Colorado, and Bend, Oregon. Ultimately he opted to give Helena, Montana, a shot.
"The hospital, I thought, would be along the same lines as St. John's, and it's only a 99-bed hospital," Fabian said. "But what I failed to recognize is that, with a lot larger population, there are a lot of different kind of patients there. There were a lot of really sick, critically sick people, and a lot of drug use."
Within two weeks he yearned for his old job at St. John's and was intrigued to learn that it hadn't been filled. Fabian was honest with his supervisor, telling her that he still hadn't found housing and would be a vagabond living out of his truck until he could find a roof to lay his head under. The boss at the hospital was "a little hesitant" about hiring back a guy who was admittedly homeless but gave him his old job back anyway.
"They're so low on staffing and have such high turnover," Fabian said. "They've never had higher turnover than they do right now because of the lack of housing."
Fabian took advantage of his employer's desperation. He's been back at St. John's for about a month, resuming a job that he worked and enjoyed for just shy of two years. That also means, for the first time in his life, he's homeless.
"I've lived out of my truck for a month at a time before, but that was a multistate camping, fishing, exploration kind of vacation," Fabian said.
Life on days off during summer are pleasant enough. He generally stakes out a spot on the Bridger-Teton National Forest to park the Tacoma, which is outfitted with a tent pad that rises over the bed and cab. But erecting that tent is a no-no in the town of Jackson.
"On nights that I work, it's hard," Fabian said. "I've got to be really careful about where I park, and I can't put up my rooftop tent because I'll get a knock from the cops at 1 in the morning telling me I can't be there."
Making it out onto the forest after a long workday isn't always practical, and so Fabian curls up on his backseat. Invariably the sleep those nights is crummy, and they happen in succession because of his three-days-on, four-off schedule.
Fabian's path to becoming an X-ray technician sprang from not knowing what to do after being enlisted for six years in the U.S. Marine Corps. He really had no professional plan and took a job working as a security guard at a "crazy, really busy" level-one trauma center with 900 beds in Tucson, Arizona.
"I wound up making friends with the lady that worked in the X-ray room," he said. "As I hung out with her and watched what she did, I thought, 'That's a really cool job.'"
Shortly thereafter, Fabian enrolled in a local community college that would give him the accreditations needed to run an X-ray machine. After graduating he returned to the same hospital where he worked and was inspired as a security guard, then stuck around as a technician for six years. Another trauma center technician job in Colorado Springs, Colorado, followed, then an opportunity at an orthopedic clinic in Vail, Colorado.
Fabian loved mountain life in a ski resort community, but not the monotony of the job. Dealing with nothing but outpatient X-rays of hurt shoulders, wrists and knees grew stale. He sought a more varied hospital job in the mountains but, interestingly, never even set his sights on Jackson Hole or St. John's. But Jackson's hospital posted a position on a Bozeman, Montana, job board, and Fabian applied not even knowing it.
"I think within two days I got a job offer," he said.
Fabian accepted, really liked the work and the St. John's organization and for a couple of years was able to piece together temporary housing. For six months he was able to get on his feet staying at the hospital's simple studio apartments in the former Buckrail Lodge.
"At that time, when I looked at housing, there was a little bit available," he said
Via the Jackson Hole Daily classifieds he found a room in a West Jackson townhome but was given the boot when his roommate's good friend was losing his own place. After that, home was a mother-in-law suite above an Alpine garage — digs he liked, except for the grueling commute in a gas-guzzling truck. There was also another Jackson rental, where the owner planned to double the rent. Then Fabian lucked out and was chosen by the hospital's housing committee to stay the winter for free in a guest house that was donated by a wealthy St. John's donor.
Fabian hit the housing search aggressively this spring, relying mostly on Facebook pages like Jackson Hole Long Term Housing. He got nowhere.
"It was just hard," he said. "Anything I found, by the time I contacted them, they had 30 or 40 or 50 other people already on the waitlist."
Now Fabian is biding his time while homeless, trying to sort something out for the winter. He's got a lead and a "faint possibility" of landing a three-bedroom West Jackson house come September, but in order for that to happen he has to find roommates the homeowner approves of, and even if he does, the lease would run out in May 2022.
"Then I would be back in the same situation," he said.
Now desperate, Fabian isn't ashamed to plead: "If there's any members of the community reading this that can help me out with housing, please, please, please reach out."
Twentysomething 'Zoom workers' aren't necessarily breezing by
Rents are on the verge of being prohibitive even for young remote workers bringing their coastal wages with them.
Tala Schlossberg guesses that the panorama of mountains, foothills and high prairie sprawled out in eyeshot of the deck of her East Gros Ventre Butte rental is probably the nicest at-home view she'll ever be able to afford.
Schlossberg shares a room in a three-bed log home with her boyfriend, Thomas Ferguson, and they rent out two other rooms to make the $6,200 rent manageable. Traditional Jackson Hole twentysomethings stringing together seasonal work in their first few years out of college they are not. Both have done quite well for themselves professionally and financially. Schlossberg, at 23, produces animated, visual stories for the opinion team at one of the world's largest media companies. Ferguson, 24, works in big tech, designing computer processors for a multinational corporation that's based in the San Francisco Bay area.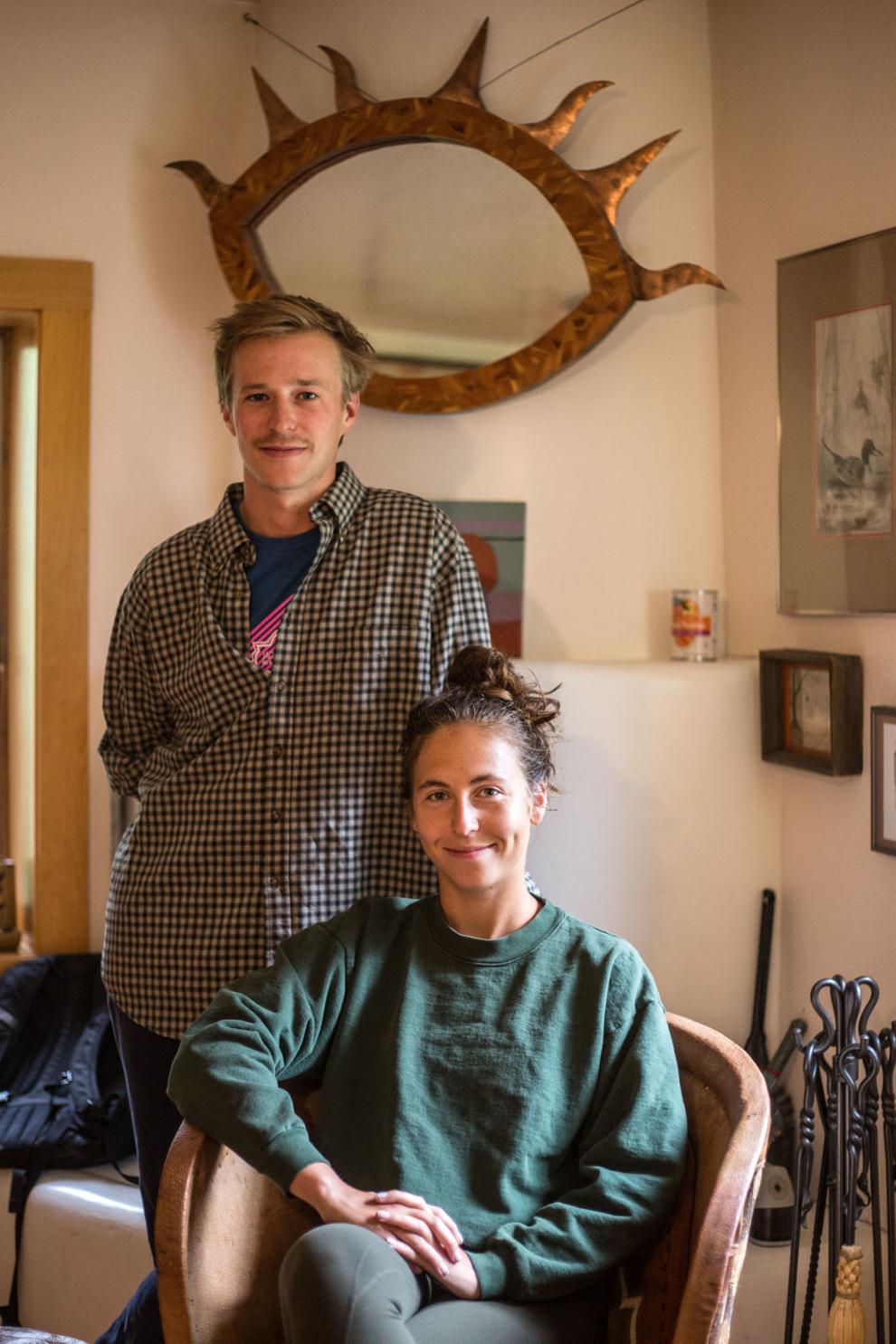 There's a caricature of "Zoom workers" invading the West: People flush with cash who packed their bags from big cities during the height of the COVID-19 pandemic and besieged real estate and rental markets while displacing locals and causing economic and cultural chaos.
But even early-career coastal wage earners like Schlossberg and Ferguson don't have an easy path ahead if the goal is to carve out a longer-term life in super-pricey Jackson Hole. And so far they really like it here. On Monday afternoon both were riding a high of a weekend well spent: They backpacked into Holly and Solitude lakes in the Tetons, and later spent the Fourth of July car camping and floating along the Buffalo Fork. Yet it's unclear how long they'll be able to continue the life.
"We didn't think we were going to be able to be here this summer," Schlossberg told the News&Guide. "This is the max I can pay."
Her monthly rent, $1,550, is comparable to what she was paying in New York City. Although both say they aren't financially strained and love their current spot, their lease runs out in November and both know from experience that finding another place they can afford won't be easy.
"We've been searching for housing forever," Ferguson said. "Even being able to afford a place in Jackson doesn't guarantee you a spot."
Ferguson had ties to the area before COVID-19, landing in Jackson Hole after graduating from the University of California-Berkeley in 2019 to take an AmeriCorps post and then field instructor gig at Teton Science Schools, where he taught Spanish at the former Journeys School. He has skidded by, too, working at a ski shop and taking odd jobs and at one point living out of his truck. A two-year Peace Corps position in Peru didn't pan out because of the pandemic, and instead he spent a stint in Bend, Oregon, working in wilderness therapy.
Remote work and being offered his first "big boy job" at the tech company enabled the return to Jackson Hole.
Schlossberg's Jackson Hole tenure traces to the pandemic. After about a year of living in New York City as a video producer, she found herself on a Mexican vacation with a good friend who happened to work at Jackson Hole-based Stio.
"We almost got stuck in Mexico, and that was the day my work announced that it was going all-remote," Schlossberg said. "So I rerouted my plane ticket with my friend back to Jackson."
A planned two-week stay at her pal's place in Victor, Idaho, to avoid the chaos of the big city during COVID times turned into a "very long time." Ferguson was planning to move out of the same house the day she arrived — it's how they met — but then his own Peace Corps plans were derailed.
"We had quite the pod," Schlossberg said. "That house probably should have had, like, three people in it, but there were six of us that got trapped there."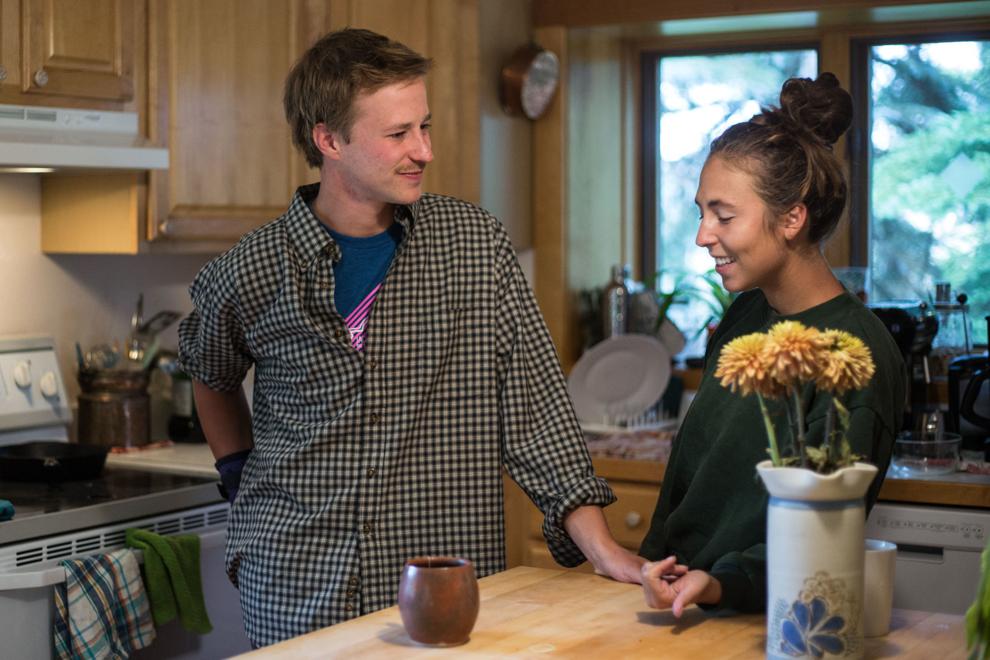 After Victor, Schlossberg found a couple of short-term places to live in Jackson, each with rent of $1,000 or more. Now she's living in at least her fourth place in two years, and though it's the nicest and most spacious yet, it's also the costliest.
Long-term living in the community, the couple are thinking, will likely mean another move over the hill.
"I can't actually imagine a world, at this point in my life, where I could afford to buy a place in Jackson," Schlossberg said. "Unless something major changes, like a lucky lottery number."
Ferguson and Schlossberg say it's their community — the people — they most value about life in Jackson Hole. Yet even though they've lived here for less than a couple of  years, they've also become accustomed to watching that fabric fray.
"All of our friends are gone," Ferguson said. "A number of people I've come to be close with, they had to leave."
It isn't easy, Schlossberg added, living in a place where the economic conditions are pushing their demographic — young people — out. Still, they're trying to carve out a niche for themselves and make the community their own.
Schlossberg is getting involved in the Art Association of Jackson Hole.
Jointly they'll also be hosting a weekly two-hour Thursday night radio show, "Thomas and Tala," which has a loose theme of the "future of podcasting." It'll feature mostly music, but also late-night sketches like "spam poetry."
"Thomas and Tala" debuts next week from 10 p.m. to midnight on 89.1 KHOL.