As "burn boss" Andy Hall crunched through piles of snow on Tuesday, the forest swirled with ash.
The sound was like an angry, hissing firecracker or the tearing of a thousand sheets of paper.
Then came the dull roar of a thunderous wind, carrying smoke so thick it blocked out the sun.
Still, this was nothing compared with a real forest fire, said Hall, a Bridger-Teton National Forest employee who is overseeing the crew of interagency firefighters setting prescribed burns 10 miles south of Wilson as part of the Teton to Snake River Fuels Reduction Project.
These intentional blazes clear brush to give fire crews a fighting chance at saving neighborhoods in the event of an erratic wildfire in the dry season.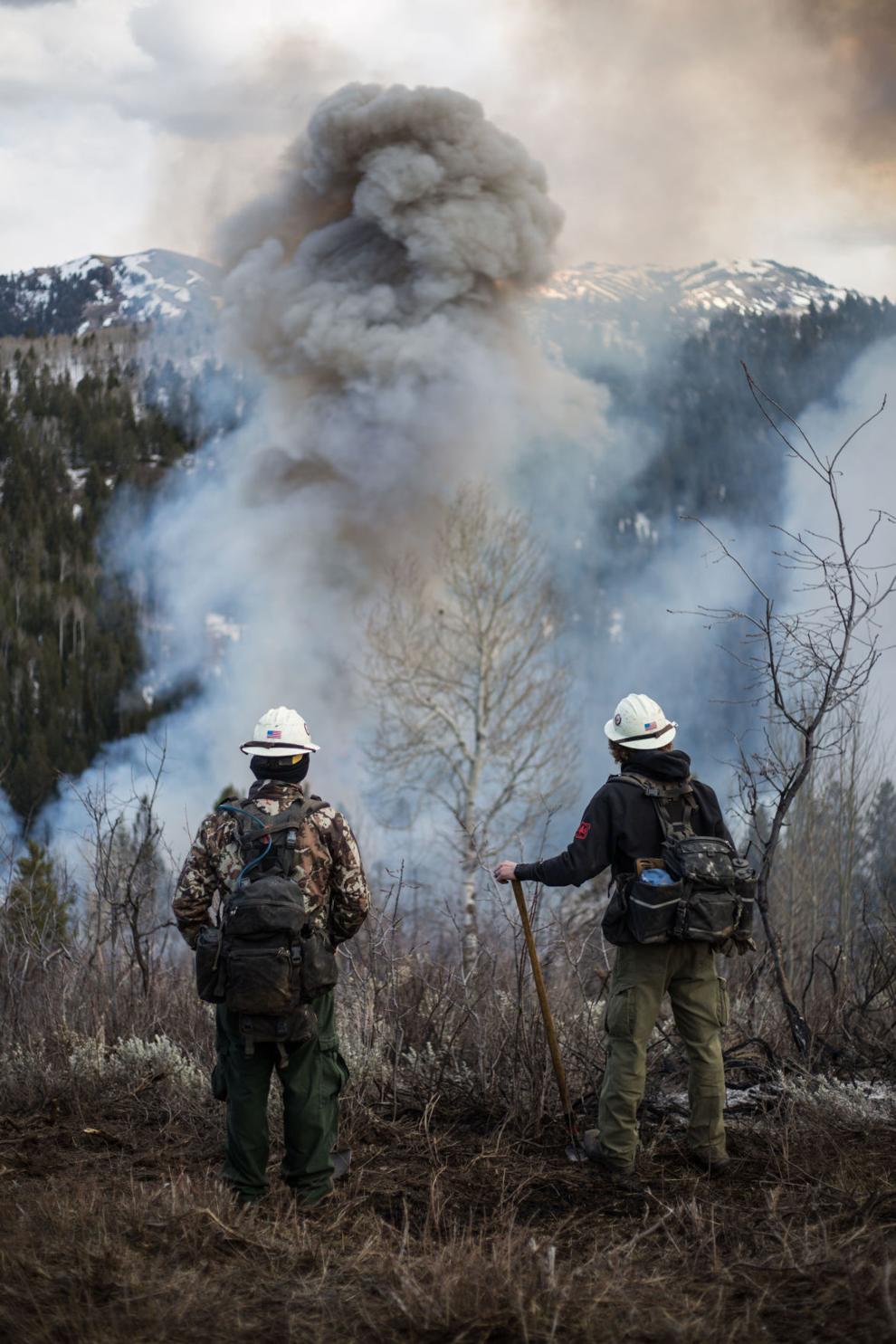 Hall has been closely monitoring weather conditions to ensure the intentional fires could be set safely.
"Favorable winds," he said, make all the difference.
Pinedale firefighter Leslie Pratt weaved her way through the undergrowth Tuesday afternoon, looking for "pockets of opportunity" where the flame from her diesel drip torch could connect.
Within seconds those pilot burns were enough to send an entire evergreen up in flames, showcasing the risk of "ladder fuels," which help fire spread from the forest floor to the canopy.
In the same field a pair of sub-alpine firs became 100-foot pillars of fire, the angry orange torrent engulfing one rung of branches at a time.
The stately torches put off waves of heat, enough to force the crew back a few steps as the fire leapt to smaller trees.
Lesley Williams Gomez, a fire prevention specialist for the Bridger-Teton National Forest, pointed to the cones in one dead lodgepole pine.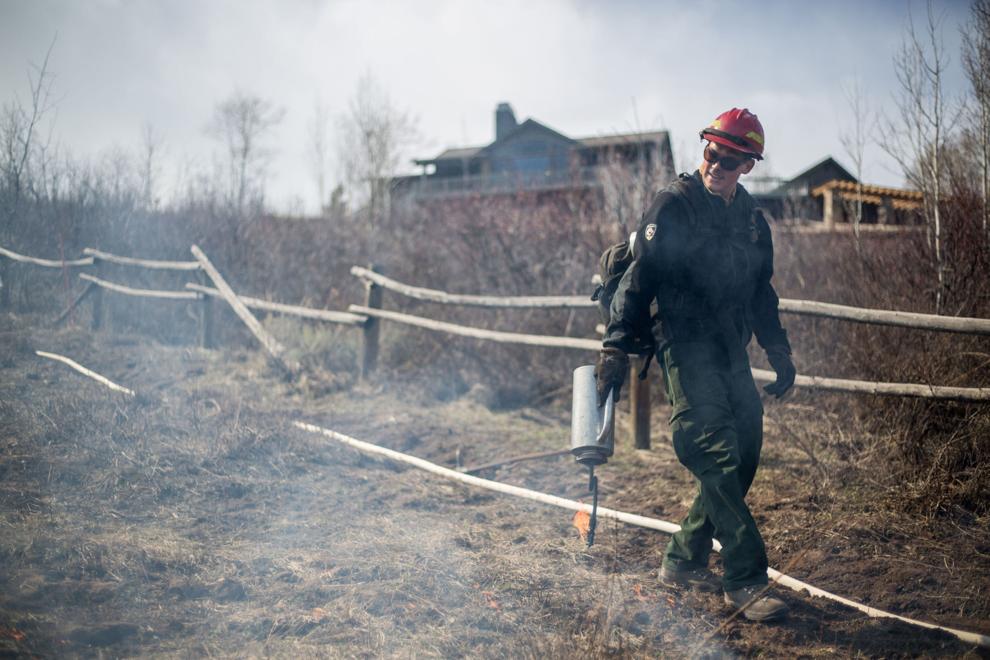 "That tree could take out a home," she said.
Closer to the houses in the Hidden Hills neighborhood, evidence of past prescribed burns is stark.
Here each pair of trees has room to breathe, and the younger aspens have clearly been prioritized.
"This wants to be an aspen grove," Hall said. "We're just helping it along."
Some homeowners were concerned prescribed burns would mean a barren forest, but that isn't the reality. Instead, fire has a rejuvenating effect, adding nutrients to the soil and encouraging new growth.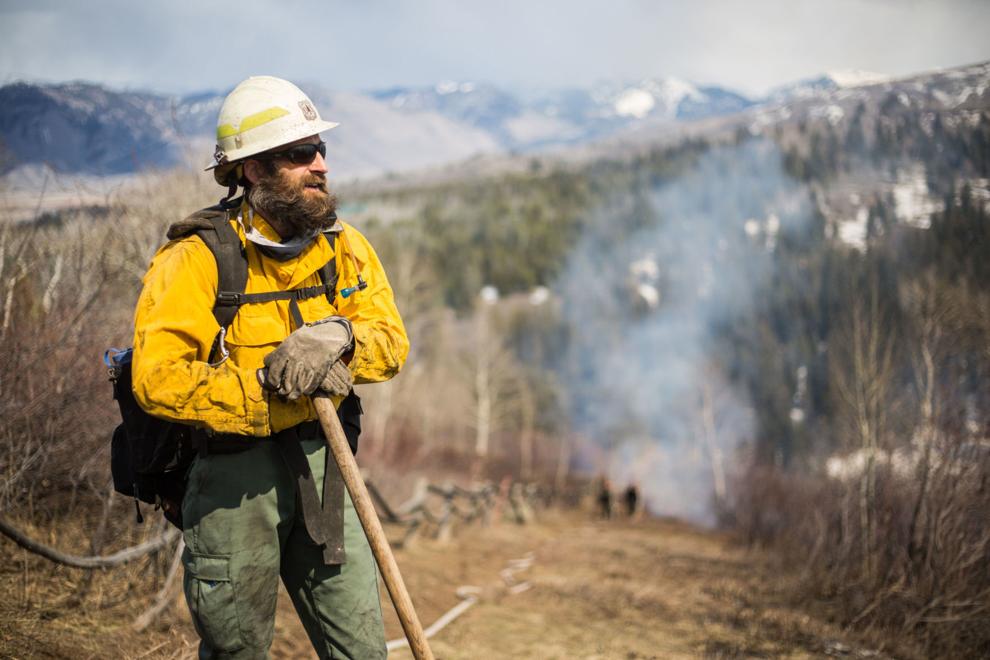 Hall said he expects a "lush" new landscape by next season.
In the meantime the cleared patches resemble a massive manicured landscaping effort, each cluster of trees freed from choking weeds.
The residents of Hidden Hills have also gotten in on the action. On "community weekends," folks have trimmed back trees and widened the dirt switchback road that winds through their development.
Combined with U.S. Forest Service efforts, these changes help ensure valley residents are prepared to survive a wildfire.
"My dream," Williams Gomez said, "is to make communities fire adapted."
That means understanding that fire is a fundamental part of forest ecosystems, but also taking steps to minimize the harm to human life and property.
Fuels reduction projects and community education are key to that mission.