A crew of outdoor enthusiasts devoted hours of labor tidying a popular shooting spot in the hope people will be more conscientious about cleanup.
"Out here racking up the mountain karma," said Liz Lynch, hunched over the ground with both hands full of brass shell casings.
Lynch, who works as an archeologist for the U.S. Forest Service, is a member of the Backcountry Hunters and Anglers club. The club frequently puts together events to clean up the land and waters valued by its members.
"We get a lot out of our experiences on public lands, so we feel it's really important to give back," said Erik Kramer, a Wyoming board member and organizer of the second annual Flat Creek Shooting Area Cleanup.
Their most recent took place Saturday on Flat Creek Road at the border of the National Elk Refuge and the Bridger-Teton National Forest. It was the first event the club has been able to put on this year due to COVID-19 restrictions, board member Ross Crandall said.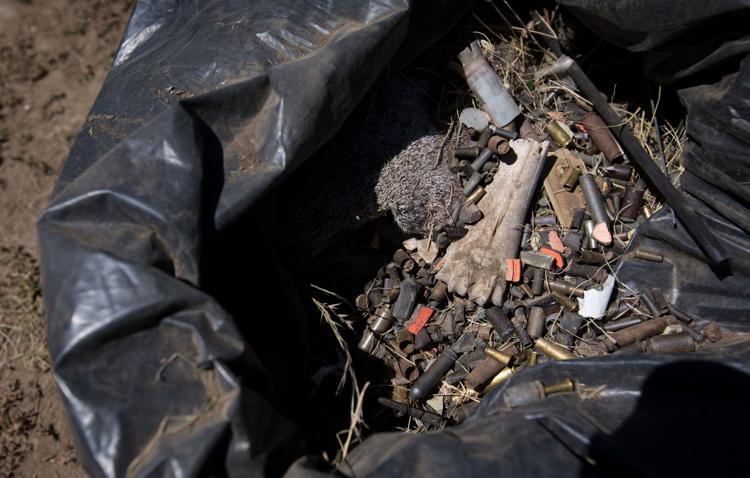 "We're extremely fortunate that we have the privilege to come out, 15 minutes from town, and be able to shoot, sight in our hunting guns and all that. We don't want to lose that privilege," Kramer said. "So it's important to leave it the way we found it."
The cleanup was a joint operation between the club and the Forest Service, helped along by the independent, nonprofit Friends of the Bridger-Teton. A volunteer for the nonprofit, Benji Sinclair, was present for the cleanup alongside Forest Service ranger Ryan Hasten and other BHA members.
Volunteer efforts are valued by national forest staffers and the people who love wild lands.
"It's upsetting to see places get trashed and campsites that are tearing up sagebrush," Sinclair said. "Illegal activity is getting more and more common just because there's more and more demand, and there aren't more rangers."
The cleanup crew was small but mighty, eight people strong. They spaced themselves apart across the area to pick up targets, shell casings, shattered glass and cigarette butts.
"Trigger trash," Jared Oakleaf, a board member from Lander, called it as he tossed a handful into a half-full heavy-duty garbage bag. A minute later he was sprawled on the ground like a Sports Illustrated model, picking up shells.
Oakleaf's dog Rhiza tagged along, her name short for Balsamorhiza sagittata, or arrowleaf balsamroot. An appropriate name for a backcountry hunter's dog since the plant is popular with elk and deer.
Tom Chambers, field representative for the Wyoming BHA regional leadership team, left Cheyenne at 3:30 a.m. to take part in the Flat Creek cleanup. He rolled up a bit grumpily because he'd overslept by an hour and a half and arrived later than he wanted.
"I don't wake up that early for a turkey hunt," Lynch said.
The volunteers hope the clear ground will exert greater pressure on future visitors to do better.
"If your brass is the only brass that's lying there, I think it holds you a bit more accountable," Oakleaf said. "Ultimately we just want people to clean up after themselves."