In addition to pool lanes and basketball hoops, the Teton County/Jackson Recreation Center now provides eggs, beans and cinnamon spice oatmeal.
Thanks to a partnership with One22 Resource Center, which took over the Jackson Cupboard last year, the Rec Center has opened a satellite pantry in its front lobby. The food is free and accessible, and One22 hopes it will point families to its other relief services such as rent assistance and youth scholarships.
One22's executive director, Sharel Lund, described the pantry as a venue for connection and community building, where organic dialogue can illuminate latent struggles.
"We can strike up conversations about 'What are you gonna cook tonight?' And then the next thing you know it's leading to a conversation about what they used to eat at home, or how they have an opportunity to cook for their neighbor, and that's just as important as the food itself," she told the News&Guide.
Most of those meetings happen at the nonprofit's 245 N. Glenwood St. headquarters, which offers families a comprehensive menu of meat, milk, non-perishables and a surprising repertoire of fruits and vegetables. The oatmeal cookies are also a client favorite.
So why open a satellite location? For one, the Rec Center is open more hours, including weekends. It also meets people at a place they're already going.
Ideally that location will serve as a pilot and guiding light as One22 looks to expand into Wilson, over the pass and south of town. Another goal is to move beyond food and provide more sustainable, holistic care for families in need.
"We can hand out food all day long. But that's not really moving the needle," Lund said. "We want people to make economic decisions that are healthy for their families and for themselves."
The director said the same of rent assistance checks. Emergency federal assistance and Jackson philanthropists poured capital into the relief program, but ultimately, "just handing out a rent check... isn't really changing the situation," Lund said.
As a more sustainable solution the Resource Center is trying to coach people toward self-reliance, starting by helping people understand and balance their budgets.
"No matter how awful the situation is, it's worse in the dark," Lund said.
The staff recognizes that not everyone who comes for meal prep will be ready to take that next step, but it's important to the center that people at least know resources are available. During the pandemic, One22 served as a point of connection — a community amid isolation — and it's hopeful that bond endures.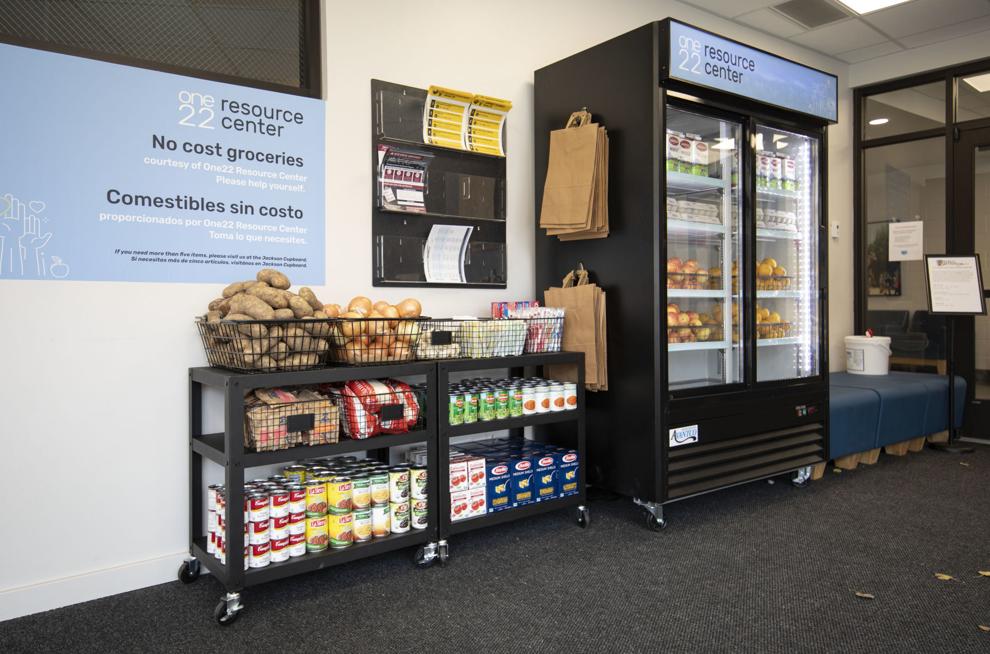 "We just want to help people who are ready to take a hard look at things do so with some education and some support," Lund said.
One22 is driven by about 40 volunteers and 20 staff members, some of whom are trained in trauma-informed care and financial education.
Client service specialist T.C. Heydon is helping ensure the new Rec Center pantry remains fully stocked, and he hopes the extra hours will benefit working families.
"There's always a question of people being willing to access a resource like that," he said, "But I think it can be a helpful tool for anyone, from someone who has nothing at all food-wise at home and maybe just lost their job… to people who are using it as a budgeting tool to go back to school, or something along those lines, to make ends meet.
"Here in Jackson, it's not inexpensive to live," he said.
As Heydon loaded oat milk, eggs and frozen pork roast into a shopping cart for a local family, he checked the items off their shopping list one-by-one, like a grocery delivery worker. The new streamlined ordering system was introduced to keep things safe during the pandemic.
There's no qualifying benchmark to obtain One22's no-cost groceries. They don't ask personal questions, other than "do you have a can opener?"
"It's important that people don't feel like they have to prove anything to ask for food," Lund said. "I think that's a critical part of reducing stigma."