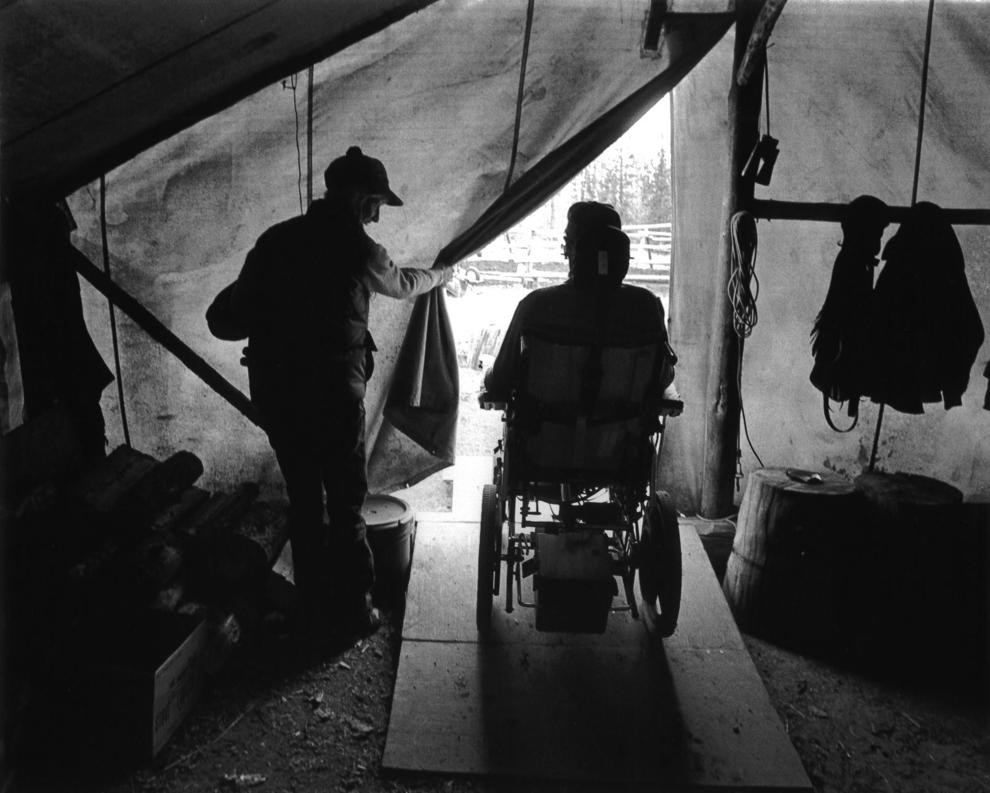 Galloway Clover broke his neck and went back to work, trading a horse for a wheelchair.
But people who knew him say he couldn't do the same with his heart.
Clover died July 14 at age 63. The son of a hunting guide, the brother of a hunting guide and later the father of a hunting guide, Clover continued to work his backcountry camp near Spread Creek every fall after the DUI crash that crippled him 27 years ago. But he was dead 19 days after his son died.
Galloway Morris Clover was found at home, sitting in his wheelchair; his son with Tanna Jones, Galloway Cheston Clover, 37, died in his sleep on June 25. Neither death has been given a precise explanation.
It sounds melodramatic, hokey, but his sister sincerely believes this about the death of her brother:
"We think Galloway died of a broken heart," Ceci Clover said. "It was a catastrophic loss for Galloway," she said of how her brother felt about the passing of his son. "He was crushed. It's his only child."
Galloway's longtime girlfriend and coworker Martha Preston didn't know if "broken heart" was a real cause of death, but agreed that "he was surely all tore up."
But if Clover's heart was broken by his son's death, it endured a lot in the years after the night he was injured.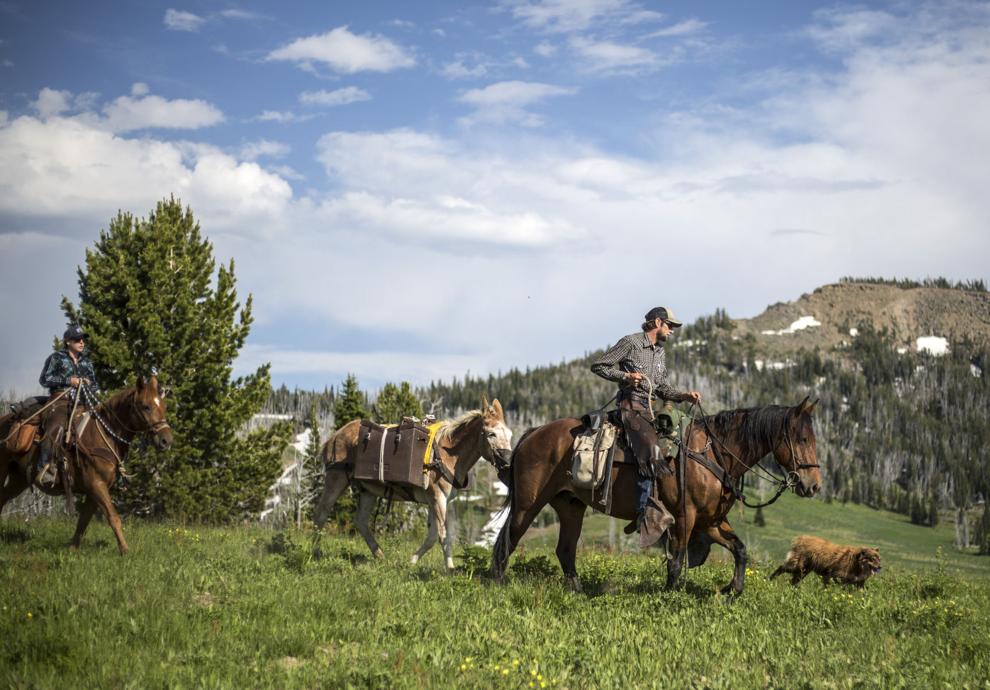 In March 1994 Clover left a luau at the Elkhorn Bar in Bondurant but drove only a couple hundred yards before he rolled his old Subaru. Friends found him, including fellow outfitter Paul Crittenden, who knelt in the snow wearing a grass skirt, reaching through the car window to hold Galloway's head steady. The wreck was discovered about 1 a.m., and Hoback Junction volunteer firefighters — in bed asleep 24 miles away — took 90 minutes to get there and another hour to cut Clover out of the car.
Clover later recalled that he forgot his seatbelt and was distracted as he fastened it as he drove. After the crash he reached from his upside-down position and turned the car key to stop the engine, then shut off the headlights. After that he passed out. He came around in the hospital in Jackson mostly paralyzed, a machine doing his breathing. He was 36. His son was 9 that night.
The change in Clover's life was remarkable not just for the effect but for the suddenness of it.
"It's easy to break your neck, it really is," Clover said a few months later. "And it makes you realize your insignificance as a human being."
Galloway Clover was born Oct. 22, 1957, in Jackson. His dad George had been the oldest of seven kids who took the lead after his own father died in a mining accident. George served in the Pacific during World War II and came to Jackson after, worked his way up to foreman at the White Grass Ranch. There he met Elise Morris, a girl from the Main Line in Philadelphia who took a summer job cleaning cabins at the dude ranch. They married in 1955.
Galloway graduated from Jackson Hole High School. He worked as a carpenter and guide, but after the crash was obviously looking at a big change: No more leading hunters into the Teton Wilderness along the south border of Yellowstone National Park, where he "lived half the year in a tent."
But by the October after the accident he was back in the hunting camp that was Wilderness Trails Outfitters, joking that "I'm now officially management." He laughed about how his appearance in the motor wheelchair spooked the horses but he fretted about the future and depending on others. He admitted it was nice not to be expected to rise with the sun and start the day breaking ice, but couldn't rid himself of the feeling that "I want to get out there and do things."
Still, he and his brother Tom and Preston kept the hunting and camping business operating. The Clovers' father had held the permits since 1954, and they were valuable; there were plenty of customers from tamer parts of the country who wanted to go into one of America's last wildernesses and kill an elk.
But Galloway had to stay in camp.
"I never wanted to do anything but be an outfitter," he said then, "but it's crossed my mind I may have to do something else.
"It's an able-bodied man's game" that "can turn ugly and brutal in a minute," Clover said. "You can't be physically lacking and take somebody back in the woods."
"Most people never would have gone on with this life, but he did," brother Tom said this week. "He kept up the best he could and made the best of what he had, and that was no easy task."
"He loved Yellowstone park and the backcountry," Preston said. "He loved horses and dogs."
Clover regained some movement, didn't rely on people for every need, could feed himself, use a computer, finally "had more upper body strength than you and I together," his sister said. Still, his movement was awkward, and when he once had some trouble feeding himself complained that "it's like my hands are painted on."
Preston remembered that he worked his therapy hard, swimming, using a wheeled contraption that held him up so he could do a kind of walking. He broke a sweat, she said. He was working out just hours before he died.
Clover even hoped initially he might walk again. But he knew from the start that every day that passed reduced the chance of any more recovery. That's the way it works with a spinal cord injury.
He did everything he could and didn't care for the way some people acted around him, the "poor guy" treatment.
"There's really nothing wrong with me," he said once. "All I did was break my neck."
"He just never gave up," Ceci Clover said this week. "He lived with a lot of grace and good humor. People have no idea what people in a wheelchair have to deal with, but 90% of the time he was happy and funny."
"He was very resilient, amazingly so," Preston said. "It would have been so easy for him to give up, and he didn't. ... He was gonna by God walk again if he could, and if it didn't ever happen he was going to do whatever it took to be as healthy as he could."
She called him "an outstanding being in this world."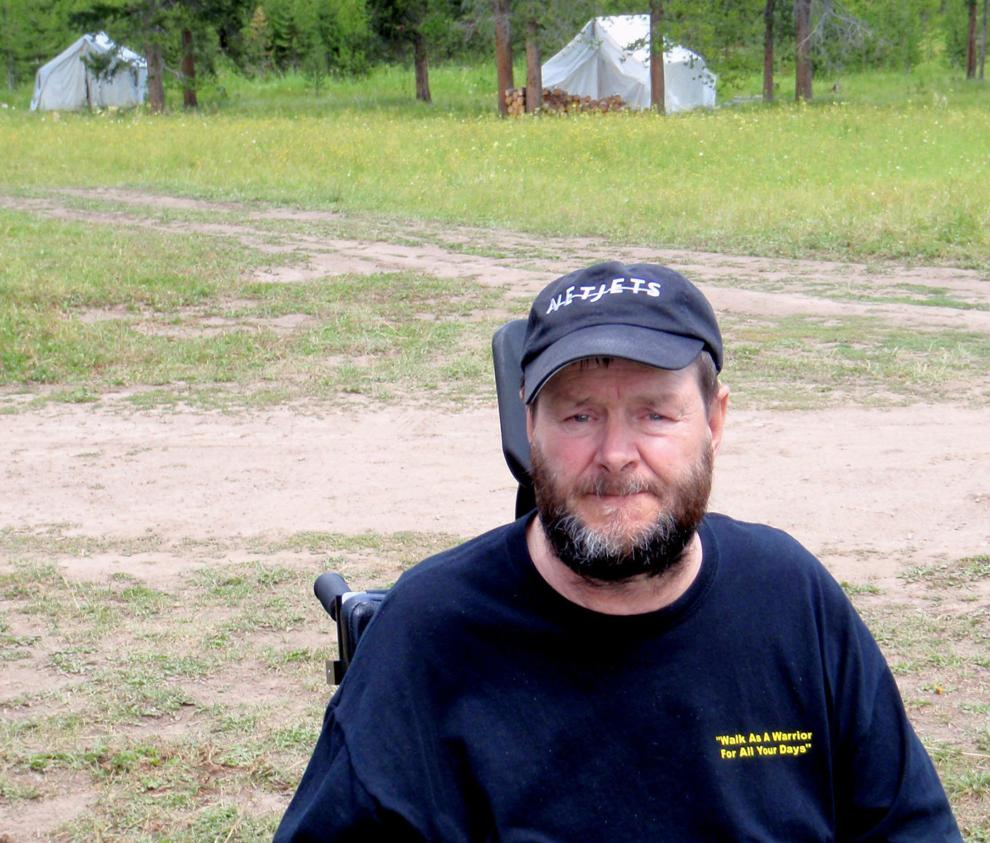 The day before he died, Preston said, Galloway was on the phone ordering hardware for camp repairs, hay for horses, "looking forward to life."
Clover had accepted what had happened and got on with it: "There's no going back," he said. "And I can't give up. I'm not that kind of guy."
People often don't know what to say when someone they know dies. But Clover could have been writing his own eulogy just a few months after he came close to dying but didn't, and with plenty of living yet to come.
"I've had a good life," he said. "Things men only dream of, I've done."