When Nick Bochicchio died at the start of summer, his passing left a family and community shattered.
The 42-year-old Creekside Deli and Market owner was known as a local business owner who reliably served his fellow Jacksonites, day after day with not just fresh sandwiches but also warmth and a smile. Shortly after he died on June 28, his wife and children faced another potential loss: their housing, due to an inability to keep up with mounting rent prices.
Unaware of the pressures facing the Bochicchio family, Todd and Kate Kosharek were preparing to sell their Melody Ranch home. Property photos had been taken and Sotheby's realtor Andrew Marshal had started negotiating the listing.
But when the family told a few neighbors about their plans, they twice heard the same idea: Why not sell the house to Sarah Bochicchio and her two young children?
The families weren't close friends, but on her first walkthrough of the home, Sarah Bochicchio and Todd Kosharek cried together. In the two emotional months since, the pair have negotiated a private sale (Marshal agreed to step aside to allow a sale by owner).
Thanks to a GoFundMe set up in Nick's honor, his family could afford the down payment.
"It is such a beautiful story," Sarah Bochicchio said. "Todd and Kate are amazing people, and I am so grateful to them."
Kosharek also worked with the county housing department to keep the home permanently deed-restricted for Jackson workers.
The Koshareks had purchased the home as an "attainable" property, which meant some price controls were in place to make it more affordable to workers in the valley.
But it was among a class of homes with a sunset clause. Such clauses represent an earlier era of Teton County housing programs — when housing was tight but not as tight as it is today — that lifted deed restrictions after homeowners owned a property for a significant period of time, putting homes on the free market where sale prices can go as high as the market allows.
As part of their sale to Bochicchio, instead of capitalizing on the free market, the Koshareks put the home back in the housing program where some price controls will remain.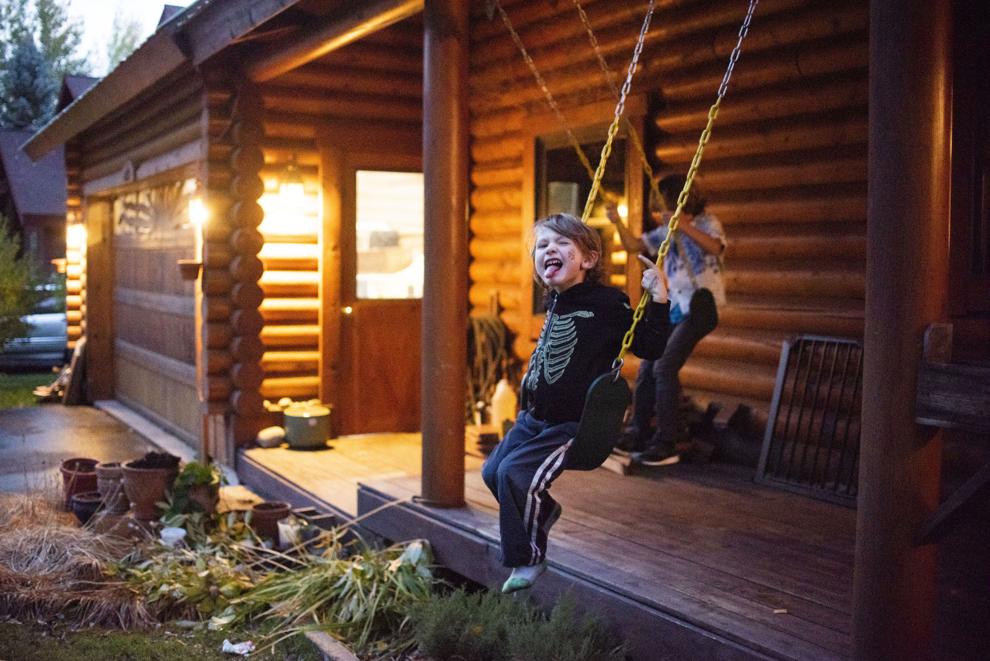 It's not a mansion, Kosharek said, but the log cabin sits in one of the valley's best neighborhoods — one that has supported his family for the past five years.
"When we moved into Melody, my joke to my wife was: Did we move to Melody or the 80s? Because that's what it feels like; it's kids bicycling everywhere, and everyone says hello."
On the front porch, there are a pair of swings, perfectly sized for Bochicchio's two boys Nate, 9, and Nick, 13 — swings where Weston and Elliot Kosharek (8 and 5) have pumped their legs and taken in the fresh air.
There's also a bench swing where one family, and now another, can lean close together and look out at the foliage.
In some ways, it is bittersweet that the two families have become friends just as one is preparing to move away, but the comfort of a home will forever connect them.
"The Koshareks' generosity provides the boys and me with stability and security as we begin our next chapter," Bochicchio said. "It has given me the opportunity to raise my boys in the community that has meant so much to my husband and me. But it is so much more than a house.
"Todd, Kate and their boys have gone so far above and beyond what would be expected in selling a home and have become family friends."
"Their friendship and open hearts have brought light and positivity to a difficult time for us. While we're still grieving, the house is a constant reminder of the kindness, love and support from so many people in this amazing community who made owning a home possible for us."
Kosharek said the entire process revealed anew the generosity of Jackson at a time when many are skeptical and pessimistic about its future.
As his family returns to their Midwest roots, he asked that residents see through the negativity to the beating heart of a close-knit community that still exists here.
"I ask you do everything to protect it ... because that is what community does," he said.