Jimmy Chin didn't have to wait long for the next wave of accolades following his Oscar win, and the most current one comes a little closer to home.
Chin received the Murie Spirit of Conservation Award on Aug. 13, recognition from the community that watched as he grew from unknown climbing dirtbag to international filmmaker.
"The recognition from this community is very moving," Chin said. "I'm just very honored that they recognize my work as contributing to the bigger cause of preserving places we all love."
The filmmaker is best known for his pair of climbing documentaries. "Meru" follows Chin and fellow alpinists Conrad Anker and Renan Ozturk as they attempt the Shark's Fin route on Meru Peak in the Himalayas. The oft-tried route had never been successfully climbed, and the three climbers faced significant adversity during the trip, most notably Ozturk, who sustained a "mini-stroke" on the climb, probably due to injuries from a ski accident just months before.
Chin and his filmmaking partner, his wife, Elizabeth Chai Vasarhelyi, vaulted to national prominence with "Free Solo," which follows Alex Honnold as he trains for and successfully climbs El Capitan in Yosemite National Park without ropes. The duo won the Academy Award for Best Documentary Feature for the movie by telling the story of Honnold, and the film crew, wrestling with the climb and the potentially devastating consequences of a fall.
"We're not sensationalists," Chin said. "We're very restrained in how we tell the story."
In receiving the Spirit of Conservation Award, Chin joins luminaries like Bert Raynes and former Secretary of the Interior Sally Jewell. But in light of the overt preservation work of past recipients, does outdoor filmmaking qualify as conservation?
"I get kind of frustrated when I hear that question," Teton Science Schools Executive Director Chris Agnew told the News&Guide. "We see on the world's largest stages Jimmy advocating for the protection of public lands and helping people build emotional connection to wild places."
Teton Science Schools hosts the award ceremony, and a committee that includes many of the school's representatives chooses the awardee. Agnew, as the organization's leader, introduced Chin at the awards celebration at the Murie Ranch.
He told a story of his father-in-law, a lawyer in California whose chosen outdoor activity is golf. On the surface, Agnew's father-in-law isn't the epitome of conservationist. However, he has seen "Meru" six times, Agnew said, and from afar has studied the intricacies of protection and tourism in the Himalayas.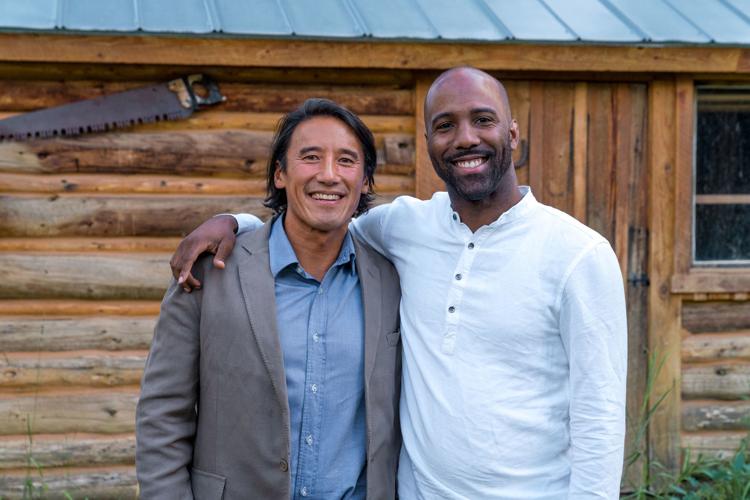 That kind of impact creates what one may call armchair conservationists, people who are passionate about protecting natural areas but may never visit green spaces except the ones close to their houses. Likening Chin to Mardy Murie, whose writings raised awareness of what became the Arctic National Wildlife Refuge, Agnew said people who use their chosen medium to show others the wonders of the world have a crucial impact.
Agnew argued that people like Murie might be seen as conservationists because of the passage of time and that those working now deserve to be recognized.
"Ansel Adams was a photographer," he said, "and is there any question about his role as a conservationist?"
Using his work as a catalyst for conservation isn't lost on Chin, who understands, like Murie or Adams, that people often need an emotional connection to a place, even if it's not a physical one, to feel it should be protected.
"I always hoped my work got people out to these places and inspired them," Chin said. "People will always protect what they love."
Though Chin was the top awardee at the celebration, another outdoor leader was also honored. As the Spirit of Conservation recipient, Chin chose the Rising Leader award beneficiary, CJ Goulding.
Goulding has been an educator and leader across the county, including participating in the 2011 National Park Service Academy, a partnership between the Park Service, the Grand Teton National Park Foundation and Teton Science Schools that provides young people training and puts them in internships. The academy is designed to "enhance professional and organizational excellence in the next century by recruiting and retaining a workforce that reflects the diversity of the nation," according to the Park Service's website.
Goulding now works for the Children and Nature Network, which trains leaders and helps them implement programs in their hometowns that connect kids to nature. Though Goulding doesn't love being in front of people singing his praises, he sees it as recognition his work is important.
"It means that people who are in my corner or have seen my work think that it is good work," he said. "It's a reminder of how beneficial it is."
Chin said he saw Goulding's work as vital to the success of the outdoor world and the conservation movement. Helping communities that often do not connect with the natural world — or have the opportunity to — will inevitably increase the number of people who care about wild places. That expansion improves the lives of individuals and "moves the needle" for conservation, Chin said.
Goulding was quick to deflect some of the acclaim, saying that as part of a larger network and having participated in programs like those offered by the Children and Nature Network and Teton Science Schools, he had built his success on the work and support of others. During his acceptance speech he brought Park Service interns onstage with him to show that he wasn't a lone star in the conservation world.
"It's kind of like the Oscars, with one person accepting the award for the work of a lot of people," Goulding told the News&Guide. "I'm expressing the hope that people would use their influence to uplift multiple stars to make beautiful constellations."