Have you ever seen a grown woman ride a tricycle made for a kindergartner?
The entire student body at Jackson Elementary School got to see that not just once, but three times Monday at an assembly. Principal Tracy Poduska pitted herself against six kids in races that were a prize for a successful schoolwide push to decrease the number of tardy students.
"We have been trying to incentivize good attendance," she said, "and also getting to school on time."
Poduska's school had an 8.43% tardy rate for the 2018-19 school year. Traffic congestion, parents being late and kids having to walk because they live too close to take the bus were deemed factors in why students are late to school. But rather than trying to tackle each individual issue, the principal and her staff simply tried to make coming to school on time more enjoyable.
Administrators started the "On-Time Challenge" three weeks before Thanksgiving. It had 13 school days in total, and they told the kids that if on more than half the days (so at least seven) 98% of kids were on time, they could have the assembly.
"That was only five kids who could be late each day," Poduska told the students at the assembly.
Kids who arrived early to school in previous years had to eat breakfast inside or play outside with teacher supervision. This year kids can also choose to play games or talk with their friends inside, which Poduska thinks makes coming to school early more appealing.
You might be wondering how the tricycle races factor in. Students who were on time every day during the challenge were eligible to have their name drawn for the chance to race. In the end 240 kids were on time every day, out of about 270 students at the school, and one kid from each grade was selected.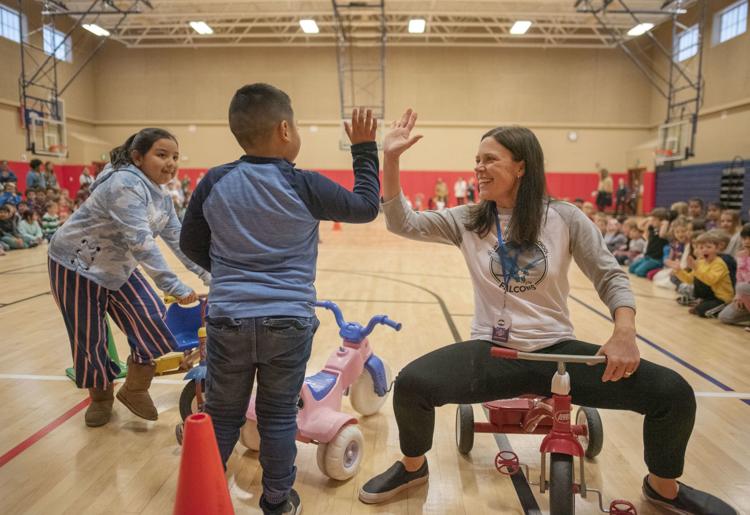 In the first race, fifth grader Odin Casey and fourth grader Leila Paine took Poduska to task, though she did pick the trike with a flat tire. Poduska had a spectacular front wheelie on the flat before deciding to just kick her way through the course.
Third grader Sidney Arostico and second grader Luis Navarro went next, and first grader Payton Miles and kindergartner Melissa Montes Briones were the final competitors with Poduska. The student body cheered in unison as a kid pulled out the victory in each race.
Silliness aside — and there was plenty of it Monday — the On-Time Challenge was designed to improve students' educational experience. Being late takes valuable time out of a student's day, and Poduska said it can be stressful for late kids.
"The first few minutes of our day is when our classroom community comes together for the day to do circles and ask, 'How's the day going, what are you excited about?'" she said. "When student comes in late they miss that."
Poduska said the challenge was an overwhelming success. Most of the days were 96% or above, and even the worst day (94%) outstripped last year's 91.57% mark, so Poduska told the students that when they return from winter break the school will start a winter campaign.
She and her staff hope that continuing the challenges and helping kids build successful morning routines will instill a sense of timeliness on the students.
"We want kids to want be here on time," she said. "The other piece is we want you to be the best learner you can be."