A well-known mural on four sheets of plywood missing for close to 20 years has turned up, neatly crated and good as new, its owner says.
But the return of the painting doesn't answer all questions.
The Roy Kerswill-created art — 8 feet by 16 feet when assembled — decorated the lobby of The Alpenhof Lodge in Teton Village for years, but during a 2001 remodeling it was taken down. Intended to go into storage, the art went into limbo instead.
Alpenhof owner Ed Cunningham lost track of the mural during his 2001 remodeling; it "wasn't a high priority" back then because "we weren't planning on putting it back up," he said in 2019. But he'd decided after years to find the mural. He had no luck until a phone call last week.
It was good fortune that Cunningham got his painting back, but he's less happy with the cost: He paid a $4,560 "storage fee" to have it returned and felt it was a bit of a hold-up.
But David Nalley, who had the mural for 19 years in his warehouse, said the storage fee story is legit — $20 a month was the deal, probably for a couple of months. It wasn't his fault The Alpenhof couldn't keep track of the art: "There's no money chasing on this end," he said.
The mural was commissioned in 1966 by the late Dietrich Oberreit, the builder and longtime operator of The Alpenhof, the first hotel at Teton Village. Kerswill, born an Englishman, a Western-style artist by choice and a natural character, was the friend Oberreit hired to do the work.
Kerswill painted a sprawling scene with the Tetons looming in the background, an Indian shaman cross-legged in the center foreground and trappers and cowboys on horseback behind him. Oberreit and his wife, Annaliese, in '60s-style ski outfits, were rendered small in one corner, boards in hand. The mural hung in the lobby for 24 years, including 12 after Cunningham bought the lodge in 1988, and came to be associated with the place.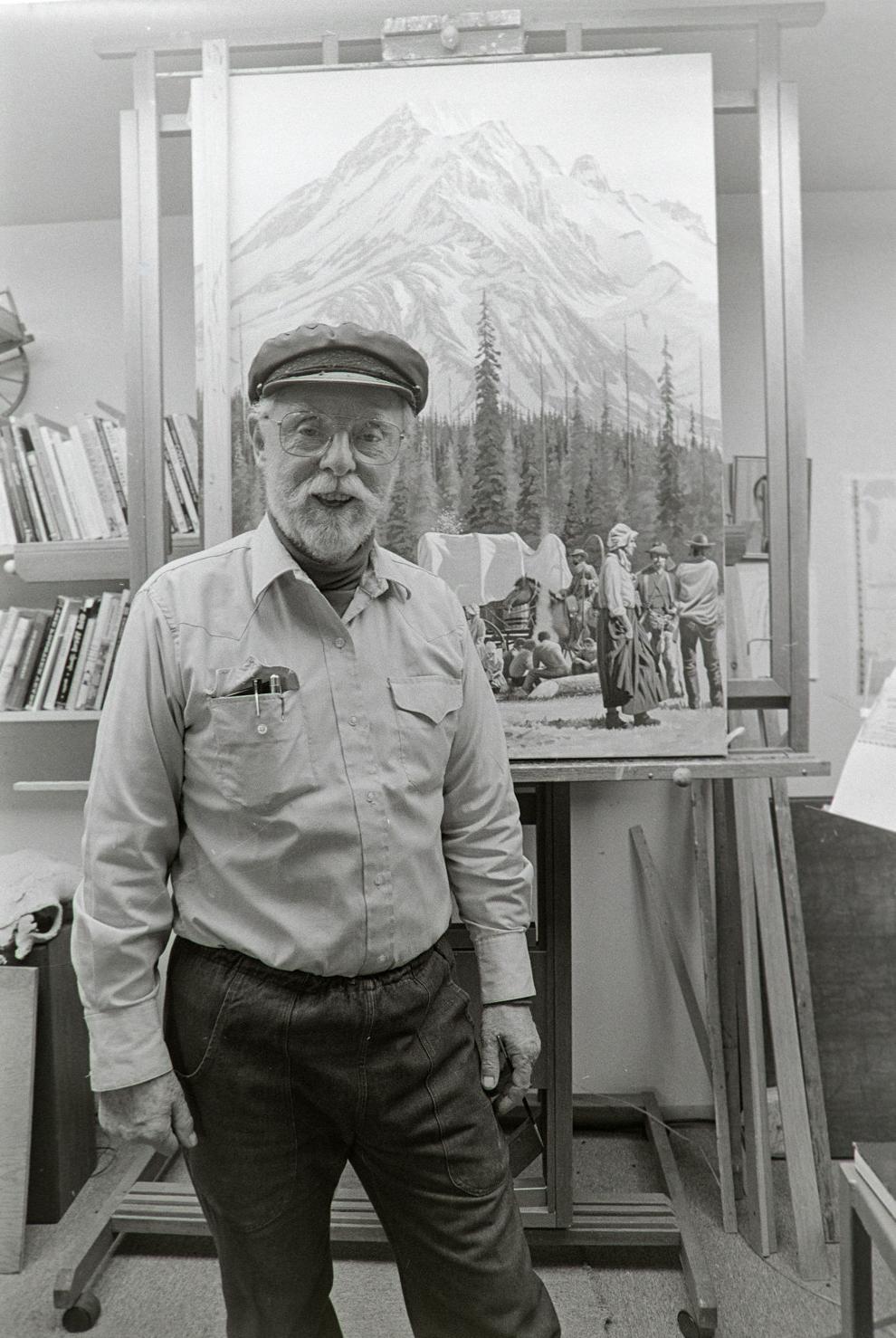 But Cunningham aimed for an Alpine look and decided during the remodeling that the mural, called "Let There Be Peace In This Land," would have to find a new home. It was, he vaguely remembered, to be taken to a Jackson gallery for storage and perhaps some touch-up repair.
But then it was gone, lost in the confusion.
Nalley, longtime owner of Nalley's Steamway, cleaned the carpets at the Alpenhof for years. He said that Oberreit, who died in March 2019, asked him about storing the mural and that sometime soon after it turned up at his business, south of town. He said it was delivered by Marv Wendl, owner of Crate N Freight, who boxes and ships art for Jackson galleries. Nalley said he pushed the crate out of the way and didn't think about it.
Nalley said he didn't know the mural was considered "missing" until two weeks ago, when his wife, Judy, was on the internet and stumbled on the 2019 News&Guide story. He said he realized only then that "they're hunting for this thing" and called Audrey Sorensen, the Oberreits' daughter.
"He said, 'I have it,'" Sorensen said this week. "And I said, 'Oh, my God, you're kidding.'"
Sorensen was pleased to see the art found, though she no longer owned it. She remained a bit mystified by the story of how the mural came to and stayed with Nalley, especially since her father didn't own the mural when it came down. But she said she would accept that he "had no reason to think the Alpenhof didn't know where it was."
"I like giving people the benefit of the doubt," she said, "especially since I've known Dave since I was a kid and always thought he was a good guy."
Cunningham was diplomatic, but less sanguine with the situation or the explanation.
"He put it in his shop for 19 years," Cunningham said. "He knew who the mural belonged to and did not indicate to us that he had it, did not bring it to anyone's attention."
Cunningham said he told Nalley, "Wait a minute — one, if you had a contract with Dietrich or with us, where is it, and two, if you're collecting $20 a month, why over 19 years didn't you bother to give us an invoice?"
He called the whole thing "kind of fishy."
Nalley told the News&Guide that when he talked to Cunningham "Ed was kind of annoyed," but that nothing involved with the long-missing mural was his fault.
"If you hadn't dropped your junk off in my yard I wouldn't have it," he said.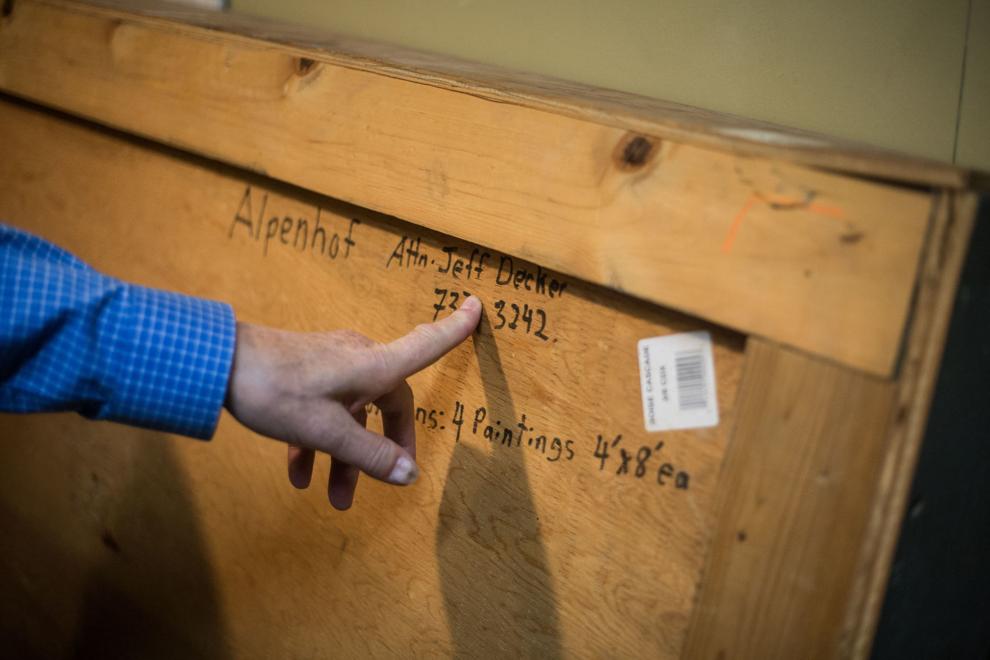 Crate N Freight owner Wendl took a look at a photo of the boxed art and said, "It looks like one of my crates." A long rummage through a mass of old paper records found that he picked up the art on Dec. 31, 2001, that he dealt with "Dietrich and Jeff" — former owner Oberreit and presumably then-manager Jeff Decker — and that he dropped off the crated mural about 20 days later.
The delivery, Wendl said, was to Nalley's Steamway, on order of the consigners. They paid $330 for the job.
But even without that information, and to owner Cunningham's frustration, there was never any mystery about what was inside the big box. It's marked on the outside with the words "Alpenhof," manager Decker's name and the phone number of the lodge. Wendl said it's his handwriting.
The one thing Cunningham and Nalley agree on is that "Let There Be Peace In This Land" needs to come out of the box and back into the light.
Nalley said he didn't see the 128-square-foot mural in the 19 years he had it, but remembered it as "the coolest thing in the world." He suggested he would refund the big storage fee if the mural went back up in The Alpenhof.
Cunningham's taste in art is likely to prevent that. But he does want the art to be enjoyed. He said the Jackson Hole Historical Society and Museum or some other likely place might receive it as a gift or long-term loan, but before committing he wants an appraisal.
The value of the mural varies greatly according to whom you ask: Cunningham said Oberreit once told him he'd paid Kerswill $25,000 for the work; Nalley said he heard it was more like $3,500, a number he said came from Oberreit.
The place in the lobby where "Let There Be Peace In This Land" used to hang is now empty.